Toolshed: Madrigal itching for second Sox shot
No. 40 prospect could get new opportunity when play resumes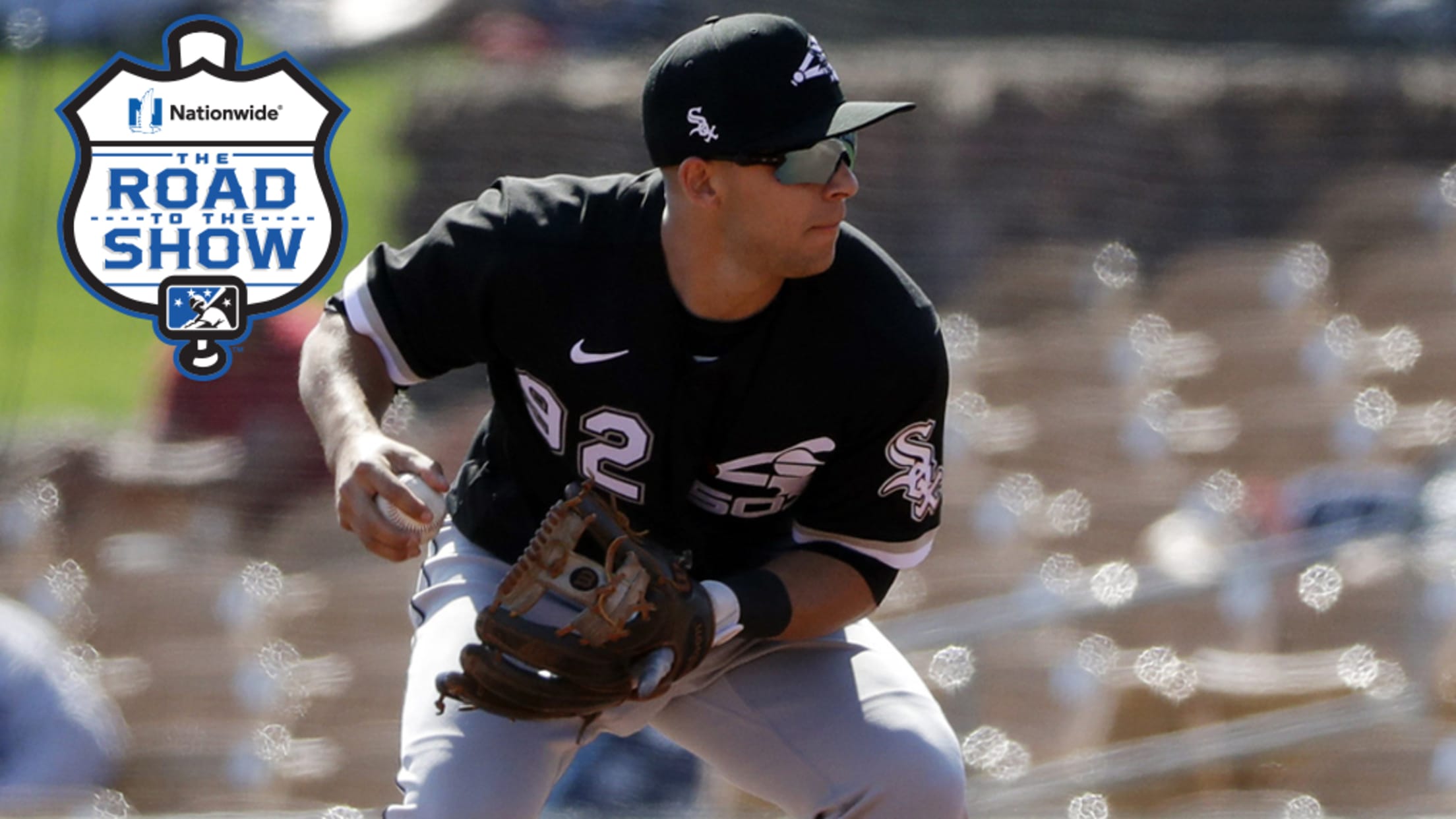 Nick Madrigal played in 11 Cactus League games for the White Sox before Spring Training came to an early halt. (Gregory Bull/AP)
Nick Madrigal found out about baseball's coronavirus-related pause the same way most did around the sport. First, there were the smattering of push notifications and other news alerts coming through phones around the White Sox complex in Glendale, Arizona, on March 12. Then there was confirmation from club and league
Nick Madrigal found out about baseball's coronavirus-related pause the same way most did around the sport. First, there were the smattering of push notifications and other news alerts coming through phones around the White Sox complex in Glendale, Arizona, on March 12. Then there was confirmation from club and league officials that the rest of Spring Training (or its first edition) had been canceled and Opening Day was pushed back indefinitely. Finally, there have been the routine batting and fielding sessions at whatever ball fields he can find around Scottsdale, Arizona, where he makes his offseason home.
But here's where Madrigal's story differs from that of the average top prospect. The No. 4 White Sox prospect was in the midst of an open competition to claim the starting second-base job on the South Side. When baseball went on hiatus, so did his pursuit of a Major League job. At least for now.
"I think it was tough because of how much work I'd put in during the offseason," Madrigal said. "Going through spring, I felt like I was just getting my timing back. I feel like going halfway through Spring Training, guys are just getting their timing down, getting used to their bodies, getting used to just playing again. We were close. It was frustrating when we found out we were going into a pause. At the end of the day, it's bigger than baseball. I've tried to look at it that way. Whenever we do resume, I'll be ready."
Those last three words could be even more important as the calendar turns to June. Major League Baseball and the Major League Baseball Players Association are negotiating baseball's possible return to North America, and if the two sides come to an agreement, the second phase of Spring Training could take place in mid-to-late June with Opening Day the following month.
Those would give MLB.com's No. 40 overall prospect a few more weeks to show he's ready to win the second-base job over veterans such as Leury García and Danny Mendick , and that time could be even more valuable given Madrigal's slow start to Cactus League play the first time around. The 23-year-old right-handed hitter went just 6-for-27 (.222) without an extra-base hit over 11 appearances as a non-roster invitee. It may not be the hot start White Sox fans -- or even Madrigal himself -- expected, but the player considered it a small sample before he could get into the literal swing of things. It's a mind-set he'll carry into Spring Training II, whether that's in Arizona or even at Guaranteed Rate Field in Chicago.
"I feel like they know what guys can do at this point," Madrigal said. "They've seen a lot of me from last season to Spring Training. I'm going to come in there, show them that I'm ready. I think they have an idea what style of player I am. I feel good. It's going to be the same as last spring. Just play the best I can."
The White Sox have indeed gotten a pretty good idea of what the former Oregon State star can do in the two years since they took him fourth overall in the 2018 Draft.
Madrigal sped quickly through the Chicago system in his first full season between Class A Advanced Winston-Salem, Double-A Birmingham and Triple-A Charlotte. He batted .341 and .331 at Double-A and Triple-A respectively and finished with 36 extra-base hits, 44 walks and 35 stolen bases across all three levels.
To put it simply, he hit everywhere, earning a 70 grade on his hit tool from MLB.com this spring, and adding in plus speed and a plus glove for good measure. But if there was one skill making Madrigal truly elite, it's been his bat-to-ball skills. The California native struck out only 16 times all season over 532 plate appearances. His 3.0 percent K rate was, by far, the lowest of any Minor League qualifier; Wander Franco (7.1) finished with one lower than 7.5 while collecting more than 400 plate appearances.
Those type of numbers are rare for a reason, and they come with the tradeoff of limited power. (Madrigal hit only four homers last season and finished with a .414 slugging percentage.) Yet it's that elite of a skill that places Madrigal squarely in the Major League conversation, even if it's not how the second baseman primarily thinks of himself.
"There are a lot of people noticing the strikeouts being low, but I think it doesn't do anything if I'm not getting on base," said Madrigal, who finished with a .377 OBP in 2019. "If I'm getting on base and getting hits and not striking out, great. But if I'm not getting on base and still not striking out, then it's the same thing as if I'd struck out anyways. Putting the ball in play is always a big part of my game, that and situational hitting. I think I can help out the team greatly, wherever they put me in the lineup. I'm excited for it. I feel like no matter level I've been at in my life, I've never changed my style of hitting or play at all. It'll be just right when I get up there."
By reaching the Minors' top level on July 31 -- and performing well there over the season's final month -- Madrigal put a Major League debut into play perhaps ahead of time. But with the White Sox sitting well below .500 in time for September roster expansion, the club chose to end Madrigal's first season in Charlotte instead of having him sit on the bench (and burn service time) for a non-contending club.
"I thought there was a chance I could get called up along with a number of guys, including [ Luis Robert ]," he said. "I felt ready. It just didn't end up happening. It was tough. There's a lot of emotion when it comes down to the last game of the Triple-A season. I had it in the back of my mind thinking that if it did happen, it'd be great. It was something I was hoping for. But I knew there was a lot to it. Once the season ended, I just started focusing on the next year. I felt ready to go up, but it wasn't in the cards at that point."
The situation has changed since Madrigal's last regular-season game. Chicago was one of the clear winners of the offseason by signing Yasmani Grandal , Edwin Encarnación , Dallas Keuchel and Gio Gonzalez in free agency, bringing back franchise hero Jose Abreu , acquiring Nomar Mazara in a trade from the Rangers and inking Robert to a six-year Major League deal that puts him in center field right away. Factor those moves in with added development from young stars Lucas Giolito , Yoán Moncada and Dylan Cease and another potential big year from All-Star Tim Anderson , and the pieces are there for the White Sox to challenge the Twins and the Indians in the American League Central.
"I was watching ESPN and MLB Network very closely for all the guys we added," Madrigal said. "I feel like I'm in the organization at the perfect time. There's a lot of buzz around this team. At the end of the day, we have to go out and do it. We have the right guys."
That mix could play even more into Madrigal's favor this year. Though nothing has been decided yet, the original MLB proposal called for an 82-game season and expanded playoffs putting seven teams from each league (instead of five) into the postseason. A wider playoff field only helps the South Siders' chances of getting to that promised land for the first time since 2008, but a limited schedule also opens up more possibilities for lesser teams to have a couple of hot months and swoop in to take Chicago's potential spot.
In short, the White Sox are in a position to go for it completely in 2020, and doing so would point to having as many high-ceiling talents on the field at one time as possible. Madrigal, with his lofty prospect status and near Major League readiness, would fit the bill at second base. But considering he's still unproven at the top level until he debuts, he faces an uphill climb to show he's better than Garcia, a veteran switch-hitter who hit .279/.310/.378 in 140 games for the Sox last season but only played two of those games at second base.
"On the best team, there's competition at every single spot," Madrigal said. "That's what drives the team to be really good, whether it's competing during a live AB in practice or in a Spring Training game. Every great team I've been a part of, there's been competition. It's not something I was scared of. I was excited for it."
In anticipation of that, Madrigal says he spent a good portion of the offseason focused on his flexibility and strength in hopes of becoming an even faster and more agile runner. After packing on too many pounds in his first pro offseason in anticipation of a long season, he admitted he felt sluggish out of the gate and wanted to get to a more agile place more quickly in 2020. That's work he continues during the pause, in part because of how reliable he knows his bat can be on the offensive side.
"I took a lot of time off from hitting in the offseason to focus on the strength, but once I started focusing on the hitting aspect of it, I've always done the same routine with tee stuff," Madrigal said. "I'm not big into the weighted balls or a lot of drills. I trust the routine I've always done. I wasn't too worried about changing my swing."
It's that swing and constant barrage of balls in play that will get him another long look whenever baseball resumes. Even if his rookie season is just half of one by the measure of any other year, Madrigal is already thinking and talking like someone intent on bringing the next contender to Chicago.
"If it's an 82-game season, we're still going out to win every game," he said. "It doesn't matter if it's a full season or a half season. Whenever they're keeping score, it's important. I know people out there might say, 'Oh, it's 82 games. It's not important.' I know [manager Rick Renteria] is going to want to win more than ever. The time to win is now in the White Sox organization."
Sam Dykstra is a reporter for MiLB.com. Follow and interact with him on Twitter, @SamDykstraMiLB.