Toolshed: Recent noteworthy Appy League seasons
Elizabethton, teenage hitters dominated Rookie Advanced circuit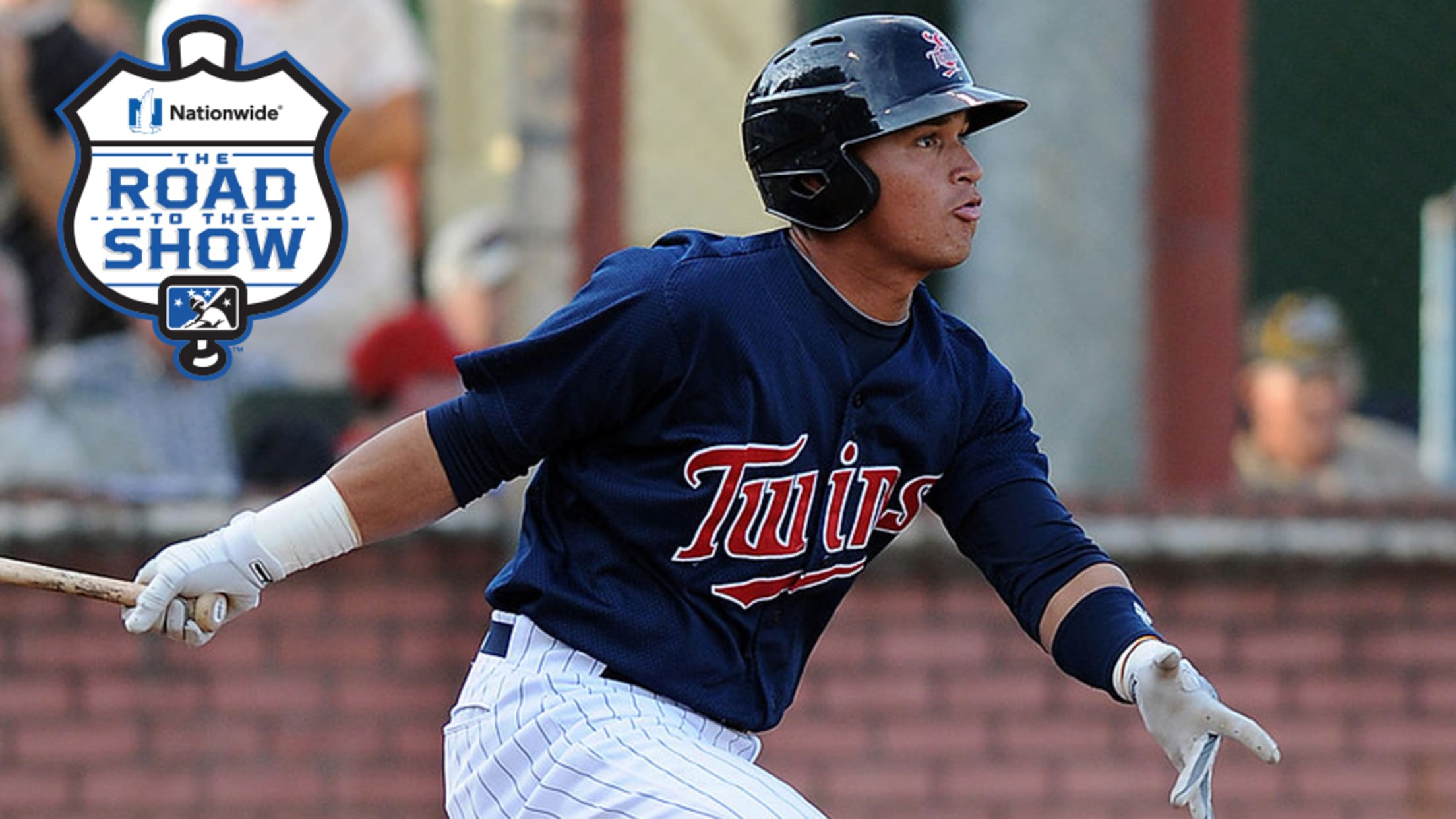 Oswaldo Arcia slugged .672 over 64 games for Rookie Advanced Elizabethton in 2010. (Tom Priddy/MiLB.com)
Short-season campaigns across the Minor Leagues were scheduled to begin last month. Like all other leagues in the Minors, those seasons were officially canceled earlier this week. But that doesn't mean we can't celebrate the short-season leagues right now anyway. The New York-Penn, Northwest, Appalachian and Pioneer leagues represent the
Short-season campaigns across the Minor Leagues were scheduled to begin last month. Like all other leagues in the Minors, those seasons were officially canceled earlier this week.
But that doesn't mean we can't celebrate the short-season leagues right now anyway. The New York-Penn, Northwest, Appalachian and Pioneer leagues represent the first steps for many professional baseball players, or in some cases offer those hitters and pitchers chances to show their skills away from the complexes in Arizona, Florida and the Dominican Republic.
Toolshed is revisiting the 10 most notable individual seasons put together across the four non-complex Class A Short Season and Rookie Advanced leagues from the last decade (2010-19). Previous editions covered the New York-Penn League and the Northwest League. This column focuses on the Rookie Advanced Appalachian League.
10. Allen Córdoba, Johnson City, 2016: The Appy League isn't supposed to be a proving ground for the Rule 5 Draft, a process meant to bring overlooked players straight to the Major Leagues. Yet Córdoba was solid enough in his first trip away from a complex for the Padres to use one of their three Rule 5 picks on him following the 2016 season. Cordoba won the Appy League batting title that year with a .342 average over 50 games and managed to walk more times (21) than he struck out (19) over 220 plate appearances. With good speed and a good enough defensive profile to stick at short, he was the best prospect headed into the 2016 Rule 5 Draft but was left unprotected by the Cardinals because of his distance to the Majors at age 20. A rebuilding San Diego club took the chance and managed to keep the Panama native around for the entire 2017 season, when he hit .208 with a .579 OPS in 100 games (mostly coming off the bench.) Córdoba was sent off the 40-man roster in November 2018 and has been at Class A Advanced Lake Elsinore each of the past two seasons, but it remains incredible how he did well enough in his one season with Johnson City to cut the line to the Majors.
9. Ryan Noda, Bluefield, 2017: Like walks? Like getting on base at a tremendous rate? Noda's 2017 campaign was for you. The 15th-round pick that year out of Maryland made a quick impression in the Blue Jays system. His 59 walks were the most for an Appy League hitter over one season in the past decade, and at .507, he was the only qualified hitter with an on-base percentage above the .500 mark. In fact, you'd have to lower the minimum to 129 plate appearances before you found another Appy League hitter with a .500 OBP ( Ryan Jeffers, 2018) in the last decade, and Noda was able to reach his mark in 276 plate appearances. He also batted .364, hit seven homers, stole seven bases and finished with a 1.082 OPS -- third among single-season qualifiers. Once a top-30 prospect in the Toronto system, Noda has been dinged for being too passive in his approach as he climbs the ladder -- he hit .238 last season at Class A Advanced Dunedin but did manage a .372 OBP -- but it certainly worked for him at the start of his career.
8. Vladimir Guerrero Jr., Bluefield, 2016: One of the best overall prospects of the decade had to start somewhere. The Jays signed Guerrero for $3.9 million out of the Dominican Republic in July 2015 and decided to skip him over the Dominican Republic and Florida complexes for his first taste of the Minors at Bluefield. Playing a few months after his 17th birthday, the right-handed slugger more than held his own, finishing with a .271/.359/.449 line, eight homers and 15 stolen bases over 62 games. If those numbers don't stand out, it's only because of the growth that would come; Guerrero's 122 wRC+ was 16th-best in the Appy League that season, but he never posted a number below 151 for a Minor League club that he played 30 games or more after that. Still, it's that context that makes Guerrero's one season in Bluefield pop even more. The hit and power tools were burgeoning. The near equal 35/33 K/BB ratio was a sign of plate discipline to come. Without those building blocks, the current 21-year-old Guerrero might still be chasing his Major League debut.
7. Blake Snell, Princeton, 2012: It was the classic chance for a young arm to prove himself. The Rays took Snell in the Compensation Round A at No. 52 overall -- the pick was given to them for the loss of Brad Hawpe -- out of a Washington state high school, and because of his youth and cold-weather background, the organization decided it was best to keep things slow with a move to Rookie ball in what could have been the left-hander's first full season. Snell responded with a season that ended with a Pitcher of the Year award. The Rays southpaw finished with a 2.09 ERA, a 1.08 WHIP, 53 strikeouts and only 17 walks in 47 1/3 innings. It was a performance that placed Snell firmly among the best pitching prospects in the Tampa Bay system. Three years later, he was the Starting Pitcher of the Year MiLBY award winner, and six years later, he claimed American League Cy Young honors. The 27-year-old already has some notable hardware, but his first individual award came here in the Appy League.
6. Miguel Sanó, Elizabethton, 2011: Sano was already well known before he suited up for Elizabethton. The Twins signed the 6-foot-4 third baseman for $3.15 million out of the Dominican Republic in September 2009, and the whole ordeal later was displayed in the documentary Ballplayer: Pelotero. After brief turns in the Rookie-level Dominican Summer League and the Gulf Coast League in 2010, Minnesota pushed Sanó to the Appy League at age 18, and there he showed off the power that became his trademark in the Minor and Major Leagues. Sanó hit 20 homers, making him one of only two Appy League sluggers in the decade to hit at least that many. The other was a teammate who will appear later in this column. He also finished with a .292/.352/.637 line over 66 games and a .345 isolated slugging percentage that led all hitters on the circuit from 2010-19. Sanó was an American League All-Star in 2017 and belted 34 home runs last season for a Twins club that set the MLB record for dingers in a season.
5. Ozzie Albies, Danville, 2014: Albies is a household name around Atlanta these days, but six years ago, he was far from that designation. The Curacao native had signed for just $350,000 in July 2013 and wasn't yet one of the best prospects in the Braves system. He changed that quickly by flying past the Gulf Coast League, where he hit .381 in 19 games, and carrying his hot bat to Danville. The switch-hitting middle infielder finished with a .356/.429/.452 line, even 17/17 K/BB ratio and 15 steals in 38 games with the D-Braves, all at age 17. Funnily enough, Albies was seen as 20-grade power hitter back then, but has collected 24 homers in each of his past two Major League campaigns. Once a lesser-known prospect, Albies put himself on the road to Top-100 status with his impressive performance at such a young age, and it's that rocket-like nature of his Appalachian League time that vaults him into the top five.
4. Edwin Díaz, Pulaski, 2013: For many really good Major League relievers -- and yes, Mets fans, Diaz is still considered a good reliever -- there is an impressive low-level Minor League starter in their past. The 2012 third-round pick by the Mariners out of Puerto Rico was never more dominant as a starter than during his spin through the Appalachian League. His 1.43 ERA and 30.4 percent strikeout rate over 69 innings were the second-highest of the decade by a qualified starter, and his 0.91 WHIP placed fifth. Unsurprisingly, he won the Pitcher of the Year award, and three short years later, he was the Mariners closer at just 22. Even after last year's struggles in New York, the right-hander still ranks second with 135 saves since 2016. Although it came in a different role, his season in Pulaski was the first sign Diaz could get significant whiffs in the pro ranks.
3. Wander Franco, Princeton, 2018: Franco came with some expectations. He was considered the No. 2 international prospect for the 2017-18 signing period and inked a $3.825-million deal with the Rays on July 2. (No. 1 was Shohei Ohtani.) Tampa Bay had a pretty clear indication about the type of player it was adding by skipping Franco over all of the complexes and sending him straight to Princeton at age 17. The switch-hitting shortstop rewarded that faith by hitting .351/.418/.587 with 11 homers in 61 games en route to MVP honors. There were 85 Appy League hitters with enough plate appearances to qualify for the season batting title who played in their 17- or 18-year-old seasons on the circuit between 2010 and 2019. Franco's 159 wRC+ led the entire group, beating out Sano's 153 in second place. What's more, his 7.0 percent K rate was third-lowest among all qualifiers regardless of age, and his rate of 1.42 BB/K placed eighth. It was clear Franco had the chance to become a special hitter, and two years later, he has ascended to become the game's top prospect with an 80-grade hit tool. Others had more statistically standout seasons. None accomplished them quite so well or so young as Franco.
2. Eddie Rosario, Elizabethton, 2011: Rosario. a 2010 fourth-round pick out of Puerto Rico, is the aforementioned Sano teammate from 2011. There have been seven Appy League hitters to eclipse the 20-homer mark in the league's history dating back to 1957. Two of them played for the same club in the same season. Rosario's 21 homers for Elizabethton were the highest by any player in the decade and ranked fourth in the Appy League all-time. As if that wasn't enough, Rosario also led the circuit with nine triples and added a .337/.397/.670 slash line and 17 stolen bases over 67 games. That .670 slugging percentage was second-best among qualifiers behind only ... the guy below, and he was one of only two 15-15 players in the entire decade in the Appy League. It took until his third Major League season in 2017 for Rosario to eclipse the 20-homer mark again, but he broke out with 32 blasts for the Twins last season. Still, that underlines just how much of a power breakout this 2011 campaign truly was for the left-handed slugger.
1. Oswaldo Arcia, Elizabethton, 2010: There are bigger names on this list than Arcia's. There were no bigger Appy League performers. His .375 batting average at the start of the decade set a mark that went unsurpassed by any hitters in the remaining nine years. His .672 slugging percentage also set the pace. Only Logan Porter (1.129) had a higher OPS than Arcia's 1.096, but he reached that mark in 98 fewer plate appearances. Arcia collected 42 total extra-base hits (14 homers, seven triples, 21 doubles), and that mark was second only to Sano's 45. It was a big jump for a 19-year-old from Venezuela, who produced just a .792 OPS the previous season in the Gulf Coast League. Arcia went on to be a solid Minor League performer, but failed to stick over four seasons in the Majors with four different teams. He had a stint in Japan in 2018 and appeared in the Mexican League last year. He may have ended his decade on foreign shores, but for a few months in 2010 around the Appalachian Mountains, Arcia was king of Appalachia.
Sam Dykstra is a reporter for MiLB.com. Follow and interact with him on Twitter, @SamDykstraMiLB.