Toolshed: Recent noteworthy NWL seasons
Recalling Class A Short Season circuit's memorable performances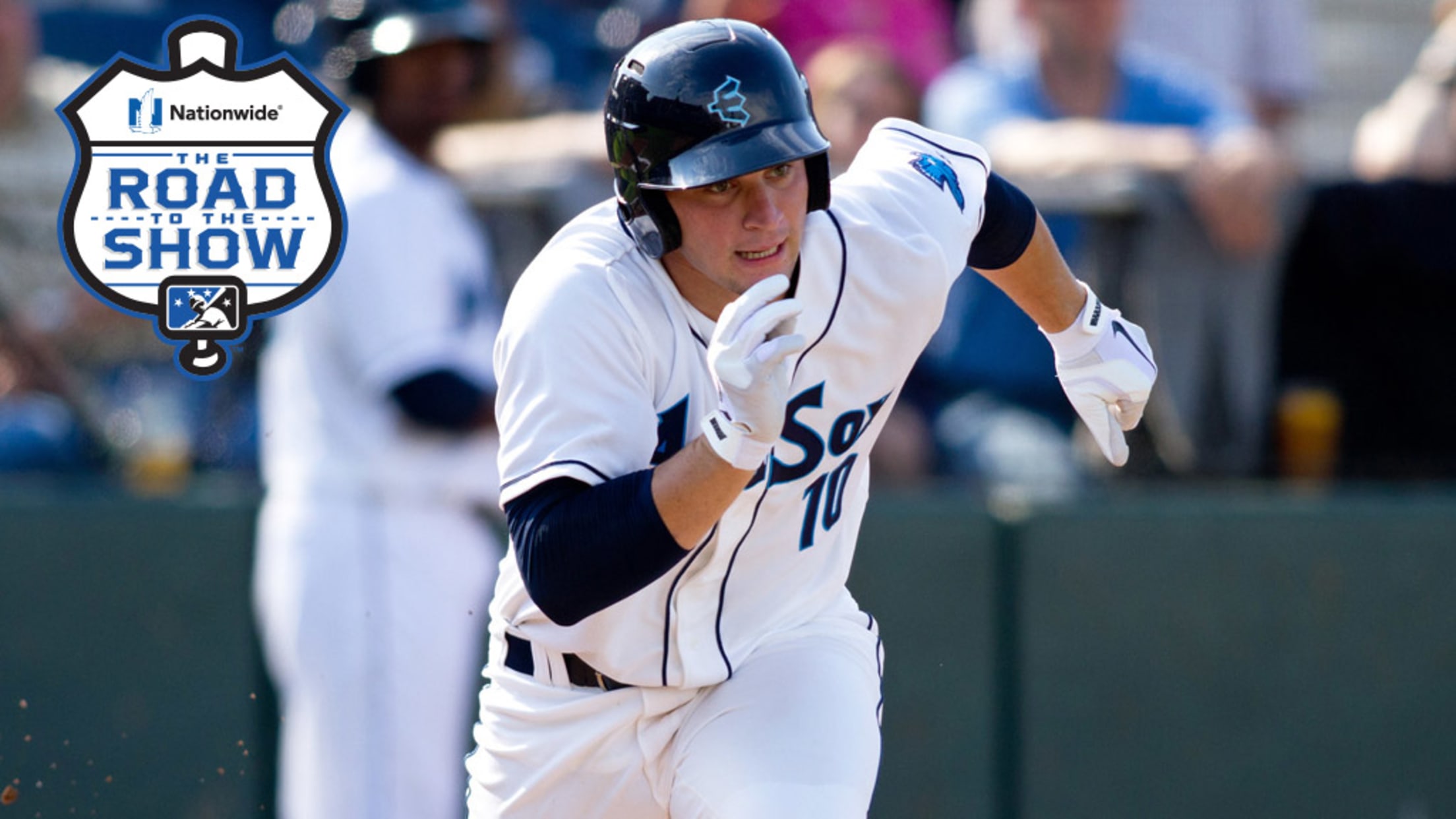 Mike Zunino was the only Northwest League slugger with a minimum of 100 plate appearances to slug at least .700 last decade. (Shari Sommerfeld/MiLB.com)
Short-season campaigns across the Minor Leagues were scheduled to begin last week. Like everything else in affiliated ball, those seasons have been put on indefinite hold due to the ongoing coronavirus pandemic. But that doesn't mean we can't celebrate the short-season leagues right now anyway. The New York-Penn, Northwest, Appalachian
Short-season campaigns across the Minor Leagues were scheduled to begin last week. Like everything else in affiliated ball, those seasons have been put on indefinite hold due to the ongoing coronavirus pandemic.
But that doesn't mean we can't celebrate the short-season leagues right now anyway. The New York-Penn, Northwest, Appalachian and Pioneer leagues represent the first steps for many professional baseball players, or in some cases offer those hitters and pitchers chances to show their skills away from the complexes in Arizona, Florida and the Dominican Republic.
Toolshed is revisiting the 10 most notable individual seasons put together across the four non-complex Class A Short Season and Rookie Advanced leagues from the last decade (2010-19). Last week's edition covered the New York-Penn League. This week's space is dedicated to the Northwest League.
10. Eric Filia, Everett, 2016: Let's start with a weird one. The Mariners took Filia in the 20th round of the 2016 Draft out of UCLA, in part due to his age (23) and a plagiarism scandal in school, but also in part because of his incredible ability to reach base. Filia showed that off in the pro ranks with his first assignment to the Northwest League. Filia was the 2016 NWL MVP after hitting .362/.450/.496 with four homers and 10 steals in 68 games. He led the league in average and OBP as well as hits (89) and total bases (122). What made this rookie campaign truly noteworthy, however, was Filia's ability to control the strike zone. He walked 39 times and struck out on only 19 occasions in 292 plate appearances with the AquaSox. His ratio of 2.1 BB/K was easily the highest single-season mark of the decade in the NWL, and his .362 average was second-best among 458 qualified hitters. (Diosbel Arias's .366 in 2018 was the only higher mark.) Filia has yet to reach the Majors and turns 28 next month, taking some of the noteworthiness out of this season. But the left-handed slugger, who came with his own pre-at-bat shimmy, left his mark on the circuit.
9. Dylan Cease, Eugene, 2016: Cease's career has certainly been a journey, with the latest stop on the South Side of Chicago as a rotation member of a White Sox team hoping to contend whenever baseball returns. Back in 2016, he was a Cubs prospect with something to prove. Chicago's National League club selected the 6-foot-2 right-hander in the sixth round of the 2014 Draft after he'd undergone Tommy John surgery that spring. He was limited to 24 innings in the Rookie-level Arizona League a year later, making the Northwest League a major test of how his stuff would play further away from the elbow procedure. Thanks to a plus-plus fastball and an impressive breaker, Cease answered the test impressively, finishing with 2.22 ERA, a 1.16 WHIP and 66 strikeouts over 44 2/3 innings. He got even better as the season wore on and surrendered only one earned run while striking out 39 over his last five starts (21 frames). Cease jumped from No. 8 to No. 4 in the Cubs ranks and finished the 2016 season as MLB.com's No. 98 overall prospect. By mid-July, he became a major piece of the trade that sent Jose Quintana from the Sox to the Cubs.
8. Luis Frias, Hillsboro, 2019: Frias was still raw coming into last season. He was signed out of the Dominican Republic in 2015 as a third baseman, but never ended up playing there in an official capacity, moving instead to the mound. He first appeared in the Northwest League in 2018, but his true breakout campaign came a year later when his velocity jumped to the mid- to upper-90s and his curveball became a true plus pitch. Frias struck out 72 batters over 49 2/3 innings with the Hops last season. His 36.9 percent K rate was the highest among league pitchers with a minimum of 40 innings in the last decade, just nipping Cease's 36.3 percent. Frias also managed a 1.99 ERA, 1.78 FIP and 1.07 WHIP in 10 starts -- all numbers that pushed him to Class A Kane County for the start of August. The 22-year-old right-hander now ranks as the No. 8 prospect in a strong D-backs system, and he could be poised to make another big jump whenever he can get more innings under his belt.
7. Franklin Barreto, Vancouver, 2014: Barreto was already firmly placed on the prospect landscape heading into 2014, considering he signed for $1.45 million out of Venezuela two years earlier and had already performed some stateside. But 2014 was definitely the then-Toronto shortstop's coming-out party. At age 18, Barreto was named NWL MVP after batting .311/.384/.481 with 33 extra-base hits and 29 stolen bases in 73 games. He was one of only eight qualified teenagers to finish a season with a wRC+ above 100 in the 2010s, and his 141 mark was second only to Kevin Padlo's 159 in 2015. Barreto's bigger star status gives him the nod over Padlo, and indeed, he jumped into the Top 100 for the first time after this campaign at No. 85. He remained a fixture there as a Blue Jay and an Athletic until his graduation in June 2018.
6. Joey Bart, Salem-Keizer, 2018: There were certainly high expectations for Bart as the second overall pick that year out of Georgia Tech. He was considered an above-average catcher on the defensive side, but his true bread and butter was his power from the right side. It didn't take Bart long to show that off with the Volcanoes. The former Yellow Jacket homered twice in his Salem-Keizer debut on July 4 and went deep in four straight games from July 8-12. He finished with 13 long balls over just 45 games and produced a .298/.369/.613 line in the same span. Two years later, he seemed destined to make his San Francisco debut at some point in the 2020 season, but a lack of in-season development and a shortened campaign could keep that from happening. Bart still ranks as the No. 14 overall prospect and is the game's second-best catching prospect behind Baltimore'sAdley Rutschman.
5. Joey Lucchesi, Tri-City, 2016: Lucchesi was a value pick in the fourth round of the 2016 Draft, signing for just $100,000 (below a $521,200 slot) out of Southeast Missouri State, but the 6-foot-5 left-hander proved to San Diego that he was going to be worth more than just savings. To wit, Lucchesi struck out 53 batters and walked only two over 40 innings during his time with Tri-City shortly after signing. Those numbers, again: 53 strikeouts, two walks. With that pinpoint accuracy, it's no surprise Lucchesi's other numbers were equally jaw-dropping: 1.35 ERA, .186 average-against, for starters. His 0.72 WHIP was lowest among the 414 league pitchers with at least 40 innings in a season last decade, and his 1.27 FIP was second-best among the same group. Lucchesi only got one full season in the Minors before the Padres famously added him to the 2018 Opening Day roster. He has made 56 starts for the NL West club since.
4. Kristian Robinson, Hillsboro, 2019: Robinson certainly had his fair share of fans at age 18, but he wasn't quite yet a consensus Top-100 prospect. That perception changed quickly when he moved to Hillsboro last June. Robinson showed a promising hit tool from the right side and paired it with plus power and above-average speed to produce a .319/.407/.558 line with nine homers and 14 steals in 44 games. The Bahamas native was one of only nine NWL players in the decade to amass at least nine homers and 10 steals in a single season, and of those nine, he produced the highest wRC+ at 171 ... all before his 19th birthday. It's intriguing to ponder what kind of numbers he might have finished up with as member of the Hops, but he was rightly promoted to Class A Kane County on Aug. 3. Robinson is now the game's No. 43 overall prospect, and the D-backs' top youngster could surge even higher if he comes close to matching these numbers over a bigger sample. His NWL season could look even bigger with additional hindsight.
3. Curtis Terry, Spokane, 2018: Some performances are notable because they're accomplished by top prospects. Others because they're just straight dominant. Terry's season in 2018 for Spokane might have been the most dominant full season put together by any hitter in the Northwest League last decade. The 2015 13th-rounder, who repeated Class A Short Season after a down 2017, led all qualified batters on the circuit over the decade with a .606 slugging percentage and a 1.040 OPS during his special season in 2018. What's more, he added in a .337 average, .434 OBP and 15 homers, two more than anyone else in the league that season. He was an easy pick for MVP in 2018 and continued that momentum en route to becoming a Rangers Organization All-Star last season. Terry needs to perform offensively as a right-handed-hitting first baseman, but after his breakout in Washington state, he's been putting up the numbers necessary to climb closer to Texas.
2. Mike Zunino, Everett, 2012: Much of what was written about Bart could be copied and pasted here as well, except the numbers would need to be even more extreme. Zunino was the third overall pick in 2012 coming out of the University of Florida, and the Mariners sent the right-handed-hitting catcher to nearby Everett to get his feet wet. He did more than that. Zunino homered 10 times in only 29 games with the AquaSox and finished with an astonishing .373/.474/.736 slash line over 133 plate appearances. That was the NWL's highest slugging percentage, OPS, wRC+ (233), third-highest average and third-highest OBP among batters with at least 100 plate appearances in a single season. Zunino was so productive that Seattle decided the next place to challenge him was three levels higher at Double-A Jacksonville, and he was promoted there on Aug. 13. Zunino -- now with the Rays -- has shown some pop but still finds most of his value these days on the defensive side, leading to Twitter debates around "Is Mike Zunino good?" There was no doubt in the Northwest League. Mike Zunino was excellent.
1. Taylor Cole, Vancouver, 2012: All the way back in 2004, Clint Brannon set the Northwest League single-season record with a 0.59 ERA for Spokane. Eight years later, a Vancouver right-hander became the first NWL hurler to post an ERA below 1.00, and indeed, that pitcher has been the only one to go below that mark since 2012 as well. That righty was Cole -- a 2011 29th-rounder out of BYU who had taken two years off from pitching to complete a Mormon mission. Cole was masterful in his second season with the Canadians, posting an 0.81 ERA, 0.80 WHIP and .160 average-against that topped all NWL qualifiers during the 2010s. His 2.65 FIP showed that some luck was involved in posting such low numbers, but even that stat ranked fourth among 150 qualifiers. The Nevada native, who struck out 57 in 66 1/3 innings, didn't allow a run in nine of his 12 outings, and four of his six total earned runs came in one "rough" Aug. 10 start at Tri-City. Cole was never that dominant again, but he did manage to crack the Majors with the Blue Jays in 2017 and appeared out of the Angels bullpen the past two seasons. If anything, his story notes the dominance late-round picks must show at the lower levels if they are to climb toward The Show and how difficult it can be to achieve that dominance in a league known as the starting point for much bigger names. Even if Cole's season wasn't enough to crack the record books, let it be known as this -- the Northwest League's most dominant single-season performance of the last decade.
Honorable mentions: Kris Bryant only played in 18 games for Boise in 2013, but he made them count by batting .354/.416/.692 with four homers and 13 total extra-base hits. ... If not for the shortness of his sample, Cory Spangenberg would have made for an easy selection. The 2011 10th overall pick walked in 25.6 percent of his 121 plate appearances and finished with a .545 OBP. He also hit .384, slugged .535 and stole 10 bases in 25 games with Eugene. ... Drew Jackson not only stole 47 bases in 59 games for Everett, but he also tacked on a .358/.432/.447 slash line. Only Vancouver's Roemon Fields (48) stole more bags in a single season last decade in the NWL.
Sam Dykstra is a reporter for MiLB.com. Follow and interact with him on Twitter, @SamDykstraMiLB.