Toolshed: Recent noteworthy NYPL seasons
Remembering singular hitting, pitching performances from 2010s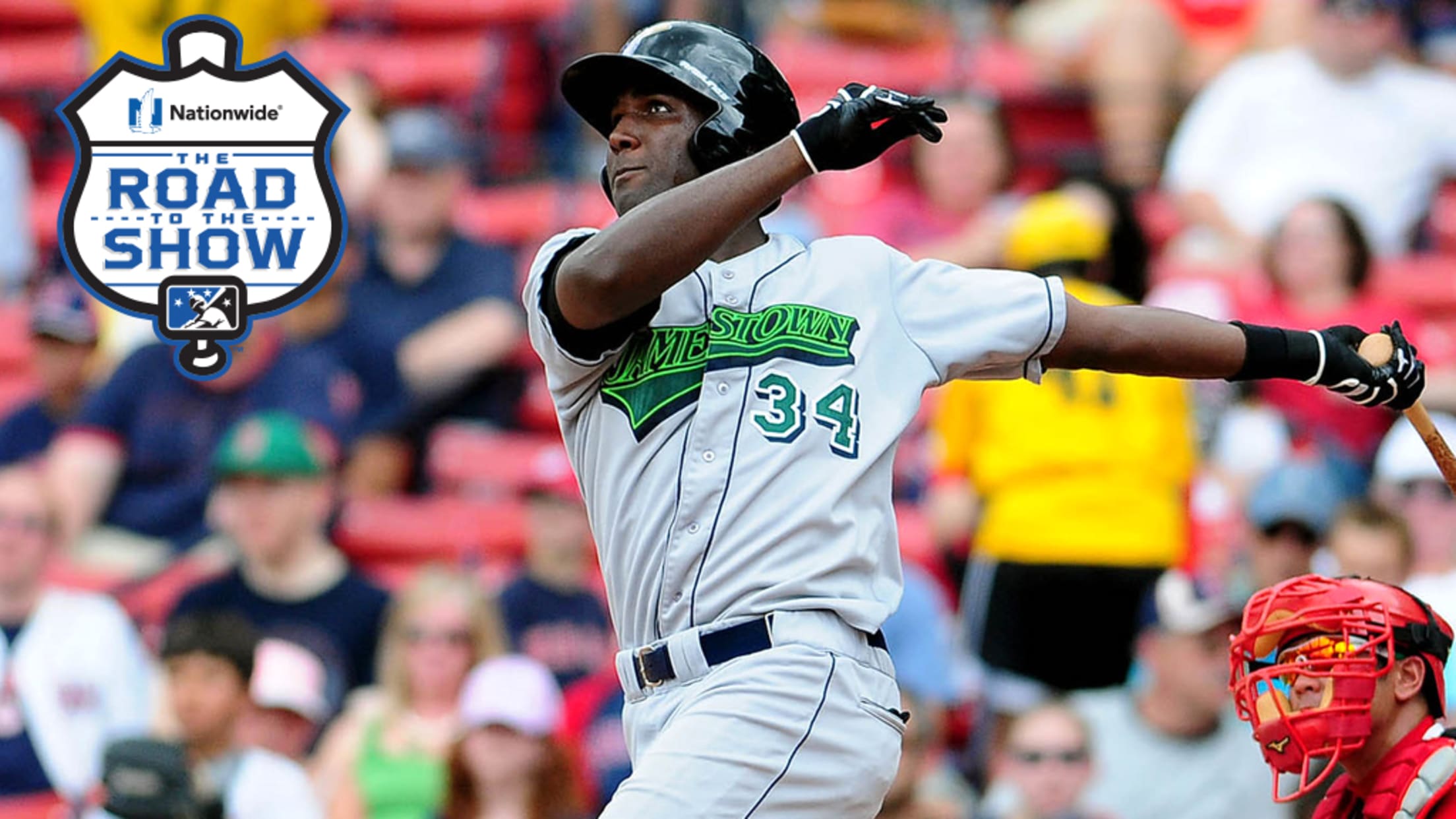 Marcell Ozuna hit 91 home runs during his Minor League career. (Kevin Littlefield/MiLB.com)
Short-season campaigns across the Minor Leagues were set to begin this week, as early as Wednesday in the case of the Northwest League. Like everything else in affiliated ball for the time being, those seasons have been put on indefinite hold due to the ongoing coronavirus pandemic. But that doesn't
Short-season campaigns across the Minor Leagues were set to begin this week, as early as Wednesday in the case of the Northwest League. Like everything else in affiliated ball for the time being, those seasons have been put on indefinite hold due to the ongoing coronavirus pandemic.
But that doesn't mean we can't celebrate the short-season leagues right now anyway. The New York-Penn, Northwest, Appalachian and Pioneer leagues represent the first steps for many professional baseball players, or in some cases offer those hitters and pitchers chances to show their skills away from the complexes in Arizona, Florida and the Dominican Republic.
Starting this week with the New York-Penn League, Toolshed will take the next four Tuesdays to revisit the 10 most notable individual seasons put together across the four non-complex Class A Short Season and Rookie Advanced Leagues from the last decade (2010-19).
10. Gilberto Jimenez, Lowell, 2019: The most recent season was bound to figure into these rankings somehow, and it's the final spot of the top 10 that the No. 5 Red Sox prospect managed to sneak in. Jimenez signed for only $10,000 coming out of the Dominican Republic in 2017, but managed to win the New York-Penn League batting title only two years later with a .359 average over 59 games. In fact, that was the second-highest average by a NYPL hitter in the past decade behind only Connor Spencer's .364 for Staten Island in 2014. The 19-year-old also possesses 75-grade speed and put that to good use by stealing 14 bags. It's that burn on the basepaths that likely helped the switch-hitter last season as 63.9 percent of his balls in play were hit on the ground. If he can elevate the ball, he could be even more of a breakout prospect with his hitting ability, speed and plus defensive grades in the outfield. For now, he certainly put himself on the map and made himself a must-follow in the Boston system.
9. Taylor Guerrieri, Hudson Valley, 2012: As will become a theme here in the next few picks, the New York-Penn League is often a proving ground for high Draft picks who clubs haven't deemed experienced enough for full-season ball. Guerrieri fits that description to a t. The right-handed pitcher was the 24th overall pick in 2011 coming out of a South Carolina high school, and the Rays chose to allow him to get his innings with Hudson Valley in what could have been his first full season. The 6-foot-2 hurler did more than that. He finished with a 1.04 ERA, 0.77 WHIP and 9.0 K/BB ratio (45 to 5) over 52 innings that first summer. All three of those stats finished the decade among the top five for a single NYPL season by a pitcher (minimum 50 innings), and the ERA mark took the top spot. Guerrieri jumped from the No. 99 spot in MLB.com's Top-100 rankings before the 2012 season to No. 44 prior to the 2013 campaign. He hasn't met his ceiling with a 5.50 ERA across 29 Major League relief appearances with the Blue Jays and Rangers, but after that first short season, it was possible to dream of Guerrieri as a potential ace with Tampa Bay.
8. Tyler Freeman, Mahoning Valley, 2018: Cleveland surprised many when it took Freeman with the 71st overall pick out of a California high school in 2017. Freeman was MLB.com's No. 141 Draft prospect headed into that process and was thought to have only one above-average tool in his speed. Now he's the No. 96 overall prospect and one of only 19 members of his Draft class to sit in the Top 100. What happened in between? A lot of hitting, starting at Mahoning Valley. Freeman finished the 2018 season with a .352/.405/.511 line and a 168 single-season wRC+ that placed seventh-best among all qualified NYPL hitters in the decade. He accomplished that by striking out in only 7.3 percent of his plate appearances, bucking a trend of trading strikeouts for power. Now Freeman's hitting ability is his carrying tool and what could bring him to the infield of northeast Ohio before long.
7. Nolan Jones, Mahoning Valley, 2017: Speaking of Cleveland infielders, Jones was more well regarded than Freeman going into the 2016 Draft coming out of a Pennsylvania high school. He was the No. 20 Draft prospect but fell to the Tribe in the second round with the 55th overall pick and eventually signed for $2.25 million, about twice the slot value of that spot. Still, being from a cold-weather state, it made sense that Jones came out of the gate slow with a move to Mahoning Valley in 2017. He quickly showed off many of the attributes that now make him the No. 42 overall prospect. Jones led the NYPL with a .430 on-base percentage, .912 OPS and 171 wRC+ that season and added in a .317 average for good measure. It'd take another year for the lefty slugger to show off in-game power -- he homered only four times in 265 plate appearances with the Scrappers -- but the overall hit tool and patient approach were the seeds for the growth of Jones' profile.
6. Michael Feliz, Tri-City, 2013: Feliz's biggest claim to fame now is that he was one of four players the Pirates acquired from the Astros in the Gerrit Cole trade in January 2018. (He's pitched out of the bullpen for five Major League seasons in Houston and Pittsburgh.) In 2013, he might have been most well known for the fact that his original contract with the A's in 2010 had to be voided because he tested positive for steroids. The Dominican right-hander changed that quickly with the ValleyCats. Feliz finished with a league-best 1.96 ERA and added a 0.96 WHIP, 78 strikeouts and only 13 walks over 69 innings. His 1.91 FIP and 2.02 xFIP were the best NYPL single-season marks by a qualified pitcher in the decade. Feliz later featured in the 2014 All-Star Futures Game and first appeared in the Majors two years after his breakout Class A Short Season campaign.
5. Pete Alonso, Brooklyn, 2016: Before Alonso won a Minor League home run crown or set the Major League rookie homer record, he was socking dingers at Coney Island. The Mets grabbed the University of Florida slugger in the second round of the 2016 Draft and sent him straight to their NYPL affiliate, where he flourished. Alonso hit .321/.380/.587 with five homers over 30 games. His 184 wRC+, while occurring in a small sample, has never been topped with another club in the Mets system during Alonso's short career. The 64th overall pick was a solid hitter throughout his run in Gainesville, but truly broke out as a junior in the spring before his move to the pros, batting .374/.469/.659 with 14 long balls. His ability to carry that to Brooklyn quickly confirmed the breakout was real.
4. Jorge Guzman, Staten Island, 2017: No NYPL pitcher was better at striking out batters in the 2010s than Guzman. Seriously, his 33.5 percent was the highest single-season K rate among the league's qualified pitchers. That's 88 punchouts of 263 batters faced. As could be expected, Guzman's other numbers were pretty good too -- 2.30 ERA, 1.04 WHIP, even only 18 walks over 66 2/3 innings. The numbers that stood out most were his velocity. Guzman was known to throw in the triple-digits with regularity, and the Yankees claimed he was averaging 99 mph with his heater. It didn't come as a huge surprise then that Guzman, who had been traded from the Astros for Brian McCann in November prior to his breakout NYPL season, was acquired by the Marlins in the Giancarlo Stanton deal in December 2017 shortly after Miami hired several members of the Yankees' front office. Control problems have been more of a problem for the 24-year-old right-hander in his last two seasons, but his elite velocity still makes him the No. 19 prospect in a burgeoning Marlins system.
3. Hansel Robles, Brooklyn, 2012: Robles became the Angels closer to great effect last season, finishing with a 2.48 ERA, 23 saves and a 2.6 bWAR over 72 2/3 innings. Seven years before that, he was the effective starter the New York-Penn League had seen in the 2010s. Robles' 1.11 ERA with Brooklyn -- also 72 2/3 frames -- was the lowest on the circuit by far; William Cuevas' 1.40 that same season for Lowell finished second among qualifiers. Robles was also tops for the decade with a 0.78 WHIP and finished with 66 strikeouts and 10 walks. He capped the season with five straight starts in which he didn't allow an earned run (a streak that ran 33 innings total), and he gave up more than one earned run in only one of his 12 starts with the Cyclones. Before that, Robles was a right-hander who couldn't crack full-season ball in his first four years in the Minors. Afterward, he was definitely on the map.
2. Rowan Wick, State College, 2014: Wick has bounced between the Majors and Minors as a reliever with the Cubs and Padres in recent years. Before all that, he was one of the New York-Penn League's most dominant hitters. A ninth-round pick in 2012, Wick was taking the slow road while trying to initially make it as a catcher in the St. Louis system. The Cardinals gave up on that heading into 2014 and sent Wick to State College to become a full-time outfielder. He quickly mashed in his new role. Wick homered twice in his Spikes debut and went deep 10 times in his first 16 games with the club. By late July, the Cardinals had seen enough of the left-handed-hitting masher and moved him up to Class A Peoria but only after he had produced a .378/.475/.815 line with 14 homers over 141 plate appearances. No one else that got 100 plate appearances in a single season in the NYPL last decade slugged higher than .700 (never mind .800), and his 1.290 OPS and 263 wRC+ were both also easily tops in their respective categories. The only thing keeping Wick from the top spot is the fact his hot bat kept him from playing a full season in the NYPL, but that's not a fault at all. Major strikeout and hit tool concerns prompted Wick's move to the mound, but at least he left one crazy slugging impression on a lower league.
1. Marcell Ozuna, Jamestown, 2010: Ozuna's rate stats don't jump off the page in the same way as some of fellow sluggers listed here, and this might be recency bias with all the talk of the 1998 Home Run Chase in the air this past weekend. But at the start of the decade, Ozuna nearly put himself in the record books of a league that goes as far back as 1939. The right-handed slugger finished the 2010 campaign with 21 home runs, falling two shy of the NYPL record of 23 set by John Hennell of Utica in 1982. No one else hit more than 17 in the league in a single season last decade, and only one hit more than 14. Ozuna nearly lapped the field of competitors in one of baseball's most notable stats. What's even crazier is that the then-Marlins outfielder wasn't meant to be with Jamestown in the first place. He opened with Class A Greensboro before a broken wrist shut him down after only six games. He reported to the Jammers in June once the wrist healed and quickly proved he was healthy again. Ozuna finished the season with a .267/.314/.556 line and led the league with 150 total bases. His power continues to serve him well in the Majors, where he has gone deep at least 23 times in five of his last six seasons between the Marlins and Cardinals. Ozuna signed a one-year deal with the Braves in the offseason.
Sam Dykstra is a reporter for MiLB.com. Follow and interact with him on Twitter, @SamDykstraMiLB.