Toolshed: Rays' Hulsizer finds grass greener
Former Dodgers slugger has spent time in pair of playoff systems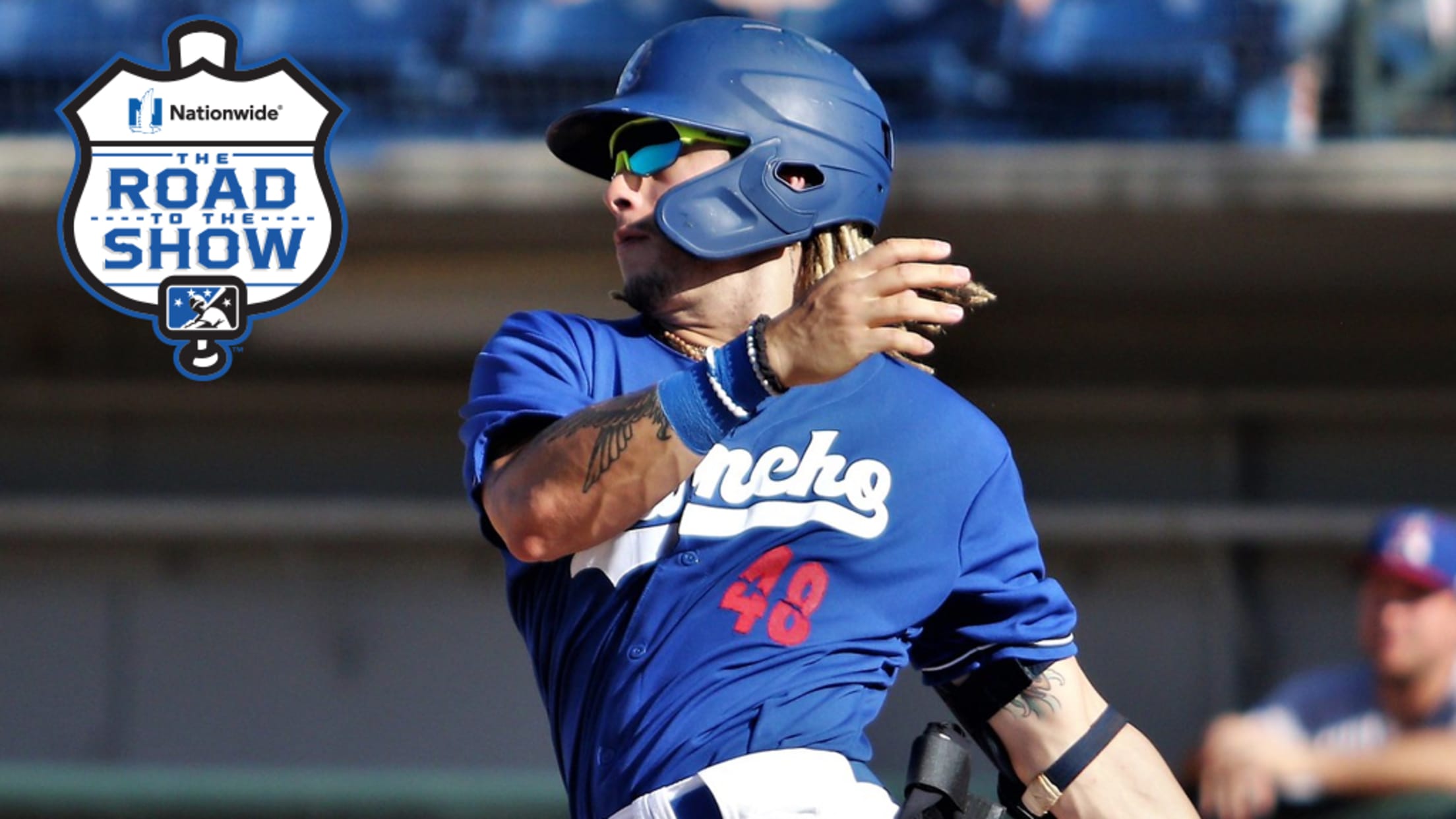 Niko Hulsizer has hit 30 home runs over 144 career games in the Minor Leagues. (Jerry Espinoza/MiLB.com)
Successful teams don't often trade with each other. The market works thusly -- there are buyers and there are sellers. Buyers attempt to strengthen their squads for a lengthy postseason run; sellers lurk near the bottom of the standings and are willing to part with players to stock up their
Successful teams don't often trade with each other. The market works thusly -- there are buyers and there are sellers. Buyers attempt to strengthen their squads for a lengthy postseason run; sellers lurk near the bottom of the standings and are willing to part with players to stock up their pipelines for future pennant races.
In this case, iron doesn't sharpen iron. Not typically.
So when we evaluate the trade histories of the four clubs remaining in the 2020 postseason, it won't surprise anyone to find there hasn't been much recently, including no such transactions this calendar year. The Astros and Braves, for instance, have swapped players only once since the start of the 2015 season.
The Dodgers and the Rays, however, exchanged players five times in 2019. The latest came on July 31, right at the 2019 Trade Deadline. The Dodgers were on the lookout for left-handed relief help and found a willing partner in the Rays, who were clinging to the second American League Wild Card spot but had what we now call a stable of bullpen arms. On July 31, the two clubs reached a rare deal between contenders. Los Angeles picked up left-hander Adam Kolarek, who remains a key part of the Dodgers' relief corps this postseason. Tampa Bay, in return, received Niko Hulsizer, a corner outfielder with plus-plus raw power who became the organization's No. 27 prospect.
"It always seems like when I turn on the game, he's in there," Hulsizer said of Kolarek, who has made three playoff appearances for Los Angeles in 2020 and six since joining the club a year ago . "It's funny seeing him on that regular of a basis out there with the Dodgers."
That type of reflection is easier in a one-for-one deal similar to that one right at last year's deadline. It takes on increased significance for Hulsizer, who at the time was only 13 months removed from being taken in the 18th round of the 2018 Draft out of Morehead State. One day, he was the 554th overall pick and signing with the Dodgers for $125,000, the max he could get without dipping into L.A.'s bonus pool. Later, he was being swapped straight up for a Major Leaguer and becoming a prominent member of arguably the deepest farm system in baseball.
"It felt really great, honestly," Hulsizer said. "My whole life, my whole career, I've kind of felt underestimated. And now that I'm in pro ball, I'm starting to see some gratification and some respect in that way. Yeah, I was very happy about that. I always thought I'm a top performer, and I think I can hang with just about anybody. It hasn't always showed that way just with respect coming my way or getting what I feel I completely deserve. But it's starting to come through now. You can't deny it, which is great."
Even though he was just an 18th-round pick, Hulsizer showed signs of promise before entering pro ball. The right-handed-hitting corner outfielder was a prodigious slugger in his three seasons at Morehead State. He produced a .684 slugging percentage and a 1.109 OPS over 140 games on campus, going deep 44 times in that span. His sophomore year, in particular, was memorable -- 27 homers in 59 games, second-most in the nation. That also set the record for most homers by an Ohio Valley Conference hitter. For good measure, he won the 2017 College Home Run Derby that July, going yard 49 times total in the competition.
A broken hamate bone limited him to only 42 games in his junior year, and the power numbers dropped, albeit slightly -- 12 homers, .615 slugging, 1.038 OPS. The injury, which typically saps some players of their pop, along with questions about Hulsizer's hit tool and defensive ability scared off enough teams to cause him to drop all the way to the 18th round. But if there were any concerns about how his power would play with a wood bat, Hulsizer answered those in his early days in the Dodgers system and put himself firmly on the prospect map with a .281/.426/.531 line and nine roundtrippers at Rookie Advanced Ogden.
That continued at Class A Great Lakes and Class A Advanced Rancho Cucamonga in the Pennsylvania native's first full Minor League season. Hulsizer connected on 20 long balls in his first 83 games between the two spots and had a .265/.376/.554 line when he went down with a hamstring injury on July 20. Eleven days later -- roughly 13 months after he first entered the organization -- the Dodgers called Hulsizer to tell him he was already on the move, in this case in a one-for-one for a Major Leaguer. He had to hop on a plane from a road game in Lancaster, California -- leaving behind the farm system that made Cody Bellinger, Corey Seager and Joc Pederson into famed sluggers at the top level -- and head to Port Charlotte, Florida, where he would join another loaded farm system, though he may not quite have known it at the time.
"I had no clue what I was walking into with the Rays," Hulsizer said.
The first introduction was brief. Tampa Bay kept Hulsizer rehabbing the hamstring after the deal, and by the time he actually joined Class A Advanced Charlotte, he was only able to get in nine contests with the Stone Crabs. He did manage one more homer, however, giving him 21 on the season -- ninth-most among players at the Class A or Class A Advanced levels. (Out of the 12 who hit 20-plus homers, he was one of only two to do so in fewer than 100 games.)
Following a productive sojourn to the Australian Baseball League to make up for lost time, Hulsizer was prepared for a lengthier introduction to his second organization at Spring Training. That all changed in mid-March when the spring cancellation caused by the pandemic pushed the slugger back home to Pennsylvania for what ended up being the remainder of the summer. But before Hulsizer headed back, he came to a fairly big realization. Despite his predilections on how financial status might affect player development, his new organization felt a whole lot like his old one.
"Being with the Dodgers and a high-budget team with all the new stuff, I wasn't sure what the Rays had in store," Hulsizer said. "But it's been very, very similar. Honestly, I was shocked. The Rays are doing a great job here from my experience, and I'm super happy to be here.
"The Rays and the Dodgers have very similar philosophies on hitting. It's very, very comforting. When I showed up here, they didn't really try to change me. They didn't really say, 'This is how we do things.' They kind of just worked with me on my swing of what I envisioned and what I want to accomplish. They didn't really push me in any direction. They kind of just facilitated that and helped me get to that point."
That type of trust developed between player and farm system was never more necessary than during the quarantine months of the summer. Hulsizer says he was able to find a safe space to work out at Next Level Sports Performance in eastern Pennsylvania, where he could get in the occasional live batting practice against pro pitchers from the area. He was constantly sending back video to Rays coaches and player-development personnel, keeping them abreast of his improvements even under difficult circumstances.
"So I've been working a lot on just timing, being consistent with timing as well as swing path," he said. "That's something everyone can improve on until you're in the big leagues, for sure. Just keeping the bat in zone longer just gives you more of a chance to make better, solid contact. That's something I've been working on through film, just little adjustments."
That focus on hit tool, in particular, was necessary following Hulsizer's first full season. While the power was there -- and likely always will be -- the right-handed slugger's ability to make the most of it will be determined by how much contact he actually makes. He struck out in 30.4 percent of his plate appearances across all levels, limiting him to just a .258 average. That's not much of a concern in the modern age when a player's pop can make up for the lack of contact, but a K rate above 30 percent before a player reaches Double-A can be a concern.
With his focus on timing, Hulsizer was confident he could have improved the hit tool enough to climb quickly through the Tampa Bay ranks in a normal 2020 season.
"I mean, I'm always very confident in myself," he said. "I mean, I felt at any time that Double-A, Triple-A, big leagues -- all those were possible this year. Just perform the way I can and things will fall into place."
So how high could the homer total have gone?
"I think I can consistently be a 20-, 30- home-runs-a-year guy," Hulsizer said. "I don't see why not. I've done it in college. I'm doing it in pro ball. Well, keep it up."
Those dingers are being limited to instructional league play at present. Hulsizer was told on Sept. 19 to report to Port Charlotte for instructs and arrived six days later, eager to make up whatever lost at-bats he could. It didn't take him long to show both the Rays and himself that the work he put in would produce results down south.
"I was thinking, 'Is this going to take a little bit to get back the swing?'" he said. "But the first day, we did a live BP with some semi-passive outfielders, and just like that, I hit a ball pretty well out after it came in at 97. So that basically secured me mentally that everything's fine. I still got this completely, and I'm ready to go."
Hulsizer hopes to carry whatever momentum he generates from instructs into another winter-ball opportunity and says he's in talks to return to Australia, where he hit 10 homers and produced an .887 OPS over 40 games for Perth last year. But before any of that can be settled, there is a whole Major League postseason to follow -- one the former Los Angeles farmhand and current Tampa Bay prospect has a vested interest in following.
"That's all very cool," he said. "Seeing the team I used to play for being in it. And then the Rays as well. I'd kind of like to see a Rays-Dodgers Series."
But for the record...
"Oh, yeah, if it was Rays-Dodgers, I'd definitely want the Rays to win."
Sam Dykstra is a reporter for MiLB.com. Follow and interact with him on Twitter, @SamDykstraMiLB.