Theme-Night Ticket Packages Available for 2020
Guarantee a ticket and more for Timber Rattlers theme nights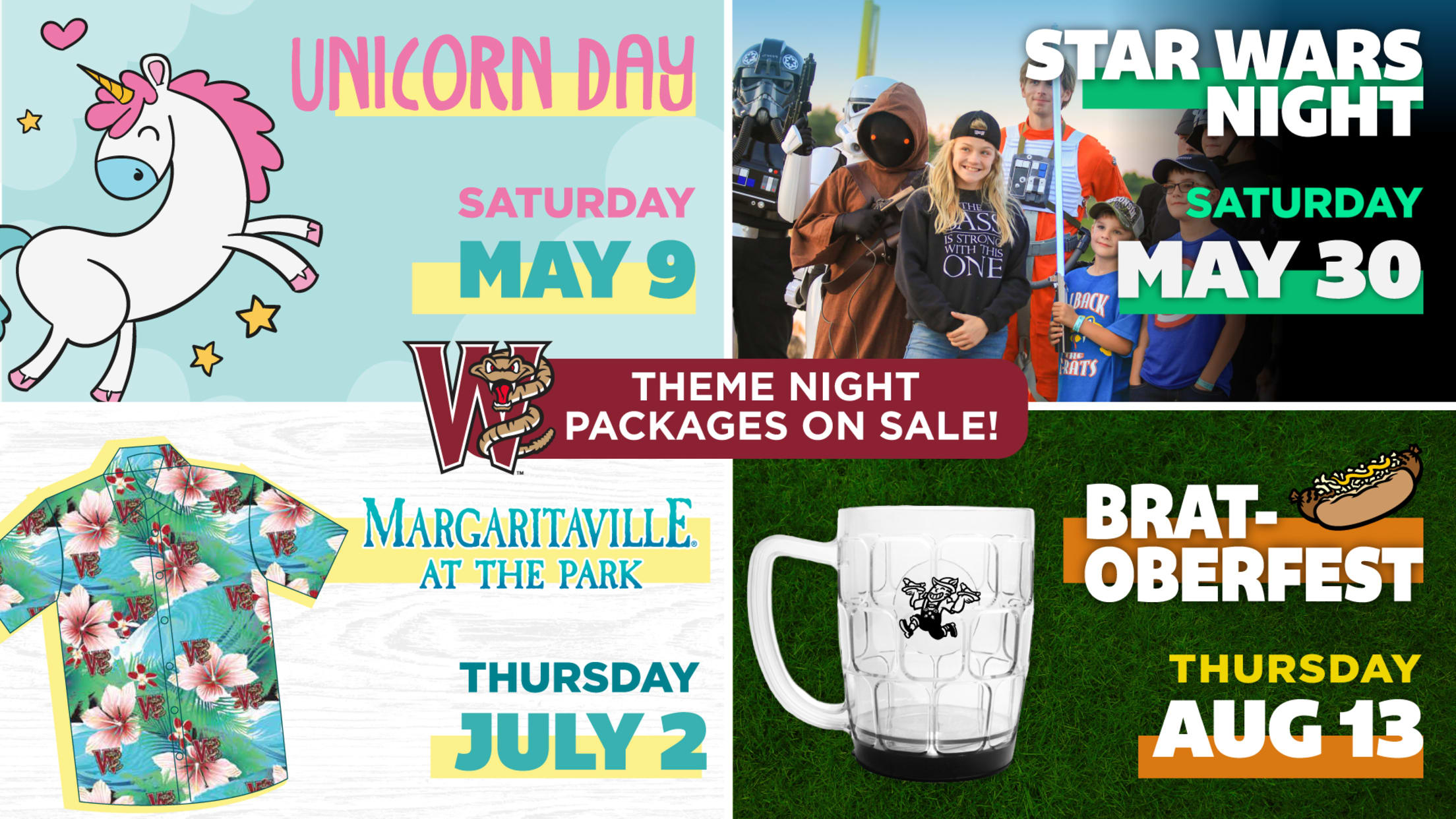 GRAND CHUTE, WI - The Wisconsin Timber Rattlers are offering single-game ticket packages for some of their theme nights now! That means you can guarantee a ticket and the special extras that go along with the theme night before single-game tickets go on sale Saturday, March 14 at 10:00am.Take a
GRAND CHUTE, WI - The Wisconsin Timber Rattlers are offering single-game ticket packages for some of their theme nights now! That means you can guarantee a ticket and the special extras that go along with the theme night before single-game tickets go on sale Saturday, March 14 at 10:00am.

Take a look at the list of the dates and pick the ones you wish to attend. Click on the link by each game, select the number of box seats you would like, and use the promocode to guarantee your package.

These packages are only available online at this time and the prices do not include tax.

APRIL 25 - FROZEN DAY: Elsa and Anna are holding a meet and greet with snacks and drinks in the Fox Communities Credit Union Fox Club from 10:15am to 11:30am. There will be tea, snacks, pictures, and a ticket to the game for $28. Promo Code: Frozen

APRIL 26 - YOOPER DAY: We are bringing back Yooper Day again this season and for $25 you will receive a box seat ticket and a special Timber Rattlers "Cousin Eddie" winter cap. This ticket package is the only way to receive the cap. Promo code: Yooper

MAY 9 - UNICORN DAY: A mythical beast is making an appearance at this game. You can be part of pregame Storytime with cupcakes from 10:15am to 11:30am, meet the unicorn, and receive the unicorn headband giveaway for $25. Promo code: Unicorn

MAY 30 - STAR WARSTM NIGHT WITH JEDI TRAINING: The Jedi are recruiting and if your child is between four and twelve years old, they could receive training from a Master before the game on this night. Your youngling will receive a box seat ticket to the game, a light saber, on-field Jedi Training, and a Popsicle for just $35. This ticket offer is the only way to take part in Jedi training. Promo code: StarWars

JUNE 10 - PRIDE NIGHT: The Timber Rattlers are for everyone. Receive an LGBT-themed Timber Rattlers t-shirt and a ticket for a box seat at the game for just $25. Promo code: Pride

JULY 2 - MARGARITAVILLE NIGHT: We have a terrific bonus for this year's Margaritaville Night and the only one way to receive it is with this ticket package. The package includes a special menu of food and drinks a ticket to the game on the party deck, and a Timber Rattlers, button-up, Hawaiian shirt for $42. Contact Group Sales Representative Kyle Fargen at [email protected] for information or to order tickets. Promo code: "Margarita" and click on Party Deck when ordering tickets for this night

JULY 3 - CAPTAIN AMERICA FAST PASS: Meet the first Avenger without waiting in line. For $25 you receive a ticket to the game, a fast pass to get you to the head of the line to meet Captain America, an ice cream treat from the concession stand, and Captain America frisbee. Promo code: America

JULY 18 - PRINCESS NIGHT: You are invited to join our Royal Tea Party with some of your favorite Storybook Princesses from 3:45pm to 5:00pm in the Fox Communities Credit Union Fox Club. There will be tea, snacks, pictures, and a ticket to the game for $28. Promo Code: Princess

JULY 29 - GIRLS' NIGHT OUT: Girls Night out is back with a few changes for this year. The ladies will receive a Timber Rattlers wine glass, two drink vouchers, drink discounts during the game, and a box seat ticket to this game for $25. Promo code: gno

AUGUST 13 - BRATOBERFEST: This package includes a Timber Rattlers Beer Stein, two beers, and free admission to Beerfest in the Brews on Third area at the end of the third base concourse for $25. Promo Code: Brat

AUGUST 14 - SEINFELD NIGHT: This ticket package is gold…GOLD! You will receive a ticket, dinner, two drinks, and admission to a postgame Q&A with and stand-up set by Steve Hytnera (aka Kenny Bania) in the Fox Communities Credit Union Fox Club for $49. Promo Code: Seinfeld
The Timber Rattlers will begin the 2020 season at home against the Burlington Bees on Thursday, April 9. Game time is 6:35pm.

Ticket packages for 2020 are available from the Wisconsin Timber Rattlers ticket office by calling any of the new members of our team at (800) WI-TIMBER or (920) 733-4152, stopping at Neuroscience Group Field at Fox Cities Stadium, or online at timberrattlers.com. April games are free with the purchase any ticket package this year. The ticket office is open from 9:00am to 5:00pm Monday through Friday.

Tickets for individual games go on sale Saturday, March 14 at 10:00am.