2020 Minor League Baseball season shelved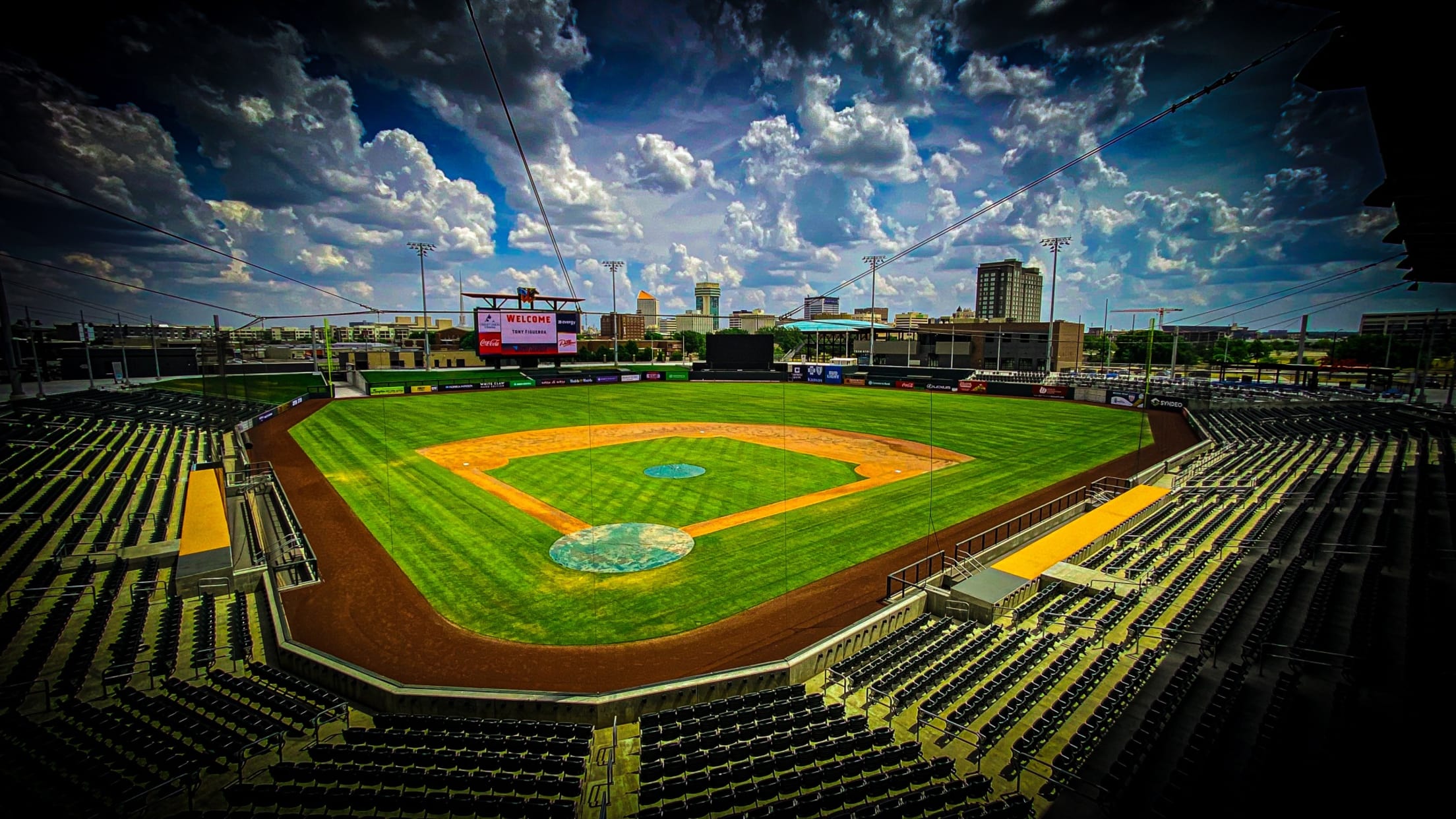 ST. PETERSBURG, Fla. -- Major League Baseball™ (MLB™) has informed Minor League Baseball™ (MiLB™) that it will not be providing its affiliated Minor League teams with players for the 2020 season. As a result, there will not be a Minor League Baseball season in 2020. "These are unprecedented times for
Toolshed: Recent noteworthy NWL seasons
Recalling Class A Short Season circuit's memorable performances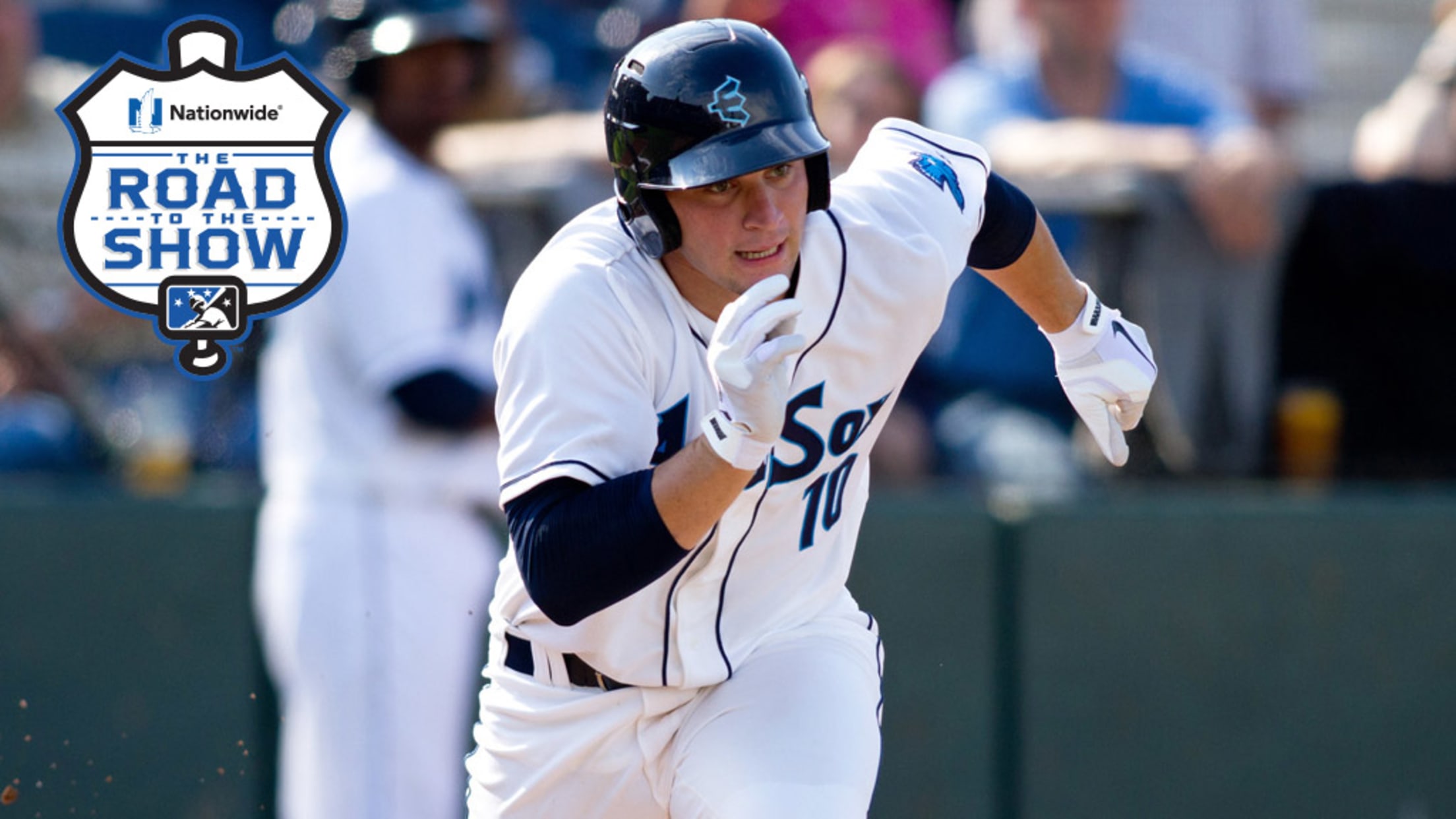 Short-season campaigns across the Minor Leagues were scheduled to begin last week. Like everything else in affiliated ball, those seasons have been put on indefinite hold due to the ongoing coronavirus pandemic. But that doesn't mean we can't celebrate the short-season leagues right now anyway. The New York-Penn, Northwest, Appalachian
Start of Northwest League season delayed indefinitely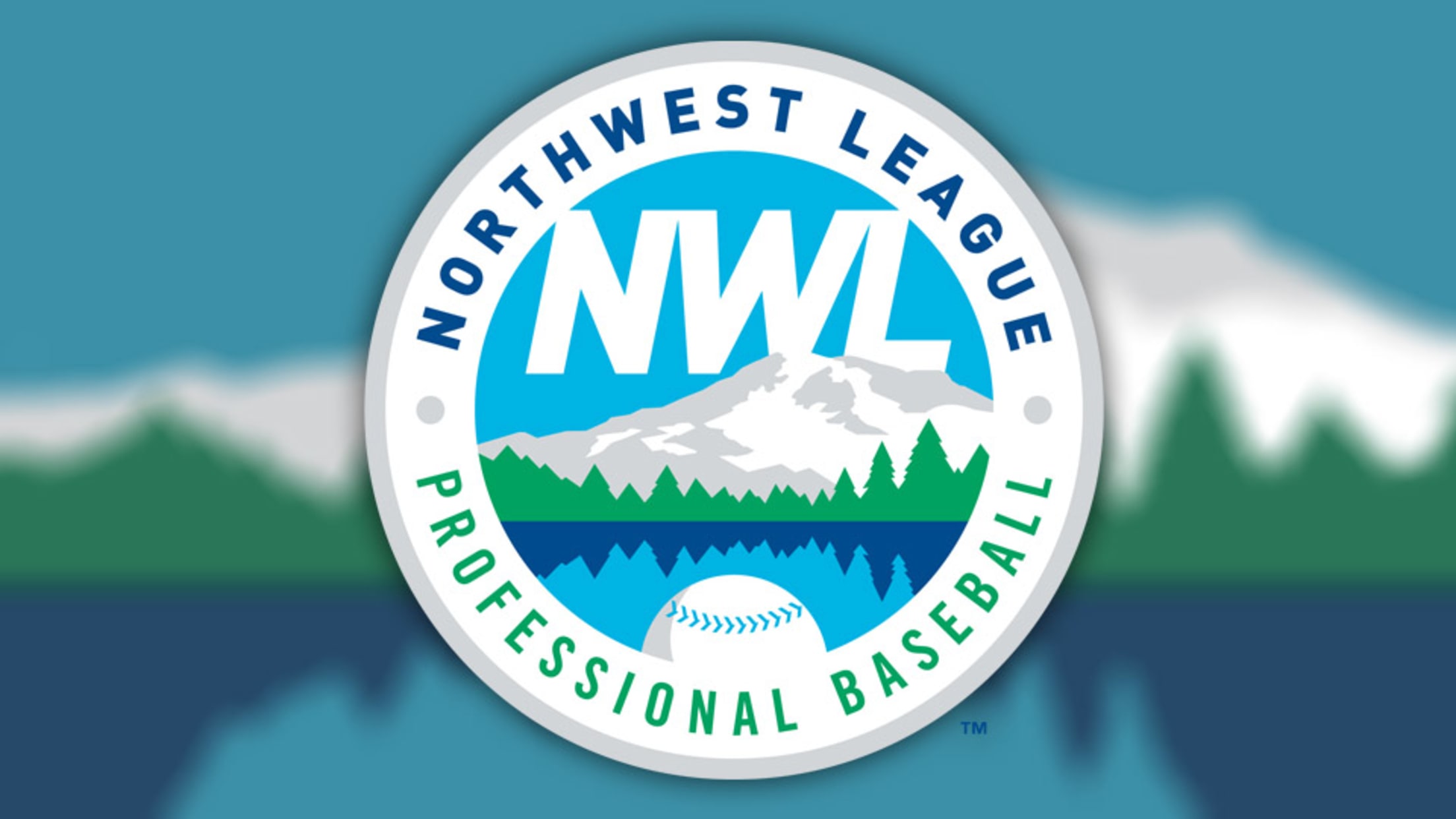 Due to the ongoing COVID-19 Pandemic, the start of the 2020 Northwest League season is being delayed indefinitely. The League and its clubs will continue to monitor the situation and work with our Major League Baseball affiliates, while following the recommendations of public health officials and adhering to local reopening
Trail blazer Židek laying down the law
Czech-born umpire aims to be first from nation to reach Majors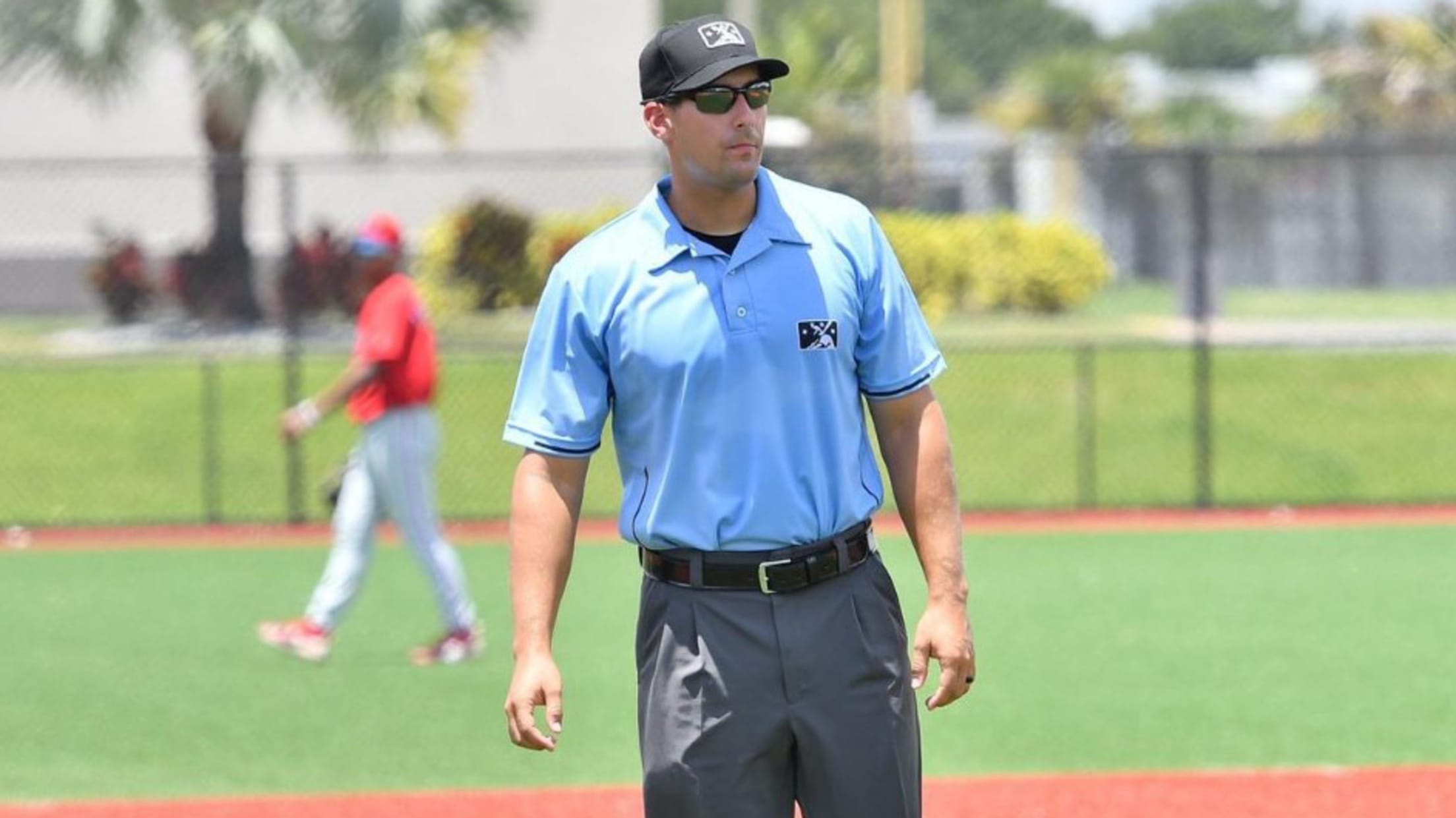 Zdeněk Židek -- that's Zee Zdenek on box scores -- knows the letter of the law in the courtroom. And also on the baseball field. Although becoming an umpire may not seem like the wildest possible dream for an American kid, it's certainly a reach when you grow up in
Lake was fish in Spokane's summer pond
Washington's new football coach made mark in ticket sales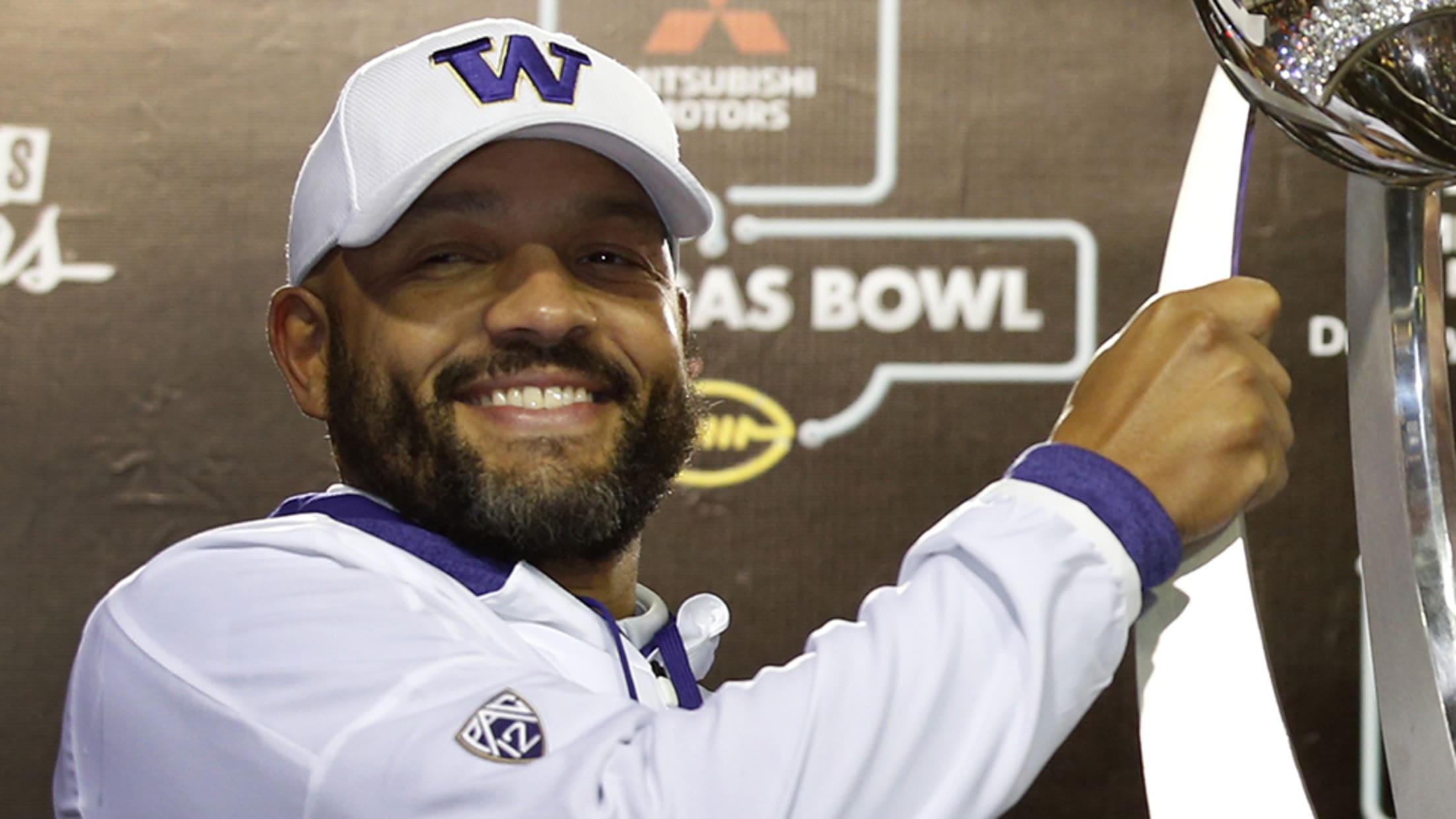 On Sept. 5, 2020, Jimmy Lake will step onto the field at Husky Stadium as the head coach of the Washington Huskies, preparing his team to face Big Ten power Michigan.That position will be a far cry from where he was 20 years ago: making his way out of the
North Johnson Named New Northwest League President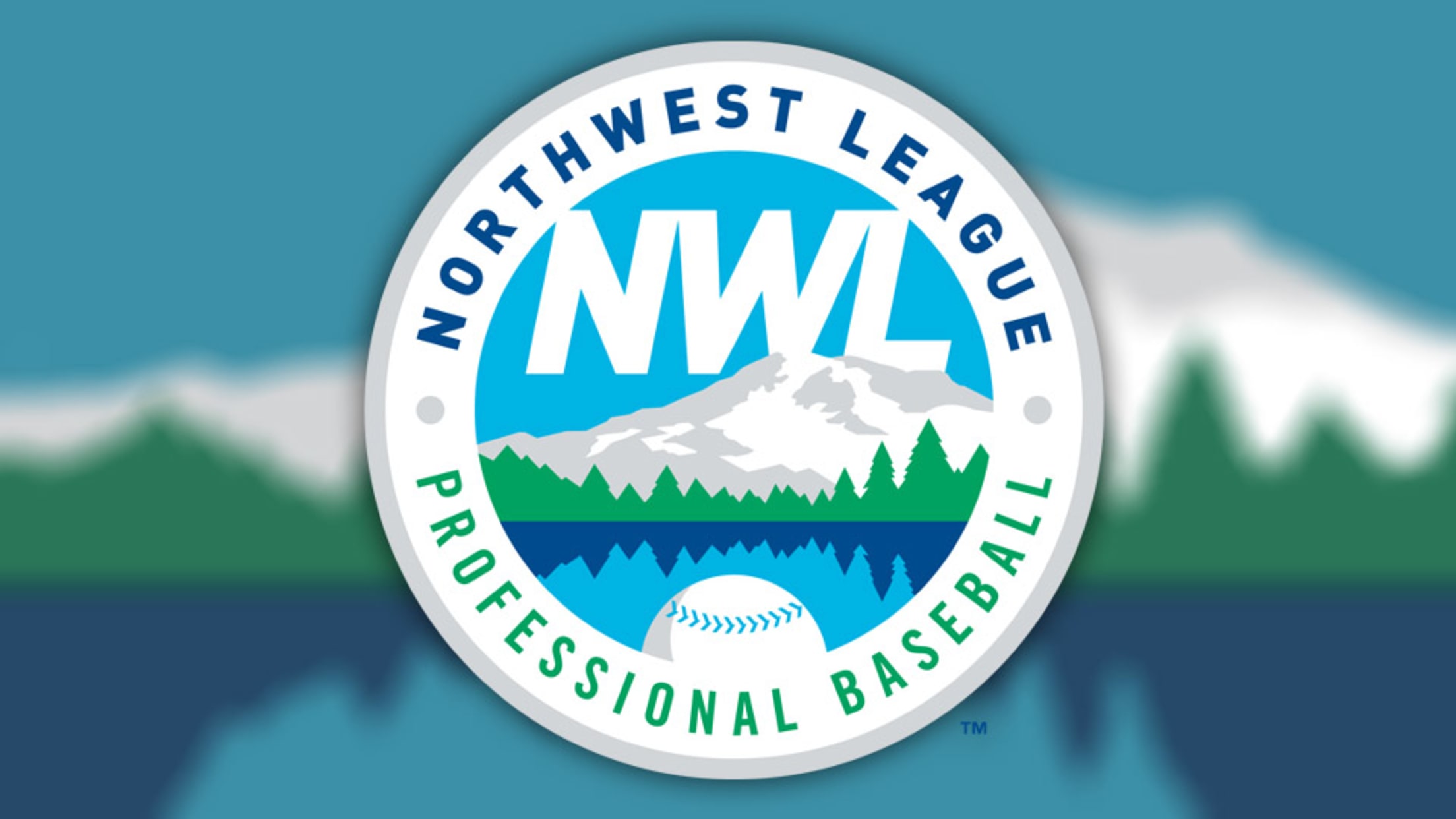 HILLSBORO, Ore. - The Northwest League (NWL) announced that North Johnson will become the new league president at the start of 2020. The NWL conducted a nationwide search, bringing interest from over 60 well-qualified candidates. Johnson, a 42-year MiLB veteran, stood out amongst the competition with his extensive resume of
Former Spokane Indians Staff Member Jimmy Lake Named UW Football Head Coach
Spokane native sold tickets for the team in 2000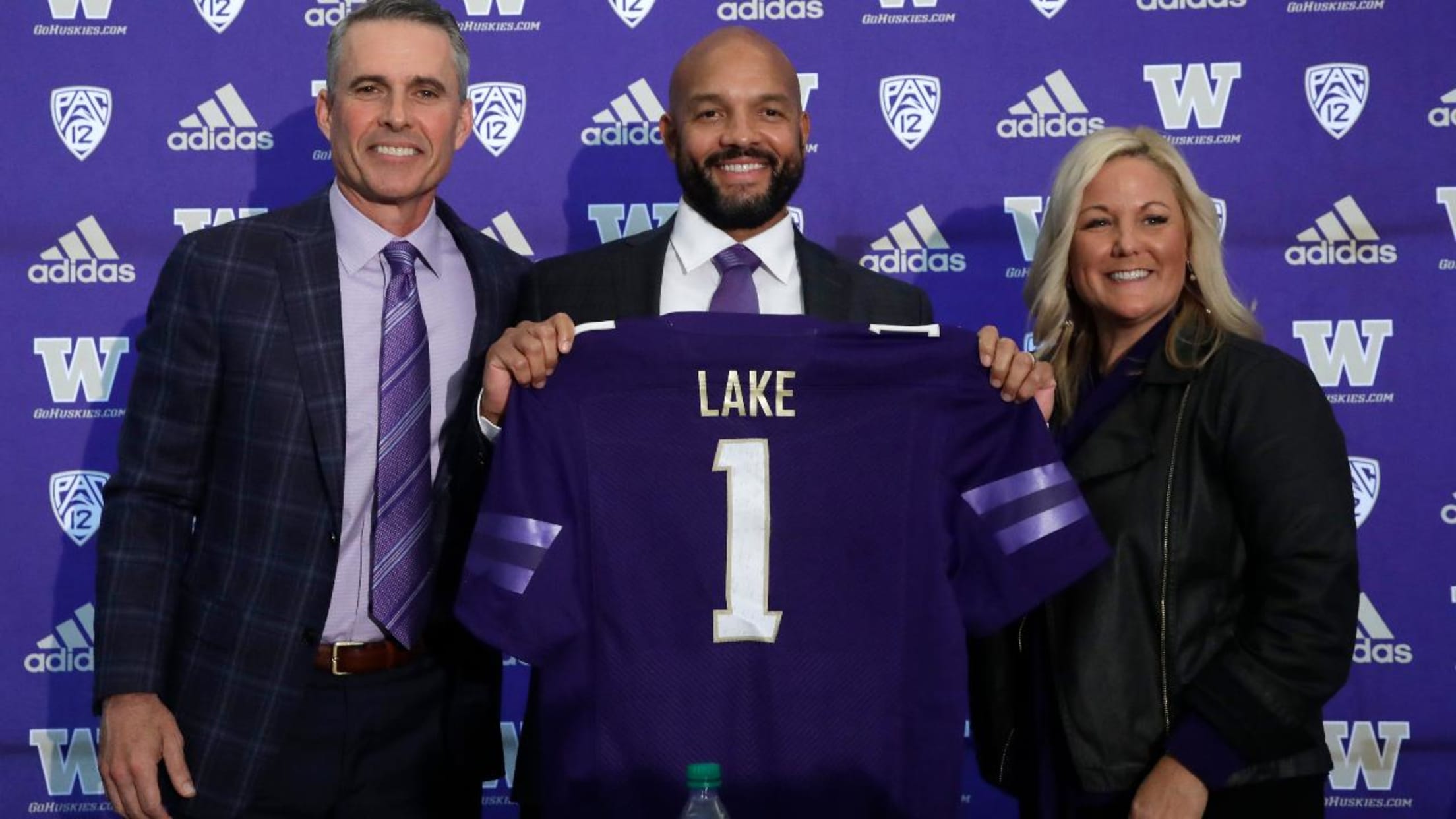 SPOKANE, Wash. - He used to sell tickets for the Spokane Indians. Now, he's top dawg for one of the Pac-12's premier programs. Former Indians front office team member Jimmy Lake, who worked as an account executive for the team in 2000, was introduced as the new head football coach
Northwest League president announces retirement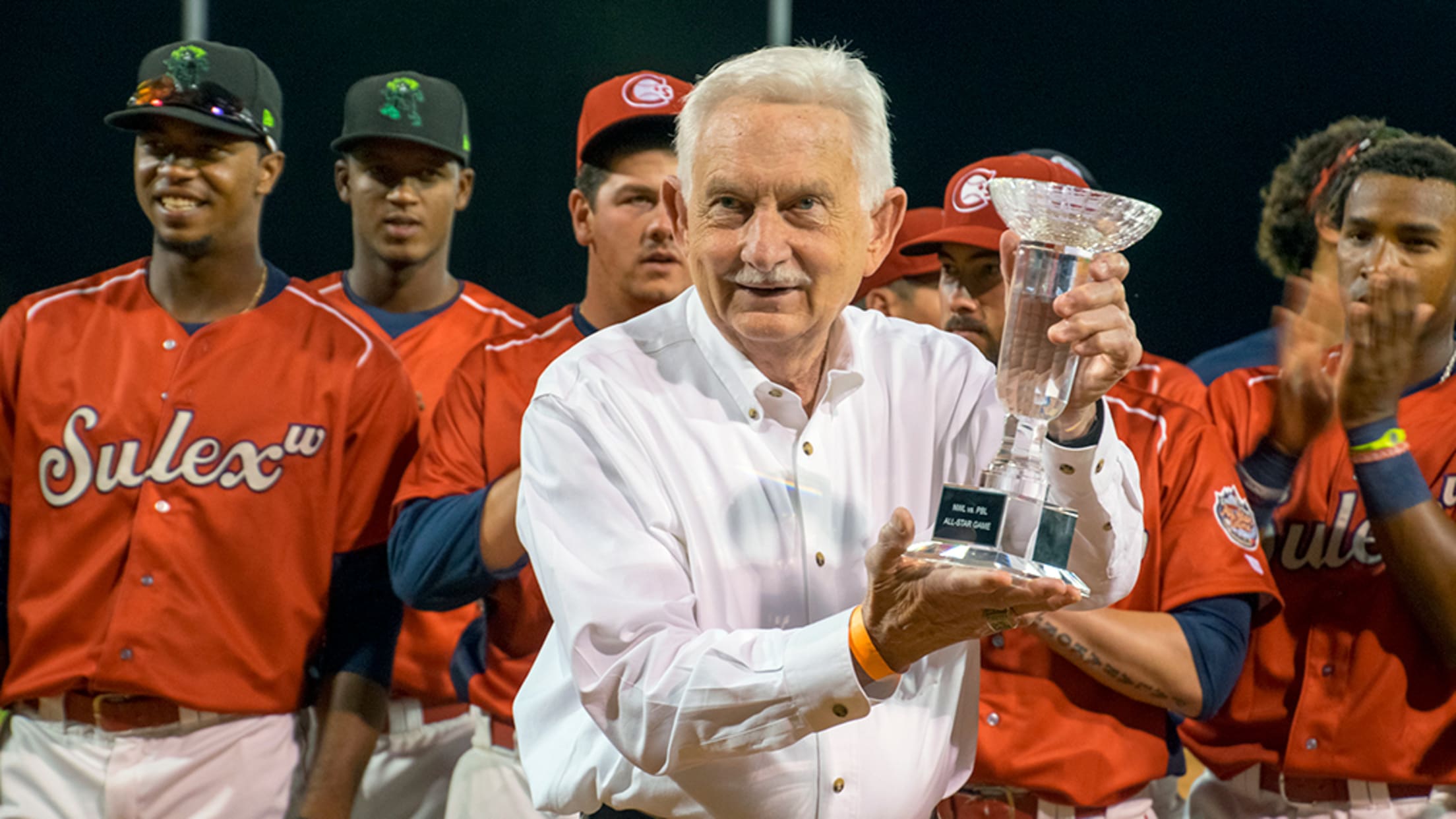 HILLSBORO, Ore. -- President of the Northwest League Mike Ellis announced he will retire as of December 2019. Ellis, who has been in the role since 2013 and whose involvement with Minor League Baseball spans more than 25 years, is choosing to step down from his position after a well-led
Head of the Class: Class A Short Season
Giants' Labour, D-backs' Frias blossomed during the summer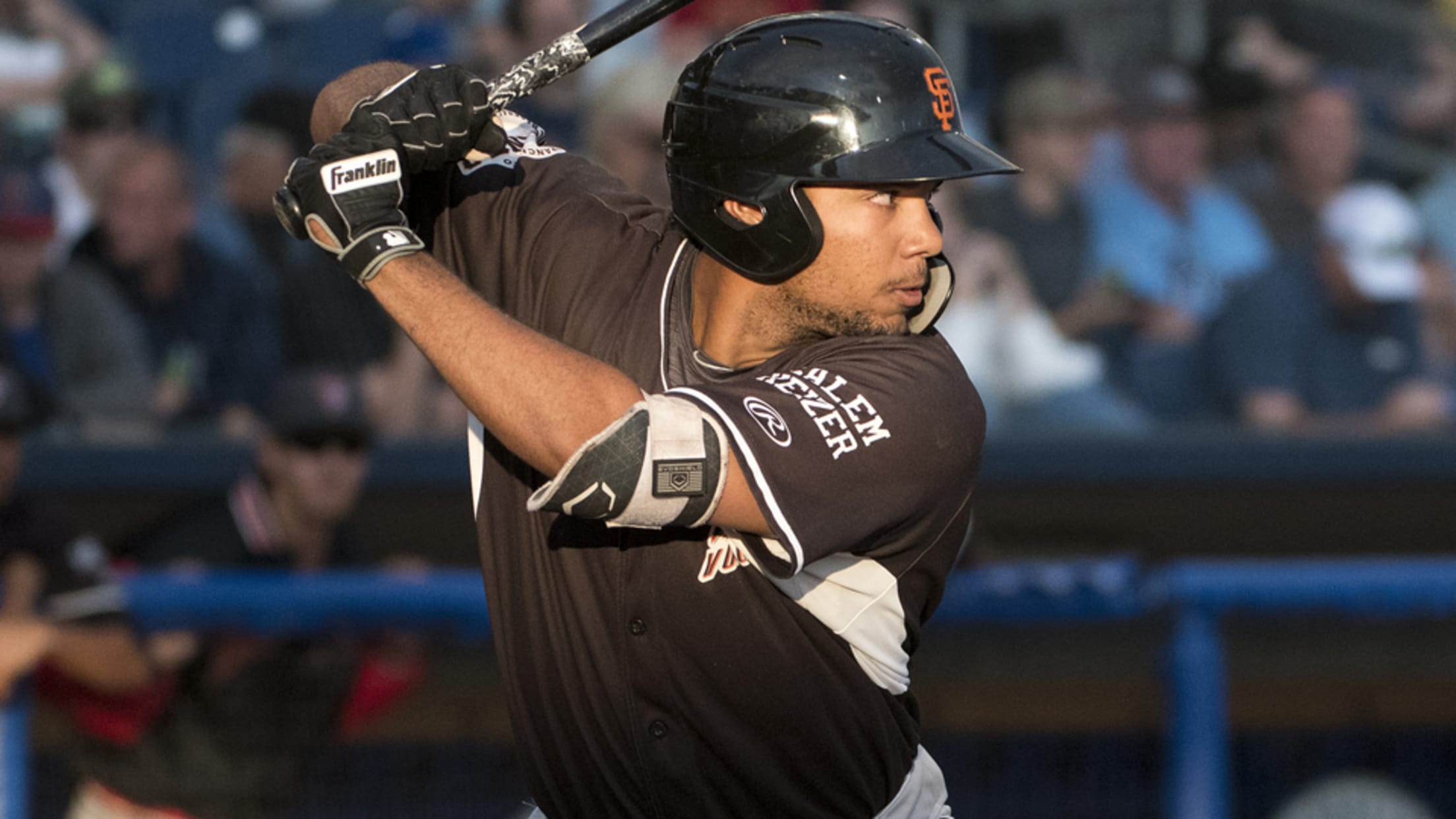 With another Minor League season in the books, members of the MiLB.com staff are looking back at some of the most notable performers from the 2019 campaign for each level. We looked at the Triple-A, Double-A, Class A Advanced, Class A and Rookie Advanced levels. Here, we turn our attention to players
Hops capture third NWL championship
January singles in go-ahead run in winner-take-all Game 5
On the night Hillsboro secured a spot in the Northwest League Championship Series, first-year manager Javier Colina made a bold statement."This team] is going to deliver," he said. "We have the best team in the league. There's no doubt in my mind."It took all five games, but the Hops proved
Acosta, Dust Devils stay alive in NWL Finals
Padres prospect homers, helps force decisive Game 5 vs. Hops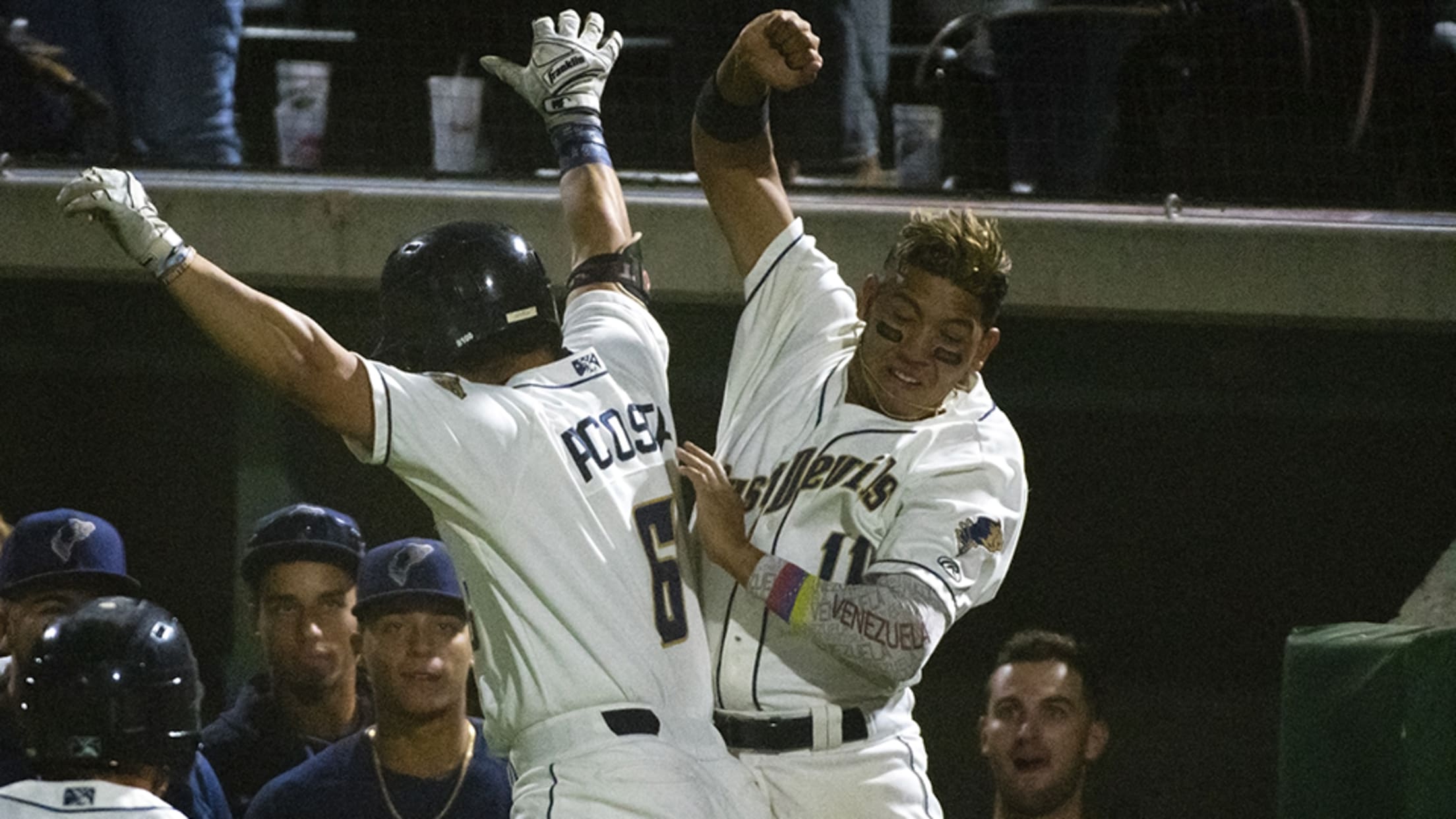 From the nine-hole, Matthew Acosta led the charge in keeping Tri-City's season alive on Tuesday.The Padres' 12th-round pick in this year's Draft belted a two-run homer and scored twice to help the Dust Devils to a 6-0 win over Hillsboro at Gesa Stadium in Game 4 of the best-of-5 Northwest
English channels dramatic victory for Hops
Ninth-inning homer puts Hillsboro on brink of Northwest crown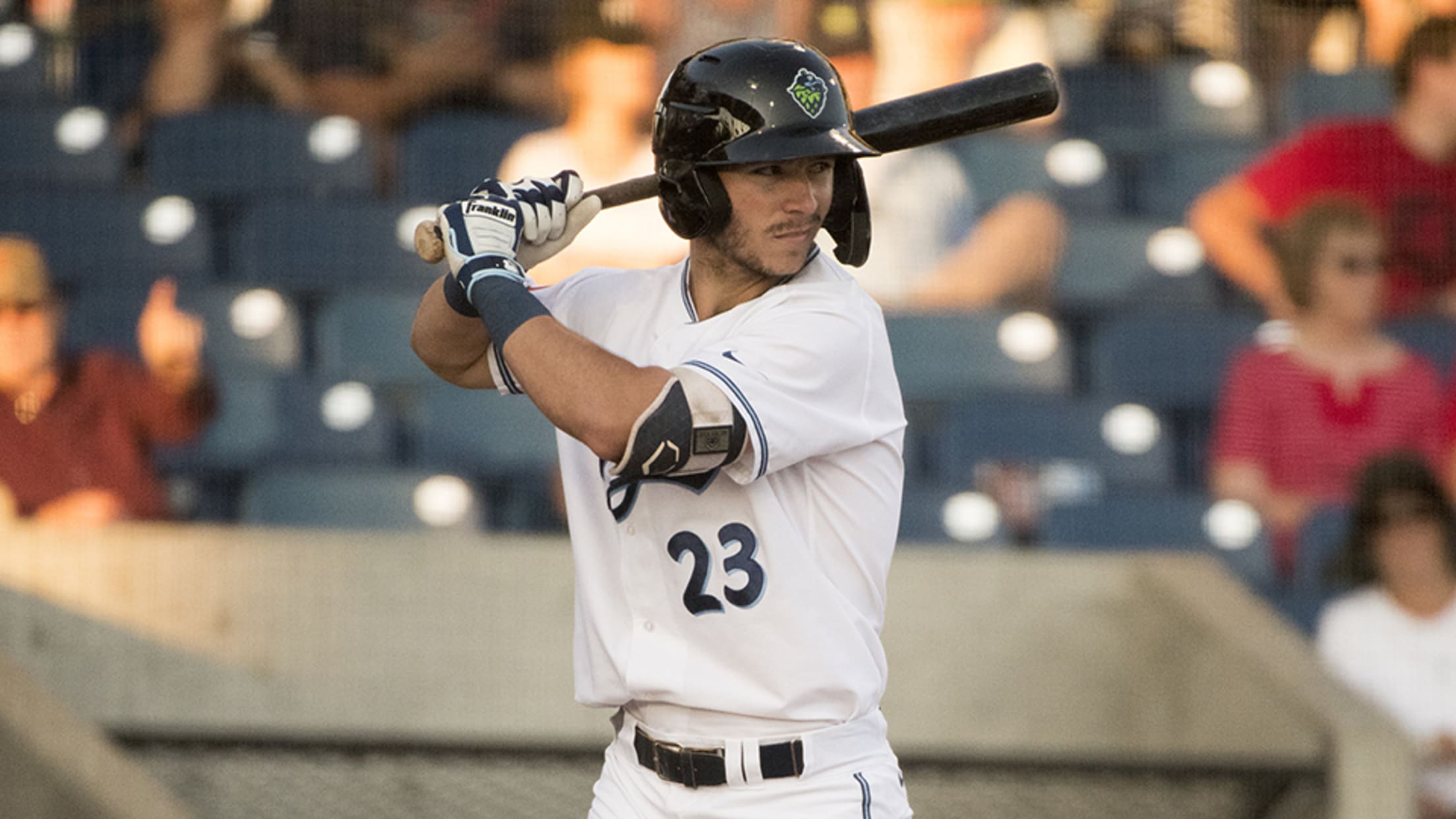 When the stakes were highest in the ninth inning, clutch hitting was Tristin English's first language.The Arizona infield prospect smacked a two-run homer in the ninth inning to lift Class A Short Season Hillsboro to a 2-1 victory over Tri-City on Monday at Gesa Stadium. The Hops lead the best-of-5
Homza gets Dust Devils even in NWL
Padres prospect hits first-inning slam in Game 2 of Finals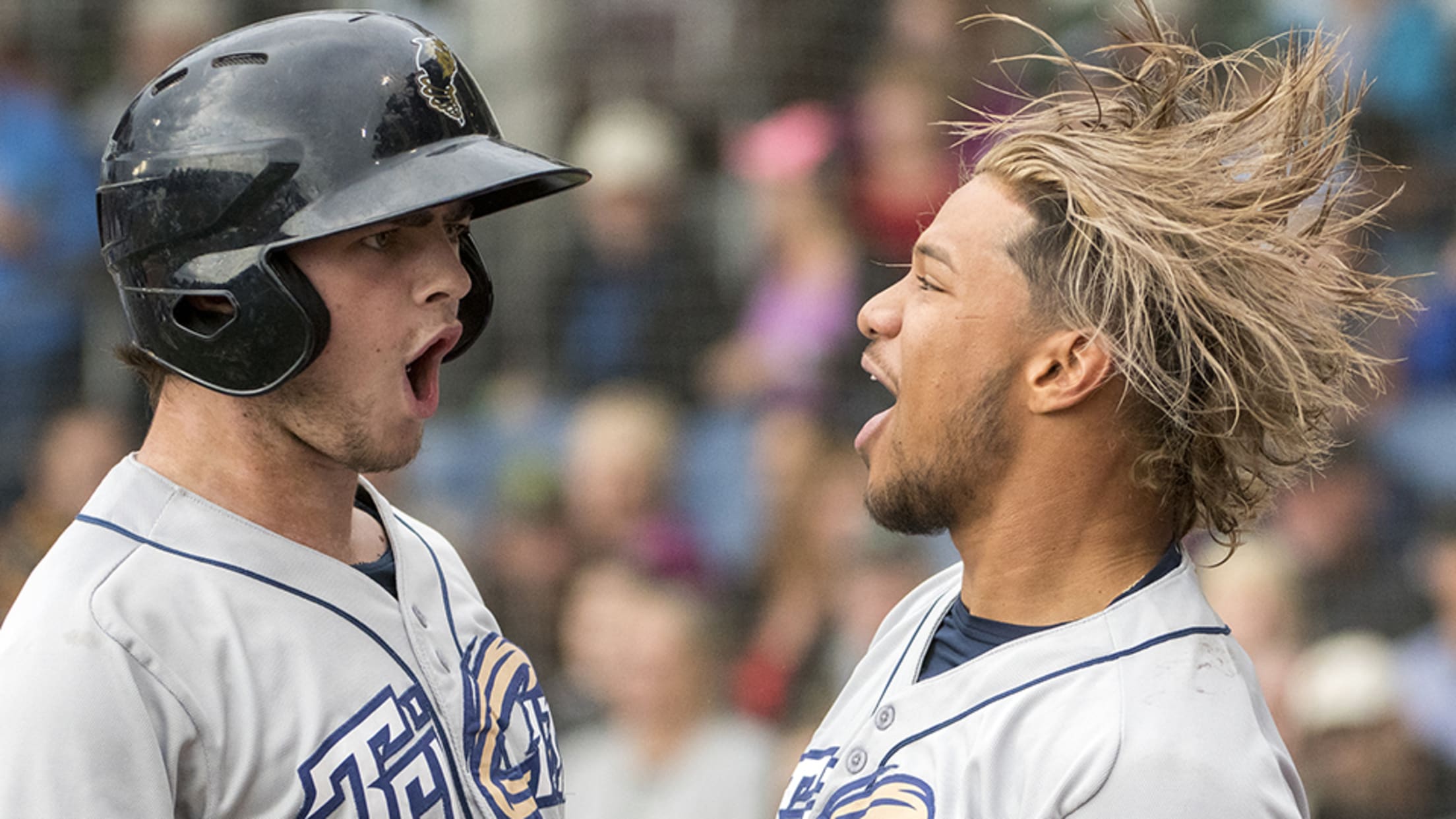 Sunday was a grand night for Jonny Homza and the Tri-City Dust Devils.After going the entire regular season without a home run, the Padres prospect hit a first-inning grand slam to send the Dust Devils on their way to a 9-1 win over Hillsboro at Ron Tonkin Field that evened
Hops' Yerzy hits walk-off blast in Game 1
Three-run shot stuns Dust Devils in opener of Northwest Finals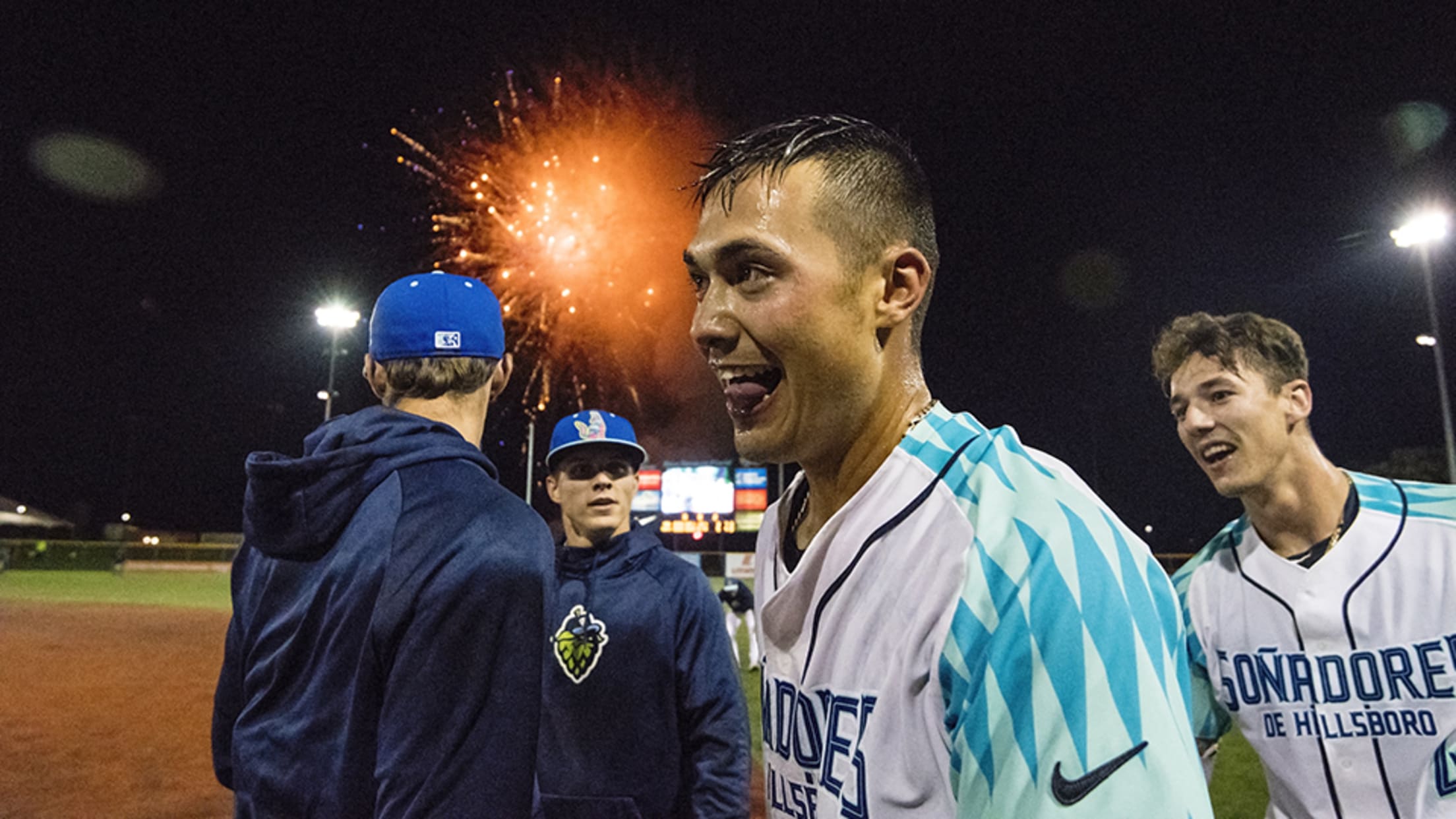 Andy Yerzy hadn't hit a home run in nearly a month. The drought ended in dramatic fashion on Saturday night. The D-Backs prospect smacked a three-run walk-off blast in the ninth inning to give Hillsboro a stunning 5-3 victory over Tri-City in Game 1 of the best-of-5 Northwest League Championship Series
Dust Devils walk into Northwest Finals
Guilbe draws bases-loaded free pass in 10th inning in Game 3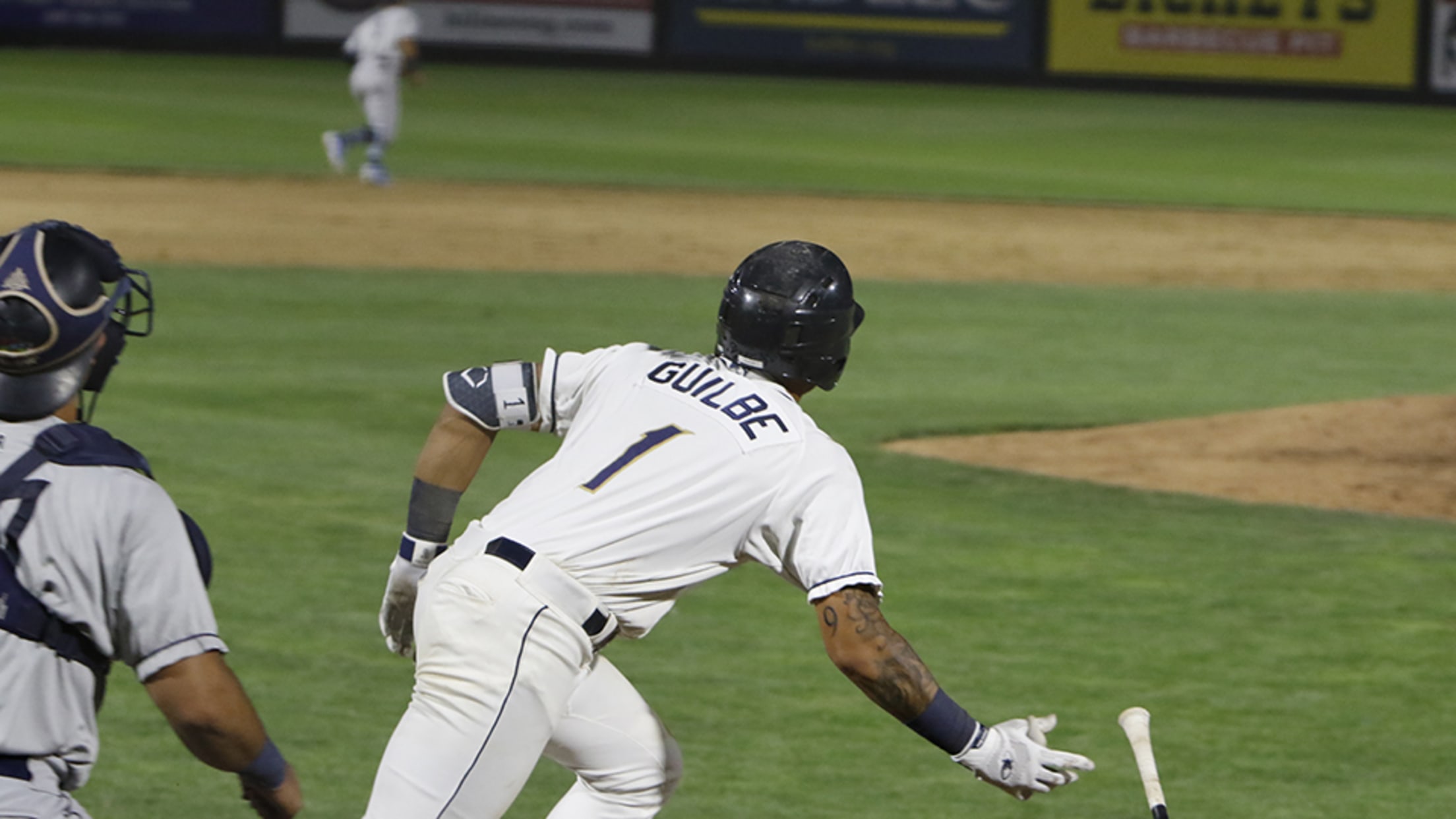 Class A Short Season Tri-City jumped out to an early lead against Spokane on Friday night, but things got pretty quiet after that. Once it got to the ninth inning, however, events quickly kicked into high gear.After Tri-City squandered a lead in the top of the ninth, Sean Guilbe drew
January, Hillsboro continue on in September
Catcher plates three runs as Hops make first Finals since 2015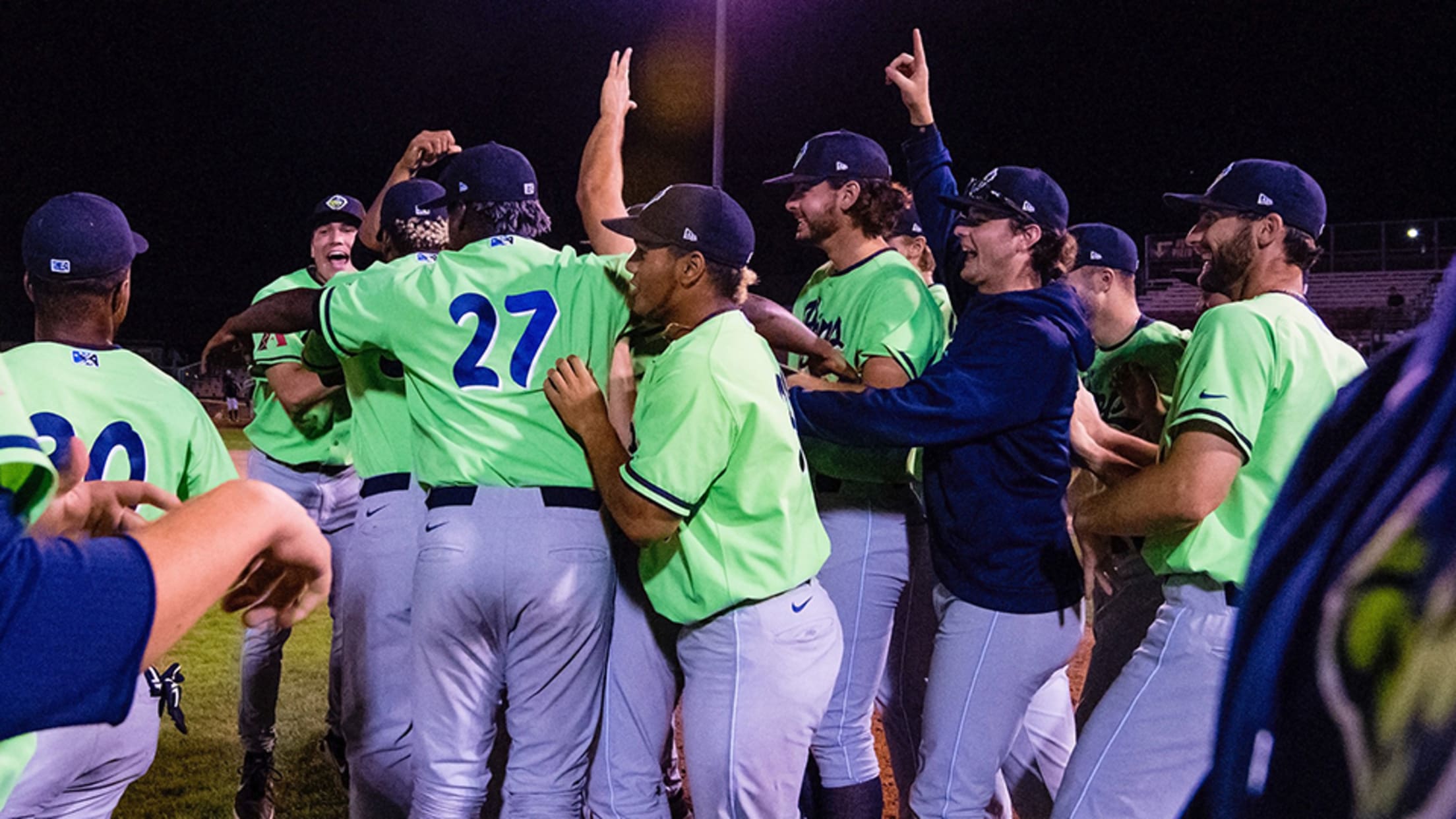 Class A Short Season Hillsboro hadn't hopped into the Northwest League Finals since 2015. Ryan January helped change that fortune Thursday.The Arizona catching prospect plated three runs as the Hops punched their ticket to the Championship Series by sweeping Salem-Keizer with a 6-3 victory in the best-of-3 series.
Peguero puts Hops on brink of NWL Finals
D-backs No. 18 prospect completes late rally with walk-off in ninth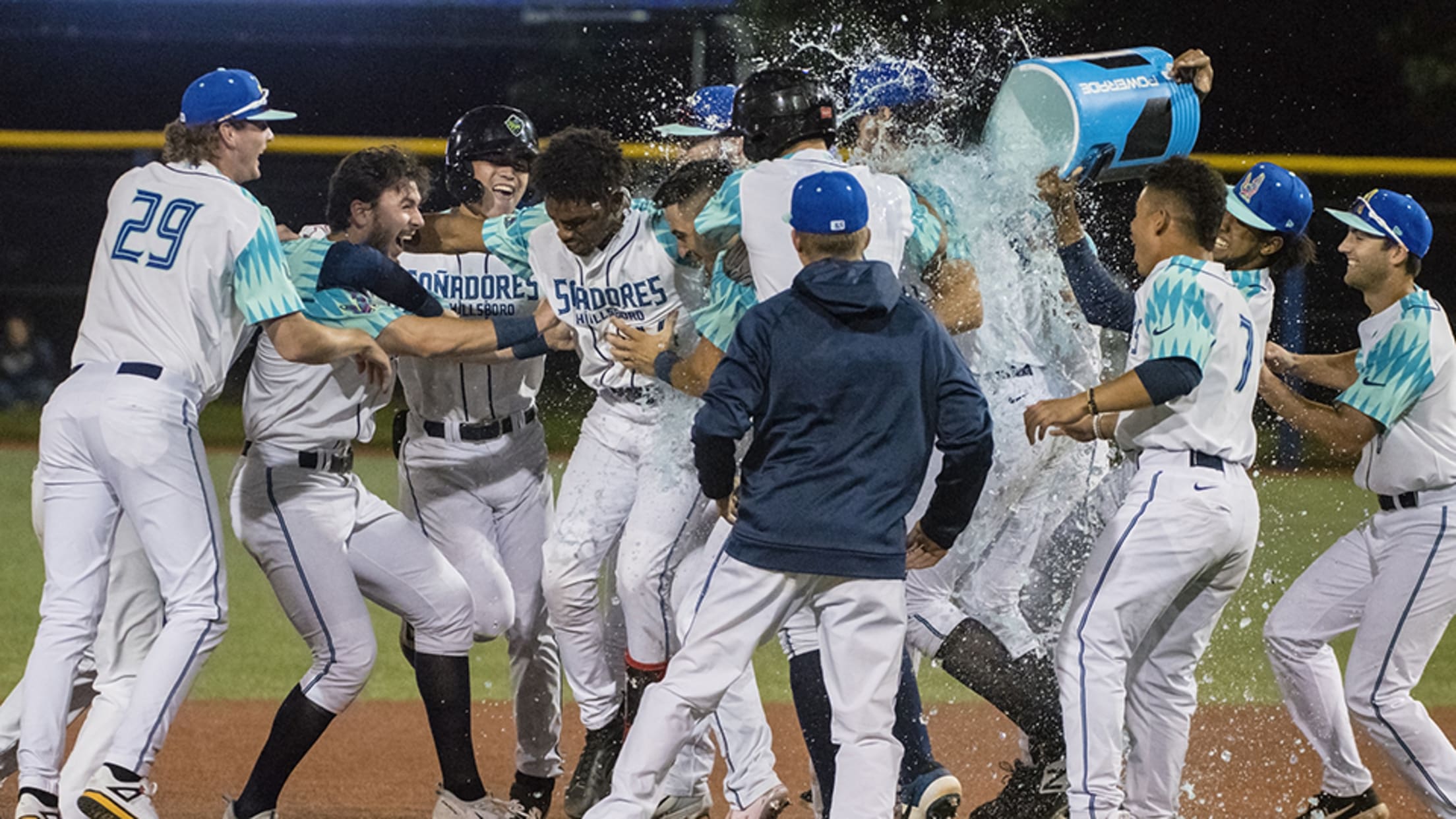 Liover Peguero couldn't get his starter a win, but he made sure a dazzling effort wasn't wasted.The No. 18 Arizona prospect stroked a walk-off double that lifted Class A Short Season Hillsboro past Salem-Keizer, 2-1, in Game 1 of the Northwest League semifinals Wednesday at Ron Tonkin Field.
Olivero, Crim lead Northwest All-Stars
D-backs, Rangers prospects take top honors after big seasons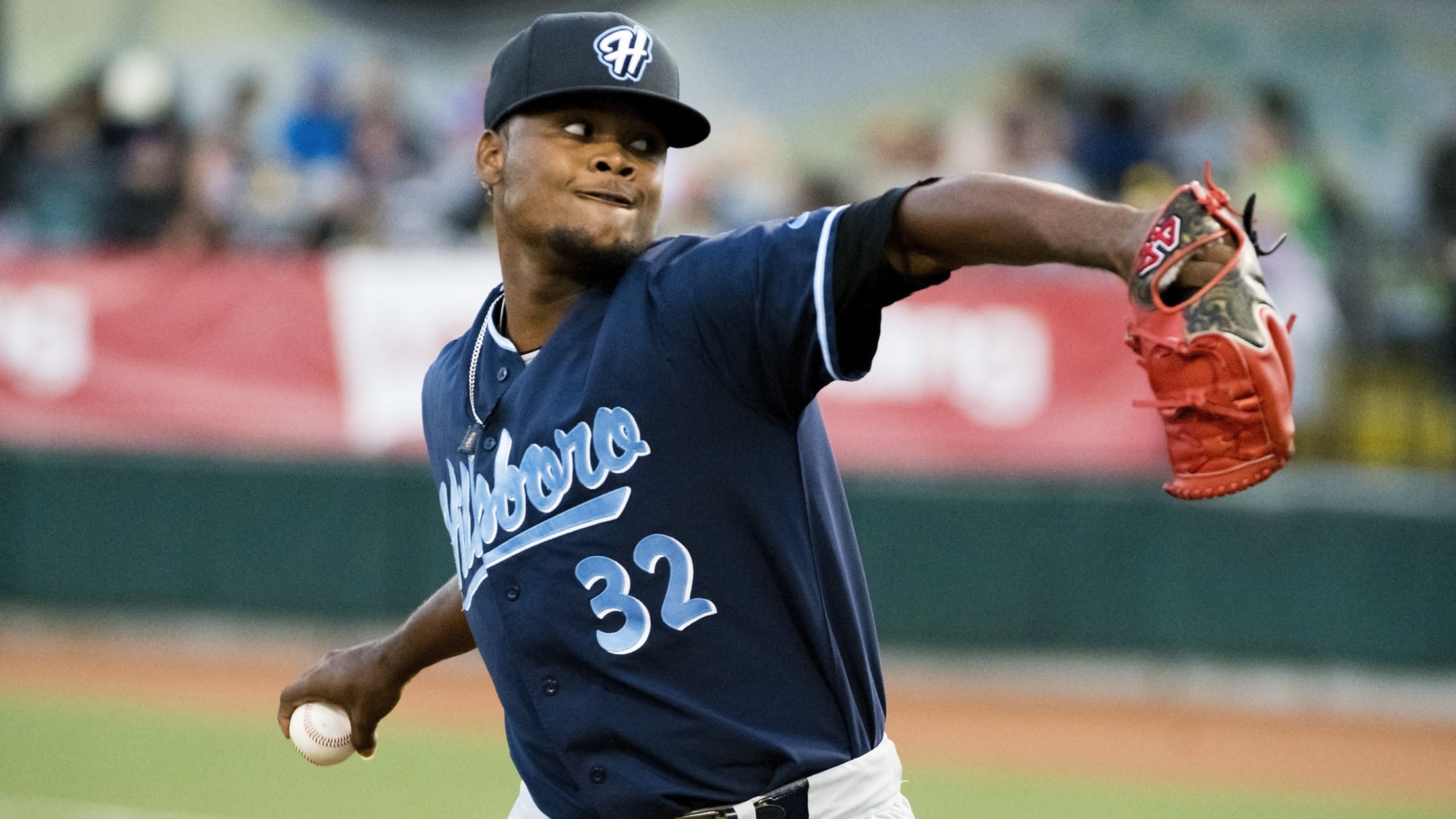 Deyni Olivero and Blaine Crim took different routes to the Northwest League, but each of them ended up at the top after impressive 2019 seasons.Olivero, who leads the Class A Short Season circuit with seven wins and a 2.12 ERA in 14 appearances for Hillsboro, was named Pitcher of the
Giants' Luciano, Bishop land on IL
Top prospects shelved by Class A Short Season Salem-Keizer
Infielder Marco Luciano and outfielder Hunter Bishop, two of the Giants' top four prospects, were placed on the injured list Friday night by Class A Short Season Salem-Keizer.According to a tweet by the team, Luciano has a strained right quadriceps, while Bishop has turf toe on his left foot. It's
Giants promote teen Luciano to NWL
No. 65 overall prospect batted .322, led AZL in RBIs, runs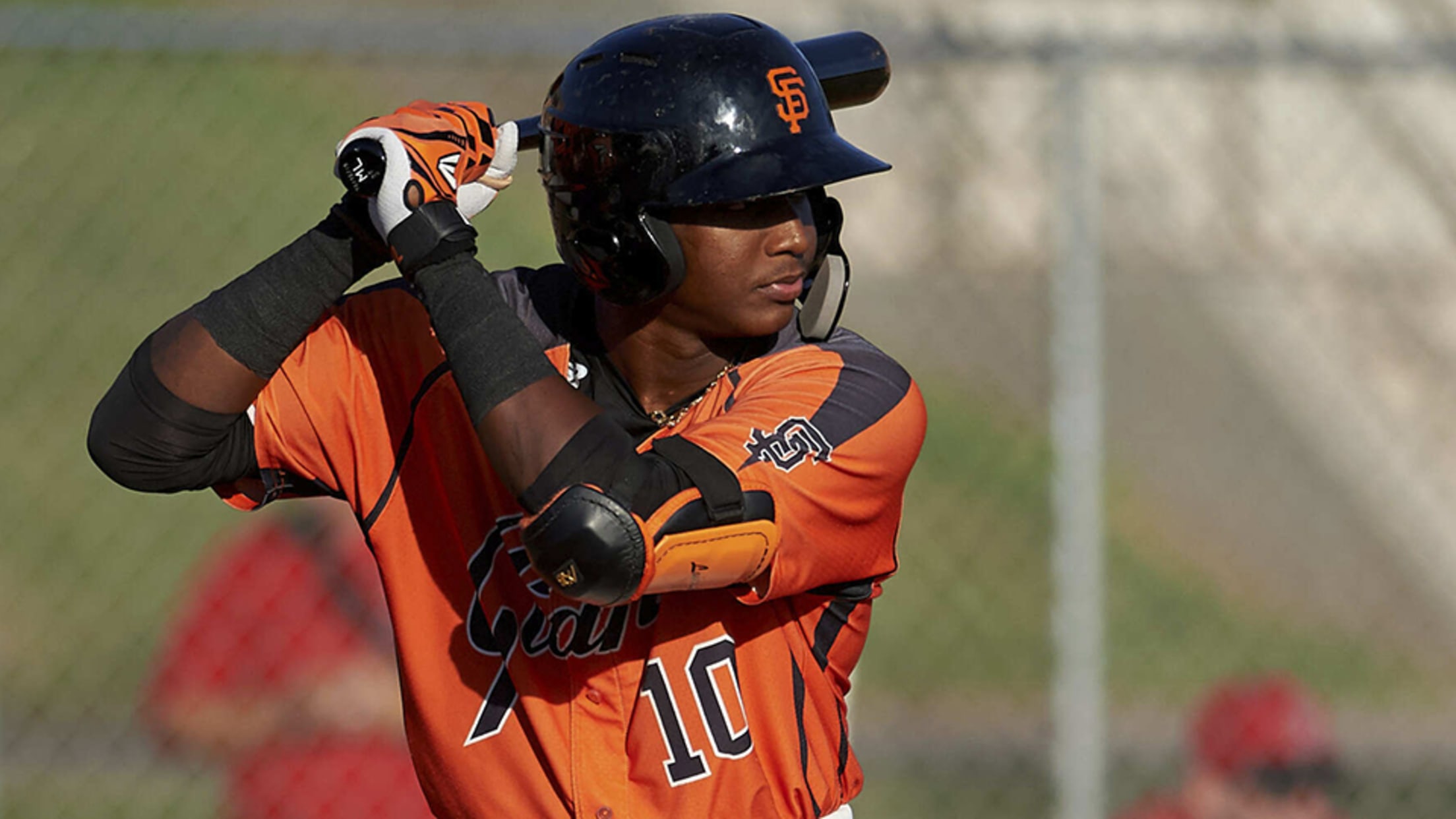 Class A Short Season Salem-Keizer added one of baseball's top prospects ahead of the Northwest League playoffs.The Giants on Sunday promoted 17-year-old shortstop Marco Luciano from the Rookie-level Arizona League, where MLB.com's No. 65 overall prospect ranked among the leaders in nine offensive categories.
Emeralds make history on Pride Night
Team breaks ground with custom jerseys featuring rainbow logo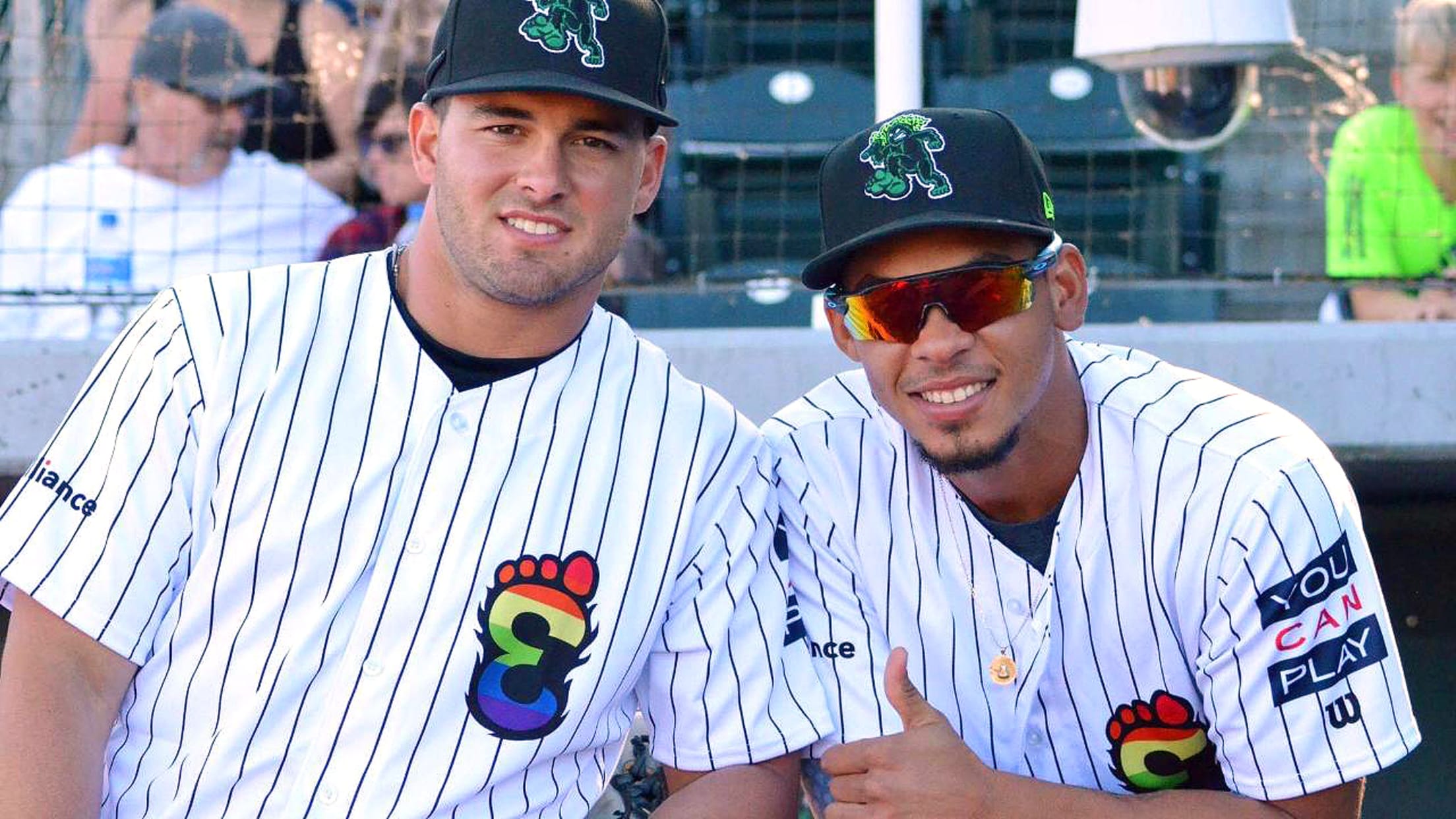 It came as a surprise to Allan Benavides that the Eugene Emeralds had made history.On June 22, the Northwest League club took the field wearing their normal uniforms, but with a little customization: the rainbow flag representing Pride Night in the team's logo.
Jackson powers Pioneer to All-Star win
Angels No. 5 prospect hits grand slam, earns MVP honor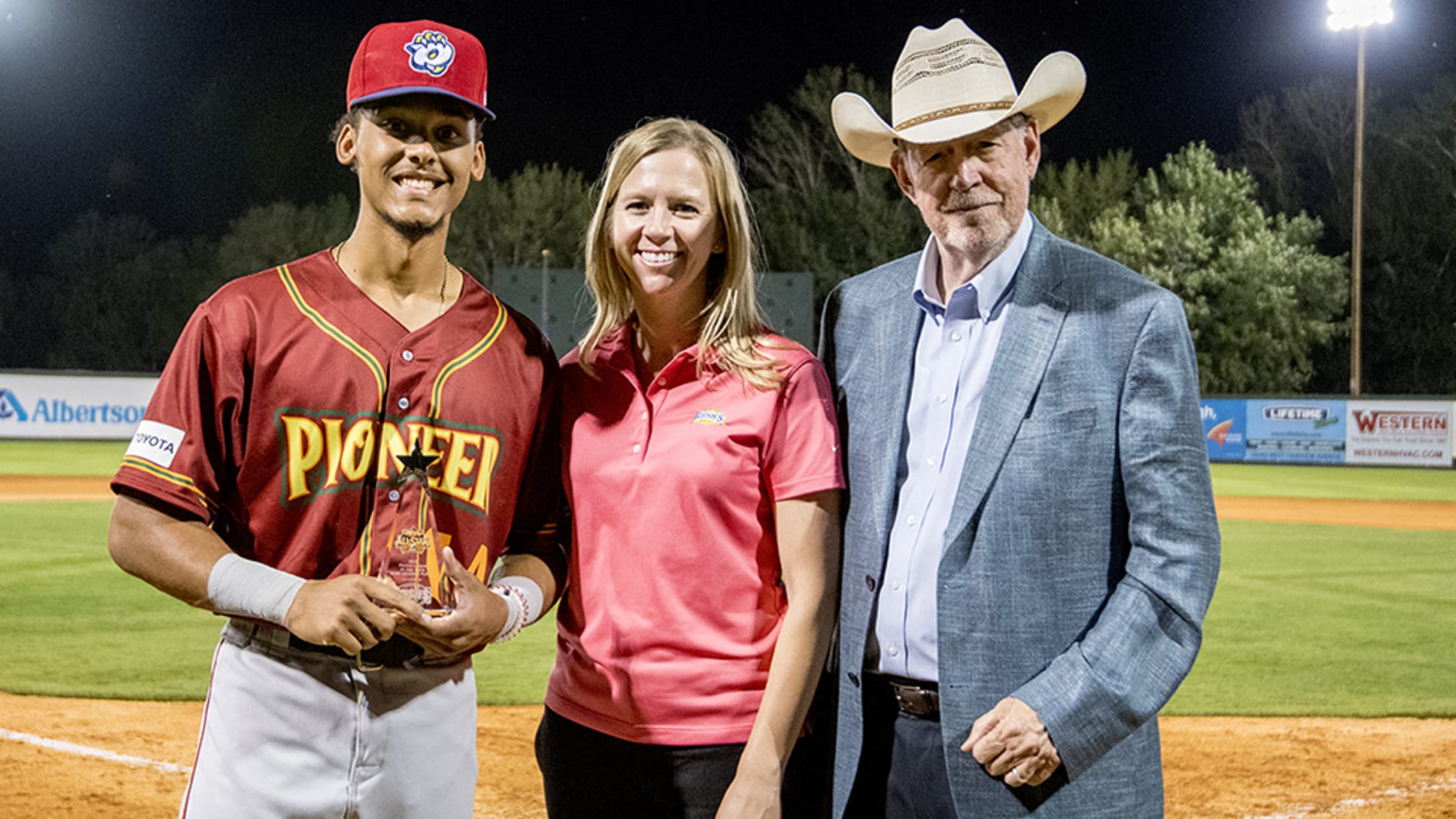 BOISE, Idaho -- The Pioneer League brought the lumber to Memorial Stadium, hitting the home run cycle -- solo, two-run, three-run and grand slam -- to survive a back-and-forth offensive battle and take home its second straight All-Star crown with an 11-7 triumph over the Northwest League."We were swinging it
Volcanoes' Canario erupts for four hits
Giants No. 7 prospect homers, doubles twice, plates three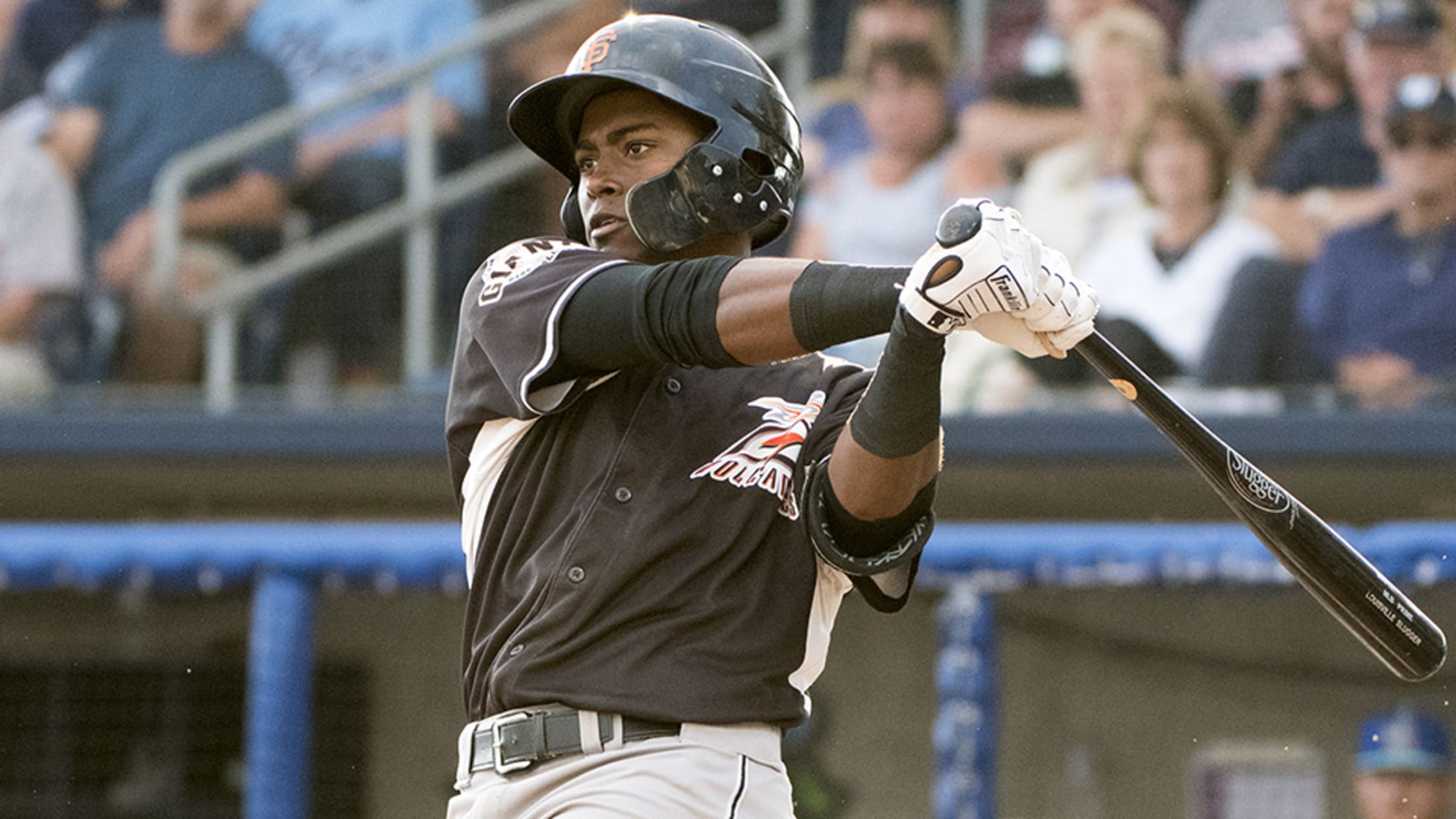 Northwest League All-Star Franklin Labour may have been promoted, but Class A Short Season Salem-Keizer hasn't had a problem finding his replacement in the lineup, with Alexander Canario stepping up in a big way Saturday night. The Giants' No. 7 prospect went 4-for-5 with a homer, two doubles and three RBIs
D-backs' Robinson leads NWL All-Stars
No. 93 overall prospect has been a force for Hillsboro at just 18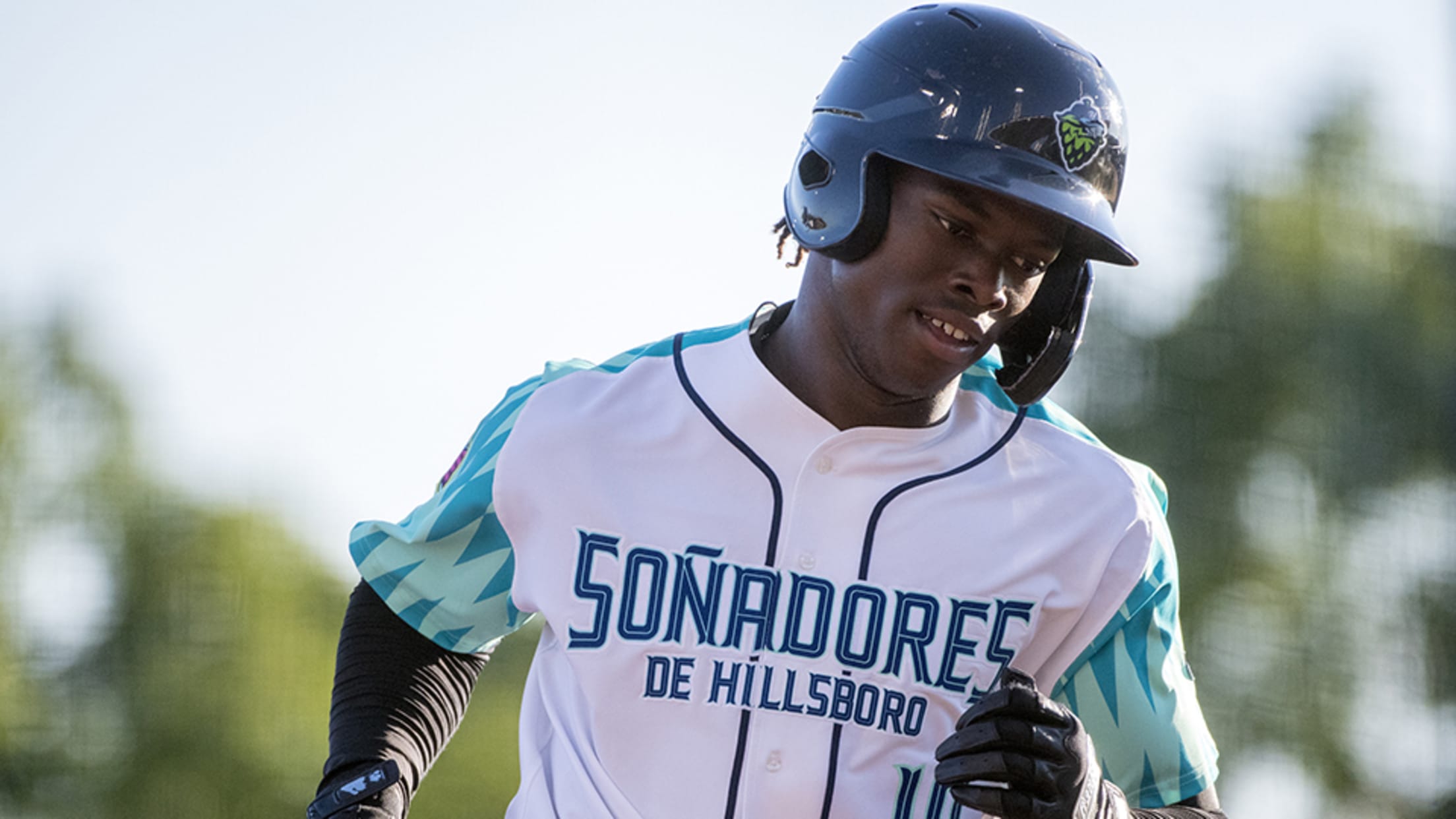 Kristian Robinson's big season has already pushed him into MLB.com's Top-100 prospect ranking. Now, it's earned him an All-Star spot as well.The No. 93 overall prospect highlights the 2019 Northwest League All-Star roster released by the Class A Short Season circuit Wednesday afternoon. The Hillsboro outfielder will lead an NWL
Ems' Jensen logs another hitless start
Cubs No. 7 prospect fans five in two frames to extend streak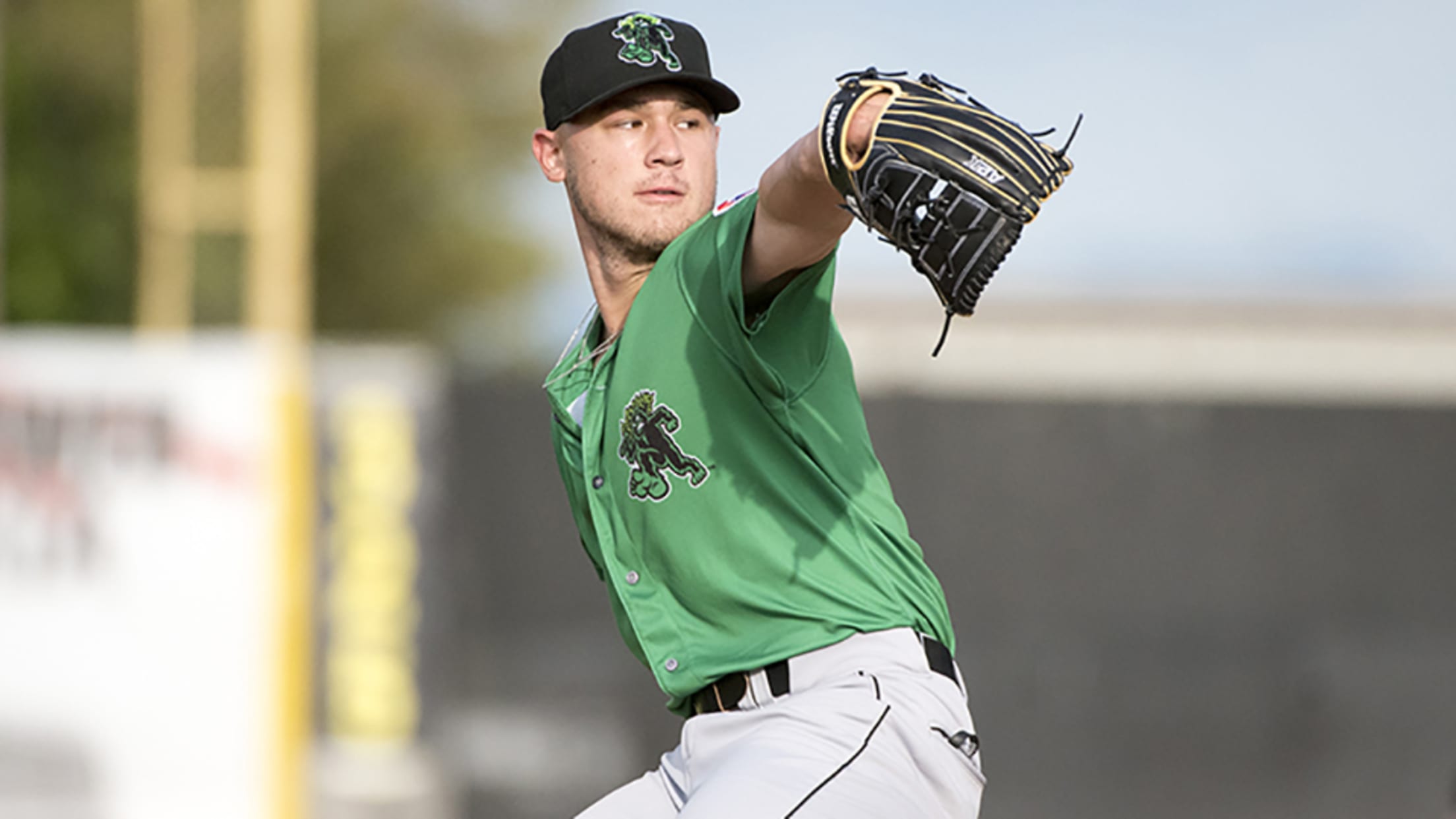 Ryan Jensen has made a seamless transition from the college ranks to the Northwest League.The Cubs No. 7 prospect struck out five over two innings in his second straight hitless start as Class A Short Season Eugene blanked Spokane, 2-0, on Tuesday night at PK Park.