Emeralds set record with 15th straight win
Cubs' Short Season affiliate eclipses own Northwest League mark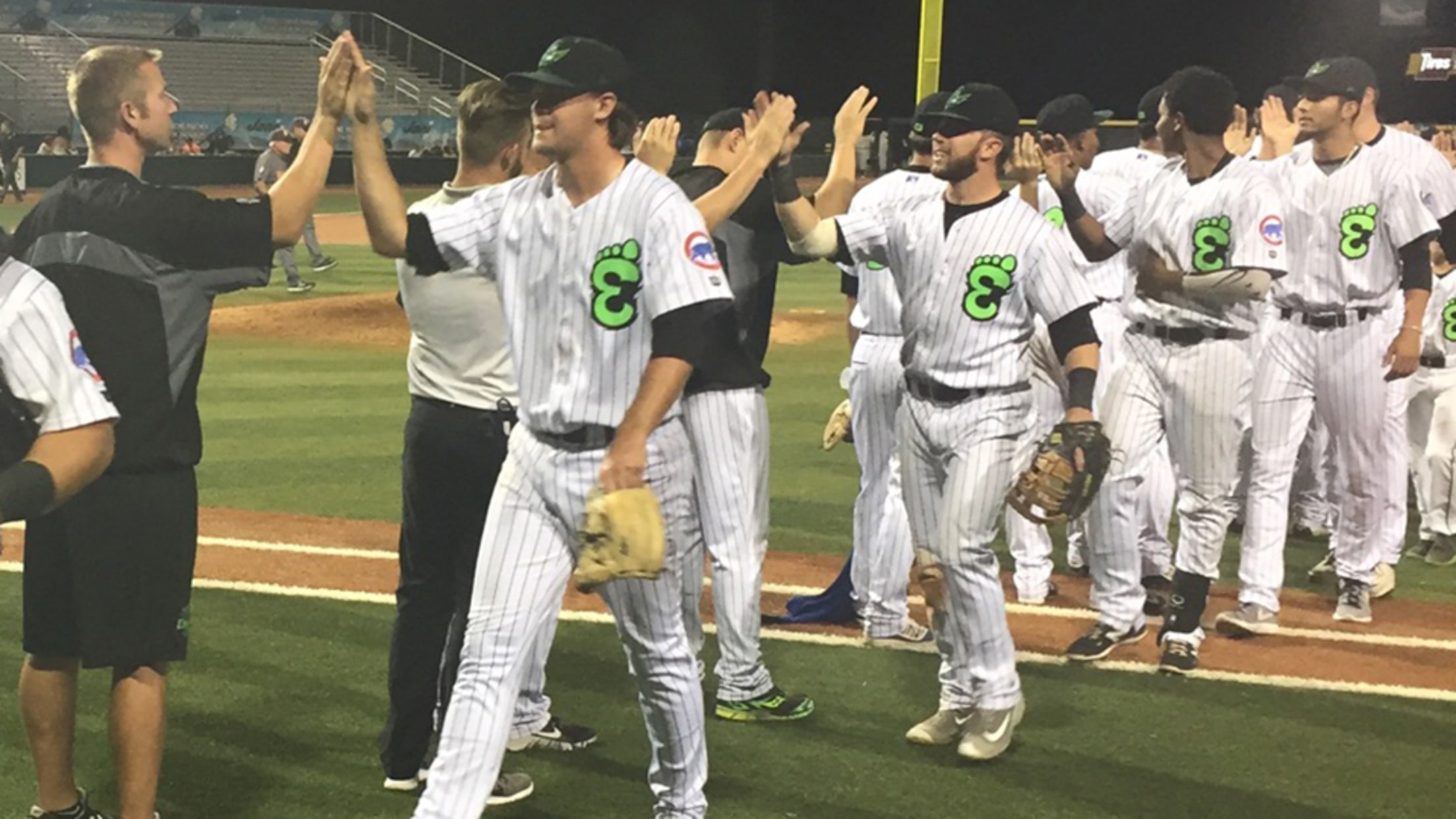 During the current 15-game winning streak, the Emeralds have outscored their opponents, 92-43. (Eugene Emeralds)
The Eugene Emeralds may have made history on Friday night, but the team is looking more to the future. "We are just taking this one day at a time," manager Jésus Feliciano said. "Right now, I'm very proud of what we have done so far, but our mission is not
The Eugene Emeralds may have made history on Friday night, but the team is looking more to the future.
"We are just taking this one day at a time," manager Jésus Feliciano said. "Right now, I'm very proud of what we have done so far, but our mission is not over."
The Cubs' Class A Short Season affiliate set a Northwest League record with its 15th consecutive win, getting five scoreless innings from Pedro Silverio in a 7-1 victory over visiting Boise. The Emeralds broke their own record, which was set in 2011 as a Padres affiliate.
"It's always fun to accomplish something like this," Feliciano said. "The good thing about this team is that we continued to play. We know what's been going on and we knew about the streak, but all the credit to the players. They have come in and not talked about that much and just competed and try to win every game. And when you have a team like we do, every night has been someone different that comes through with a big hit or a great outing."
Leading the way on Friday was Silverio, who yielded two hits and two walks while striking out six. Zack Short and Wladimir Galindo provided the offense with three RBIs apiece.
"Everybody is having a lot of fun," Feliciano said. "The guys have done a tremendous job of being humble. They have played very hard and not taken anything for granted. Everybody is picking each other up, it's a collective thing, and that's what we have going on right now."
During the streak, the Emeralds have outscored opponents, 92-43, with nine of the wins coming by three runs or fewer and six by one run.
"The greatest thing I like about this team is that especially at these lower levels, sometimes when teams make errors, they can't turn the page right away," Feliciano said. "I think the fun thing about this team is that we've made adjustments right away and kept competing. I think that's what separates us from the other teams. We are also leading the league in saves, so that tells a lot about our team, that we have played and won a lot of close games."
The single-season league mark for wins in a 76-game season is held by Salem-Keizer, which went 57-19 in 2007. At 45-15, Eugene would have to go 13-3 the rest of the way to add that record.
"Our mission is to come here every day and get better," Feliciano said. "There's always a purpose. We are getting closer to the playoffs and it's a good thing that we continue to compete and play the right way, doing what it takes to win games. We are obviously going to try to play every game like it's our last one, but at the same time we have to look down the road."
Eight of the wins during the streak have come on the road, but Friday's victory in front a crowd of 2,555 at PK Park provided a little extra incentive for Feliciano and his team.
"I think that's huge for the fans," he said. "The Eugene Emeralds fans have been awesome to us and our players, so they deserve this. When you do things like this, it's always fun, and the players are aware of that. Hopefully, now we can bring a championship to them."
Michael Peng is a contributor to MiLB.com. Follow him on Twitter @MichaelXPeng