Express Slip Past Chasers 10-9
Omaha's 7-run 7th not enough in back-and-forth affair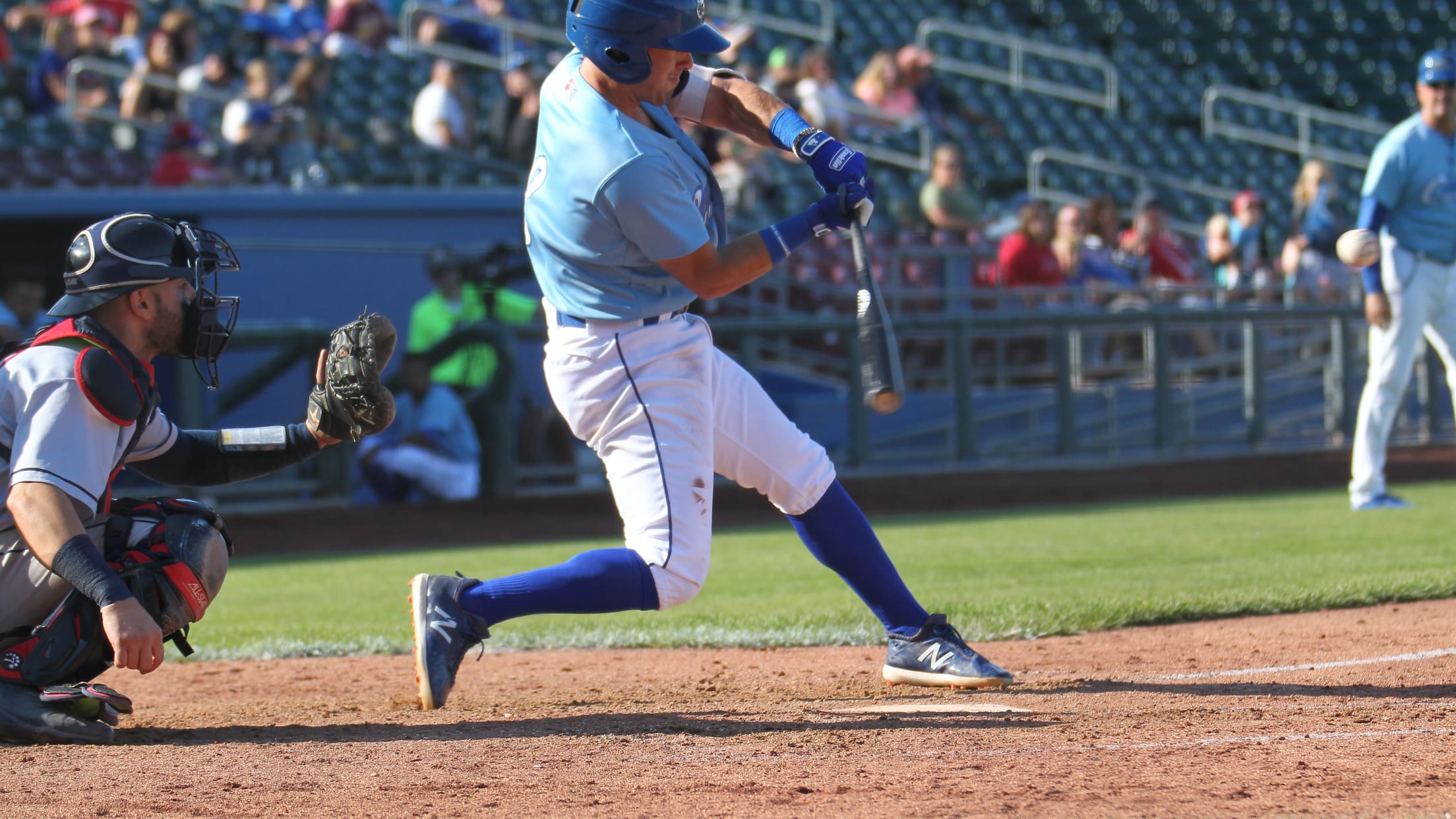 Omaha 3B Jimmy Govern collected two hits, including a two-run double as part of a seven-run seventh inning, in the Storm Chasers' 10-9 defeat to Round Rock on Saturday at Werner Park. (Minda Haas Kuhlmann)
Omaha overcame a five-run deficit with a seven-run seventh inning capped by a two-run double by 3B Jimmy Govern, however Round Rock catcher Lorenzo Quintana collected four hits, including the go-ahead run-scoring single in the eighth, in the Express' wild 10-9 win over the Storm Chasers on Saturday afternoon at
Omaha overcame a five-run deficit with a seven-run seventh inning capped by a two-run double by 3B Jimmy Govern, however Round Rock catcher Lorenzo Quintana collected four hits, including the go-ahead run-scoring single in the eighth, in the Express' wild 10-9 win over the Storm Chasers on Saturday afternoon at Werner Park.
Entering the bottom of the seventh trailing 7-2, Omaha erupted for seven tallies, including 3B Govern's go-ahead two-run double to left. C Xavier Fernández 's RBI single up the middle extended the advantage to two, however Round Rock immediately answered with three tallies in the eighth, capped by Quintana's RBI single to left.
Round Rock totaled 18 hits, with Quintana and LF Chas McCormick (3-4, 3 R, 2 BB) headlining the Express' six multi-hit efforts. All nine Express batters also posted at least one knock. Govern (2-5, 2B, 2 RBI), Fernandez (2-4, R, RBI) and SS Jecksson Flores (2-5, 2 R, RBI) each recorded multi-hit efforts for Omaha, while 1B Erich Weiss homered for the second time in three games.
Express reliever Ronel Blanco (0.2 IP, 2 H, 2 R, 2 ER) earned the victory, while Ralph Garza (2.0 IP, BB, 2 K) notched his fifth save. Omaha southpaw Richard Lovelady (0.2 IP, 4 H, 3 R, 3 ER, BB, K) suffered the defeat.
The two teams are set to continue their four-game set on Sunday evening, with first pitch scheduled for 7:05pm CT.
Tickets for that game and all remaining Storm Chasers home contests can be purchased online at www.omahastormchasers.com, or by calling the Werner Park Ticket Office from noon until 6:00 p.m. Monday through Friday at (402) 738-5100.