Baker one strike away from perfection
Veteran OKC right-hander loses bid with two outs in seventh inning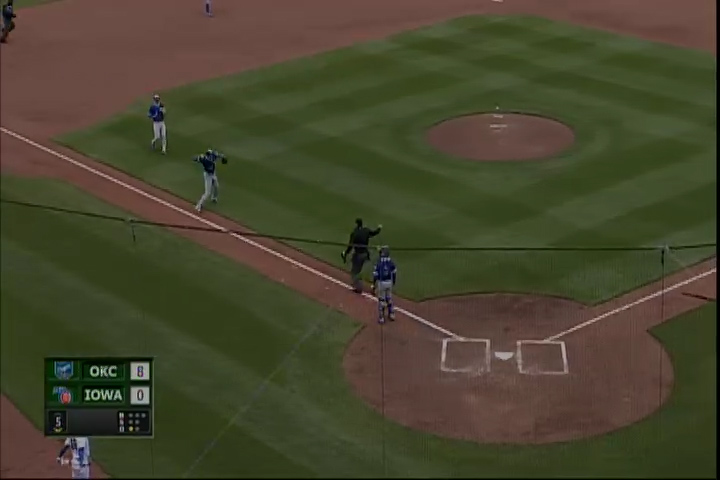 By Sam Dykstra / MiLB.com | April 20, 2015 5:10 PM
Base hits don't generally hurt pitchers. Sure, they'd like to keep them to a minimum, but that's rarely realistic against professional batters. So whether a hit comes in the first inning or the fifth, they can brush it off. Get the next guy. No big deal.
But with no hits allowed, no walks allowed -- no baserunners of any kind allowed -- and just one out away from perfection, a hit can hurt. It can hurt bad. For Scott Baker, a Major League veteran who underwent Tommy John surgery in 2012 and has seen a few no-hitters lost in his 13 seasons in pro ball, it wasn't so bad.
Baker, now with Triple-A Oklahoma City, retired the first 20 Iowa batters he faced Monday afternoon and had an 0-2 count against Cubs No. 2 prospect Addison Russell in the first seven-inning game of a doubleheader -- one strike away -- before yielding a groundball single up the middle. He gave up a double to Mike Baxter as well before finishing off the Dodgers' 8-0 win over the I-Cubs with two hits allowed and four strikeouts in his seven innings.
"To be one good pitch away from it like that, it feels a little disappointing, sure," Baker said. "But when you throw seven shutout innings like that, it's really tough to complain. I'm obviously pleased with the way things went. Yeah, the perfect game didn't work out, but the most important thing for me is that I physically feel good. That's huge."
Baker rolled through the Iowa lineup the first two times, needing only 60 pitches to complete the first six frames. Relying on a particularly effective slider, the veteran right-hander forced 13 groundouts on the afternoon -- two of which came off the bats of Adron Chambers and Junior Lake to start the seventh.
As the zeros began to pile up, Baker's memory started to kick in. Back on Aug. 31, 2007, as a Minnesota Twin, he took a perfect game into the ninth against the Royals before allowing a leadoff walk to John Buck and a one-out single to Mike Sweeney. Back in 2004, Baker allowed only one hit in a seven-inning complete game during his Double-A debut for New Britain.
Monday's near-feat was almost a familiar situation for the right-hander.
"At some point, every pitcher expects to pitch out of the stretch, so you know something's up," he said. "And at that point, you know, all I'm trying to do is execute the next pitch. Just because there's something going on, I focus even more on what I've done and what I have to continue to do. I've been here a few times so I knew what to do, and as dumb as it sounds, it really is just taking it one pitch at a time."
Monday's gem was part of an impressive introduction to Oklahoma City for the former Twin, Ranger and Cub. Baker had allowed only two runs, eight hits and one walk to go with 12 strikeouts in his first two outings (10 innings).
That comes after a difficult spring for the Oklahoma State product. Coming off a season in which he owned a 5.47 ERA in 80 2/3 innings -- mostly as a reliever with the Rangers -- Baker signed with the Yankees in January with an outside shot at cracking the Major League rotation or bullpen. A difficult Grapefruit League campaign (nine earned runs allowed in 10 1/3 innings) followed, and the Yankees released Baker on March 29, allowing him to seek other options or come back on a Minor League deal. He chose the former.
"I just didn't have the spring they or I wanted," he said. "It came down to the end, and they went a different direction. I'm old enough to know it's not based on results alone, and that stuff has something to do with it. It's not anything personal. ... But I wouldn't be here unless I thought I could still contribute in the Majors, and I really do think that."
Baker signed a Minor League deal with the Dodgers on April 3 with the belief that they provided the best route to the Majors. With Hyun-jin Ryu still on the DL, there were rumors that Baker might take his place in the rotation. For now though, a 1.06 ERA, 0.65 WHIP, 13/1 K/BB ratio and one near-perfect game should do plenty for the veteran's confidence and stock in the organization.
"Listen, I've got a wife and three kids," he said. "If I didn't think I could get back to the big leagues, I have the best possible consolation prize in them waiting for me, and I'd take it. I feel really good about them and feel like I've had a really good career. But I'm not at that point yet."
Sam Dykstra is a contributor to MiLB.com. Follow and interact with him on Twitter, @SamDykstraMiLB. This story was not subject to the approval of the National Association of Professional Baseball Leagues or its clubs.
View More