Pederson homers twice more for Isotopes
No. 2 Dodgers prospect collects dingers No. 12, 13 on PCL season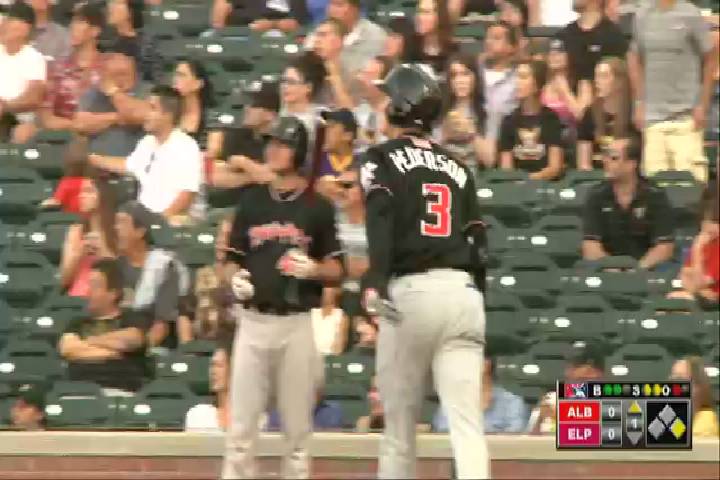 By Josh Jackson / MiLB.com | May 16, 2014 2:57 AM
A month-and-a-half into the season, Joc Pederson remains on a power surge, but he doesn't have any big secrets to explain it.
"I'm just trying to get good pitches and put good swings on them," he said.
Pederson went yard twice more and collected three RBIs on Thursday, helping the Triple-A Albuquerque Isotopes to a 14-8 win over the Grizzlies at Fresno's Chukchansi Park.
"Everyone swung the bat well, and we haven't been swinging it well," said Pederson. "It was a good day for momentum."
The second-ranked Dodgers prospect and No. 30 prospect in baseball has three two-homer games in 2014. In 39 games, he's hit 13 long balls -- one behind Pacific Coast leader Adam Duvall of the Grizzlies. In 123 Double-A contests last year, Pederson had 22 home runs.
The 22-year-old outfielder grounded into a double play against southpaw Mike Kickham in the first inning. That made Pederson 0-for-8 vs. Kickham, the Giants' 17th-ranked prospect, this season. The Isotopes roughed up Kickham for five runs in that opening frame.
"He's definitely gotten the best of us the two times he faced us. We were determined to go out there and put some runs up on him," Pederson said. "When he made a mistake, we were hitting the ball hard. When everyone's hitting, it's hard for a pitcher to stop the bleeding and they miss more. It was good energy in the dugout."
In the second inning, Pederson brought some of that positivity into his ninth at-bat against Kickham. With two outs and a runner on first, he fouled off a first-pitch bunt attempt and then smacked the second offering out of the park.
"If I laid down a good bunt, I would have had a hit, and then [after they knew it was coming] I didn't have the same chance," he said. "To be honest, I was just trying to get on and help the team out."
Pederson has historically struggled against left-handers, but he entered Thursday with a .368 on-base percentage and three dingers against southpaws this season. He admitted homering off a lefty like Kickham gives him an extra lift.
"It always is a little bit nicer when people tell you you can't hit off lefties, and then you drive the ball against lefties," he said. "It's encouraging, and it builds my confidence against them."
Pederson struck out in the fourth and took the Grizzlies' Adam Reifer deep in a four-pitch at-bat in the sixth. That home run cleared Fresno's wall in straight-away center field, 400 feet from home plate.
"It is far. I hit it pretty good and [Reifer] was throwing hard," Pederson said. "I'm glad I was able to barrel up on it."
He struck out in the eighth, which was his 47th in 147 at-bats. He's not concerned.
"If you play the game, you're going to strike out. I'm up there looking to do some damage, so I'm going to have a couple more strikeouts than the average person," Pederson said.
"I look at a couple of guys in the Majors that I look up to who hit a lot of home runs and have a high average and a high OPS. They strike out 100 times a season, so the strikeouts don't bother me. Mike Trout leads the American League in strikeouts, and he's supposedly the best player in the game right now."
In addition to homers, Pederson is among PCL leaders in average (fourth, .361) and on-base percentage (second, .475).
Alex Guerrero also went yard twice for Albuquerque, going 3-for-5 with three RBIs and three runs scored. Jamie Romak homered and doubled to plate three.
Duvall missed the cycle by a triple for the Grizzlies and he posted three RBIs.
Josh Jackson Is a contributor to MiLB.com. This story was not subject to the approval of the National Association of Professional Baseball Leagues or its clubs.
View More