McMahon posts another four hits for Isotopes
Rockies' No. 3 prospect finishes double shy of cycle; so does Dahl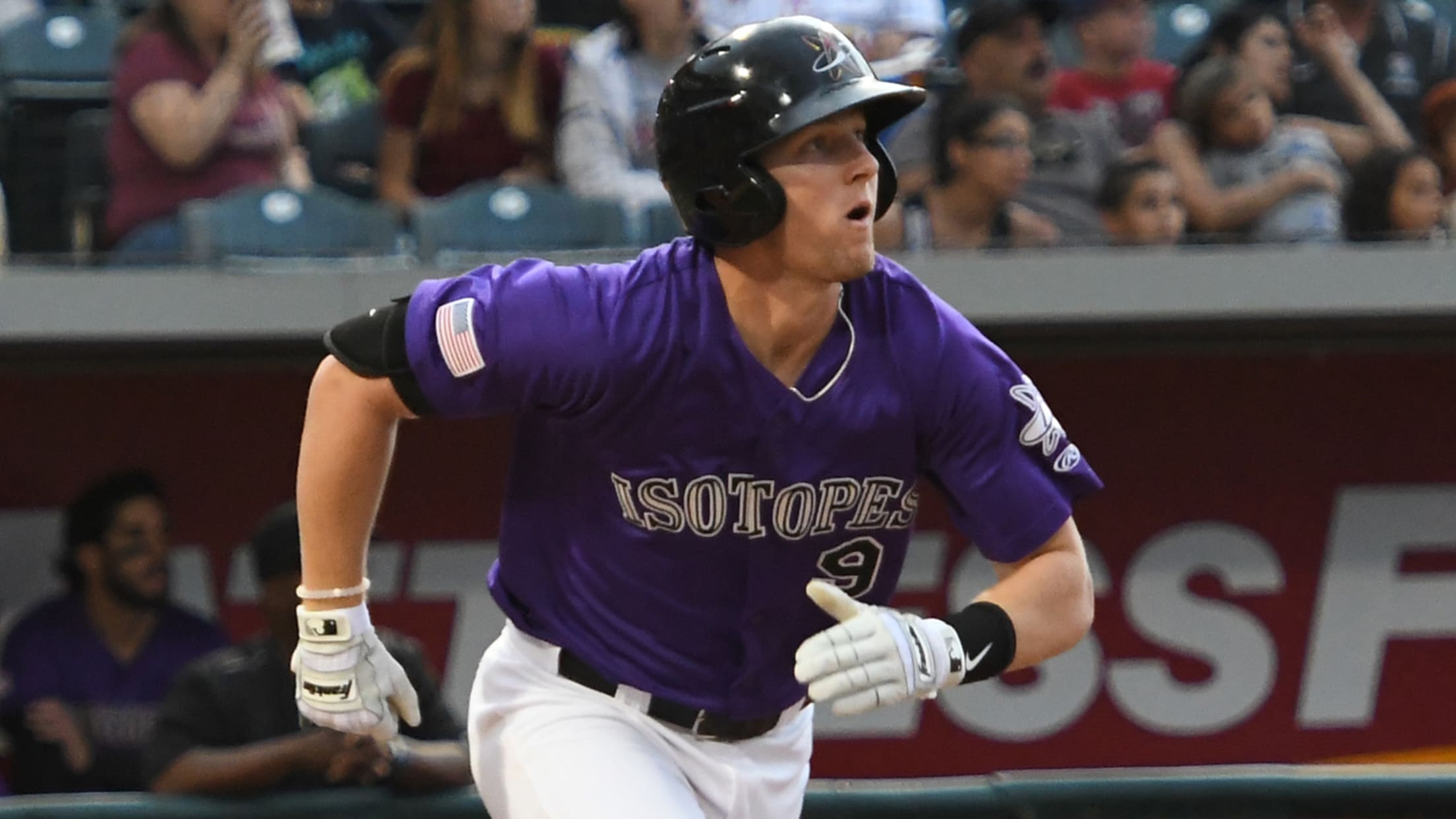 Ryan McMahon has been held hitless in just eight of his 47 Triple-A games this season. (Tim March/Albuquerque Isotopes)
By this point, Pacific Coast League pitchers must be at a loss in figuring out what to do with Ryan McMahon.Colorado's No. 3 prospect turned in his latest four-hit game and came within a double of the cycle -- as did teammate David Dahl -- as Triple-A Albuquerque downed visiting
By this point, Pacific Coast League pitchers must be at a loss in figuring out what to do with Ryan McMahon.
Colorado's No. 3 prospect turned in his latest four-hit game and came within a double of the cycle -- as did teammate David Dahl -- as Triple-A Albuquerque downed visiting Omaha, 9-5, on Thursday night.
"It was pretty cool, David and I both had a chance at the cycle," McMahon said. "I was kind of thinking in the back of my head, I wonder if it's ever been done, two guys in one game. We were both going for it and just trying to put together good at-bats."
Since batting .326/.390/.536 in 49 games with Double-A Hartford to earn his promotion, McMahon has been a revelation in Triple-A. Thursday night marked his fifth game with at least four hits in an Isotopes uniform and lifted his PCL slash line to .386/.407/.634 through 47 games.
"Honestly I really think I'm doing a really good job of just doing what I need to do and not overswinging and staying with my approach," he said. "I think as a team, that's what we're doing really well right now too. We got a couple guys back. We got Dahl, we got [Raimel Tapia] back. Our lineup is pretty scary, looking at it up and down, and we have a lot of guys executing the way that they want to right now."
McMahon tallied his four hits in his first four trips to the plate, singling to left field in the first inning, following Dahl's solo homer to left with a triple to center in the third, adding a two-run homer to left-center in the fifth and singling again to center in the sixth. In his 47 games on the circuit, MLB.com's No. 66 overall prospect has been held hitless in just eight.
"Just mixing up pitches and doing different things like that," he said of pitchers' changing approaches. "I think I've done a really good job of not giving in. I think that's why I've been able to stick with my approach and stick with what I've been doing, let my athleticism work. I'm just not giving in. Depending on the team or different things like that, if my approach is away or in, I'm not going to waver from them and make that pitcher make three great pitches to get me out. They mix it up and stuff like that. I'm just trying to stay with my same approach."
Gameday box score
Dahl finished 3-for-5 to boost his line to .271/.306/.475 in his 14th game with the Isotopes. The outfielder is working his way back from a stress reaction in his sixth rib that caused him to miss the season's first three-and-a-half months. Dahl has dealt with injuries before, suffering a torn hamstring that limited him to just 10 games in 2013 with Class A Asheville and rupturing his spleen in a violent outfield collision while with Double-A New Britain in 2015.
"It's awesome to have him back," McMahon said. "He's a good buddy of mine. With all the crazy things he's dealt with throughout his whole career, I call him the most unlucky baseball player I've ever met. But having him back, seeing him healthy and being out here with us, it's a lot of fun. I'm just glad to have him back."
Albuquerque tallied 13 hits and went 5-for-7 with runners in scoring position.
"There isn't an easy out in our lineup anywhere one through nine," McMahon said. "It's a lot of fun. I've hit behind Tapia and Dahl it feels like my whole career, at least Tapia. It's always fun. They're always on base and always stealing and getting over. It really is just so much fun right now. Everyone's just enjoying it in the clubhouse and taking it into the game too."
• Get tickets to a Isotopes game »
Colorado's No. 10 prospect Yency Almonte was the beneficiary of the run support in his Triple-A debut. The right-hander allowed three runs -- two earned -- on seven hits and two walks while striking out six over seven innings.
Tyler Maun is a contributor to MiLB.com. Follow him on Twitter @TylerMaun.