Singleton helps Grizzlies stay alive
Big league veteran drives in tying, go-ahead runs to force Game 5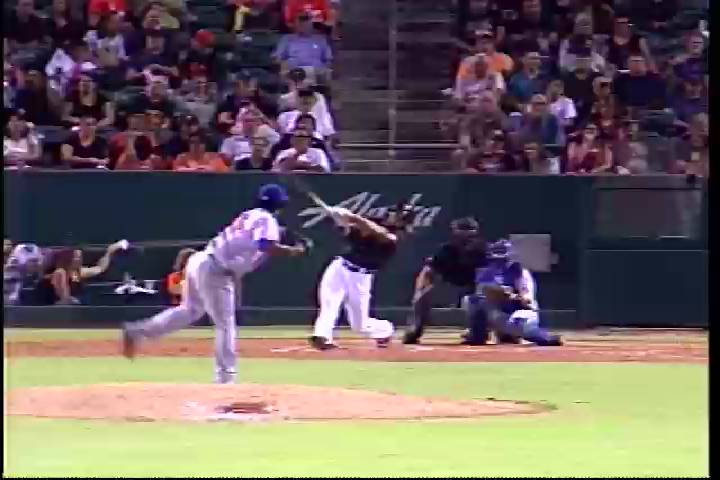 By Kelsie Heneghan / MiLB.com | September 20, 2015 2:16 AM
After a tough birthday at the plate, Jon Singleton wanted a clean slate. With two swings of the bat, he provided just that for the Fresno Grizzlies.
The big league veteran knocked a game-tying single, then slugged a go-ahead solo homer Saturday night as Fresno edged visiting Round Rock, 2-1, to even the best-of-5 Pacific Coast League Championship Series at 2-2.
"Gotta help my team win any chance I get. So every opportunity I had, I made the most of it," Singleton said. "Every time we step up on the field, it's a new day, it's a new game, it's a new opportunity to show these teams what we can do."
Singleton turned 24 on Friday but went 0-for-5 with four strikeouts as Round Rock took a 2-1 series lead. Looking to close it out, the Express got on the board first as Ed Lucas reached on an error by shortstop -- and Astros No. 24 prospect -- Nolan Fontana before scoring on Brett Nicholas' double in the fourth inning.
With the Grizzlies' season on the line, Singleton stepped up in the fourth, slapping an RBI single to left to score Alex Presley. A couple innings later, the Grizzlies cleanup hitter again came through in the clutch, this time launching a first-pitch jack to right field off reliever Edwar Cabrera (0-1).
"Obviously, the game dictated what I wanted to do at the plate, but when I got up to the plate, I wasn't thinking about trying to score a run or anything like that. I was just focused on trying to have a good at-bat, trying to line the ball to the outfield somewhere," the California native said. "All year, we've been playing hard, so any chance we get to capitalize, it's a great feeling."
Singleton's big hits were all Asher Wojciechowski (2-0) needed to deliver the win. The Astros' 21st-ranked prospect allowed an unearned run on five hits and three walks while striking out seven over six innings. James Hoyt worked around a leadoff walk in the ninth by striking out two to nail down his third postseason save.
"[Wojciechowski] did pretty well. He was keeping the ball in the zone, he let our defense do what we do," Singleton said. "So as long as our pitchers do that, we have a great chance."
The Grizzlies forced a decisive Game 5, set for Sunday at 4:05 p.m. ET. Astros No. 2 prospect Mark Appel is expected to face Express right-hander Anthony Ranaudo.
"[The plan is] just to go out and play our best game, just leave it all out on the field," said Singleton, who's played 16 games with Houston this season. "Win or lose, just play as hard as we can."
Kelsie Heneghan is a contributor to MiLB.com. Follow her on Twitter @Kelsie_Heneghan. This story was not subject to the approval of the National Association of Professional Baseball Leagues or its clubs.
View More