PawSox Hall Of Fame Induction of Mo Vaughn and Joe Morgan set for July 23
VIP Meet-and-Greet with the Inductees and On-Field, Pregame Ceremony among the Day's Highlights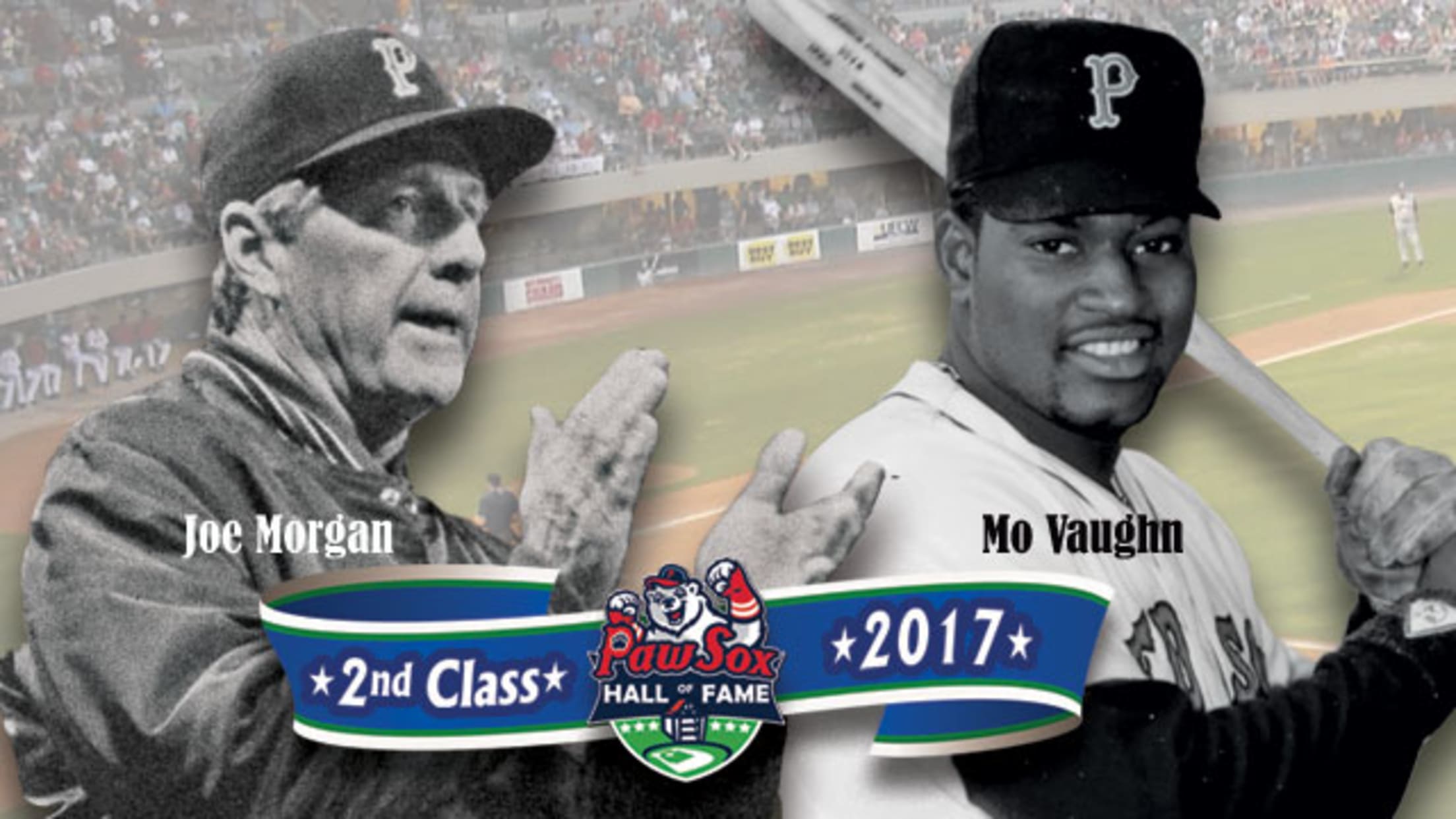 The Pawtucket Red Sox today announced plans to induct Mo Vaughn and Joe Morgan into the PawSox Hall of Fame on Sunday afternoon, July 23 at McCoy Stadium. The team plays Norfolk (Baltimore's affiliate) at 1:35 p.m. Baseball Hall of Famer Carlton Fisk will be inducted on a later date
The Pawtucket Red Sox today announced plans to induct Mo Vaughn and Joe Morgan into the PawSox Hall of Fame on Sunday afternoon, July 23 at McCoy Stadium. The team plays Norfolk (Baltimore's affiliate) at 1:35 p.m. Baseball Hall of Famer Carlton Fisk will be inducted on a later date to be announced.
As part of the festivities, the team will host an exclusive, VIP meet-and-greet with Mo and Joe, in the "Shady Pines" area of the White BBQ tent from 12:00 noon to 1 pm, followed by a pregame ceremony on the field before the entire McCoy crowd. Vaughn and Morgan will then be available for photos and autographs with all fans in the CCRI PawSox Fan Center located along the main concourse from 2 to 3:30 pm.
The limited number of tickets to the VIP meet-and-greet can be purchased at the McCoy Stadium box office, via pawsox.com, or by calling 401-724-7300. Each ticket includes an all-you-can-eat barbeque, admission to the game, and the opportunity to spend time with the Hall of Fame inductees. VIP tickets are $50 apiece. There is no charge (beyond the ordinary ticket price) for all fans who wish to receive their autographs and take photographs during the game.
The second-ever PawSox Hall of Fame class was chosen this past off-season by a 15-person panel that included club executives, print and broadcast media members, long-time fans, and historians. In addition to Vaughn and Morgan, former PawSox and Red Sox catcher (and National Baseball Hall of Famer) Carlton Fisk was also selected. Fisk will not be able to attend on July 23, but the PawSox plan to hold a separate induction ceremony for him.
Last year, former Pawtucket and Boston stars Jim Rice and Wade Boggs, both Baseball Hall of Famers, and Ben Mondor, the late long-time owner of the PawSox, were inducted as the inaugural members of the PawSox Hall of Fame.
"The PawSox Hall of Fame recognizes the most impactful figures in club history," said PawSox Executive Vice President/General Manager Dan Rea. "We are especially pleased that our fans will once again have the opportunity to celebrate some of our franchise's greatest names, like Mo Vaughn and Joe Morgan, and we look forward to another special event on July 23."
Mo Vaughn was a popular player for the PawSox for parts of three seasons (1990-92) and went on to a stellar 12-year Major League career with Boston (1991-98), Anaheim (1999-2000), and the New York Mets (2002-03). He finished his big league career with a .293 average along with 328 HR & 1064 RBI in 1512 games. Mo was a three-time American League All-Star with the Red Sox (1995, '96 and '98) and the American League MVP in 1995 when he hit .300 with 39 HR & 126 RBI. The "Hit Dog" followed that up with a sensational 1996 campaign for Boston batting .326 with career-highs of 44 HR & 143 RBI.
Vaughn, who will turn 50 this December, was born in Norwalk, CT and starred at Seton Hall University. He was chosen by the Red Sox in the 1st round of the 1989 draft and began his pro career with Double-A Portland that year. He spent all of 1990, at the age of 22, with the PawSox posting a .295 average with 22 HR & 72 RBI in 108 games. He split the 1991 season between Pawtucket and Boston, returned briefly to Pawtucket in 1992 for 39 games, but then spent the rest of his career in the majors.
From 1996-98 with the Red Sox, he hit .315 or higher and averaged 40 homers and 118 RBI. After the '98 season he signed a free agent contract with the Anaheim Angels, for whom he hit 30-plus homers and knocked in over 100 runs in both 1999 & 2000. He missed the entire 2001 season due to injury and was traded to the New York Mets that off-season. A knee injury ended his career just 27 games into the 2003 season.
Since he left baseball, Vaughn has found a niche in business across a variety of platforms. In 2004 he founded a real estate company (OMNI New York LLC) that, among other things, rehabilitates distressed housing in the New York City boroughs. In 2010 he launched a trucking company called Mo Vaughn Transport in Ohio. Mo most recently became the face of a big-and-tall clothing company called MVP Collections.
Joe Morgan is the dean of PawSox managers, having spent nine years as skipper from 1974-1982 while compiling a franchise-most 601 career managerial victories. He is the only man to win the International League's Most Valuable Player and Manager of the Year Awards. His MVP came in 1964 with Jacksonville (the IL affiliate of the St. Louis Cardinals) and his Manager of the Year came with Pawtucket in 1977. Morgan was the winning manager in Pawtucket's historic 33-inning game in 1981, the longest in the history of professional baseball.
Morgan was an infielder with three different IL clubs…Charleston in 1961, Atlanta in 1962-63, and Jacksonville in 1964-65. He managed three different IL affiliates as well with Columbus in 1970, Charleston in 1971 & '73, and Pawtucket from 1974-82 posting 845 wins as an IL skipper.
Morgan, now 86, is a native and lifelong resident of Walpole, MA who attended Boston College where he played both hockey (an All-American while leading the Eagles in scoring his junior year) and baseball (elected team captain his junior year). His first professional baseball contract came with the Boston Braves and the lefty hitting infielder/outfielder played parts of four seasons in the majors with five different clubs.
After his 9th and final season as PawSox skipper in 1982, Joe was a Red Sox scout (1983-84) and then a Red Sox coach (1985-88). During the 1988 All-Star break, with Boston hovering around the .500 mark under John McNamara, Morgan was promoted to interim manager on July 14, 1988. The Red Sox promptly won their first 12 games under Morgan (and their first 20 home games in a row) and rode "Morgan's Magic" to the 1988 AL East title. From 1988-1991 with Boston, "Walpole Joe" posted a 301-262 record along with two AL East Division titles (1988 & 1990).
Morgan was inducted into the Boston Red Sox Hall of Fame in 2006 and the International League Hall of Fame in 2008.