Sea Dogs Internship Program
Portland Sea Dogs Internship Program
2021 Internship Info
Due to the ongoing COVID-19 pandemic, the Sea Dogs are not accepting applications for 2021 internship positions at this time.
Associate Game Day Internship Program
Each season the Portland Sea Dogs, Double-A affiliate of the Boston Red Sox, hire 18-22 students to serve as Associate Game Day Interns.
The Associate Game Day Internship program is for highly motivated college students that have an interest in the business of sport management. The program is designed to give you your first experience within the sports industry with an emphasis on game-day operations, ticket sales, and customer service. This position is open to any college student. This is a part-time seasonal internship that would result in 10-30 hours a week.
Job Details
Start Date: Tentative Start Date of April 4, 2020 (Some availability for students who are in school and cannot start until May)
End Date: Early to Mid September
Compensation: $12.00/ hour
Hours: 10-30 hours a week depending on game schedule
Reports to: Chris Cameron
Vice President/ Communications & Fan Experience
Qualifications & Requirements:
Must currently be a college student (underclassmen, upperclassmen, and graduate students are all eligible)

Must be available for at least 75% of the Sea Dogs home games

A desire to pursue a career in the sport management field

Strong customer service skills

A fun and outgoing personality with a strong work ethic

Preference is given to students who are able to start in April

Attend the staff orientation session
Duties:
Assist with game set-up and general office work

Serve as a Hadlock Field usher during games

Assist with post-game duties (fireworks pick-up, tarp, handing out schedules, etc.)

Work as a ticket sales representative assisting with incoming, outgoing, and walk-up ticket sales

Coordinate fan photo duties

Distribute pocket schedules to the community

Serve as a Hadlock Field Ambassador

Serve as a member of the Promo Team

Concessions and vending work

Sell Programs

Some non-game day work available in the ticket office

Opportunity to meet individually with front office staff members

Other duties as assigned
Hours:
10-30 hours a week.

Approximately five hours a game (arriving 2 hours prior to the scheduled start of the game), plus some scheduled ticket office hours when the team is on the road.
To Apply: Please apply online through TeamWork Online. A resume, cover letter, and three references will be required. Mailed and Emailed applications will NOT be accepted.
Deadline: Applications are reviewed and positions filled on a rolling basis, therefore it is beneficial to submit your applications as soon as possible. No applications will be accepted after November 22, 2019.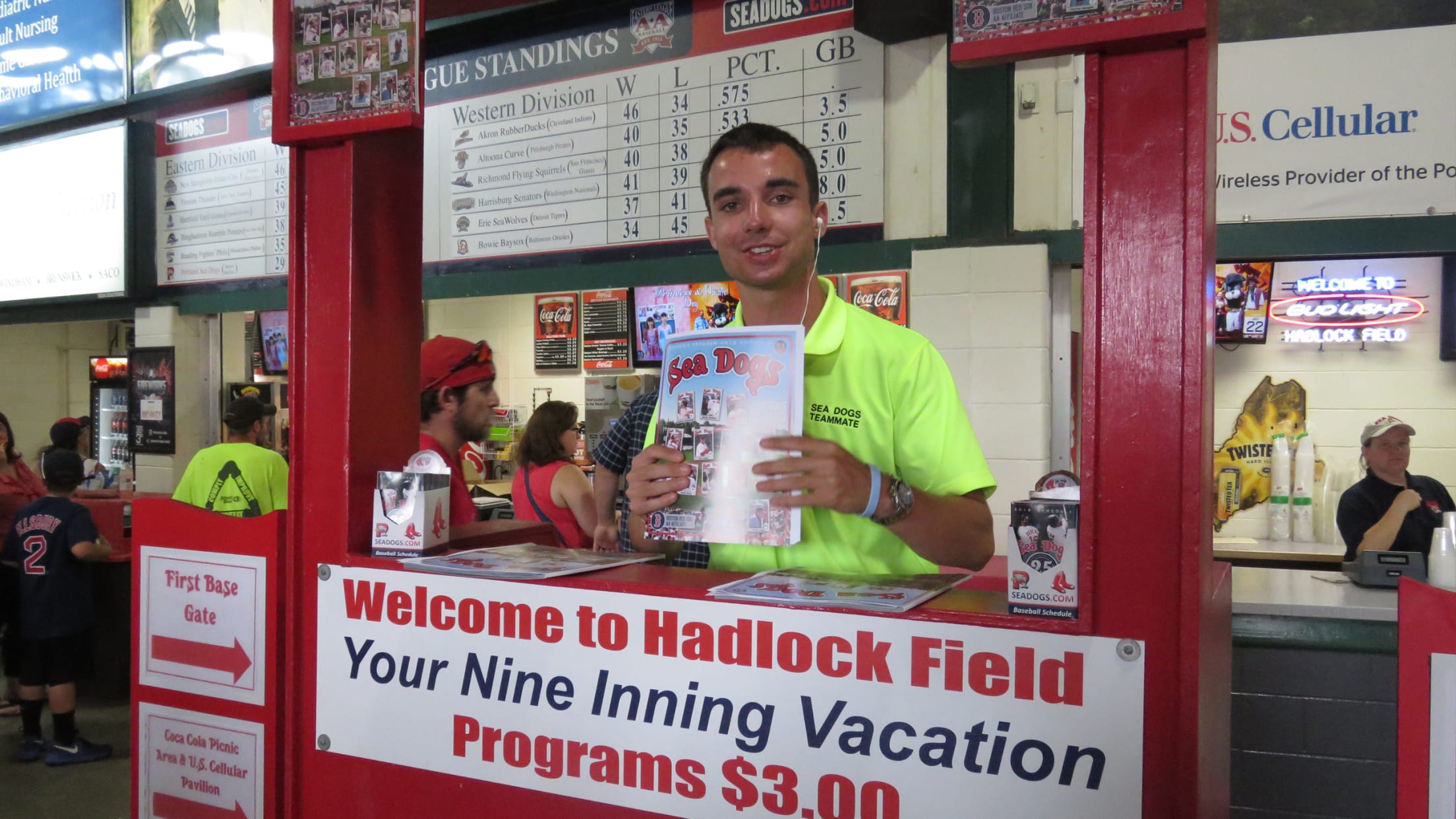 Where are they now?
Here are a few of the places that our interns have received jobs:
Alliance Sports Marketing
Asheville Tourists
Boston Bruins
Boston Red Sox
Bowie Baysox
Colorado Springs Skysox
Columbia Fireflies
Eastern League
Flyers Charities
Kraft Sports Group
Learfield Sports
Los Angeles Dodgers
Maine Mariners
Maine Red Claws
Memphis Grizzlies
New Balance
New England Revolution
New Hampshire Fisher Cats
New Hampshire Motor Speedway
Orlando Magic
Pawtucket Red Sox
Pittsburgh Pirates
Portland Sea Dogs
Round Rock Express
Salem Red Sox
Seattle Mariners
Springfield Thunderbirds
Trackman
West Virginia Power
Windy City Bulls
Testimonials
"I can't think of another job I enjoyed as much as being an Associate Intern with the Sea Dogs. Showing up every game to prepare the stadium, while gaining experience in a variety of game day aspects, was both fun and informative. The Sea Dogs front office as a whole was extremely welcoming, and everyone I came across was willing to help me grow into a better professional." - Quinn
"This is an amazing experience; one I was lucky to have. Working for the Sea Dogs is an awesome way to get some practical sports/life experience. I will forever remember that summer and the wonderful people I was fortunate to work with every day."- Kate D.
"Best job I've had, apply now!"- Lindsey