River Bandits Release 2020 Promotional Schedule
This bigger-than-ever lineup includes three mega drops, nine bobbleheads, mega giveaway Saturdays, and more!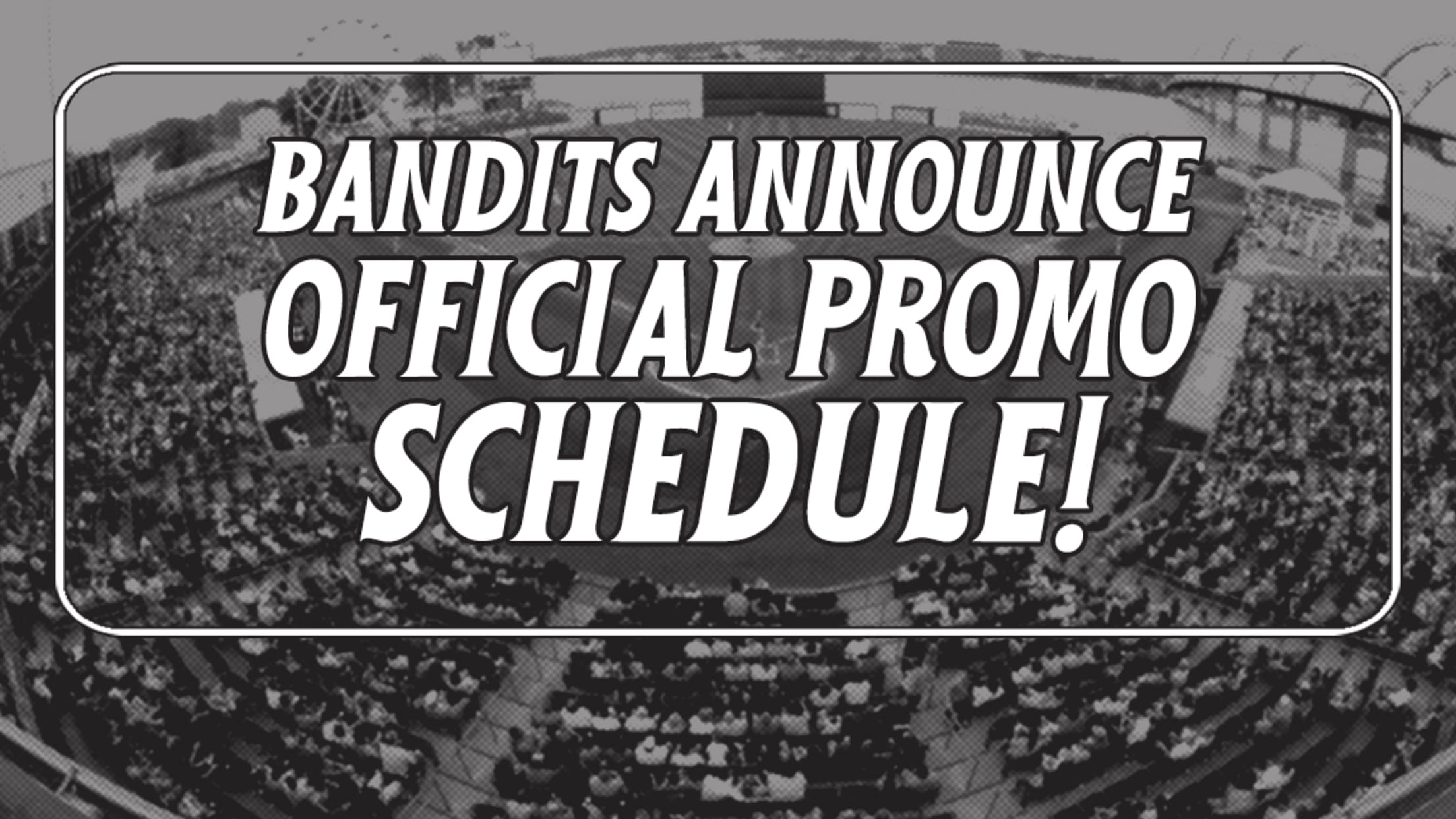 Davenport, IA -- The Quad Cities River Bandits today released a packed promotional schedule for the upcoming 2020 season. The schedule holds many fan-favorites, including X giveaways, Y jersey auctions, and some new family-friendly fun to keep Modern Woodmen Park the place-to-be all season long! The River Bandits open their
Davenport, IA -- The Quad Cities River Bandits today released a packed promotional schedule for the upcoming 2020 season. The schedule holds many fan-favorites, including X giveaways, Y jersey auctions, and some new family-friendly fun to keep Modern Woodmen Park the place-to-be all season long!
The River Bandits open their season with a magnet schedule giveaway on April 9th, 10th, and 11th against the Peoria Chiefs. Thursday, April 9, will feature a magnet schedule giveaway and the chance to win a mini fridge. Friday will continue the magnet schedule giveaway and kick off our Firework Friday's. Saturday will round-up the series with a Bandits pennant giveaway and post-game Easter Egg hunt full of goodies- including a Nintendo Switch!
"The Quad Cities and the River Bandits go together like peanut butter and jelly. We love this community and the people here inspire us to come up with bigger and better ways to make sure we give our fans the best entertainment in the region," said River Bandits owner Dave Heller. "With more giveaways than ever before, more fireworks than ever before, and more memorable theme nights than ever before, the Bandits are going to new lengths to provide fun and affordable entertainment at Modern Woodmen Park. I can't wait for the season to start!"
Bandits fans will have the chance to collect unique, historic bobbleheads throughout the 2020 season. With 9 bobbleheads lined up, it's one of the biggest hauls in all of Minor League Baseball (MiLB). The first bobblehead of the season comes on May 23rd and will honor the United States Army. Yordan Alvarez will be making his Quad Cities bobblehead debut on June 7. Alvarez, who spent 32 games with the Bandits in 2017, recorded a .360 average in the QC before moving quickly up the ladder, reaching the majors in 2019, and earning American League Rookie of the Year. The other four branches of the United States military will be honored with their own bobbleheads throughout the remainder of the season. And three other former River Bandits including Alex Bregman, Carlos Correa, and George Springer, will round out the bobblehead lineup for 2020.
As longtime fan-favorites, the mega candy drop and mega car drop are both making a return this season on May 17th and June 6th, respectively. But, that's not where the Bandits are stopping! A brand new drop is coming on August 23rd- the mega Tootsie Roll drop. Kids will get to watch all these goodies cascade down from a helicopter high above the ballpark before storming the field to take home their array of prizes.
Always keen to be charitable, the team will be hosting at least six charity jersey auctions this season benefiting local non-profits and causes. As of now, three are slated on the promotional calendar. First, the River Bandits will celebrate Earth Day with some "green" uniforms benefiting X-Stream Clean-Up. Then, a blast from the past, with some 20th-anniversary uniforms benefiting the Vera French Foundation and Mental Health Awareness. Throughout the season, the River Bandits will be wearing red digital camo jerseys that will be auctioned off in September to benefit the Genesis Health Foundation.
Fans, make sure you are in attendance for your favorite giveaway or event by ordering your tickets today! Single-game tickets are now available online for all 2020 home games. Visit the ticket page on the River Bandits website in order to get yours! A complete list of dates for all giveaways and weekly promotions featured in the pocket schedule and current promotions calendar are listed below. See the full pocket schedule here
*Reminder: All giveaways are subject to change in date or type*
Giveaways
April 2020
Magnet Schedule (Access Systems) and Mini Fridge (Aaron's)- April 9
Magnet Schedule (Access Systems)- April 10
Bandits Pennant (Mediacom) and Easter Egg Hunt (Olde Towne Bakery)- April 11
Earth Day Hat (Waste Commission of Scott County)- April 24
Aluminum Water Bottle (Isle Casino)- April 25
Team Photo Poster (Palmer Chiropractic Clinics)- April 26
May 2020
Pint Glass #1 (Crawford Company)- May 9
Biggest Mega Candy Drop Ever! (18th Street Bettendorf Dairy Queen)- May 17
Pennant (Modern Woodmen)- May 18
Army Bobblehead (R.I.A. Federal Credit Union)- May 23
Player Poster #1 (Upper Iowa University)- May 24
June 2020
Logo Baseball (Iowa 80 Truck Stop)- June 5
Mega Toy Car Drop (McLaughlin Motors)- June 6
Yordan Alvarez Bobblehead (Mediacom)- June 7
Free Admission and Replica Seats (Modern Woodmen)- June 18
Pint Glass #2- June 19
Air Force Bobblehead (Cobham)- June 20
Clear Tote Bag (Smart Toyota) and Bud Mega Mini Fridge (Budweiser)- June 21
T-Shirt Thursday #1- June 25
Pint Glass #3 (Ford Sod)- June 26
Alex Bregman Bobblehead (Hy-Vee)- June 27
Player Poster #2 (Upper Iowa University) and Lego Day #1 (Video Games Etc.)- June 28
July 2020
Coast Guard Bobblehead (QC Veterans' Outreach Center)- July 5
Pint Glass #4 (Milan Medical Group)- July 8
T-shirt Thursday #2- July 9
Christmas in July- July 15
T-shirt Thursday- July 16
Pint Glass #5 (S.J. Smith)- July 17
Carlos Correa Bobblehead (Midwest Technical Institute)- July 18
Pennant (Modern Woodmen)- July 20
Player Poster #3 (Upper Iowa University)- July 28
T-Shirt Thursday #4- July 30
Jersey Lunch Bag (Pepsi)- July 31
August 2020
Navy Bobblehead (RIA Federal Credit Union)- August 1
Reusable Bag (Goodwill of the Heartland)- August 2
George Springer Bobblehead (TBK Bank)- August 22
Mega Tootsie Roll Drop and Giant Nintendo Giveaway (Video Game Etc.)- August 23
T-Shirt Thursday #5- August 27
September 2020
Marine Corps Bobblehead (QC Veterans Outreach Center)- September 5
Player Poster #4 (Upper Iowa University)- September 6
BIGGEST GIVEAWAY OF THE YEAR! and Free Haircuts (Great Clips)- September 7
---
Weekly Promotions
Military Mondays- $1 bleacher tickets for veterans and families (Genesis)
$2 Tuesdays- $2 GA tickets, sodas, and hot dogs (Pepsi)
Wine-d Up Wednesdays- $3 select wines and GA tickets for the ladies
Thirsty Thursday- $2 beer and soda specials
Fireworks Fridays- Post-game fireworks (Smart Toyota)
Mega Giveaway and Entertainment Saturdays- Premium giveaways, entertainment, and more
Super Sundays- Bark in the Park, Kids Run the Bases (KwikStar), and pregame autographs (Allegiant)
ABOUT THE BANDITS: The 2020 season will be the River Bandits' eighth year as the Single-A affiliate of the Houston Astros and the 13th anniversary season since regaining the River Bandits moniker, which in 2015 was voted a top-8 nickname in all of Minor League Baseball. The River Bandits' charitable donations reached nearly $500,000 in 2019, including a $50,000 cash donation to Genesis Health Systems, and over $100,000 toward flood relief efforts after a record-setting flood displaced the team for over 20 games. In 2015 and again in 2017, the River Bandits earned Ballpark Digest's award for "Best Charitable Works" in Minor League Baseball, the only club to win that coveted award twice.
For more information, visit www.riverbandits.com , email [email protected], or contact the team at 563-324-3000.