Richmond's Brandon Lawson cherishes friendship with former Flying Squirrel Christian Arroyo
Once childhood opponents, Lawson and Arroyo became high school teammates and are now lifelong friends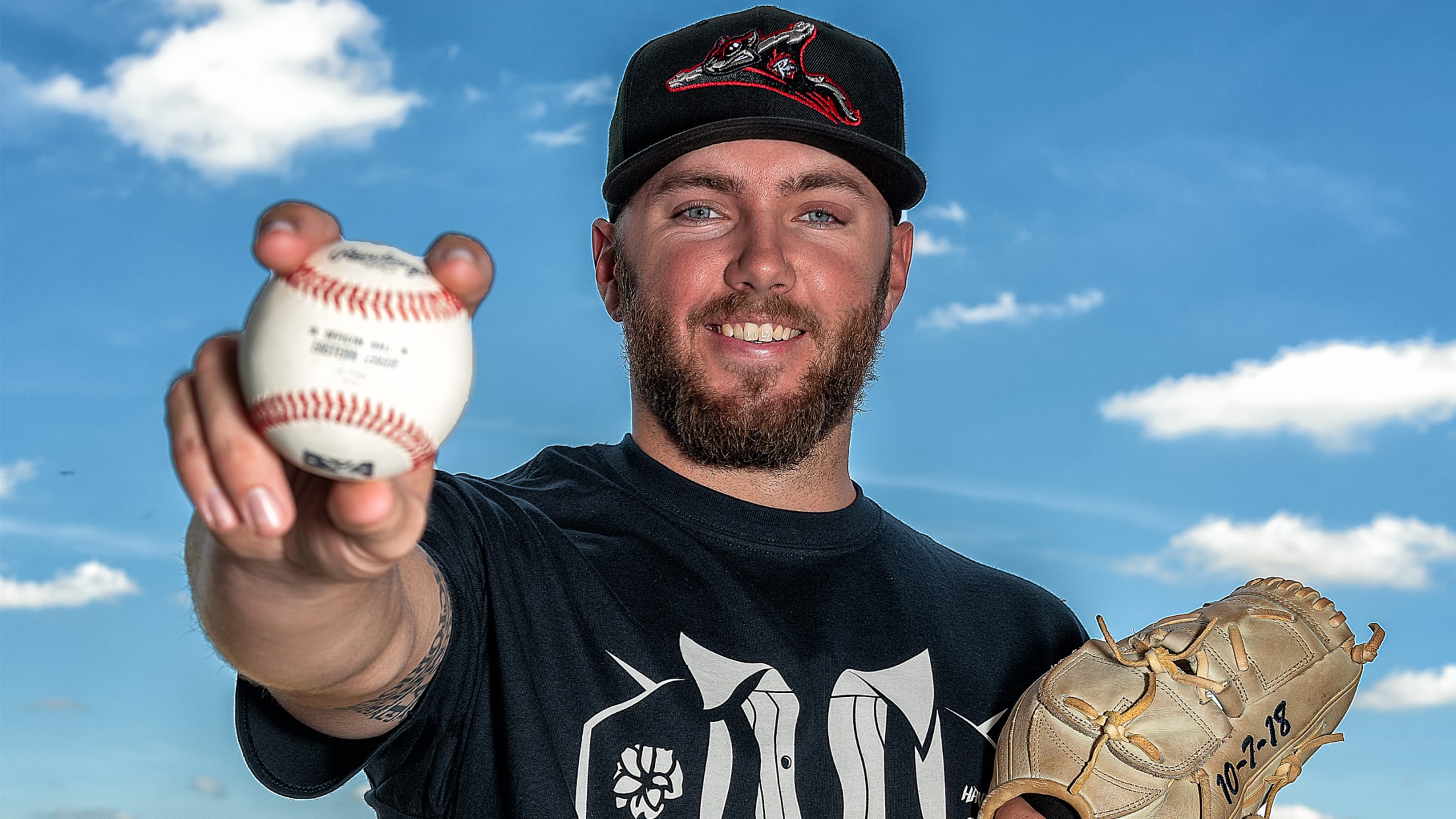 Richmond right-hander Brandon Lawson has the date of his wedding to his wife Jenna (10-7-18) stitched on the thumb of his glove. That day, former Flying Squirrel Christian Arroyo was one of his groomsmen. (James H Loving)
Brandon Lawson didn't expect to cry on his wedding day."I'm not really an emotional guy, but when (Jenna) came out of the house and started to walk down, I started getting really emotional," he said.
Brandon Lawson didn't expect to cry on his wedding day.
"I'm not really an emotional guy, but when (Jenna) came out of the house and started to walk down, I started getting really emotional," he said.
The Lawsons tied the knot on Oct. 7, 2018, a date now stitched onto the thumb of Brandon's glove. They got married at a house in Charlotte, Tenn., about an hour west of where they now call home in Nashville, in front of family and friends.
As Jenna walked down the aisle, Brandon's groomsmen couldn't help but be overcome with emotion themselves. Brooks Timmons stood just to Brandon's left as his best man, flanked by close friend Andrew Zabriskie, Brandon's brothers David and Michael and former Flying Squirrels infielder Christian Arroyo.
"We'd seen their relationship grow, so it was really special," Arroyo said.
Lawson and Arroyo first crossed paths playing travel baseball when they were around 10 or 11 years old. Not too long after, they wound up in the same class in middle school, where they met for the first time.
"I got to class - one of my new classes on the first day - and I see this kid and I'm like, 'You look really familiar,'" Lawson said. "'Are you Christian Arroyo?'"
Since then, Lawson and Arroyo have gone from being opponents and classmates, to friends, teammates and roommates. The two played together in high school, first for a year at Springstead High School and then at Hernando High School after transferring. Their paths diverged after graduating, when Arroyo was drafted by the San Francisco Giants and Lawson went to the University of South Florida, where he later met Jenna.
A few years later in 2016, Arroyo was in the midst of an All-Star season with the Flying Squirrels when Lawson was selected in the 12th round of the Major League Baseball draft by the Tampa Bay Rays. Just over a year later, Arroyo was part of a package sent to the Rays in exchange for Evan Longoria. Lawson and Arroyo immediately decided to live together during spring training.
"There was a lot of excitement," Arroyo said. "It was cool to get back with a familiar face. I was going to a new organization so I didn't really know anyone. He's one of the best roommates you can have - he's clean as heck."
Lawson and Arroyo never had the chance to play with each other during the brief time they both spent with the Rays. Arroyo is now playing for the Durham Bulls - Tampa Bay's Triple-A affiliate - while Lawson was released by Tampa Bay at the end of spring training earlier this year.
The release came as a surprise to Lawson, who had left Nashville just a day after his wedding to accept an invitation to pitch in the Arizona Fall League - an offseason league reserved for top prospects. Lawson eventually signed as a minor league free agent with the San Francisco Giants during the last week of April.
"It's funny looking back on it now," Lawson said. "(Arroyo) was drafted by the Giants and came to the Rays, and I was drafted by the Rays and now I'm with the Giants. It's pretty funny and a pretty small world, for sure."
Lawson didn't tell Arroyo right away that he'd signed with San Francisco. Ultimately, Arroyo learned where Lawson was when he got a text with a picture of Lawson and Flying Squirrels Vice President and COO Todd "Parney" Parnell. It was a whirlwind couple of weeks for Lawson, who had been preparing to start the season with the Lancaster Barnstormers of the Atlantic League.
"I went up (to Lancaster) for a week for their spring training and threw two or three times," Lawson said. "The Giants ended up calling two days before (Lancaster's) season started and here I am. I'm extremely grateful for the opportunity to keep playing baseball. I'm taking every day (out there) like it's my last and doing everything I can to become better."
As Lawson put it, "the baseball world is a small world, for sure." Outfielder Chris Shaw, catcher Matt Winn and bullpen coach Eliezer Zambrano all played with Arroyo in Richmond in 2016 and now share a clubhouse with Lawson.
"(Arroyo) has been around with a few of these guys over the years and stuff, so I've been able to get myself talking to these guys a little bit more," Lawson said. "I bring up that I know (Arroyo) and that sparks a conversation. Definitely grateful for him and his friendship over the years."