Get to Know Garien Shelby - Trash Pandas Director of Food & Beverage
North Alabama culinary specialist joins his hometown team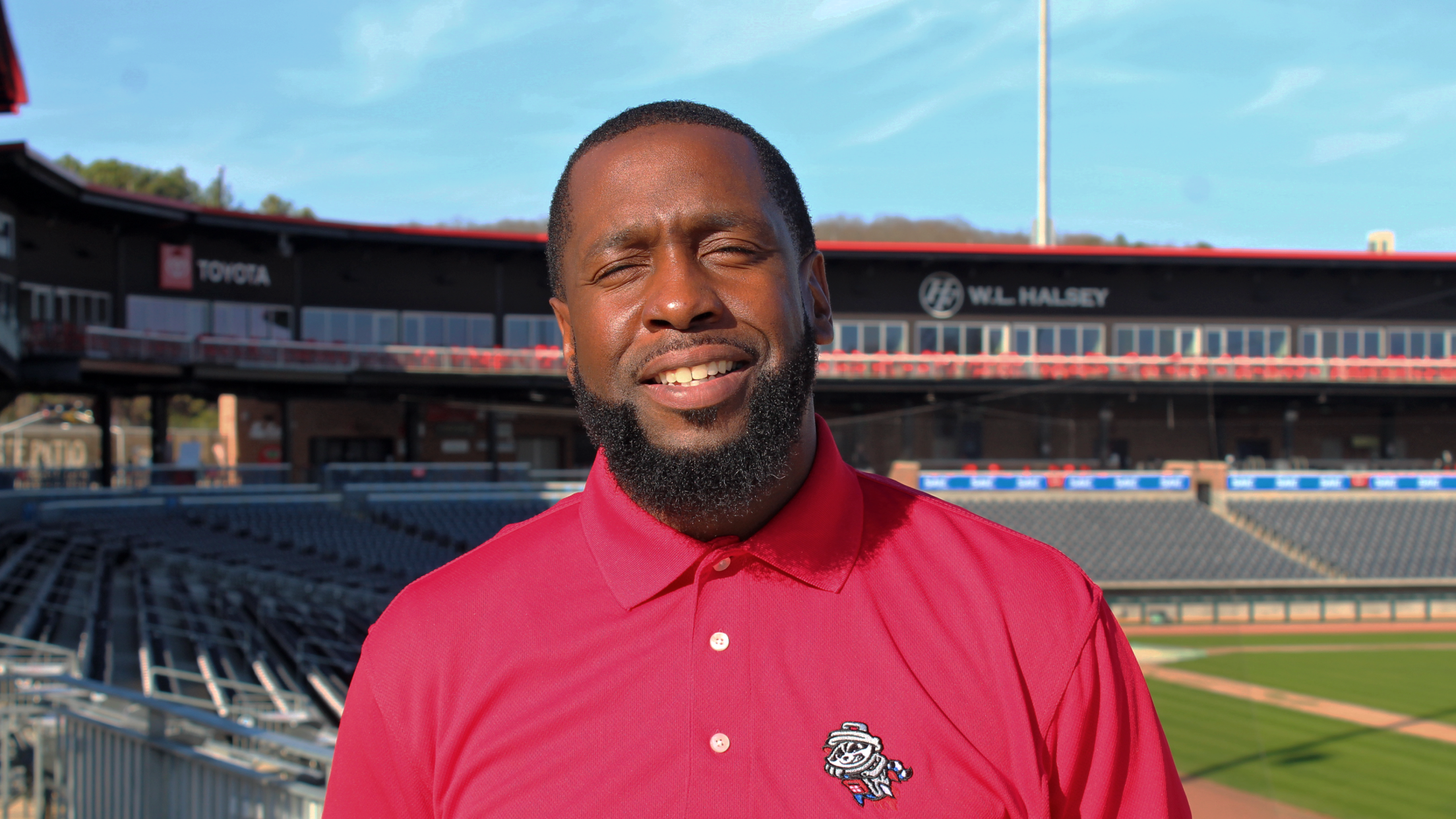 As the Rocket City Trash Pandas look ahead to their second season in 2022, a number of new staff members have joined the front office. But the one whose creativity and passion will be on full display is Garien Shelby. Originally a Huntsville native, Shelby was recently hired as the
As the Rocket City Trash Pandas look ahead to their second season in 2022, a number of new staff members have joined the front office. But the one whose creativity and passion will be on full display is Garien Shelby. Originally a Huntsville native, Shelby was recently hired as the Trash Pandas Director of Food & Beverage. In his role, Shelby will lead the charge in creating the concessions and catering menus to ensure everyone has a great time at Toyota Field.
Recently, Shelby discussed his background in the culinary arts, what led him to the Trash Pandas, and a few sneak peeks into the 2022 menu.
Q: How did you get your start in this industry?
A: I've been in the food industry since I was 15. My grandmother taught me how to cook when I was around 10 years old. I was in the kitchen with her the whole time. I graduated from high school here then went to culinary school. I'd always been into sports. I thought I was going to be a professional football player but I didn't get the height. When I was in culinary school, I fell in love. I'm a hands on guy, I love to create. I came up working in the resort and conference world. Then I came back to Huntsville and opened up a catering company. I specialized in weddings and corporate events. I traveled to Tennessee, parts of Georgia, catering and things like that. Then I started working for the Marriott before I wound up here.
Q: As a Huntsville native, what did you think of the Trash Pandas before you started working here?
A: I didn't know what the name was at first. But I thought it was pretty cool that they were asking the community to help name the team. That was one of the biggest things. It was a cool way to get the buy-in of the community and make them feel a part of what's going on. As a child in middle school, my father took me to Stars games quite a bit. We really enjoyed that. When I was in school here, I played football at Joe Davis Stadium. When the opportunity came and the Trash Pandas were coming, I always knew I wanted to be a part of it in some way.
Q: Why did you want to work for the Trash Pandas?
A: I've always lived here. I was traveling to the Shoals every day, commuting about an hour and a half. I always wanted to work back in the community that I was raising my children in. What better way than sports and food. I'd always been an athlete growing up, so putting those two together was always fun.
Q: What do you think makes good ballpark food?
A: First, I think the idea of good ballpark food is quality and creativity. Being in the south, food is what southern hospitality is all about. We use food in the south to handle business, special events, memories, both good and bad. We really use food as the bridge. Good ballpark food is something that's creative, it's fun, it's whimsical and here it's something that yells that we're in Alabama.
Q: What are some of your ideas for the 2022 season?
A: One of my big plans is to make the southern cuisine shine, really playing with dishes that are king in the south. I want people to understand when they come to our facility, whether they're from Chicago or Georgia or Charlotte, wherever they're coming from, they know they're in Alabama. I want to show that through our food and beverage offerings. I want our guests to have a southern experience.
Q: Are there any specific items you plan on adding to the menu?
A: Some ingredients that will be fun to see are the different kind of preparations of southern classics. We're going to be using southern collared greens and pimento cheese in different ways. We're going to have fried green tomatoes, all sorts of pork dishes, candied bacon. The goal is to have fun southern food. But we're going to put a flare on it that will surprise fans at a baseball field.
Q: What is your favorite part of the job?
A: My favorite part is understanding the impact that you have on people's experience. I think being in the hospitality field for so long, you know that people are trusting you with their experience and that's something I take seriously. For some of our fans, it will be their first time at a baseball game. I want to make sure their night at the ballpark is memorable.
Q: Lastly, this question comes from a fan on social media, is a hot dog a sandwich?
A: Yes, I would consider it a sandwich. I don't know what other option it could be so I'm going to have to call it a sandwich.
Stay tuned for information on food offerings at Toyota Field will be available as the 2022 season draws closer!