Detmers and Dingers Lift Rocket City Over Chattanooga
Three Homers Lead to Southpaw's First Professional Win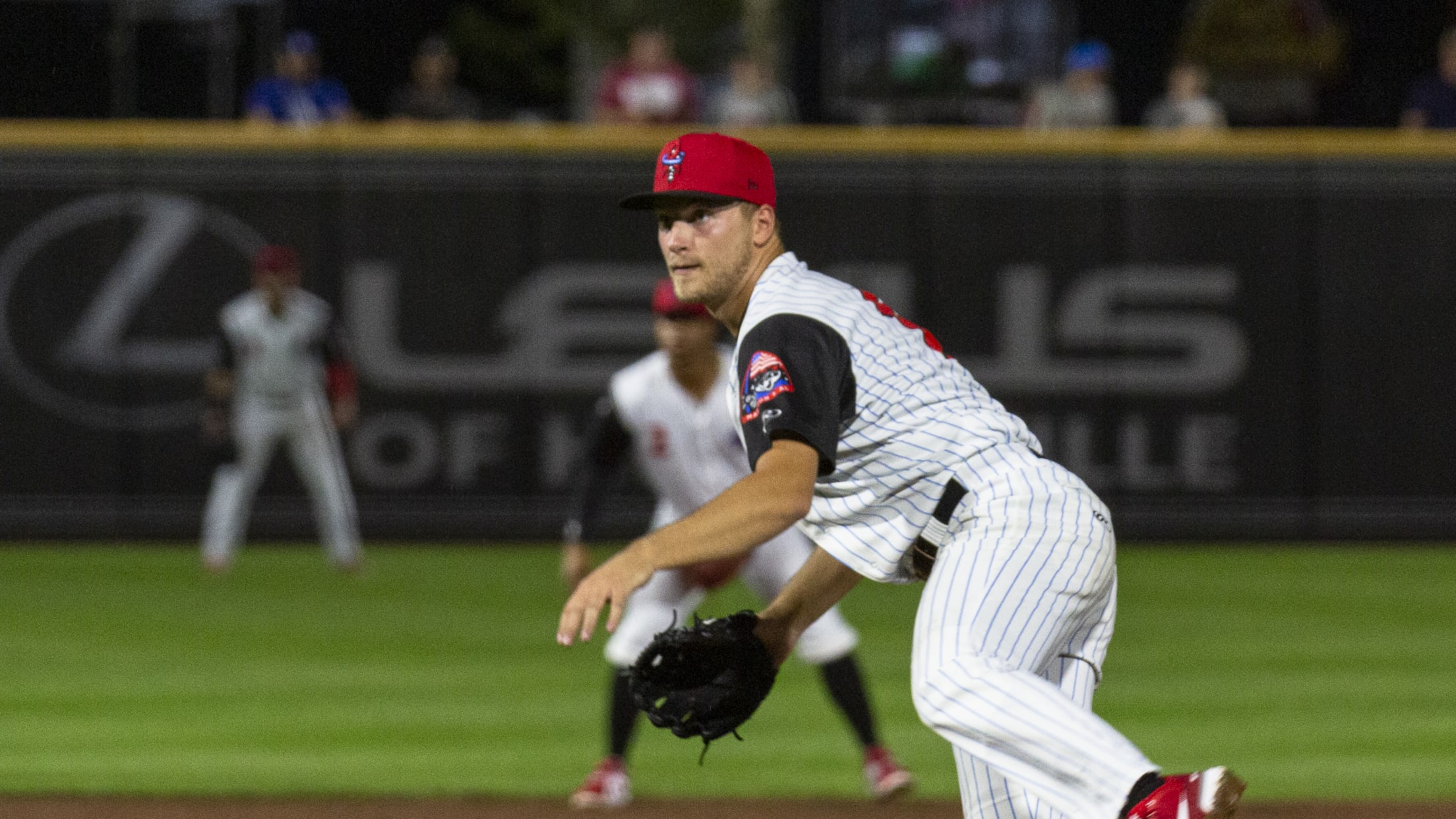 MADISON, AL – Rocket City lifted three solo-homers and starting pitcher Reid Detmers struck out 10 batters over five frames to record his first professional win as the Trash Pandas defeated the Chattanooga Lookouts 3-1 Saturday evening at Toyota Field. All the scoring came in the second inning. The Lookouts
MADISON, AL – Rocket City lifted three solo-homers and starting pitcher Reid Detmers struck out 10 batters over five frames to record his first professional win as the Trash Pandas defeated the Chattanooga Lookouts 3-1 Saturday evening at Toyota Field.
All the scoring came in the second inning. The Lookouts got a leadoff double from rightfielder Lorenzo Cedrola down the rightfield line who then moved to third when the throw in from Rocket City rightfielder Izzy Wilson missed the mark. First baseman Yoel Yanqui followed with a groundball single to center as Cedrola scored and gave Chattanooga a 1-0 lead.
However, the Trash Pandas relied on the longball for their scoring in the bottom-half. Centerfielder Dalton Pompey started the frame with a drive to right-centerfield to tie the game. Three batters and two out later Wilson atoned for his error with his second homer in as many nights, and his team-leading seventh of the season. His blast, also to right-center, gave the Trash Pandas a 2-1 lead. Following him was second baseman Gavin Cecchini who rocketed another dinger to left and made the score 3-1.
From there it was all about the Trash Pandas pitching as Detmers and two relievers closed the game out, although Chattanooga had several chances to turn the tide.
After the RBI single by Yanqui, centerfielder T.J. Hopkins reached on a sac bunt and throwing error from Detmers to put runners at first and second with no one out. After leftfielder Leonardo Rivas laid down a sac bunt of his own to move the runners up, Detmers got third baseman Robbie Tenerowicz to strike out and second baseman Brian Rey to ground to short to end the frame.
After striking out the first two men in the fourth, Detmers allowed back-to-back singles and hit a batter to load the bases. However, he was able to strike out Rey and get out of the jam.
In the ninth, closer Connor Higgins walked two men and allowed a single to load the bases with one out. However, he struck out shortstop Jose Barrero swinging and got a comebacker from catcher Chuckie Robinson to end the game. All told, Chattanooga left 11 men on base and lost despite outhitting the Trash Pandas 9-8.
Detmers (1-2) walked none and allowed five hits in addition to his 10 strikeouts to record the win. The loss fell to Lookouts starter Randy Wynne (1-1) who gave up the three homers, but also tossed five innings. He allowed six hits, walked none and struck out two. Despite his struggles, Higgins registered his third save on a hit, walk and two strikeouts in his lone inning of work. Setup man Keith Rogalla was solid again tossing three scoreless innings, allowing three hits, striking out three and walking one.
Of the eight Rocket City hits Pompey and Wilson each had two with a homer and single. Yanqui and Tenerowicz each had two singles to pace Chattanooga.
The Trash Pandas (13-16) wrap-up their series with the Lookouts (17-12) on Sunday afternoon at Toyota Field with first pitch scheduled for 2:35 p.m. CT. The game can be heard on 103.9 FM THE UMP and SportsRadio 730 AM with Josh Caray on the call.