Zach Humphreys Thrives In Debut Season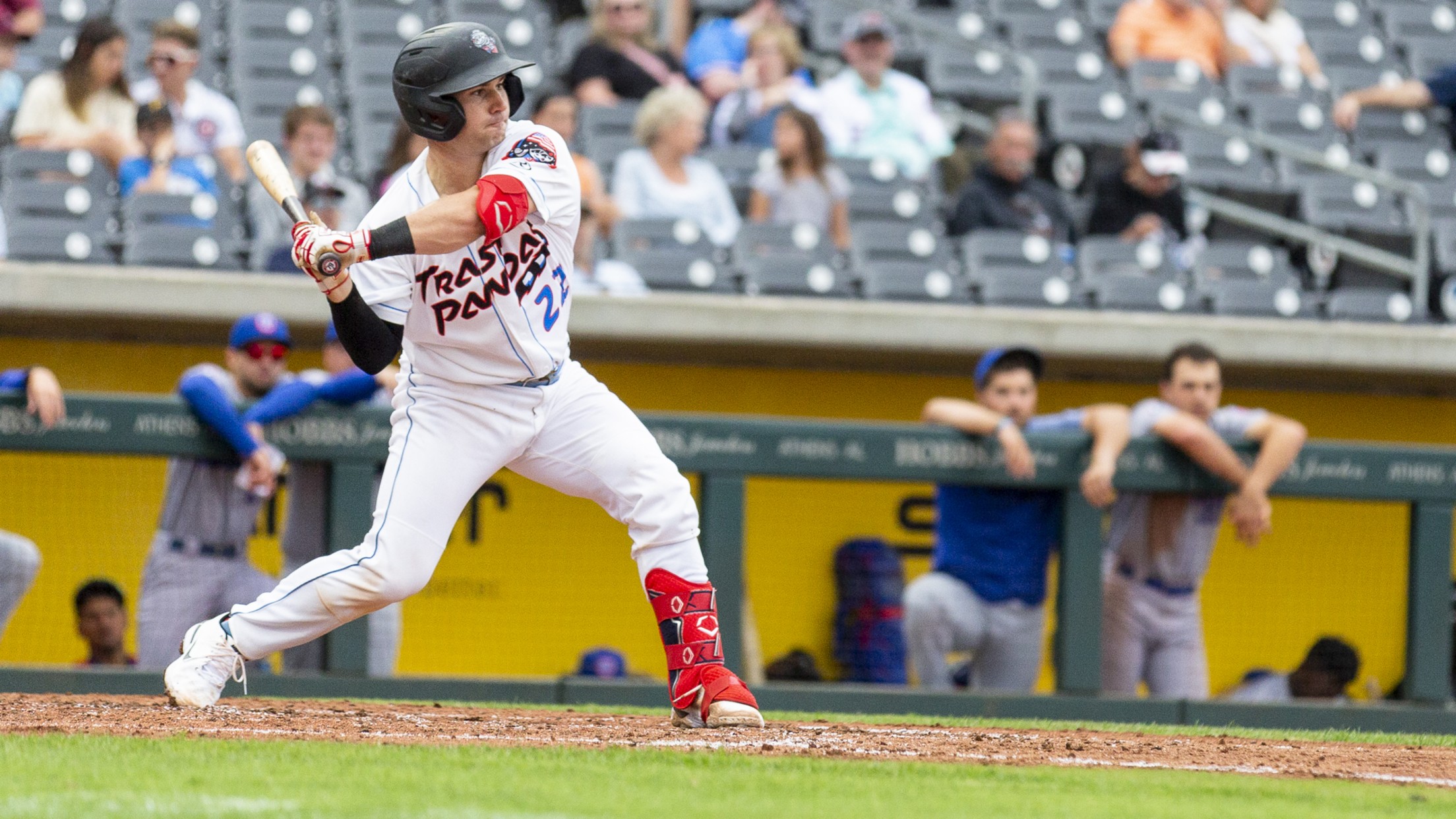 Zach Humphreys was named the Blue Orbit Trash Pandas Player of the Month of May. (Javier Sanchez/Rocket City Trash Pandas)
In June 2021, catcher Zach Humphreys was suiting up as a fifth-year senior at Texas Christian University. The son of a former big leaguer, Humphreys had dreams of playing professional baseball. Just a month later, Humphreys took the first step toward that dream, signing a contract with the Los Angeles
In June 2021, catcher Zach Humphreys was suiting up as a fifth-year senior at Texas Christian University. The son of a former big leaguer, Humphreys had dreams of playing professional baseball. Just a month later, Humphreys took the first step toward that dream, signing a contract with the Los Angeles Angels as a non-drafted free agent.
He would make his debut late in the 2021 season for High-A Tri-City before being assigned to the Trash Pandas to open the 2022 season, his first full year as a professional. Since joining Rocket City, he has been one of the team's most consistent hitters, posting a .315 batting average with five home runs, 13 RBI, and five stolen bases at the top of a potent Trash Pandas lineup that has climbed to the top of the Southern League Standings.
Recently, Humphreys sat down to talk about his journey to the Trash Pandas, and what has made him and the team successful to start the year.
Q: Growing up, what was your favorite team and who was your favorite player?
A: I grew up in the Dallas area so I was a Texas Rangers fan. I grew up going to Rangers games. My favorite player was Pudge, Ivan Rodriguez. He was a great catchers, someone I have always looked up to.
Q: Your dad, Mike Humphreys, briefly played for the New York Yankees from 1991-93. How much of an impact was he in your development as a baseball player?
A: He was my biggest influence growing up. He was great. He never pressured my brother and I into doing anything. He's an unbelievable baseball mind. I still think I've learned more from him than any other coach I've ever had in my life. He was great at what he did and after he was done playing, he scouted. He knows a lot of baseball and he was always really great about teaching me how to be baseball smart rather than good baseball players.
Q: Did you play any sports other than baseball growing up?
A: I started playing football in middle school and I was the quarterback from middle school all the way through high school. Growing up, we weren't allowed to play baseball year-round. In the fall I also wrestled for eight years growing up. I would credit my athleticism to the wrestling too, just doing something different. It also gave me athleticism. I'm a catcher and I can move quickly, so I'd attribute some of the quickness to playing other sports.
Q: At TCU, you were moving up in the depth chart before the 2020 season was cut short. What did you do to fill the void and what did you learn from that experience?
A: When it first hit, I took a couple months off and did a lot of fishing and golfing to stay outside and stay away from baseball. It was a big slap in the face that baseball can be taken away that quickly, so it makes you cherish it a little more than I did before. We were spoiled being able to play all year, so when it got taken away it let me step back and realize it wasn't going to be here forever.
Zach Humphreys takes care of a lead-off single and Wright sits down the next two. To the bottom of the ninth we go in a tie game!#FrogballUSA | #GoFrogs pic.twitter.com/yC4fZa8NkC

— TCU Baseball (@TCU_Baseball) May 26, 2021
Q: After you signed with the Angels last year, what was an eye-opening moment from your first few months of professional baseball?
A: When I got invited to big league camp, the most surreal moment was walking in the locker room for the first time and it was Mike Trout, Anthony Rendon, Shohei Ohtani, Kurt Suzuki, all these guys that I saw as superstars growing up. It was surreal to be in the same locker room. I got to catch one of Shohei's bullpens. It was a very light session, but I was like a kid in the candy store. It was great to see how they went about their business. It showed why they're as good as they are but it was also cool to learn that they're just normal guys that are really good at baseball.
Q: You are off to a hot start this year, what do you attribute that to?
A: I would credit a lot of my success to Kenny Hook, our hitting coach. He's done some adjustments with me and it's really made me a much better hitter. It's given me more time at the plate, a better chance to adjust to off-speed pitches and ability to recognize off-speed pitches better. Just hit the ball the other way, keep everything simple, use the whole field. I would give Kenny a ton of credit.
Q: What was a personal highlight for you this season?
A: My first home run against Pensacola. That was my first professional home run. It was really cool to get that under my best. It helped show me that I belong here and that I could play at this level.
Get the Hubble for this Hump homer. 🔭@z_humphreys10 with a comet to straightaway center! ☄️ pic.twitter.com/pO6L5gpnog

— Rocket City Trash Pandas (@trashpandas) April 17, 2022
Q: Do any other moments stand out?
A: The biggest highlight for me so far was last Wednesday when Gustavo Campero came in to pinch hit and got a knock right up the middle. He's a great guy. He works so hard. He never got the chance to show what he can do. Then he got that chance and he made the most of it. It was awesome. Everyone was head over heels happy for him.
Q: How much fun are you having right now with this Trash Pandas team?
A: We get to play baseball for a living. It's a lot better than being in an office. It's hard to not have fun, especially with the group we have here.