2020 Round Rock Express Coaching Staff Announced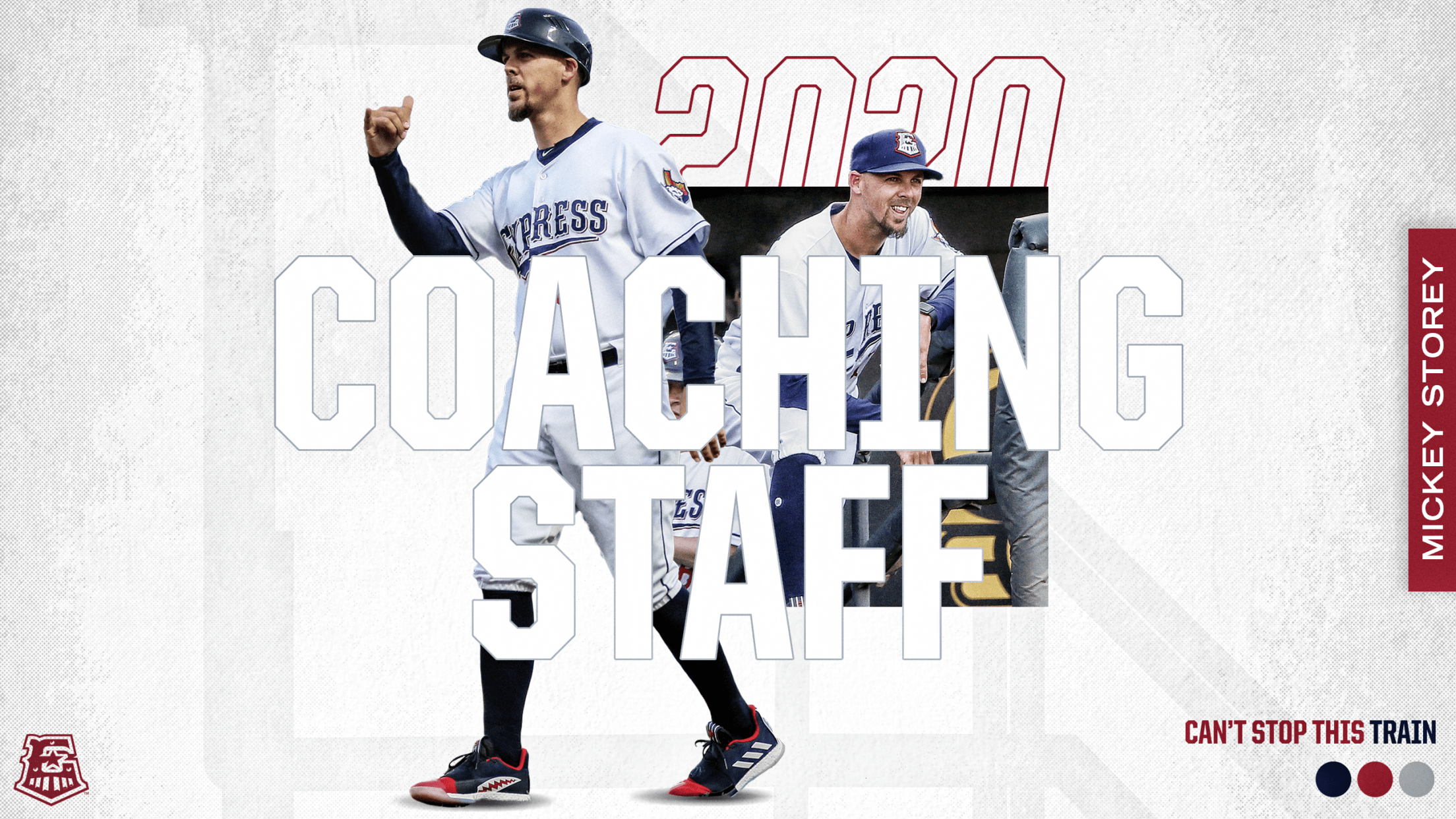 ROUND ROCK, Texas - With 72 days to go until Round Rock Express Opening Day at Dell Diamond, the Houston Astros announced the 2020 coaching staffs for their minor league affiliates on Tuesday afternoon. The E-Train will once again be led by Manager Mickey Storey , who is returning to
ROUND ROCK, Texas - With 72 days to go until Round Rock Express Opening Day at Dell Diamond, the Houston Astros announced the 2020 coaching staffs for their minor league affiliates on Tuesday afternoon. The E-Train will once again be led by Manager Mickey Storey , who is returning to Round Rock for his second season at the helm.
Also returning to the Express coaching staff for their second seasons are Pitching Coach Drew French, Hitting Coach Ben Rosenthal and Athletic Trainer John Gregorich. A pair of coaches are set to make their Triple-A debuts with Round Rock in 2020, Development Coach Ryan Engels and Strength Coach Hazael Wessin.
Storey led the Express to one of the franchise's most successful seasons in club history a year ago, finishing the regular season with an 84-56 record, the best of any Triple-A club. His team captured the American Southern Division Championship and returned to the Pacific Coast League playoffs for the first time since 2015. Under Storey's guidance, Round Rock topped Iowa in the American Conference Championship Series before falling to Sacramento in the PCL Championship Series.
The 33-year-old skipper began his managerial career with the Class A Quad Cities River Bandits in 2018, where he led his squad to an 81-59 record. Prior to his time in Quad Cities, Storey served as the Development Coach at Class A-Advanced Buies Creek in 2017, his first season coaching within the Astros organization. The former right-handed pitcher had a nine-year professional playing career that included one season with the Astros in 2012 in which he posted a 3.86 ERA in 26 appearances with the club.
Storey was born in Fort Lauderdale, Florida, where he attended nearby Deerfield Beach High School before moving on to Florida Atlantic University in Boca Raton. Originally drafted by the Oakland Athletics in the 31st round of the 2008 draft, Storey pitched at every level of affiliated baseball during his nine-year professional career, including stints with Sacramento and Oklahoma City in the PCL. He finished his playing career in 2016 following two seasons with the Somerset Patriots of the independent Atlantic League. In total, the righty amassed a career 3.52 ERA in 385 games.
French returns to Round Rock for his second season with the Express and his fifth in the Astros organization. Under French's guidance, the 2019 Express finished second in the PCL with 12 shutout victories while also combining to set a new franchise record with 1,265 strikeouts on the year.
Prior to joining Round Rock, French won a pair of championships as a pitching coach, first with the Midwest League Champion Quad Cities River Bandits in 2017, then with the Carolina League Champion Buies Creek Astros in 2018. He began his Astros coaching career with the Short Season Tri-City Valley Cats in 2016.
A native of Austin, French attended Stephen F. Austin High School and Concordia University, graduating in 2006 with a degree in marketing and management. He was named a three-time Academic All-Southwestern Conference selection during his playing career at Concordia. The 36-year-old served as the Director of Baseball Operations for the University of Alabama from 2009-2011 before acting as the Pitching Coach at Florida International University from 2012-2013 and Lee University from 2014-2015.
Rosenthal is entering his fourth season in the Astros organization and his second with Round Rock. Under Rosenthal's tutelage, Express hitters set a variety of team franchise records in 2019, including most runs scored (890), most home runs (220), most RBI (840), highest OBP (.370), highest SLG (.494) and highest OPS (.863). E-Train sluggers also worked the second-most walks in the PCL a year ago with 623.
Like French, Rosenthal won a pair of league championships with Quad Cities in 2017 and Buies Creek in 2018. Rosenthal was a noted college and high school baseball coach, serving at Point Loma Nazarene University, Universal City High School, Bishop Gorman High School and Mira Mesa High School prior to joining the Houston organization.
Originally from Phoenix, Rosenthal played college baseball for two seasons at Riverside City College before transferring to San Diego State University, where he completed his degree in kinesiology with a supplement in introductory sciences. He later earned a master's degree in physical education from Azusa Pacific University. The former catcher posted a four-year professional career, last suiting up for the El Paso Diablos in 2006.
Gregorich returns as Round Rock's trainer for the second straight season, as well as his seventh in the Astros organization. Prior to joining the E-Train, he served as the Athletic Trainer for Double-A Corpus Christi in 2018, Buies Creek in 2017, Tri-City from 2015-2016 and Rookie-level Greeneville in 2014, where he was named the PBATS Appalachian League Athletic Trainer of the Year.
Before joining the Astros, Gregorich was a sports medicine intern for the Cleveland Indians in 2013. He also interned with the Indians' Class A affiliate, the Lake County Captains, in 2012. He served as a graduate student assistant for the University of Tennessee at Chattanooga during the 2012 football season, where he received his master's degree in athletic training. Gregorich previously earned his bachelor's degree in exercise science from Bellarmine University.
Engels is set to make his Triple-A debut as Round Rock's Development Coach in his second season within the Astros organization. He previously served as the Performance Coach for Corpus Christi in 2019. Prior to joining the Houston system, Engles was the Strength and Conditioning Coach for the Seattle Mariners' Rookie-level Arizona League club in 2018 after serving as a performance specialist at the Center for Athletic Performance and Physical Therapy from 2017-2018 and as a biomechanics laboratory assistant at South Dakota State University from 2015-2017.
The Watertown, South Dakota native received his master's degree in health and nutritional sciences from South Dakota State University, where he also worked as a strength and conditioning graduate student volunteer with the athletic department. He received his bachelor's degree in exercise science from Southwest Minnesota State University while also lettering all four years as a star on the baseball team.
Wessin comes to Round Rock after serving as the Latin America Strength and Conditioning Coordinator in 2019. He is entering his sixth season in the Astros organization, winning championships as the Strength and Conditioning Coach for Quad Cities in 2017 and Buies Creek in 2018. Prior to joining the Astros, Wessin assisted the Boston Red Sox in their Dominican Summer League operations in 2014.
He received his bachelor's degree in sport management from Faulkner University in 2014 after receiving his associate of arts degree in liberal arts from Western Oklahoma State College in 2012, where he was also a member of the baseball team, including the 2011 NJCAA National Championship squad.
The Express kick off the 2020 season on Thursday, April 9 against the newest member of the Pacific Coast League, the Wichita Wind Surge (Miami Marlins affiliate) at 7:05 p.m. at Dell Diamond. Full season and mini season membership plans are on sale now. For more information on the Express, visit RRExpress.com or call (512) 255-2255. Keep up with the Express on Facebook, Instagram and Twitter!