Falling short by a run in OKC
Two-run homer lifts Dodgers past Missions, 4-3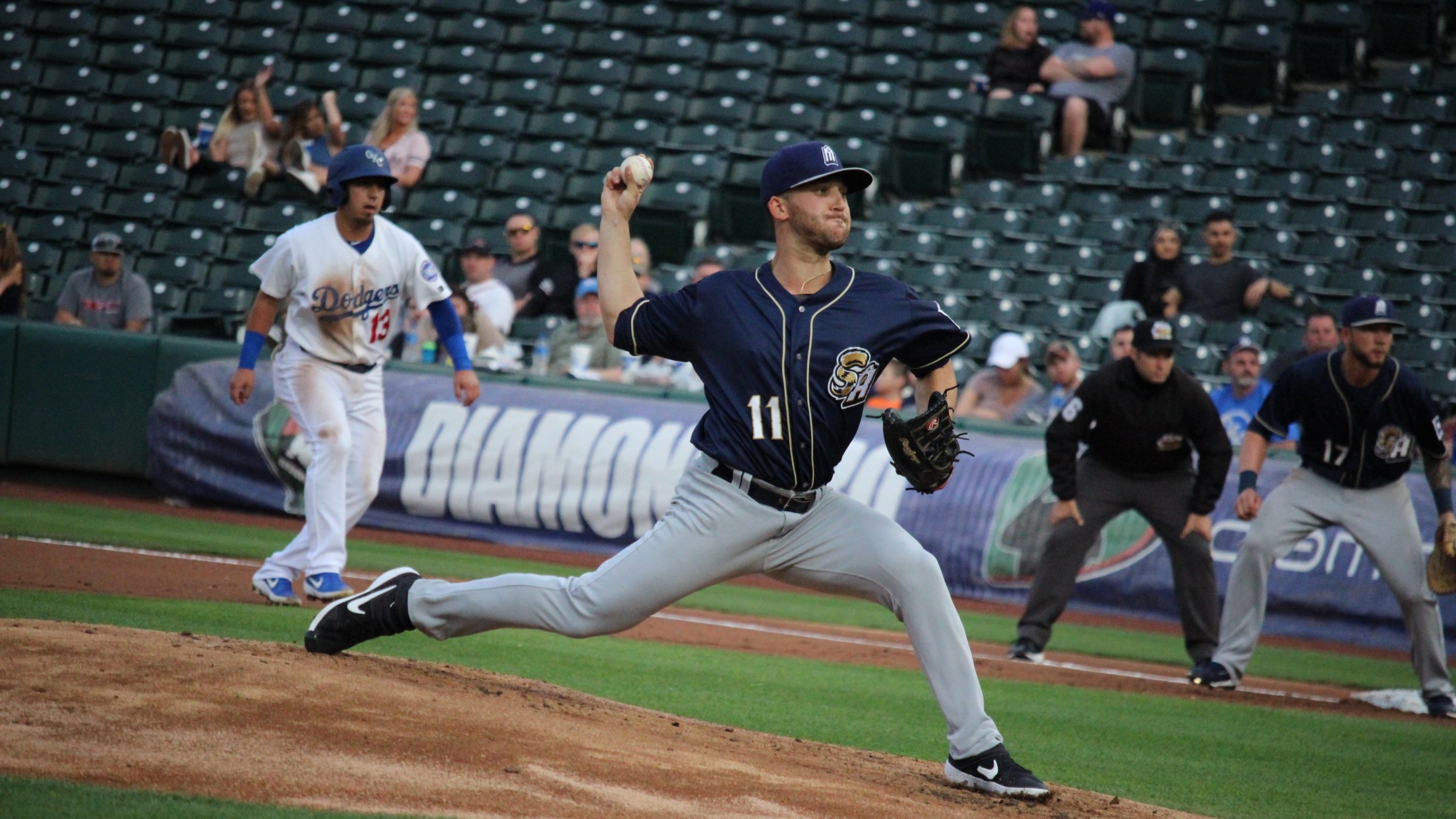 (Megan Filipowski/OKC Dodgers)
OKLAHOMA CITY -- For some baseball players who have come through San Antonio in the past two seasons, the legend of the Flying Chanclas is a mystery.The reason that the Missions occasionally take on a nickname that evokes images of flying shoes is just not clear to some.But for Missions
OKLAHOMA CITY -- For some baseball players who have come through San Antonio in the past two seasons, the legend of the Flying Chanclas is a mystery.
The reason that the Missions occasionally take on a nickname that evokes images of flying shoes is just not clear to some.
But for Missions pitcher Bubba Derby, it's perfectly clear.
He knows all about it, learning the hard way from his mother and his late grandmother, who were from Chile.
Derby discussed his history with the chanclas Friday night after the Oklahoma City Dodgers rallied to beat the Missions, 4-3, at the Chickasaw Bricktown Ballpark.
"I mean, I'm Latin myself, so I've definitely had a flying sandal come at me in my day, with a snapping leather belt," said Derby, who grew up in Southern California.
"All the fans (in San Antonio) will know what I'm talking about when I mention the leather belt snapping," he added.
The Missions got popped a few times themselves late in Game 2 of their first season in the Pacific Coast League.
After rallying in the ninth for a 5-3 victory in Thursday's opener, the Missions watched as the Dodgers came from behind with clutch hitting and pitching in the last few innings.
Riding a strong performance from Derby and playing some small-ball on offense early, the Missions took the upper hand.
Tyler Saladino smacked a double into right field in the third for a 1-0 lead, a run that was set up by a hit-by-pitch and a sacrifice bunt by Derby.
In the fifth, Corey Ray delivered an RBI single that made it 2-1.
But the wheels started to wobble for the Missions in the sixth when Derby, who had yielded only four hits to that point, yielded a Matt Beaty single and an Edwin Ríos a double to open the inning.
"Just didn't execute as well as I wanted to," said Derby, who was lifted at that point and replaced with newcomer Donnie Hart.
Even though Hart got out of the jam without allowing a run, the Dodgers started to look confident with the bat.
By the seventh, they broke loose against Jeremy Jeffress, a veteran pitcher with the Milwaukee Brewers who was making a rehabilitation appearance in Triple-A.
The Dodgers wasted no timing in roughing him up.
Errol Robinson opened the inning with a single down the first-base line. Jake Peter followed with a blast, a two-run homer to center, which lifted the Dodgers into a 3-2 lead.
The Missions tied it in the top of the eighth on an RBI double by Tyrone Taylor. But the Dodgers weren't finished.
With Miguel Sanchez entering in relief of Jeffress, the home team struck again with force. Pinch-hitting Paulo Orlando smoked a triple into the right field corner to make it 4-3.
In the ninth, Dodgers reliever Stetson Allie started firing fastballs that registered 97 mph on the scoreboard readings.
The Missions went three up, three down, for the first loss of the season and their first as a Triple-A franchise.
Missions manager Rick Sweet wasn't upset at all with his team's effort.
"It was a good ball game," he said. "Both of these games, both teams made some mistakes, but they were good. It's what you expect from two teams that have won this (PCL) division the last four years, I think."
Sweet credited Peter with making his home-run swing count.
"We know he's got that kind of power," he said. "That's not surprising. He hit a couple (like that) in spring training."
For the second straight night, Sweet got quality starting pitching.
On Thursday, it was Adrian Houser. On Friday, Derby, a former college player at San Diego State, answered the call.
Derby worked five innings, giving up six hits and one run. He struck out four and walked one.
"I thought Bubba did an excellent job," said Sweet, who also declined to complain about anything he saw from his bullpen.
He said Hart's performance was encouraging.
"You know, we've never seen him throw," Sweet said. "He came in, in a tough situation, and did a great, great job."
In regard to Jeffress, the manager said "he looked free and easy" with his delivery.
His pitches registered in the low 90-mph range on the scoreboard, but Sweet said he thinks the numbers that fans see on the scoreboard are low.
"I thought he threw well," Sweet said. "He's probably not as sharp as he wants to be, but that's why he's here."
Plans call for Jeffress to pitch in three games in the homestand that starts on April 9.
Nottingham's success
Catcher Jacob Nottingham continued to play well, getting another hit to give him three in two games.
The man behind the mask been most impressive with his ability to read the tendencies of opposing hitters, and with his quickness and agility around the plate.
"What makes a good catcher is not, 'How good is his arm?' Or, 'How well does he handle the stick?' There's so much more that goes into it," said Derby. "It's his receiving ability. It's knowing his pitchers and being smart behind the plate. It's reading hitters."
Dubon's comeback
Highly-regarded shortstop Mauricio Dubón, who is returning from an illness that cost him a few weeks of spring training, didn't start the game at shortstop. He pinch hit in the seventh and was out on a ground ball.
Sweet said Dubon is the team's everyday shortstop.
"Playing real games is different than spring training," the manager said. "He's missed a little time in spring, and I want to make sure he's at 100 percent, strength-wise."
Dubon, a career .300 hitter in the minors, is 0-for-6 at the plate in the two games. He had a 23-game hitting streak at Colorado Springs last season when he suffered a knee injury in May that knocked him out for the season.
Coming up
Zack Brown is scheduled to start tonight in Game 3 of the five-game series with Oklahoma City, followed by Aaron Wilkerson on Sunday and Burch Smith on Monday. For the home opener set for Tuesday night at Wolff Stadium, Houser is expected to get the start.