Betts, Swihart class of Red Sox system
Top prospects were at top of their games during 2014 season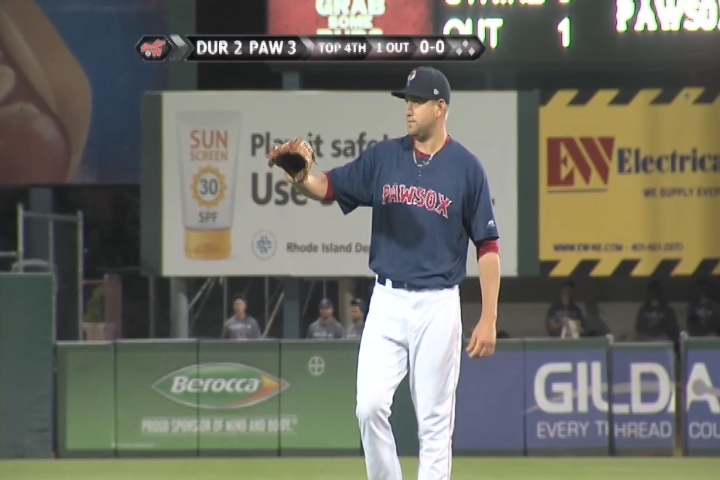 By Sam Dykstra / MiLB.com | December 15, 2014 10:00 AM
This offseason, MiLB.com is honoring the players -- regardless of age or prospect status -- who had the best seasons in their organization. We're taking a look at each team to determine the outstanding seasons in Minor League Baseball. Select a team from the dropdown below.
It was a good year to be a member of the Red Sox ... Minor League system.
The Major League club had trouble defending its World Series title and, with a 71-91 record, finished in the American League East cellar for the second time in three years. While their big league counterparts struggled, Red Sox prospects flourished in a big way. Mookie Betts worked his way from Double-A to becoming one of the big leagues' most exciting young players. Blake Swihart took another step toward becoming arguably the top catching prospect in the game. Henry Owens continued to rack up strikeouts and no-hit performances. (And even then, he's only an honorable mention selection.) Rafael Devers and Manuel Margot showed the system isn't exactly top-heavy.
On the team side, five of Boston's seven affiliates posted winning records, with Triple-A Pawtucket and the Gulf Coast League Red Sox capturing their respective championships. On the whole, the system finished with a .546 winning percentage, good for fourth among the 30 Major League organizations and earned a MiLBY nomination for Farm System of the Year.
All in all, it was a positive year for Red Sox Minor Leaguers, and these were the top players who made that happen.
Red Sox Organization All-Stars
Catcher -- Blake Swihart, Portland (92 games), Pawtucket (18 games): When the Red Sox took Swihart with the 26th overall pick in the 2011 Draft and talked him out of attending the University of Texas, there was the hope that he'd develop into the type of all-around catcher they're seeing now. The 22-year-old handled the jump to Double-A ball with relative ease, producing a .300/.353/.487 line with 12 homers, three triples and 23 doubles in 92 games at Portland. He moved up to the PawSox in August and played a key role in their quest for a Governors' Cup title.
What's more, he took another jump defensively, throwing out 31 of 68 (45.6 percent) would-be basestealers across the two levels.
"I think Blake has really improved in all facets of the game," said Red Sox director of player development Ben Crockett. "The focus early on when we had him was the defensive side, and you can already tell that's come a long ways. Offensively, he's started to do a lot of different things with the bat and he's made himself a guy that's really close to the Majors."
The prospect landscape has taken notice as Swihart, who's on the organization's 40-man roster, has jumped to No. 24 on MLB.com's list of Top 100 Prospects, up from No. 61 during the preseason. Barring a radical change, he's ticketed for a return to Pawtucket to start 2015, but with fellow defensive wizard Christian Vazquez already in Boston, the Sox boast one of the most exciting young catching duos.
First baseman -- Travis Shaw, Portland (47 games), Pawtucket (81 games) After batting .221 in his first go-round in Double-A ball in 2013, Shaw carried the momentum from an excellent turn in the Arizona Fall League (.361 average, 1.157 OPS, five homers in 17 games) into a much more productive 2014 campaign. The 24-year-old left-handed hitter had a .305/.406/.548 line with 11 homers and 37 RBIs in the Eastern League before getting the bump to the International League, where he held his own with a .262 average, .752 OPS and 10 long balls. His 21 total homers were tops in the system.
"With Shaw, it started with a more aggressive mind-set," said Pawtucket manager Kevin Boles, who also coached the first baseman in Portland in 2013. "He was looking to do damage and be a more productive run-producer with runners in scoring position. From a physical standpoint, it came from his lower half being on time and having it established with improved balance."
Like Swihart, he was rewarded with a spot on the 40-man roster, and Shaw could make his Major League debut in 2015.
Honorable mention: Jantzen Witte
Second baseman -- Sean Coyle, Portland (96 games): To simply look at the 5-foot-8 Coyle is not the way to get the whole picture when it comes to MLB.com's fourth-ranked second base prospect. The 22-year-old right-handed hitter has plenty of pop, as he showed this season with 16 homers (third-most in the system) and a .295/.371/.512 line with career highs in each category. Hand and hamstring injuries, again, limited him to 96 games, but when he was in the lineup, he proved to be a masher.
"He had a really good offseason coming into 2014," Crockett said. "He implemented a few new techniques that helped keep him on the field a little more. He also bought into the approach we've been preaching. We saw him driving to right-center more than in previous years and, offensively, that really helped his game."
Third baseman -- Rafael Devers, Dominican Summer League (28 games), Gulf Coast League (42 games): Until a player makes his debut, he's more or less a question mark. Devers, who signed for $1.5 million out of the Dominican Republic in 2013, provided a lot of early answers this summer. At 17, the left-handed slugger started in the DSL, where he quickly proved to be too much for after putting up a .337/.445/.538 line with three homers, three triples and six doubles. The Sox gave him another challenge by sending him stateside, and he cleared that hurdle by batting .312 with an .858 OPS.
Having turned 18 in October, the Red Sox couldn't have asked for a much better organizational debut than Devers'. And considering he could still be in high school, it's difficult not to dream about what the next step could be.
"He's already got an advanced approach at the plate," Crockett said. "He has a great ability to use the whole field. There's some raw power there. He really isn't afraid to see the ball get deep into the strike zone and drive it the other way. ... To play third base, he needs continued reps, but that will come in time. It'll be exciting to watch him grow."
Shortstop -- Deven Marrero, Portland (68 games), Pawtucket (50 games): To talk about Marrero in any context is to discuss his defense foremost. Indeed, MLB.com gave him 60 grades for both his glove and arm, and he's lived up to that billing at one of the most demanding defensive positions in the game.
"He's above-average in all facets of defense," Crockett said. "It can be incredible to watch. He can make the challenging plays with relative ease and, what's more, without sacrificing the easy play, either."
The 2012 first-rounder also started to show something offensively at Portland, where he had a .291/.371/.433 line with five homers, two triples and 19 doubles in 68 contests. (He entered the season with four career Minor League homers.) Marrero struggled some at Pawtucket (.210 average, .545 OPS), but the Sox are optimistic after a positive Fall League campaign (.328 average in 17 games).
Outfielders
Mookie Betts, Portland (54 games), Pawtucket (45 games): No player forced his way from Double-A all the way to the Majors quite like Betts did this season. The 22-year-old, who was a Breakout Prospect of the Year candidate in 2013, had no problem acclimating to Double-A ball, reaching base in each of his first 53 games to run his on-base streak to 66 contests (71 if you include last year's playoffs). When it became apparent that his bat could carry him even further up the organizational ladder, the Sox moved him from second base to the outfield (mostly center) in May as a way to keep him from being blocked by former AL MVP Dustin Pedroia. Given his impressive speed, Betts adapted well to the new position. He moved up to Triple-A Pawtucket in early June, made his Major League debut on June 29 and stuck with the big club for good in mid-August after putting up a .346/.431/.529 line with 11 homers, five triples, 30 doubles and 33 steals in 99 Minor League games.
"The thing about Mookie is he's really consistent from at-bat to at-bat and pitch to pitch," Crockett said. "He doesn't change his approach for anything. Now he obviously has the physical ability to back that up as well. He controls the strike zone, isn't afraid to hit with two strikes or in any situation. That's something he carried with him to every level, no matter the competition he was facing, and that's what made the transition easier for him each time."
Betts batted .291/.368/.444 in 52 games during his first turn in the Majors and, barring a trade for a top-of-the-line pitcher, is likely to be the Sox's Opening Day leadoff hitter.
Manuel Margot, Greenville (99 games), Salem (16 games): Margot was a popular pick as the system's breakout star in 2014, and while that designation might belong to Devers, the 20-year-old center fielder did his best to fulfill those predictions. The right-handed hitter showed off plenty of tools with a .293/.356/.462 line, 12 homers and an organization-best 42 steals during his first full Minor League campaign. The native of the Dominican Republic climbed from No. 11 in MLB.com's preseason ranking of the Red Sox system to No. 6 and could go even higher if he develops a smidge more power.
"He's made steady progress since we signed him [in 2011]," Crockett said. "He's been expanding the zone a little bit as he gets more experience, and he has plenty of natural running and hitting ability to succeed as well."
Matty Johnson, Salem (132 games): For the reasons Johnson earned his spot on this list, look no further than the speed categories. The 26-year-old center fielder swiped 40 bags, second in the system to Margot and more than double his previous career high of 19 in 2011 and 2013. With a .276 average and .377 OBP, he proved to be the prototypical leadoff man for Salem. Pretty good for someone who was plucked from the independent Frontier League in 2010.
Honorable mention -- Alex Hassan
Utility player -- Carlos Asuaje, Greenville (90 games), Salem (39 games): Asuaje is the reason we have a utility player category in the Organization All-Stars series. The 2013 11th-rounder's bat played well enough to be honored here (.310/.393/.533, 15 homers, 12 triples, 38 doubles), but he saw equal time at second base, third and left field in 2014, making it difficult to place him anywhere other than this spot. That defensive flexibility should help the 23-year-old as he tries to climb the ladder.
Right-handed pitcher -- Anthony Ranaudo, Pawtucket (24 games), Boston (seven games): The Red Sox would have been happy with a repeat of 2013 (2.96 ERA, Eastern League Pitcher of the Year) for Ranaudo, and that's essentially what they got. The 6-foot-7 New Jersey native was named International League Most Valuable Pitcher after leading the Triple-A circuit in wins (14) and ERA (2.61) while posting a 1.20 WHIP, .223 average against and 111 strikeouts over 138 innings. He made his Major League debut on Aug. 1 and struggled some on the game's biggest stage with a 4.81 ERA and 10 homers allowed in seven starts (39 1/3 innings).
Given the rotation moves the Red Sox have made this offseason (Wade Miley, Rick Porcello, Justin Masterson) and what could still come, it's likely that Ranaudo will head back to Triple-A this spring. But the organization knows it'll need him for depth.
"I think it's just about having more consistent execution at the Major League level," Crockett said. "The batters obviously get more talented at every level and you have to be more consistent if you're going to succeed. Now his fastball plays at every level, we saw that. It's just a matter of continuing to improve execution of the other pitches, and he knows that."
Left-handed pitcher -- Brian Johnson, Salem (five games), Portland (20 games): Johnson's first two seasons in the system were marred by a line drive he took to the face on Aug. 18, 2012 during a Futures at Fenway game with Short-Season Lowell.
Armed with an above-average fastball and curve, the 2012 first-rounder broke the 100-inning barrier for the first time -- 143 2/3, to be exact -- and was dominant, especially at Portland, where he went 10-2 with a 1.75 ERA, 0.93 WHIP, .189 average against and 99 strikeouts in 118 frames. His 2.13 ERA for the season was easily best in the system.
"This was the first year he was really able to get in a full offseason, and what he did was a result of being able to maximize that time," Crockett said. "You could tell it really paid off. He came in stronger, and even as the season progressed, his velocity ticked up from what we had previously seen. Between strength and conditioning and being able to repeat his delivery consistently all season long, he had exactly the type of season we could have hoped for him."
Johnson also made one playoff start at Triple-A, tossing six innings of two-run ball against Durham in Game 2 of the Governors' Cup Finals, and Pawtucket is where he'll move in what should be another stacked rotation.
Honorable mention: Henry Owens
Relief pitcher -- Tommy Layne, Pawtucket (37 games), Boston (30 games): The 30-year-old left-hander was signed by the Red Sox as a free agent last offseason with the hope he'd provide veteran depth and left-handed help in the Pawtucket bullpen. He did more than that, posting a 1.50 ERA, 1.02 WHIP, .173 average against with 11 saves in 11 chances for the PawSox. (He was tougher against Triple-A lefties, holding them to a .136 average.)
"He set the tone for our bullpen," Boles said. "He was consistent, had solid work habits and was a great example for our club. He executed pitches when we needed them and was our most consistent reliever this season."
Layne moved to Boston full-time in mid-July, putting up a 0.95 ERA and 1.16 WHIP in 19 innings there, and, with Craig Breslow's departure, should be the club's go-to left-handed option in 2015.
Sam Dykstra is a contributor to MiLB.com. This story was not subject to the approval of the National Association of Professional Baseball Leagues or its clubs.
View More