Woody blasts three homers for Shorebirds
Orioles infielder adds triple on pro-best four-hit, five-RBI night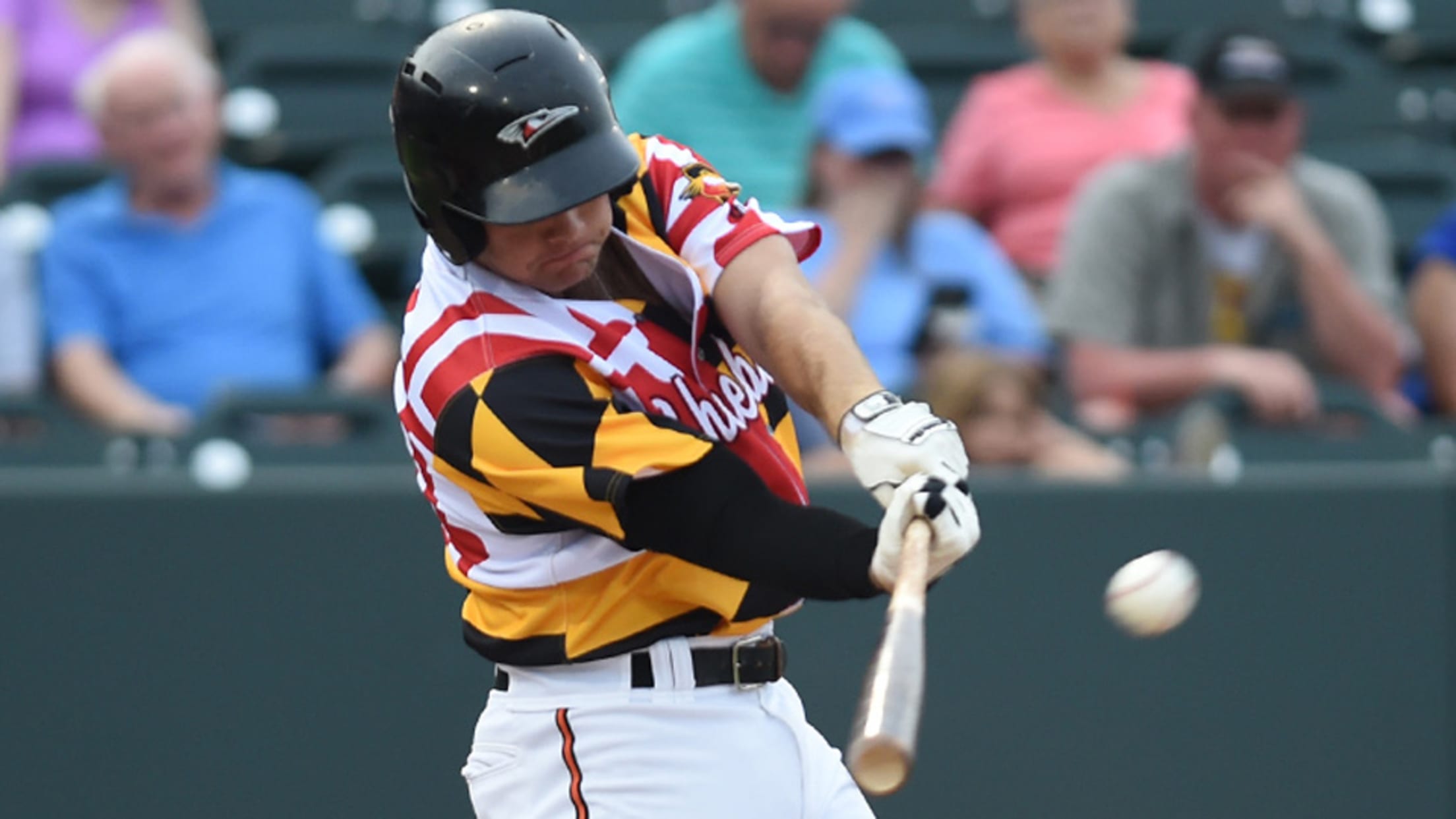 Collin Woody has eight home runs and 45 RBIs in his first full season in the South Atlantic League. (Joey Gardner/FotoJoe)
Rounding the bases Tuesday, Collin Woody was shocked. And when he got back to the dugout, his teammates had a similar thought."Everyone was just like, 'What's going on right now?'" the Orioles infield prospect recalled.Having previously never hit two home runs in a pro game, he was taken aback after
Rounding the bases Tuesday, Collin Woody was shocked. And when he got back to the dugout, his teammates had a similar thought.
"Everyone was just like, 'What's going on right now?'" the Orioles infield prospect recalled.
Having previously never hit two home runs in a pro game, he was taken aback after blasting his third long ball of the night. Capping the contest with a triple in the ninth, Woody went 4-for-5 with five RBIs as Class A Delmarva fell, 12-11, to Greensboro at First National Bank Field.
Gameday box score
"I would say probably [the most memorable part was] after hitting the third home run and being in the dugout with the guys, it was like, 'Is this really happening right now?'" he said. "It was a cool experience, for sure."
Playing college ball a mile and a half away at the University of North Carolina at Greensboro, Woody had a few familiar faces in the crowd -- though not as many as in previous visits since it was the first day of school. Happy to have the support, the 23-year-old led off the second inning with a blast to left-center field off right-hander Brandon Miller.
"He got me down, 0-2, and I felt like I was right on the two pitches that I swung through, so I had confidence with two strikes. I didn't feel fooled or anything like that," Woody said. "So I was just battling, looking to try to put something in play. He threw a fastball inside and I just pulled my hands in and hit it."
With the Shorebirds swinging away, the 23-year-old got back to the plate the following inning. After Preston Palmeiro slugged a two-run shot to right-center, Woody stepped up to the plate, looking to do the same.
The Florida native laced the first offering from Miller to left-center for the first multi-homer game of his career.
"I was fortunate enough to get a good pitch to hit and put a good swing on it, so it was a good feeling rounding the bases," he said. "When I got into the dugout, me and Palmeiro had a nice hug, so we could share the moment."
Woody also withstood some teasing from teammates who joked that anyone can hit two homers and three would be the real test.
Trying to keep the same approach from his first two at-bats, the third baseman faced Miller once more. Woody said he was just looking for a good pitch to hit back up the middle as he worked a 2-0 count. The 2016 38th-round pick than slashed his third homer to right-center.
"As I was rounding third, I gave a fist bump to Jack Graham, our third-base coach, [who also plays second for the Shorebirds]," he said. "I looked at him as I was rounding like, 'What the heck is going on?'"
After the shock washed over his teammates in the dugout, some poked him again, saying anyone could hit three homers, but four would be difficult. But Woody didn't change his approach in his final two at-bats. He popped out to shortstop Luis Pintor in the seventh and got up again in the ninth. With Palmeiro on second and his team up by three, Woody wanted to give Delmarva a little more insurance.
The right-handed hitter chopped a slider from righty Evan Beal past third baseman J.C. Millan, eventually getting past left fielder Brian Miller for an RBI triple.
"Out of the box, I was thinking, I gotta beat the throw. Then it got past [Millan], so I took my time and I was running to second," Woody said. "Then I saw it skip away from the outfielder -- it bounced off the wall or whatever -- so I kept on trucking and I slid into third."
When he got to third, he wasn't disappointed about not parking another one or ecstatic about the triple right away, he was a little preoccupied with the landing.
"I was actually a little rattled, because I slid in hard and hit my helmet on the third baseman's shin," Woody said. "He was fine and I was fine, but the first thing I thought of was, 'Hey, man, are you all right?'"
• Get tickets to a Shorebirds game »
Finishing with career highs of four hits, three homers and five RBIs, Woody was pleased with the way he busted out of a 5-for-34 (.147) "skid" over his last 10 games.
"I didn't have a very good [batting practice], but I took a couple good swings and I was trying to feel that and just think about that," he said. "And going into the game, I just tried to really slow everything down and go back to the basics. I was just thinking, 'OK, very slow load, make sure you see the pitch and just stay disciplined in my approach,' with looking for a good hittable pitch out over the middle of the plate. And it ended up working, so hopefully I can continue that."
Even with the insurance run, the Grasshoppers rallied in the ninth on RBIs from Pintor, Brian Miller, Eric Gutierrez and Micah Brown. Miller, the Marlins No. 7 prospect, went 4-for-4 with four doubles and four RBIs.
Beal (2-0) got the win after working around two runs on three hits with two strikeouts in the ninth.
Kelsie Heneghan is a contributor to MiLB.com. Follow her on Twitter @Kelsie_Heneghan.