Mets' Rennie dazzles with strikeout stuff
Right-hander whiffs Fireflies-record 14 over seven shutout frames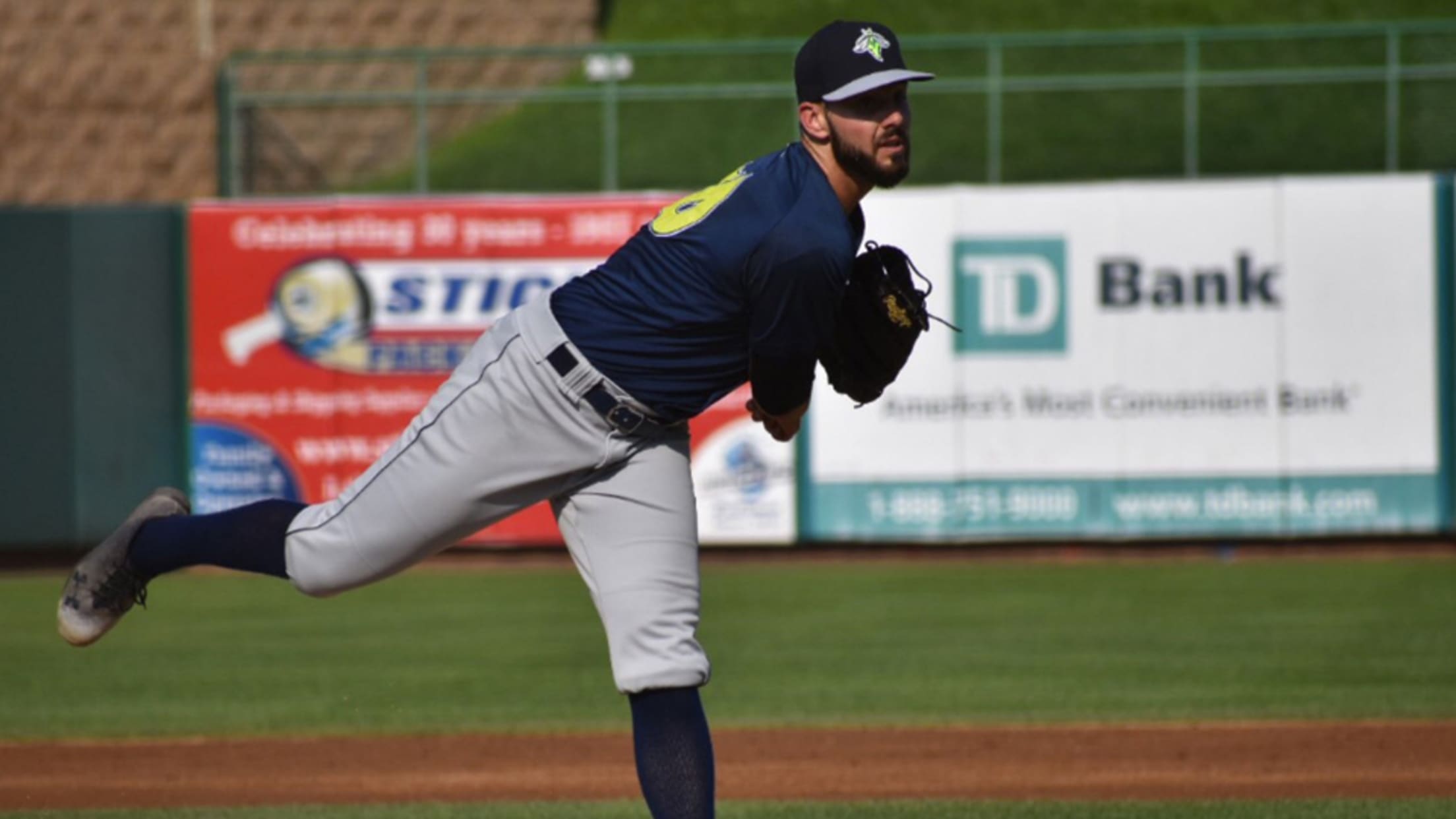 Luc Rennie's 14 strikeouts doubled his previous personal-best mark of seven set several times before. (Steve Sypa)
There was more behind Luc Rennie's 92nd pitch Sunday afternoon than what it may have looked like to a casual observer."When I look at a game like today, I can't help but just be [overcome] with emotion and passion," the right-handed Mets prospect said. "No one really understands except for
There was more behind Luc Rennie's 92nd pitch Sunday afternoon than what it may have looked like to a casual observer.
"When I look at a game like today, I can't help but just be [overcome] with emotion and passion," the right-handed Mets prospect said. "No one really understands except for me, but I've come a really, really long way. If anybody was there watching the game or was watching online, they could see that there was a lot of emotion that went into that last pitch and that last inning for sure."
Making just his fourth start since returning to affiliated baseball, Rennie struck out a personal-best and franchise-record 14 for Class A Columbia over seven scoreless innings in a 2-1 win over Augusta. He scattered four hits and didn't issue any walks.
"I've never had a game like that before, not even in high school," he said. "I don't think I've ever punched out 14 in a game. I think the most previously was 12, and that was what I did earlier this year in (independent) Evansville."
Rennie set the tone for his dominant matinee from the opening frame.
"I gave up a hit and struck out the side and thought, 'OK, that's nice to get three 'punchies' right away,'" he said. "The next inning I struck out two guys and said, 'Shoot, five through two, this is good.' I'd say the first inning was when I realized all my stuff was really, really sharp. That was probably when I realized it had the potential to be a good day."
The righty was off and running. Rennie struck out the final two batters in the third and fourth as well as the last out of the fifth. While his offense was at the plate, he tried to wipe his slate clean.
Gameday box score
"I stick to my routine," the San Diego native said. "I have my between-inning routine, and that's the only thing that allows me to go out and repeat what I'm doing. I don't even think about it being the sixth or seventh inning. I just know that I have a task to do, and I focus on that task. If I stick to my routine, it's kind of a reset button every single inning. I don't have to even think about the previous innings. I know that I have to give us a chance to win, and when I stay focused on one pitch at a time, I just go out there, and I'm able to compete and repeat the way I'm supposed to."
After bookending the sixth with a pair of whiffs, he did the same in his last frame, finishing with a strikeout of Trevor Abrams.
"Being super aggressive with the fastball and then, once I kind of established that, what comes to mind is my curveball," Rennie said. "I went right to my curveball, and that helps my fastball seem harder than it is. One pitch complements the other. I worked a lot of two-seams and cutters off my curveball. If I can command both sides of the plate, they complement each other. The curveball is what comes to mind if I had to take one pitch today that really resonates."
Of his 92 pitches, the 24-year-old threw 71 strikes. Columbia's previous franchise single-game record was a dozen.
"Just pounding the zone aggressively, throwing your fastball with as much conviction as humanly possible and having a sharp breaking ball that you can attack the zone with, I think I only threw 20 balls or something like that," he said. "Just being able to attack the zone with good stuff, I'd say that's probably what it is."
Rennie was drafted by the Orioles in the 16th round in 2012, but released by Baltimore three years later after just three games above Class A and none higher than Class A Advanced. After two-and-a-half years in independent baseball, he celebrated the Fourth of July by signing with the Mets. Through his first three starts with the Fireflies, he'd whiffed 14 combined coming into Sunday.
"It's really incredible," he said. "I play with a lot of passion, and I try to keep it contained. I have a lot of energy that I pitch with and a lot of aggression and a lot of competitive attitude. That's something that I've picked up in the last two-and-a-half years. When I left the Orioles organization, I was pretty broken. I was not what I am right now. I completely had to rebuild my foundation. I went from having a whatever, five-to-one strikeout-to-walk ratio to having twice as many walks as strikeouts, which was just unbelievable. It was really scary. It's taken the last three-and-a-half, four years of my life to rebuild myself from ground zero."
As for his next time out, Rennie is already prepared.
"I've got Augusta again on Saturday, so I'll be facing the same guys," he said with a laugh. "I'll go out with the same exact gameplan and adjust from there because I know what works. If it's going to work again, I will not veer away from that plan, but if I have to make an adjustment on the fly, I will."
Tyler Maun is a contributor to MiLB.com. Follow him on Twitter @TylerMaun.