Crawford, Nola have Phillies looking forward
Standout performers, hope for future brighten season for Philadelphia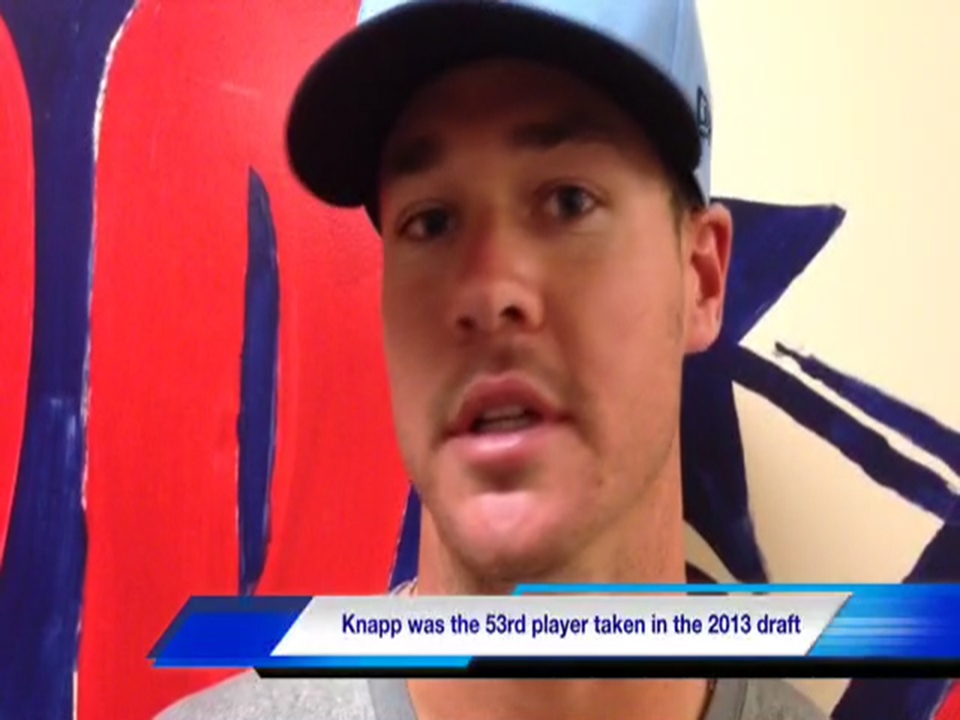 By Josh Jackson / MiLB.com | December 8, 2014 10:00 AM
This offseason, MiLB.com is honoring the players -- regardless of age or prospect status -- who had the best seasons in their organization. We're taking a look at each team to determine the outstanding seasons in Minor League Baseball. Select a team from the dropdown below.
First, the ugly truth: by almost every measurable criterion, 2014 was not a very good year for the Philadelphia Phillies.
Each of the six ballclubs from the one in the National League down to Class A Short Season Williamsport came in dead last in its division, as did the Dominican Summer League Phillies. In aggregate, the Minor League teams combined for a 366-468 record.
However, the upside to these glum facts is that there's no mystery about where the organization stands. The Phillies are rebuilding. While senior advisor Pat Gillick has publicly said he doesn't see the Major League club competing in the next two seasons, the Minors system may look sharper much sooner. The plan is to load the Triple-A roster with veteran talent that can fill in at the big league level as needed.
"What that allows us to do below is -- there may be guys who repeat levels," said director of player development Joe Jordan. "There are definitely going to be more guys to do that, and that's going to help stabilize our system.
"Obviously, this was a tough year, a very tough year as far as wins and losses, but the 2014 Draft is a draft that's going to help our system," Jordan added. "We had a lot of young guys get valuable experience, even though it was a tough experience. Overall, the system is going to be much healthier and much more competitive."
Philadelphia does have three prospects (J.P. Crawford, No. 32; Aaron Nola, No. 43; Maikel Franco, No. 54) in MLB.com's Top 100 rankings.
Phillies Organization All-Stars
Catcher -- Andrew Knapp, Lakewood (75 games), Clearwater (23 games): The Cal product was by far the best hitter among Phillies Minor Leaguers who caught at least 35 games. Knapp, who turned 23 on Nov. 9 and is rated the team's No. 11 prospect, batted .260 with a .324 on-base percentage and 30 extra-base hits.
Behind the plate, the 2013 second-rounder began the road back to normalcy after undergoing Tommy John Surgery in October of last year.
"We had to wait until later in the summer for his arm be ready, and we let him tell us when we could increase his innings. I feel like the guy came a long way defensively," said Jordan. "He did get the bat going, and coming off a major injury to his arm at that position, he was really solid."
Honorable mention: Sebastian Valle, who recently signed a Minor League free agent deal with the Pirates, was the most solid defensive backstop in the system.
First baseman -- Art Charles, Clearwater (127 games): Acquired from the Blue Jays in exchange for pitcher Michael Schwimer in February, Charles went on to smack 19 home runs -- second most in the Florida State League and second most among Phillies Minor Leaguers -- and play the third most games in the system at first base.
"In that trade we were excited to get him and get his potential. Terrific human being, he's a good kid and a good worker. He's got as much power as you need," Jordan said. "If he makes enough contact he's going to hit home runs at any level. But for me, he's got to become a better hitter. He's got to become a tougher out. That's what it comes down to, and he's got to continue to work and start making more contact."
Second baseman -- Tim Zier, GCL Phillies (41 games), Clearwater (one game): Drafted out of San Diego State in the 21st round this year, Zier didn't miss a beat facing pro competition. He was second in the Philadelphia organization -- Major Leaguers included -- with a .319 average. On the other side of the ball, Zier is still coming into his own.
"We knew he could hit as a first-year guy coming out of college baseball," Jordan said. "Obviously, when guys go to pro baseball from college or high school, they're exposed to so much more work defensively. There's just so much more for them to do. We knew he comes with a bat, and if we can develop the rest of the player, we'll have a real asset."
Honorable mention: Andrew Pullin made 26 errors over 123 games at second, but he also hit .270 in his first full season.
Third baseman -- Maikel Franco, Lehigh Valley (133 games), Philadelphia (16 games): The 22-year-old Dominican led Phillies Minor Leaguers with 78 RBIs while putting up a .299 on-base percentage in his first season at the Triple-A level.
These numbers were down -- way down -- from his 2013 campaign. Jordan doesn't think pressure to live up to that monster year was a factor.
"I don't think pressure is something he sees. He's 22, and he was 21 for most of the year at Triple-A. The whole key for Maikel is when he's going for it, he's a more disciplined hitter. He makes the pitcher throw the ball over the plate. He got away from that a little bit, especially at the beginning of the year," he said.
Shortstop -- J.P. Crawford, Lakewood (60 games), Clearwater (63 games): Crawford led Phillies shortstop prospects with 11 homers, 48 RBIs and 24 steals. Those numbers show a toolsy guy, but the Lakewood, California, native's best attribute doesn't directly translate to the stat sheet.
"J.P.'s got a lot of ability, but the thing I like most about him, the thing I believe in most that separates him from other guys, is he has a good feel to play the game and he's very competitive," Jordan said. "It doesn't matter if he's in the batter's box or on defense. He has leadership qualities that are as good as can be."
Outfielders
Dylan Cozens, Lakewood (132 games): A right fielder drafted out of a Scottsdale High School in the second round of 2012, Cozens signed with the Phillies after committing as a defensive end to the University of Arizona. In his first season playing more than 70 games, Cozens socked 16 homers and stole 23 bases for the BlueClaws.
"We've always really, really liked Dylan's ability and upside. What you saw this year was the guy transition into a baseball player," said Jordan. "He was always a duel-sport guy -- he signed to play Division I football, and now we're seeing him be a baseball player. He just needs more time out on the diamond, and he's in Australia now."
Through 18 games Down Under, Cozens batted .239, but his hits came in bunches and he homerer four times and tallied five doubles.
Peter Lavin, Clearwater (54 games), Reading, (74 games): Lavin recorded 21 assists this season across all three outfield positions. Offensively, he had 28 doubles, 11 homers and five triples while batting .287 with a .332 on-base percentage.
"He is a grinder. He believes in his ability," Jordan said. "He's got a little power in his swing and that can get him into trouble at times. For me, Pete needs to just hit, just be a hitter. He should try to lead his team in doubles, and the home runs will come. He's a good player, and he's going to be able to help a big league club."
Roman Quinn, Clearwater (88 games): The speedy 21-year-old Floridian bounced back from a ruptured Achilles' tendon sustained last November to put up a .343 on-base percentage and steal 32 bags this season, which started for him in May.
"We were fortunate to get him back as early as we did," Jordan said. "He didn't lose anything in footspeed. He's really just starting figure out his approach [on the bases] -- how to read pitches. His stolen bases are going to increase. He's had 30 stolen bases everywhere he's played so far, and everything he's done so far he's done on physical ability. But he's starting to learn, starting to really pay attention to what pitchers are doing."
Utility Player -- Willians Astudillo, Lakewood (117 games): Astudillo led all Phillies players with a .333 batting average, and he struck out a total of 20 times in 436 at-bats. Defensively, the native of Venezuela caught 33 games, played 51 at first base and played four in left field.
Honorable mention: Jake Fox was tops in the system with 22 homers, despite not being acquired by Philadelphia out of the Mexican League until mid-June. Once stateside, he split his time at the corner infield positions and DHing over 78 games with Reading.
Right-handed starting pitcher -- Aaron Nola, Clearwater (seven games, six starts), Reading (five starts): A two-time SEC Pitcher of the Year with LSU, Nola was Philadelphia's first choice and No. 7 overall in this year's Draft. He went 2-3 with a 3.16 ERA while striking out 30 in 31 1/3 innings in the Florida State League, then went 2-0 with a 2.63 ERA in the Eastern League.
"Aaron was as advertised. We put together a plan for him and mapped out the summer once we got a feel of him and got him ready," Jordan said. "It's very seldom that you put a plan together and the player allows it to be executed. We were most happy to be able to get his innings on the year [counting college] up to 171. Next year, we should be able to have him go 200. We have a chance to get a really good number there if he's healthy."
Left-handed starting pitcher -- Denton Keys, Team (GCL Phillies 11 games, seven starts): Keys not only had the finest season of any southpaw in the organization, he also showed tremendous improvement from last year, when he had a 5.68 ERA over nine GCL games (two starts). This year, he posted a 2.20 ERA, striking out 35 and walking 12 over 49 innings.
"In '13, he pitched in a way where he was a little shy about bats -- he didn't pitch to contact," Jordan said. "But he figured it out, and it was very encouraging, a good year. He's a strong kid, and he should be able to throw a lot more innings for us going forward."
Reliever -- Luis Garcia Lehigh Valley (39 games), Philadelphia (13 games): Garcia couldn't have done much more at the Triple-A level. He held IL hitters to a .205 average, put up an 0.96 ERA and tied for the IL lead with 22 saves despite spending a significant amount of time in the big leagues across four months. Over 14 National League innings, he struggled to a 6.43 ERA and walked 13 compared to 12 strikeouts.
"Really, Luis Garcia is a Major League pitcher," Jordan said. "He has above-average stuff, above-average weapons. In Triple-A, he was more comfortable attacking the zone and trusting in his stuff. He has the ability to do the exact same thing in the big leagues."
Josh Jackson is a contributor to MiLB.com. This story was not subject to the approval of the National Association of Professional Baseball Leagues or its clubs.
View More