Different styles help Giants' Duffy, Duvall
San Francisco infielders spark organization with finesse and thunder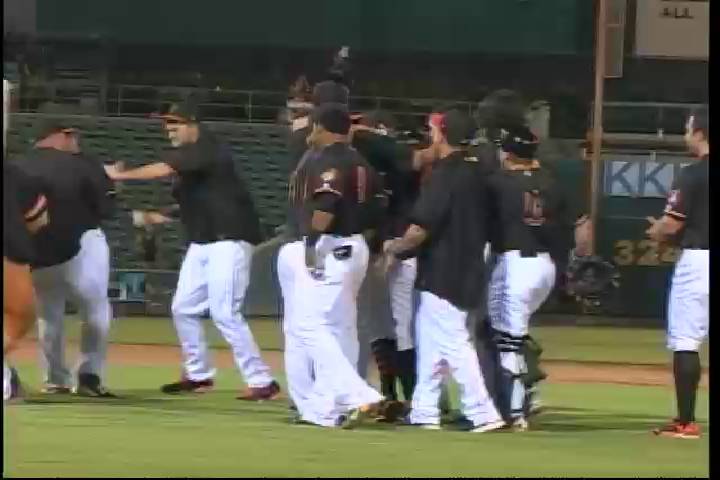 By Ashley Marshall / MiLB.com | October 8, 2014 10:00 AM
This offseason, MiLB.com is honoring the players -- regardless of age or prospect status -- who had the best seasons in their organization. We're taking a look at each team to determine the outstanding seasons in Minor League Baseball. Select a team from the dropdown below.
The San Francisco Giants are stacked at the lower levels of the Minors, but they still got valuable contributions at the Major League level from a number of Top 20 prospects including Andrew Susac and Matt Duffy. With a .523 combined winning percentage, the Giants ranked eighth overall in the Minors and fourth in the National League in terms of on-field success among their affiliates.
Five of the organization's seven affiliates posted a .500 record or better, led by the Dominican Summer League club that went 46-23. Double-A Richmond (.556) topped the team's domestic affiliates but fell to Binghamton in the Eastern League Championship Series.
Giants Organization All-Stars
Catcher -- Miguel Gomez, DSL Giants (65 games): A native of the Dominican Republic, Gomez spent his third season with the Giants' summer league affiliate this year. He set personal highs in most offensive categories, including batting average (.318), homers (five), doubles (18), RBIs (60) and runs scored (35).
The 5-foot-10, 185-pound backstop has 490 at-bats under his belt in his three years in the system, and he also offers versatility at first base and, if necessary, the outfield. San Francisco isn't exactly stacked behind the plate through the organization, so expect Gomez to move up to a rookie-level or Class A league next spring.
"For a player like Miguel, 21-year-old playing in the Dominican, from our standpoint any time a kid can produce offensively to the degree he did as a catcher, you've made a loud statement about your potential," Giants vice president and assistant general manager Bobby Evans said. "I think, the age aside, he's an offensive position player, a switch-hitting catcher who has a chance to come to the States next year and be evaluated for an A-ball opportunity.
First base -- Adam Duvall, Fresno (91 games), San Francisco (25 games): Duvall led the organization's Minor Leaguers with 27 homers and 90 RBIs despite spending a month with the big league club. He also batted a career-high .298 in the Pacific Coast League.
Now in his fifth year of pro ball, Duvall's .360 OBP was the second-highest of his Minor League career, while his .599 slugging percentage and .959 OPS were career-best marks. Defensively, he posted a .988 fielding percentage in 41 games at first base and a .915 mark with 11 errors in 52 games at third.
"Adam shows tremendous power," Evans said. "There was nobody in our system who was more offensive than Adam this year. He has primarily been at third base throughout his career, and yet we've seen him more around a little bit this year to get more opportunities at other positions, particularly at first, because his value will be dependent on where he can play. He's a player than can hit a fastball and can show you above-average power. How that translates to the big league level will really determine his future."
Second base -- Blake Miller, San Jose (96 games), Richmond (26 games): Miller hit .300 in 122 games across two levels in his first full season in the system. The 24-year-old right-hander ranked third in the organization with 85 RBIs and only Mark Minicozzi (.306) and Richmond teammate Matt Duffy (.332) hit for a higher average. Miller hit 29 doubles, eight homers and six triples and he also stole six bases in seven attempts.
"This is a young man who succeeds by his ability to play defense and offense," said Evans. "His approach where he's aggressive early in the count has cost him in the way of strikeouts perhaps, but he's still able to put up a solid season for himself and drive in a ton of runs.
"He has a good eye and he probably has to continue to improve on his swing and misses, but we like his aggressiveness and I think that played well for him at A-ball and Double-A. For a first-year player at San Jose and at Double-A, to make the kind of impact he did made a loud statement."
Third base -- Mitch Delfino, San Jose (131 games): Delfino graduated from the South Atlantic League and hit a career-high .289 in the California League. He slugged 12 homers, one fewer than 12 months ago, but set personal highs with 28 doubles and 77 RBIs. He maintained his strikeout--to-walk ratio from 2013 (2.2:1) despite moving up a level, and he only struck out once more despite logging 56 more at-bats.
Delfino made 18 errors in 358 total chances, good for a .950 fielding percentage.
"His home runs and RBIs were very comparable from year to year, but he's maturing as a player and his success was because he was consistent," said Evans. "He saw some extremely good arms in the Cal League, Major League stuff at times, but while the ballparks are hitter friendly they're not so much in the Sally League, but he maintained a constant level of success between the two seasons. He cut down on his strikeouts with a good two-strike approach, so you have to give him credit for that."
Shortstop -- Matt Duffy, Richmond (97 games), San Francisco (28 games): Duffy has never played a Triple-A game, but that didn't stop the Giants aggressively moving him from Double-A Richmond directly to the Majors this fall.
Duffy hit .332 in the Eastern League en route to winning the batting crown and he also led the organization, hitting 26 points higher than any other Giants Minor Leaguer that qualified. The 23-year-old drew 42 walks compared with 66 strikeouts, and he put that .398 on-base percentage to good use, stealing 20 bases in 24 attempts, leading to 53 runs scored.
"One of the things with him that got him a chance to come up to the big league level was his ability to hit a fastball and put up quality at-bats," said Evans. "He's not going to overswing and he has a good line drive swing. He's a contact type hitter. When we look at his success this year, there's probably no harder league to hit in than the Eastern League among our affiliates and he captured our attention because of that success."
---
• More from Giants VP Bobby Evans on all the selections »
---
Outfielders
Tyler Horan, Augusta (102 games), San Jose (28 games): Horan ranked second in the organization with 25 homers and ninth with a .284 batting average. Selected in the eighth round of the 2013 Draft out of Virginia Tech, the 23-year-old had few troubles moving up from short-season ball.
Horan hit four homers and plated 30 runs in 225 games in his rookie year, but he broke out and displayed his raw power with a combined .523 slugging percentage. His 128 strikeouts in 130 games are a cause for concern, but with 58 extra-base hits and 76 runs scored, Horan's numbers are reminiscent of Duvall's (30 homers, 58 extra-base hits, 100 RBIs, 116 strikeouts) the first time he made it to San Jose in 2012.
"He's such a strong kid and he has impressed us in many respects," said Evans. "I look at him and see pure strength. He was at a good baseball school at Virginia Tech and the season he put up in San Jose and Augusta this year, he had 80-plus RBIs between the two 'A' clubs and earned the chance to go up to Double-A for the playoffs because he's a threat. It's fun to see him have success."
Chris Dominguez, Fresno (131 games), San Francisco (three games): An Organization All-Star in 2013, Dominguez returns to the list in 2014 on the back on his second career 20-homer season in the Minors.
Dominguez ranked third in the organization with 21 homers (which tied a career high) and second with 85 RBIs in his second straight season in the Pacific Coast League. Dominguez also swiped a career-high 21 bases, marking the first time he had achieved double-digit thefts since 2010 (14), despite his average dropping 20 points from last year.
"He's an athlete," said Evans. "This year he played a lot of positions because he's the type of player that will help our Major League club some time in the future and we wanted to make sure he was able to help us wherever that hole might exist. He played all around the diamond and, for the first time, even played shortstop and people were surprised how well he did there. He also saw a lot of time in the outfield and at third base. He's just pure athlete and he's only gotten better every year and I think that's a testament to him to play so many different positions and still have that success offensively."
Gary Brown, Fresno (136 games), San Francisco (five games): Brown traded some power for average in his second consecutive year at Triple-A, and that saw him cut down on his strikeouts, increase his chances to steals bases and, ultimately, earned him a trip to the Majors.
The first-rounder batted .231 with 13 homers and 17 steals in 2013 in his first look at the Pacific Coast League. This season, he hit .271 with 10 homers and 36 swipes. In total, he increased his OPS by 62 points, due in part to more walks (36) in fewer at-bats (536). His 89 runs scored were the most he has crossed home plate since 2011 when he scored 115 times in the hitter-happy California League with San Jose.
"I think his receptivity to making adjustments was a big factor for him, mentally and physically," Evans said. "His success against left-handed pitching was one of his strengths, and defensively we know he can cover a lot of territory. He was more aggressive on the bases, which is one of the things a speed guy has to do and I think he was not pressing as he was before. He used to press early to try to advance his career, and he has now realized that his opportunity will come with success and that he has to focus on the present rather than the future."
Utility -- Mark Minicozzi, Fresno (89 games), San Jose (eight games): Minicozzi continues to chase his goal of making it to the Majors, and despite turning 31 this year, 2014 might be his strongest season yet.
Minicozzi hit .306, which ranked second in the Giants system, with a career-high 14 homers and 69 RBIs in 97 games between two levels. He posted a .400 on-base percentage and .470 slugging percentage in his first trip through the Pacific Coast League. Selected in the 17th round of the 2005 Draft, Minicozzi has only appeared in 615 Minor League games. After taking all of 2008 off, the outfielder spent three years in independent baseball before returning to the Minors with Augusta in 2012.
"It's a great story and I don't think the story has finished yet," said Evans. "I think he'll continue to get opportunities because he gives you professional at-bats and because he carries himself well. Because he's an older player, his opportunities might be limited, but I'm convinced he'll get those opportunities."
Right-handed starting pitcher -- Chris Heston, Fresno (28 games), San Francisco (one game): Heston tied Grizzlies teammate Austin Fleet and San Jose's Matt Lujan (see below) for the most wins of any Giants pitcher this season with 12. He ranked third in the organization with 125 strikeouts and eighth with a 3.38 ERA.
The 26-year-old was 7-6 with a 5.80 ERA in 19 Triple-A starts last year, but he responded by limiting Pacific Coast League opponents to a .233 average the second time around. He gave up five fewer earned runs in 64 more innings this year, anchoring a staff that went 68-76 in the regular season.
"He's got experience under his belt and he came back from surgery," Evans said. "He was successful at Double-A in the past and he kept the ball down and commanded his fastball.
"He was a constant for us. Every outing, we had confidence going into the game that we could get some relief for our bullpen and that he could pitch deep into the game. He kept a good pace, which was good for us defensively, and it was a year he should be very proud of. He earned a big league callup because of this success."
Left-handed starting pitcher -- Matt Lujan, San Jose (12 games), Augusta (12 games): Lujan went 12-4 with a 2.81 combined ERA over two levels. His 135 strikeouts led the organization, while his ERA was third behind only Luis Ysla (2.45) and Michael Santos (2.56).
After going 7-0 with the GreenJackets last year, Lujan continued to progress this year. He cut his South Atlantic League ERA to 2.19 before earning a promotion to San Jose where he was 6-2 with a 3.42 mark.
"He's very confident for such a young man at A-ball," said Evans. "He's very confident on the mound and if you're a hitter in the box you know this guy will come right at you. It's refreshing to watch and fun to watch. He'll move quickly. When you go into the season you're not expecting a guy like Matt to be limited to just A-ball, but sometimes you have to go where the innings are. We have a lot of young prospects at the Double-A level and that held him back, but the truth is he'll rise on his own merits."
Relief pitcher - Steven Okert, San Jose (33 games), Richmond (24 games): Selected in the fourth round of the 2012 Draft, Okert shone at the end of games. He saved 24 games in 26 tries between the two levels and he posted a 2.11 ERA in 68 1/3 innings. He struck out 92 batters compared with 22 walks and held opponents to a .225 average.
The left-handed Oklahoma product is now in his third year in the Minors. He saved two games for the Augusta GreenJackets in 2013, the only other time he has worked the ninth inning.
"This is a young man that turned heads," said Evans. "His command and his strikeouts-to-walk ratio is really impressive. You talk about a guy in his second full season and I think he's got a bright future ahead in a Major League bullpen. To pitch late in the game at Double-A with limited experience tells you a lot about who he is."
Ashley Marshall is a contributor to MiLB.com. Follow him on Twitter @AshMarshallMLB. This story was not subject to the approval of the National Association of Professional Baseball Leagues or its clubs.
View More