Rebuilding Braves find diamonds in rough
Newcomer Smith, young Albies among those filling big roles for club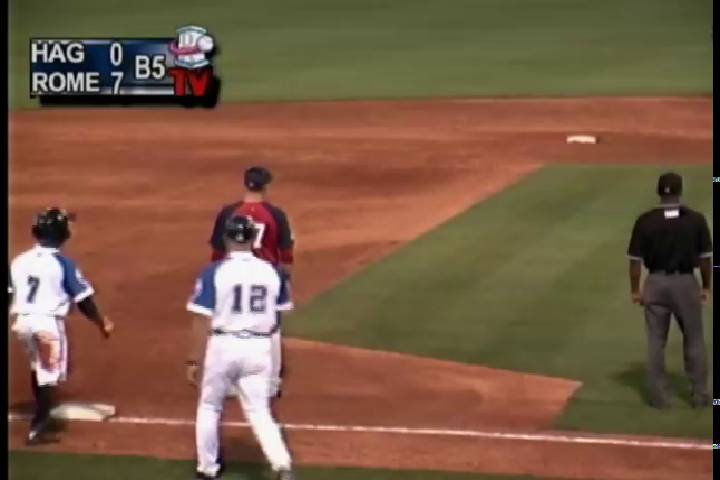 By John Parker / MiLB.com | October 7, 2015 10:00 AM
This offseason, MiLB.com will be honoring the players -- regardless of age or prospect status -- who had the best seasons in their organizations. We're taking a look at each team to determine the outstanding seasons in Minor League baseball.
Even for a team in rebuilding mode, the Braves have gone through an unusual amount of turnover in the past 12 months. General manager Frank Wren was fired in September 2014 and his permanent successor, John Coppolella, was only named last week. Six of the 12 players listed below weren't even in the organization a year ago and Jose Peraza, Atlanta's top prospect at the start of the season, was dealt at the trade deadline -- not a move generally associated with a rebuild.
At a team level, Braves affiliates were not very successful in 2015. Their .491 winning percentage ranked 18th among the 30 organizations and none of their affiliates reached their individual leagues' playoffs. (Triple-A Gwinnett owned the system's top record at 77-67, one game behind division-winning Norfolk in the International League South.)
The Minor Leagues are about development, however, and Atlanta had its share of breakout performances, particularly at the lower levels and from players taken in the 2015 Draft. Though our Organization All-Star selections are based on this season's performance rather than prospect status, some Braves farmhands fit in both categories and could move rapidly toward the Majors.
Braves Organization All-Stars
Catcher -- Jonathan Morales, GCL Braves (46 games): In the spring, Morales was Miami Dade Community College's top hitter, posting a .389/.408/.492 line in 47 games for the Sharks. After the Braves selected him in the 25th round pick of June's First-Year Player Draft, he picked up right where he left off. In the Rookie-level Gulf Coast League, he batted .304/.377/.511 in 46 games with a wood bat. Only three players on the circuit had more than Morales' seven homers, and he fanned just 14 times in 152 plate appearances. Morales also showed a strong arm behind the plate, throwing out 19 of 43 potential base stealers (44 percent).
"He's still new to catching, but he has great energy and a desire to learn," said Braves assistant director of player development Jonathan Schuerholz. "He's already a leader and has been impressive swinging the bat."
First base -- Jake Schrader, Carolina (103 games), Gwinnett (four games): Schrader is another late-round pick (27th in 2013) to draw attention in this year. He led the Braves system and finished third in the Carolina League with 15 homers. The University of Tampa product got off to a flying start with 12 hits (including two homers and five doubles) in his first eight games and was batting .333/.387/.638 by May 12 when the Mudcats' team bus crashed on the way to Myrtle Beach. Schrader spent 10 days on the disabled list and his production dipped until an August rebound that saw him earn a late promotion to Gwinnett. At 24 with just four games above the Class A level, time may not be on Schrader's side, but the power is certainly there.
Second base -- Luke Dykstra, Danville (32 games), Rome (26 games): In this era of massive strikeout totals, perhaps the next market inefficiency is in contact hitters. Luke Dykstra, son of Lenny and brother of Cutter, can make contact; he fanned just 16 times in 58 games this year. Dykstra put up solid numbers at Rookie-level Danville before posting All-Star-caliber stats (.348/.378/.478) in his first 26 full-season games for Rome. If the 6-foot-1, 195-pound seventh-round pick, who turns 20 next month, can add a more discerning eye -- he drew only eight walks -- to his ability to put the ball in play, he'll be a potent on-base machine.
Third base -- Austin Riley, GCL Braves (30 games), Danville (30 games): Yet another product of the 2015 Draft, Riley's strong performance was a bit more expected -- he was the 41st overall pick. Though the North Mississippi native only turned 18 in April, neither the Gulf Coast League nor the Appy League did much to slow the 6-foot-2, 230-pound infielder down. Riley started his career in the GCL by going 0-for-16 in his first five games before hitting seven long balls and plating 21. Bumped up to Danville at the end of July, Riley posted a .351/.443/.586 line with five homers and 19 RBIs in 30 games. His .544 slugging percentage overall was tops in the Braves system and only Schrader had more than Riley's 12 homers -- though it took him 47 more games. A two-way player who played shortstop in high school, Riley has more than enough arm to play third.
"We think he's a special player," said Schuerholz. "When he hits, he just makes everything look easy. As an organization, we haven't developed many power hitters in the last few years, but we think he can be a strong middle-of-the-order hitter down the line."
Honorable mention: Carlos Franco
Shortstop -- Ozhaino Albies, Rome (98 games): Albies began his first full season, at age 18, as the Braves' No. 7 prospect. He finished it atop the list after batting .310 -- best among Atlanta's full-season farmhands -- with 29 stolen bases and 64 runs scored (fourth-most in the system) in 98 games for Rome. At 5-foot-9 and 150 pounds plus a strong tendency to hit the ball on the ground, power is not a big part of Albies' game. Speed, strong hands and the arm and range to stay at shortstop proved more than enough before Albies' season was cut short by a fractured right thumb early in August. Nevertheless, he finished fourth in the South Atlantic League in batting despite being 3 1/2 years younger than its average hitter. Following in the footsteps of Andrelton Simmons, Xander Bogaerts and Didi Gregorius, Albies could be the next star shortstop from Curacao.
Schuerholz agrees. "You can't ever say you're expecting a player to have that kind of season at that age, but we definitely weren't surprised. I saw him at instructs two years ago and he immediately stood out as a different kind of player -- very confident, very athletic and with exactly the kind of attitude you look for in a young player.
"We made a conscious effort to keep him in Rome this year just to let him get used to playing a full season and all that entails. After that, he's fair game and could be a quick mover. I wouldn't be surprised to see him play at a few different levels next year."
Outfielders
Cedric Hunter, Gwinnett (138 games): Still just 27, 2015 marked Hunter's 10th season as a pro and second in the Braves system after six with the Padres and one each in the Cardinals and Indians systems. He got a cup of coffee with San Diego in the first week of the 2011 season but has otherwise been a Triple-A and Double-A stalwart who can play all three outfield positions, get on base and hit for a little bit of power. Hunter led the G-Braves with 12 long balls -- no one else had more than five -- and led the Braves system with 77 RBIs, which ranked sixth in the International League.
Connor Lien, Carolina (128 games): Lien ranked second in the system in stolen bases (34) and runs scored (72) while hitting .285/.347/.415 for Carolina. He was also second in strikeouts in the organization and the Carolina League (129 in 128 games), offset by nine homers and 22 doubles primarily out of the No. 2 spot for the Mudcats. A right-handed hitter, Lien feasted on southpaw pitching (.360/.404/.608 and five of his nine homers) but may need to improve against righties to maintain his spot on this list next season.
Mallex Smith, Gwinnett (69 games), Mississippi (57 games): After leading the Minors with 88 stolen bases in 2014, Smith was part of the package sent to Atlanta in the Justin Upton deal in December. He stepped up to Double-A to start 2015 and had a brilliant season, leading the Braves system in runs (84) and ranking second with a .306 average. Smith toned down his running game slightly, but still nabbed 57 bases in 70 attempts -- fifth-most in the Minors.
"We've been very impressed with Mallex," said Schuerholz. "When he started at Mississippi in April, he struggled a little bit at first but before long was one of the best players in the league. The same thing when he moved up to Gwinnett.
"That tells you that he has confidence in himself and has the ability to make adjustments, which are huge assets. Brian Snitker, Gwinnett's manager, says he's one of the best guys you could have on a team -- always upbeat, first one shaking hands. With his talent and attitude, we think he could be a center fielder in Atlanta for a long time."
Utility player -- Joey Terdoslavich, Gwinnett (42 games), Atlanta (28 games), Carolina (five games), Rome (three games), Mississippi (one game): Terdoslavich played nearly everywhere in the Braves system this year, both positionally and location-wise. The 27-year-old switch-hitter spent time at first base, designated hitter and both corner outfield positions for four different Minor League clubs and was recalled to the big league team on three separate occasions. He was one of Gwinnett's most reliable hitters, posting a .281/.391/.452 line for the G-Braves, although his power numbers dropped from 2013, when he hit 18 homers and slugged .567 in 85 International League games.
Right-handed starting pitcher -- Seth Webster, Carolina (20 games), Rome (one game): The best story out of the Braves system surely is that of Webster, who was beginning his third year in the independent Frontier League before being signed by Atlanta in May. Undrafted out of Louisiana College in 2013, the 26-year-old had a rough affiliated baseball debut with Rome on May 18, allowing six runs over five innings. Webster stepped up to Class A Advanced Carolina and surrendered just one run over 14 innings in his first two starts with the Mudcats. By the end of the season, he ranked second in the system in ERA (3.12) and strikeouts (103) while walking only 10 batters in 135 2/3 innings. Though Webster was three years older than the average Carolina League pitcher, he's definitely earned the chance to take his baseball dreams even further.
Left-handed starting pitcher -- Manny Banuelos, Gwinnett (16 games), Atlanta (seven games), GCL Braves (one game): Banuelos graced the upper echelons of prospect lists for several years before missing the 2013 season following elbow surgery. After a solid if not overwhelming comeback campaign in 2014, the Yankees dealt him to Atlanta for a pair of relievers. The southpaw, now 24, held International League hitters to a .215 average over 16 starts for Gwinnett and made his long-awaited Major League debut in July with 5 2/3 scoreless frames. Control issues and injuries continued to plague Banuelos -- he had a bone spur removed from his elbow in September -- but if he can stay healthy, talented left-handed starters are known to be among baseball's most prized assets.
Relief pitcher -- Ryan Kelly, Gwinnett (24 games), Mississippi (17 games), Atlanta (17 games): Judging relievers can be difficult -- they have such varying roles -- but sometimes stats like these jump off the page: 0.77 ERA, 0.81 WHIP, .159 BAA and an organization-best 23 saves in 24 opportunities. Those are the numbers the 27-year-old Kelly posted for Gwinnett and Mississippi, earning him his first big league callup in late June.
John Parker is an editor for MiLB.com. This story was not subject to the approval of the National Association of Professional Baseball Leagues or its clubs.
View More