SAL notes: Dubon more than raw talent
Greenville infielder hoping to add Honduras to the Major League map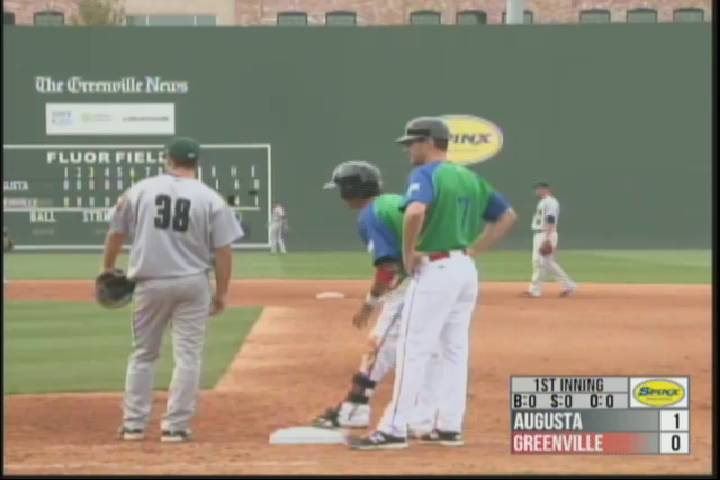 By Bill Ballew / Special to MiLB.com | April 23, 2015 10:00 AM
Greenville infielder Mauricio Dubon grew up with the same hopes and dreams as many young boys -- wanting to play baseball in the Major Leagues. The only difference was Dubon hailed from Honduras, a country from which no one had achieved such lofty ambitions.
Dubon, in fact, longed so much to achieve his goal that he moved to Sacramento, Calif., at age 16 to attend high school with the hope of being drafted. For a kid whose mother rarely allowed him to spend the night with friends, the change of scenery was drastic.
"A missions trip came to Honduras and they started giving away stuff and did some clinics," said Dubon, who grew up speaking Spanish but attended a bilingual school in Honduras. "[Capital Christian School head baseball coach] Nelson Randolph was there and saw me play. He asked me if I wanted to come back and play for the high school. This was all in a one-week period, and I said, 'Yes, of course.' It was an opportunity that I felt I couldn't let go by."
His decision was not without its challenges. Dubon did not see his mother or anyone else in his family for two years -- not until they came for the state championship game during his senior year. His lack of experience in baseball also made the transition difficult. Working in his favor was the fact that he had played a lot of soccer, and his athleticism carried over to the diamond.
"What also made it easier is the fact that baseball is the same everywhere," said the 20-year-old Dubon. "You get three outs every inning and you have to hit the ball in order to have success. I feel I made the adjustments I needed to make and I wound up getting drafted by Boston [in the 26th round in 2013]."
If the early stages of Dubon's professional career prove to be a harbinger of things to come, the nimble infielder has an excellent shot at achieving his ultimate goal. After batting .245 in 20 games in the Gulf Coast League shortly after signing in 2013, Dubon ranked second in the New York-Penn League last season with a .320 batting average. The right-handed batter showed impressive hand-eye coordination and sprayed line drives to all fields, leading to eight doubles, a triple and three home runs with 34 RBIs.
He's been even more productive thus far in 2015 in the South Atlantic League. Serving mostly as Greenville's No. 2 hitter, Dubon had a slash line of .364/.391/.455 through his first 11 games and had hit safely in 10 of those contests. The infielder added a double, one homer and five RBIs to go with steady defense up the middle while splitting his time between second base and shortstop.
"Right now I'm just going out and competing and trying to help my team win," said Dubon, the lone position player from Honduras in the Minor Leagues. "That's all I can do. I'm getting used to everything you need to do to have success in professional baseball. I'm trying to enjoy the ride and do what God has planned for me."
Despite his success, Dubon knows he has to hone his skills in all areas of the game in order to reach the big leagues. Although his ability to make consistent contact has led to only 42 strikeouts in his first 353 at-bats since signing, he also has walked just 12 times. And though he has excellent body control and surprising pull power for his 165-pound frame, Dubon will need to add strength to withstand the rigors of a full season.
During his short time in the organization, Dubon has become a favorite of the Boston front office. His abilities speak for themselves, but he also has impressed with his character. That trait was apparent when Dubon reached out to Yoan Moncada, who signed with the Red Sox out of Cuba in 2014, in order to make the fellow infielder's transition to the United States easier.
"He's a great guy and a real specimen," Dubon said. "It's fun playing next to him, and it's fun when you get to know him. I knew what he was going through, so I reached out to him and we became best friends. I'm looking forward to playing next to him, and hopefully we will be able to do that for a long time to come."
In brief
Austin's encore: Kannapolis catcher Brett Austin is finding SAL pitching more to his liking this season after batting .235 in 42 games with the Intimidators during his professional debut last year. The switch-hitting fourth-round pick out of North Carolina State paced the circuit in the Triple Crown categories through April 21 while boasting a .480 batting average, .548 on-base percentage and .760 slugging percentage. Austin had three three-hit games in his first eight contests.
Early streaks: Seven players posted hitting streaks of at least eight games during the first two weeks of the season. Greenville first baseman/outfielder Nick Longhi recorded a 10-game string that ended on April 21 after he went 16-for-41 (.390) with four doubles, a triple, two home runs and six RBIs. The longest active streak through April 21 was the nine straight registered by Hickory catcher Jose Trevino, who was 14-for-34 (.412) with four home runs and 11 RBIs.
Rain, rain go away: Inclement weather wreaked havoc during the first two weeks of the campaign. SAL teams lost 13 openings in the first 13 days of the season, leading to a plethora of cancellations and subsequent doubleheaders. Kannapolis lost three home dates during that stretch, while Asheville and Augusta endured two lost openings.
Bill Ballew is a contributor to MiLB.com. This story was not subject to the approval of the National Association of Professional Baseball Leagues or its clubs.
View More