San Francisco growing giant bats in Minors
Davis, others put up big power numbers; righty Beede lives up to billing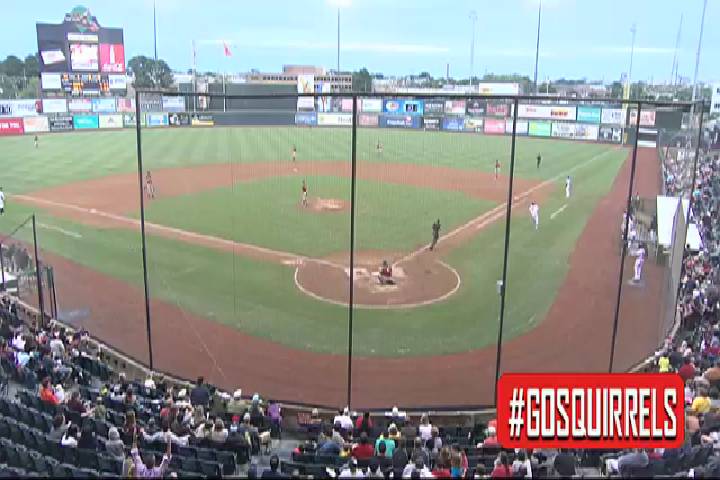 By Josh Jackson / MiLB.com | December 7, 2016 10:30 AM
This offseason, MiLB.com will be honoring the players -- regardless of age or prospect status -- who had the best seasons in their organizations. We're taking a look at each team to determine the outstanding seasons in Minor League Baseball.
For the first time in seven years, the Giants have gone consecutive seasons without bringing the World Series trophy to San Francisco. Their Minor League affiliates lost more games than they won (375-388) and Class A Advanced San Jose was the only one to make the playoffs. Yet the organization is in as fine shape as ever.
The Giants have multiple prospects capable of breaking through and providing the big league team the kind of boost it got from young homegrown talent in its three championship seasons. With that in mind, San Francisco focused on developing defensive versatility in many Minor Leaguers, with lifelong shortstop and top prospect Christian Arroyo seeing most of his innings at third base and some at second.
"He's proficient at all three, but I think he's a plus-plus third baseman. He made all the plays there," Giants director of player development Shane Turner said. "I have no doubt he could play all three in big leagues. It's only a question of the need. He handled it very, very well, and I told him we may have to add left field to his resume."
---
• More quotes from Shane Turner on the blog »
---
Catching prospect Aramis Garcia rebounded from an early-season facial injury and strong performances from Michael Connolly, Cory Taylor, Matt Gage and Dan Slania show pitching depth from Class A up.
Giants Organization All-Stars
Catcher -- Matt Winn, Augusta (95 games), Richmond (15 games): Winn, a 2015 14th-round pick, started the season with an aggressive assignment to Double-A.
"Defensively, we felt that he could handle it. That was the big thing at the moment," Turner explained. "He held his own offensively. It was something where I felt if we left him [at Richmond] over a long time, he was going to have some holes exposed, and it's that survival instinct -- it would have been too much to battle through those adjustments."
After batting .250 in 15 Eastern League games, Winn posted a .320 on-base percentage with 15 homers and 16 doubles over 95 contests in the Class A South Atlantic League. He also threw out 42 percent of would-be basestealers with Augusta.
First baseman -- Chris Shaw, San Jose (72 games), Richmond (60 games): Shaw was second in the system with 21 dingers, 16 of those coming in the California League before a promotion to Richmond a year and three days after he made his pro debut.
"The thought process was, we could have kept him in the Cal League and he would have had a monster year, but where would it really put him development-wise?" Turner said. "Wanting him to move fast, we knew whether he succeeded or not [at Double-A], he was going to learn more there. It forced him to make some adjustments."
Although he had only five long balls with the Flying Squirrels, he collected 16 doubles and four triples, also raising his walks-to-strikeouts ratio compared to his Cal League stint.
Second baseman -- Ali Castillo, Richmond (66 games), Sacramento (49 games): Signed as a Minor League free agent last December, the Venezuela-born infielder put together one of his finest pro campaigns. While providing steady service and occasional standout plays at second base, he hit .313 with 19 extra-base hits and 10 steals across the Minors' top two levels. Through his first 13 games of winter ball in his home country, he slashed .341/.408/.409.
Third baseman -- Ryder Jones, Richmond (126 games): In a system in which most infielders saw action at several positions, nobody logged more innings (775 2/3) at the hot corner than Jones. Turner believes Jones' arm rates a 75 on the 20-80 scouting scale, and he's high on his bat, too.
"With his pull power, I told him at one point early on when he was struggling, 'I'm not worried about your power, but if you can hit .260 this year, I promise you'll be in Triple-A next year.' He kind of looked at me, because he thought he needed to hit for a lot of power, but I told him if he focused on being a good hitter, a more consistent hitter, the power was going to play."
It did play in the Eastern League, where Jones swatted 15 homers and 26 doubles but fell 13 points short of the .260 goal. He batted .302/.380/.429 in the Arizona Fall League.
Shortstop -- C.J. Hinojosa, San Jose (69 games), Richmond (57 games): Climbing to Double-A by the end of June in his first full season, Hinojosa posted a .348 OBP across the two levels while totaling 35 extra-base hits. The 2015 11th-rounder also made strides defensively.
"We had to slow him down a little bit. I think the transition, especially from college to [Class A Short Season] Salem-Keizer and moving up, the ball gets to you a little quicker," Turner said. "He was running through balls and rushing his throws, so the big thing was slowing him down. He has all the tools -- soft hands, quick feet, a strong arm -- so it's all about learning the speed of the game. He's a guy who can play third and second just as easy."
Outfielders -- Dylan Davis, Augusta (63 games), San Jose (63 games): After finishing last year in the Cal League, Davis was sent back to the South Atlantic League for the first half this season. He responded by leading the system with 26 homers and 92 RBIs while ranking ninth with a .283 batting average.
"The most impressive part of his entire season, for me, is having to go back to Augusta and how he worked himself into a promotion. He put his head down and worked. He got on his legs more and made adjustments," Turner said. "People talk about swing-and-miss all the time. I'm more concerned with missing pitches that should be hit. He got to where if you made a mistake, he made you pay. He's a durable, strong guy, and he came in in better shape."
Austin Slater, Richmond (41 games), (Sacramento 68 games): Slater hit .381 with nine homers and 26 RBIs in 30 Pacific Coast League games in August, which placed him third in the system with 18 long balls to go with a .303/.393/.500 slash line for the season.
"You're talking about a very, very smart kid," Turner said. "His work ethic is off the charts. When he was promoted, he was leading the Eastern League in hitting, so he had kind of figured out that league a little bit. One thing we were working on getting him to do was in leverage counts, 3-1, 2-0, being able to work out in front of the plate to his pull side, and that's what he started doing in second half. And he hit a lot of big home runs."
Steven Duggar, San Jose (70 games), Richmond (60 games): Duggar drew an organization-leading 72 walks, and his power production went up considerably from his debut season as he batted .302 with 10 homers and 28 doubles while reaching Double-A.
"The big thing for him was the bat angle at the point of contact. He had his barrel pointed down a lot, so he flipped balls foul, balls that he should have put into play," Turner said. "He'd foul off six or seven pitches and you can work yourself into hitting a pitcher's pitch. He was getting fastballs up in the zone and fouling them off. As we worked with him on flattening his swing, he got better and better."
Duggar also had 15 steals, and the Giants are high on his abilities in the outfield.
Utility -- Miguel Gomez, Augusta (66 games), San Jose (43 games): The 23-year-old Dominican and former catcher spent his first full season bouncing around the corner infield spots and second base, and he didn't get out of complex ball until April 29. He wound up leading full-season Giants prospects with a .330 batting average while bopping 17 homers and striking out only 53 times. The showing earned him a spot on the 40-man roster.
"His swing from A to B is as compact and short as anybody in our organization," Turner said. "The bat makes him a big leaguer. We'll maybe look at left field, maybe at second base, because that bat is going to play."
Right-handed starting pitcher -- Tyler Beede, Richmond (24 starts): After struggling to a 5.23 ERA in 13 mid- and late-season starts in the Eastern League in 2015, he led the circuit this year with a 2.81 ERA and was second with 135 strikeouts and 46 walks over 147 1/3 innings. Last year, he recorded 49 strikeouts and 35 walks in 72 1/3 frames at Double-A.

"He came back a bigger, stronger man on a mission in Spring Training. We saw from start to finish, he maintained his stamina. He had his legs under him," Turner said. "His stuff is what it is when he signed. He has plus-plus stuff. His fastball is a great pitch, being able to pitch in with it, go away, he can elevate with it when he needs to and he can cut it in on left-handers. His stuff, we were never worried about.
"The sky is the limit with this kid. He's going to find a way into the big leagues sooner than later."
Honorable mention: Sam Coonrod led the system with a 2.55 ERA, holding opponents to a .209 average between San Jose and Richmond.
Left-handed starting pitcher -- Ty Blach, Sacramento (26 starts), San Francisco (four games, two starts): A standout in the system since he was drafted in the fifth round in 2012, Blach reached the Majors this year in a big way, shutting out the Dodgers for eight innings and logging two scoreless appearances against the Cubs in the playoffs. It wasn't a shock to anybody who paid attention to what he did for the Triple-A River Cats -- he was 14-7 with a 3.43 ERA that ranked sixth in the PCL.
"Makeup-wise, if you could build a player, the makeup would be Ty Blach," Turner said. "He's polite. He works hard. He's a great teammate. He takes coaching. He tries to make adjustments. He's a pleasure as a person and a teammate to have."
Relief pitcher -- Reyes Moronta, San Jose (60 games): A MiLBY nominee for Top Relief Pitcher, Moronta struck out 93 over 59 innings, putting up a 2.59 ERA and notching 14 saves in 18 chances in the Cal League.
"I've always liked his stuff. It always has been about conditioning and preparation, understanding how important that is to be able to maintain his stuff for a full season," Turner said. "He did a great job at that. He has a fastball, a slider that are in the upper 90s."
Josh Jackson is a contributor to MiLB.com. Follow and interact with him on Twitter, @JoshJacksonMiLB. This story was not subject to the approval of the National Association of Professional Baseball Leagues or its clubs.
View More