Youth served in Rockies' rising bats, arms
Tapia, Dahl, Wall produce at plate; healthy Anderson stars on mound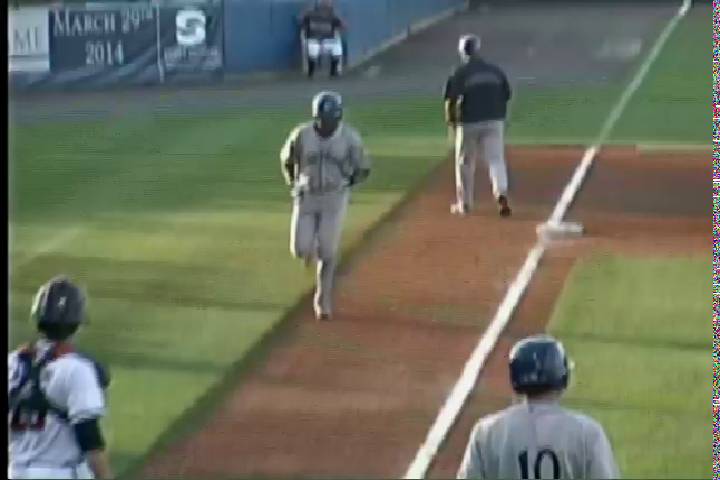 By Tyler Maun / MiLB.com | October 1, 2014 10:00 AM
This offseason, MiLB.com is honoring the players -- regardless of age or prospect status -- who had the best seasons in their organization. Today, continuing with the Colorado Rockies, we're taking a look at each team to determine the outstanding seasons in Minor League Baseball.
After a hot April gave way to another disappointing season at the big league level in the Mile High City, attention turned to the farm for Rockies fans, and for good reason. The current crop of prospects is one of the deepest in franchise history.
Despite slumping to more than 95 losses for the second time in three years, two shy of the 2012 franchise record, Colorado boasts a rising core of talent on the mound and at the plate throughout the Minors. Two Rockies affiliates made the postseason and a third, Rookie-level Grand Junction, missed out on the playoffs despite finishing with the Pioneer League's best overall record. Class A Asheville went 89-49 and captured the South Atlantic League title. Double-A Tulsa rode a rotation consisting of first-round picks Tyler Anderson, Eddie Butler and Jon Gray to a 71-68 mark and a trip to the Texas League Championship Series.
Having graduated Butler -- the system's No. 2 prospect -- to the Major Leagues for three starts, the Rockies have high hopes for Anderson and Gray. Accelerated timetables for outfielders David Dahl and Raimel Tapia, as well as 2014 first-rounder Kyle Freeland, bring the future closer and closer for the Coors Field faithful.
Rockies Organization All-Stars
Catcher -- Jose Briceno, Asheville (84 games): In his first taste of full-season ball, Briceno made his name known for the South Atlantic League champions. The 22-year-old established a reputation for a powerful throwing arm, cutting down 35 of 80 potential basestealers (43.8 percent) and added an imposing presence at the plate, batting .283/.336/.476 with 12 homers and 50 RBIs.
"Briceno had a great year," Tourists manager Fred Ocasio said. "Especially down the stretch, he came up with some of the big hits. It seemed like every time we had bases loaded, two outs, and we just needed the ball to be put in play or get a base hit here and there, he'd come up with a double off the wall, three RBIs.
"Behind the plate, he's got an above-average arm -- people know that. They don't run on him. He ended up picking off [19] guys at first base or third base. The one thing with him is that he's not afraid to throw. He's aggressive. He wants to throw."
First baseman -- Ben Paulsen, Colorado Springs (117 games): Building off an Organization All-Star selection a year ago, Paulsen put together another impressive campaign in the Pacific Coast League. The Clemson product recorded a .912 OPS, 45 points higher than his 2013 career high, while hitting 20 homers for the first time and earning a trip to "The Show."
"I think in past years at the Double-A and even the Triple-A level for his first season there, there were bouts of a lot of peaks and valleys," said Rockies senior director of player development Jeff Bridich. "His approach offensively [in 2014] allowed him to show a lot more offensive consistency, using the field and not being always caught up in power numbers or anything like that. He just became a better hitter and a smarter hitter."
Paulsen did damage in his 31-game stint with the Rockies, hitting .317/.348/.571.
Second baseman -- Forrest Wall, Grand Junction (41 games): The 35th overall pick in this year's Draft and Colorado's ninth-ranked prospect turned in a solid first foray in professional ball, batting .318 while swiping 18 bags and scoring 48 runs in 41 games. Coming off of a separated left shoulder in March and right shoulder surgery in 2011, Wall had little trouble with the rigors of his new everyday job.
"Everybody knew about the shoulder coming into the Draft, that it was going to be fine but wasn't 100 percent," Bridich said. "The work that was done there over the course of the summer was great. By the end of it, he was feeling pretty strong with that shoulder. The expectation is that won't be an issue at all moving forward."
Wall, MLB.com's No. 3 second base prospect, already has drawn lofty comparisons.
"The comps that people dream on him as it relates to [Phillies second baseman Chase] Utley is because of what appears to be an advanced hitting approach, a knowledge of the zone, a willingness to work counts in his favor," Bridich said. "His pitch recognition is pretty good. You see him run and he's a plus runner, and he looks like a natural at the second base spot. I get it. We've got a road ahead of us in getting to know this kid, but he's a professional."
Third baseman -- Shane Hoelscher, Tri-City (53 games): A 17th-round pick in June, Hoelscher was one of the anchors for the Dust Devils. While holding down the hot corner, the Rice University product paced the Northwest League with a .427 on-base percentage and finished third with a .332 batting average. The 23-year-old could speed his development by diversifying his defensive chops.
"I would hope next year he'll be challenged to be at A-ball," Bridich said. "We're probably going to have to, in some way or another, find out how many positions he can play in the infield, but it was a really solid effort out of him in all ways."
Shortstop -- Max George, Grand Junction (46 games): Drafted out of the same Denver-area high school from which the Rockies hired manager Walt Weiss last year, George overcame a slow start with an impressive 12-game July hitting streak that lifted his average from .179 to .341 on the way to a .301/.433/.463 line for the season. His on-base percentage would have ranked third in the Pioneer League if he had enough plate appearances to qualify.
"It appeared to me that, early on, he was nervous. He was feeling his way a little bit," Bridich said. "He held up well. The effort level, the work ethic -- all that kind of stuff -- you can tell he understands what got him to where he is now, which is perseverance and hard work. You combine that with some talent and you've got Max George."
Outfielders
Yonathan Daza, Grand Junction (47 games): Following in the footsteps of Tapia, Dahl and Ryan McMahon, Daza put together a breakout season in the Pioneer League. His .370 average ranked second while the 20-year-old finished fifth with 19 stolen bases and a .415 OBP.
"He's very confident in his abilities on a baseball field," Bridich said. "I think once he got himself settled here in the States, it didn't take that long. Once he felt comfortable and knew that he could play here and do well, I think he just took off."
Raimel Tapia, Asheville (122 games): Arguably the Rockies' prospect with the fastest-rising stock, Tapia excelled in his first full season. After batting .244 in April, the 20-year-old hit .344 the rest of the way.
"It took him a month, month and a half to get it going," Ocasio said, "but once he got it going, he ended up hitting .326 for the year. The thing that Tapia has is the ability to put the barrel to the ball. He's an aggressive hitter. That's the second year in a row where he's done a good job like that."
Tapia saw action at all three outfield spots this year and played center field exclusively after Dahl was promoted to Modesto.
David Dahl, Asheville (90 games), Modesto (29 games): Coming off a season lost to injury and a disciplinary action, Dahl reasserted himself as a top prospect in the system. The Alabama native rode a strong June and July at Asheville to his first promotion to the Class A Advanced level. After batting .167 in his first nine California League games, he hit .310 over his final 20.
"I think that's the one key, the maturity," Ocasio said. "This year, he came out, he knew that he had to get down to business and he took care of it. He's pretty much got all five tools that you want in a baseball player, and this year, he ended up showing that. Maturity-wise, it was a big-time difference."
Dahl returned to Asheville for the postseason and batted .367/.424/.700 to help lead the Tourists to the SAL crown.
Utility player -- Correlle Prime, Asheville (127 games): The Tourists' first baseman broke out in his first full-season assignment, leading the South Atlantic League in doubles (47), total bases (264) and extra-base hits (71) while sharing the top spot in RBIs (102) with McMahon and finishing second in slugging percentage (.520) and third in homers (21).
"Prime was just consistent all year," Ocasio said. "That's the one key with hitters, if you can be consistent and not have those bad streaks where you go two or three weeks without getting a hit. The thing with Prime, he'd have a bad game here and there, but the next thing you know, he'd have three hits up on the board."
Right-handed starter -- Antonio Senzatela, Asheville (26 games): Where Tapia, Dahl and others led the way at the plate, Senzatela did so on the mound for the Tourists. The 19-year-old led the SAL with 15 wins and ranked third in innings (144 2/3) and sixth in ERA (3.11).
"He's not afraid to go after hitters," Ocasio said. "He can throw [his fastball] in and out, wherever he wants and with good angle. His fastball, even at the end of the season -- we're trying to win the playoffs in Savannah and then Hagerstown -- he was still throwing 97, 98 [mph] at times."
Left-handed starter -- Tyler Anderson, Tulsa (23 games): The 20th overall pick in 2011, Anderson entered the season at a crossroads and responded in a major way, leading the Texas League in ERA (1.98), WHIP (1.11) and opponents' average (.216).
"His other seasons have been chopped up because of injury," Bridich said, "and the development process can get delayed because of that. That's why this year was so big. I think he was able to just pitch and not worry about how he was feeling. Partially because of that, you saw the type of pitcher that he is and why he was drafted so high and thought of so highly in his draft class."
Reliever -- Shane Broyles, Modesto (41 games), Tulsa (three games): Transitioned to the bullpen in Spring Training, the 23-year-old right-hander seized the opportunity, posting ERAs of 1.64 or lower every month after April.
"I think he really settled nicely into the bullpen role," Bridich said. "He's always been a kid that has the ability to throw strikes and put the ball where it needs to be put and do it with multiple pitches. Now, out of the 'pen, whether it's one inning, two innings, three innings, if it's one time through a lineup, he can be very, very effective in that role."
Tyler Maun is a contributor to MiLB.com. Follow him on Twitter @TylerMaun. This story was not subject to the approval of the National Association of Professional Baseball Leagues or its clubs.
View More