Cubs Clobber Sky Carp, Pull Within Half Game Of First
South Bend's offense tallies 10 runs and the bullpen tosses 6-shutout frames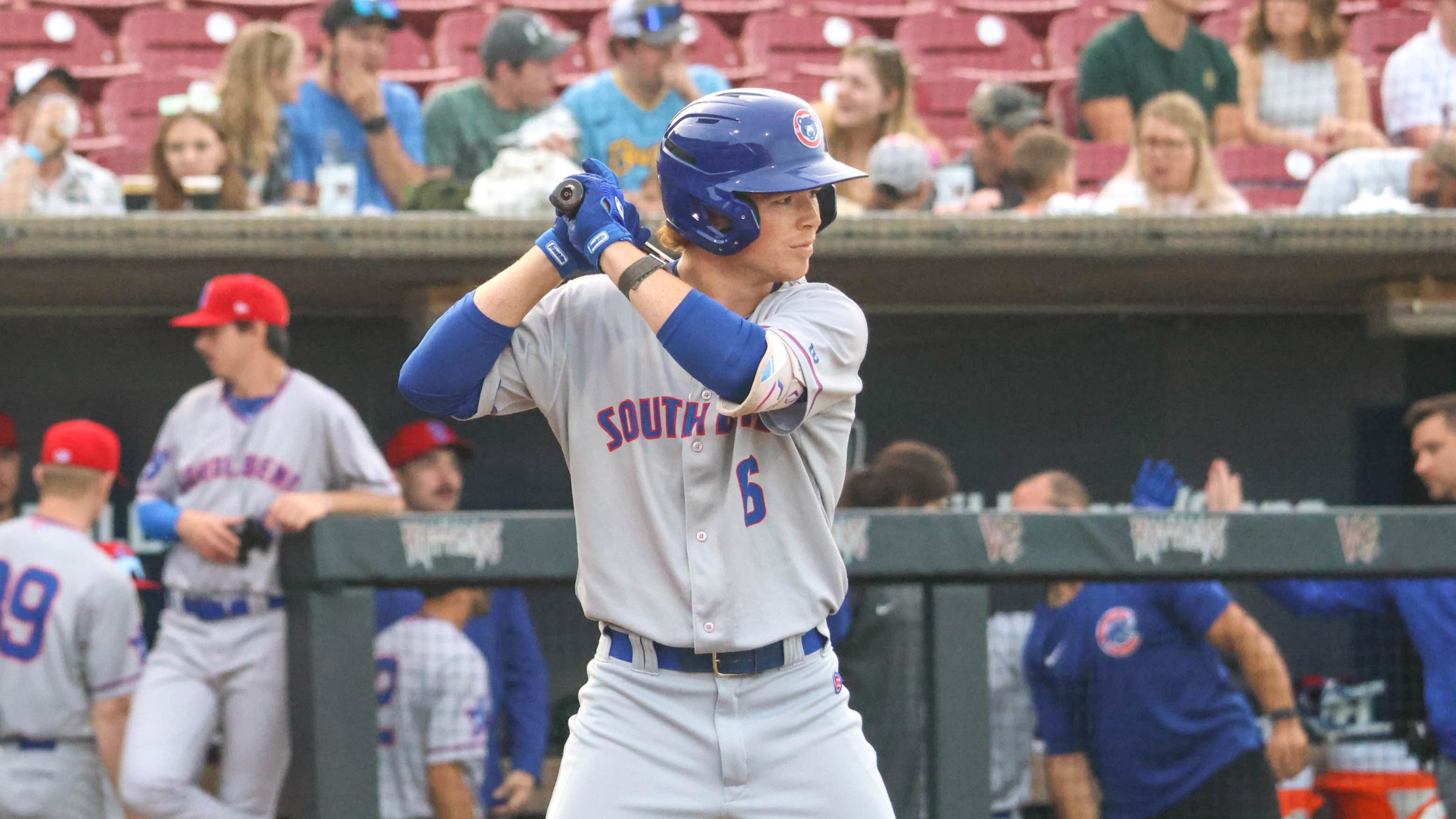 BELOIT, WI - James Triantos notched the second four-hit game of his career and the Cubs, once trailing 2-0, put up five runs in both the fourth and sixth inning and smashed the Sky Carp 10-2. South Bend sits at 20-15 after picking up a third win in a row
BELOIT, WI - James Triantos notched the second four-hit game of his career and the Cubs, once trailing 2-0, put up five runs in both the fourth and sixth inning and smashed the Sky Carp 10-2. South Bend sits at 20-15 after picking up a third win in a row and Beloit at 20-14 leads the West Division now but just a half game, with four games remaining in this crucial series.
Cade Horton (3 IP, 3 H, 2 ER, BB, 3 K) allowed back-to-back singles to start the game, with both Davis Bradshaw and Khalil Watson stealing a base and coming around to score to give the home team an early lead. The Cubs first-rounder from last year found it the next couple frames however, retiring seven of the last eight batters he faced and recording three strikeouts.
Jared Poland (5 IP, 6 H, 5 ER, 2 BB, 3 K), another two-way player in college selected last year who was recently promoted, was grooving early and allowed just one baserunner through the first three innings. That changed in a hurry in the fourth.
Ezequiel Pagan (1-3, R, 2 BB, 2B) doubled to start the inning and quickly came around to cut the lead in half on a Triantos (4-5, 2 RBI, R, 2B) single. After retiring the next two batters, the inning got out of hand for Poland. Jacob Wetzel (1-3, 2 R, 2 SB, 2 BB) singled and Kevin Made (0-3, 2 BB, 2 R) walked to load the bases. A wild pitch, the first of three on the day for Beloit, scored Triantos and then Casey Opitz (1-4, HR, 3 RBI, BB, 2 R) belted a three-run blast to put the Cubs up 5-2.
Opitz now has five homers in his career and four of them have come against the Sky Carp.
South Bend drew nine walks on the day and walks would play a major role in yet another five-run inning for the Cubs in the sixth. With one out and no one aboard Lance Rymel's squad would see six straight batters reach. Wetzel and Made both walked, chasing Poland and causing Billy Gardner Jr. to go to the bullpen and grab Jorge Mercedes. Mercedes walked Opitz to load the bases. Then the Cubs busted things wide open with an RBI single from Liam Spence (1-3, RBI, R, BB) followed by a two-run single from Kevin Alcántara (1-5, 2 RBI, R, SB). A fielder's choice off the bat of Triantos and another wild pitch, this time from Yeuris Jimenez, would give the Cubs a commanding 10-2 lead.
The Cubs offense scored 20 runs last week in the first two games at Wisconsin and took control of the series two games to none; this week it's been 19 runs scored in two games and we'll see if this time South Bend can keep their foot on the gas and win a series before heading back home.
On a morning/afternoon in Beloit it should also be noted the Cubs bullpen was sensational as Didier Vargas (2 IP, H, 0 R, BB, 2 K), Frankie Scalzo Jr. (2 IP, H, 0 R, 0 BB, K), and Chase Watkins (2 IP, 0 H, 0 R, 0 BB, 3 K) combined for six shutout innings, only gave up two hits, and retired the last eight batters for the Sky Carp.
Thursday night the Cubs have a chance to take sole possession of first place with a win.