Final Series Starts Strong with 12-6 Victory Over Quad Cities
Both Christian Franklin and Luis Verdugo miss cycle by only triple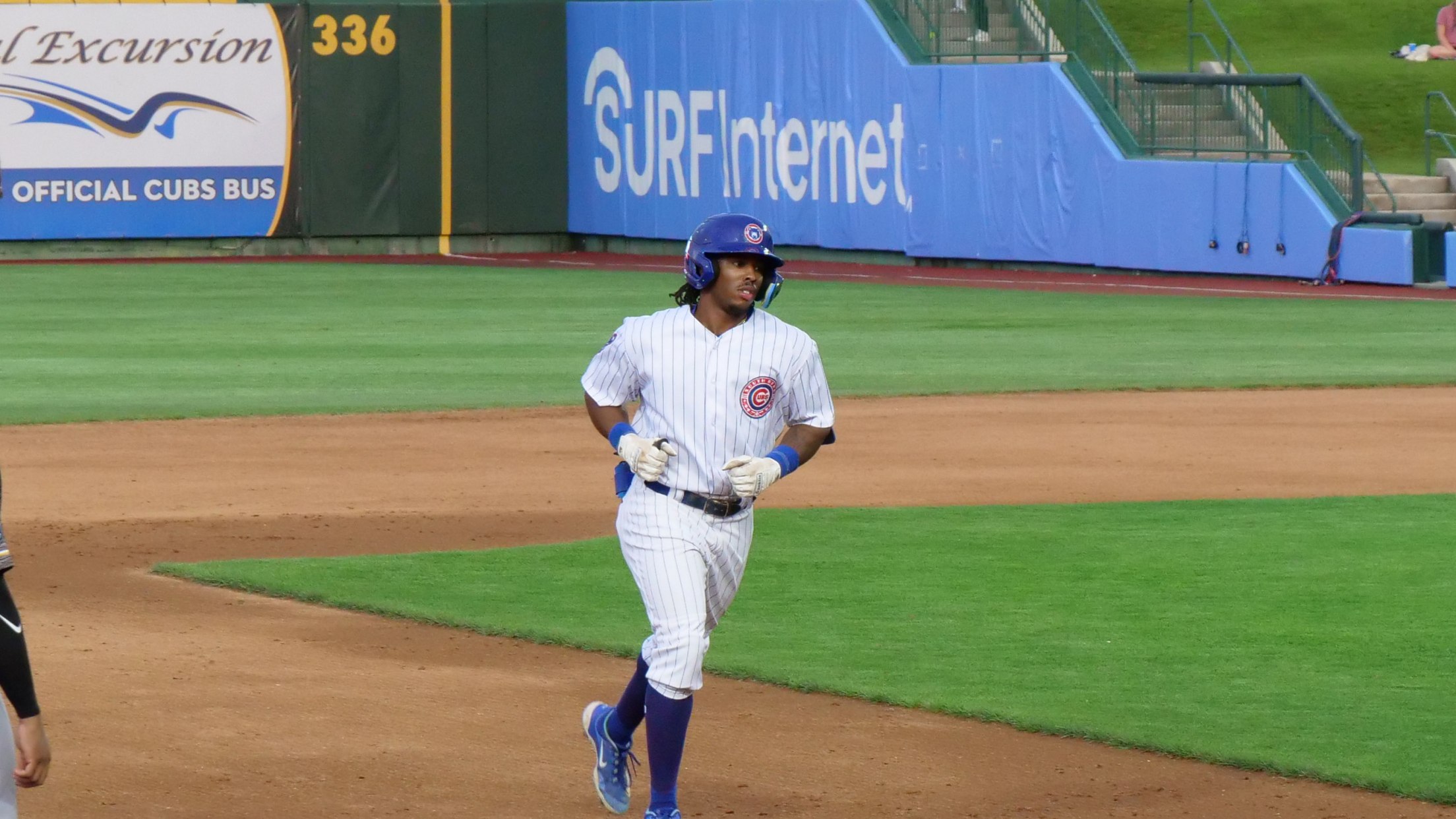 (Chris Hagstrom-Jones)
South Bend, IN - Down to the final homestand of the 2023 Midwest League season, the South Bend Cubs scored in bunches throughout their series opener against the Quad Cities River Bandits, and defeated their West Division foe by a final of 12-6. The two ball clubs combined for 25
South Bend, IN - Down to the final homestand of the 2023 Midwest League season, the South Bend Cubs scored in bunches throughout their series opener against the Quad Cities River Bandits, and defeated their West Division foe by a final of 12-6.
The two ball clubs combined for 25 hits on Tuesday night, and it was South Bend taking it to Quad Cities early with runs scored in the first three innings. First, Tyler Santana worked a quick-paced top of the 1st inning, and sent the Cubs up against former first-round pick Frank Mozzicato.
Only 20-years-old, Mozzicato is noted for having some dynamite stuff, but the Cubs got to him early. In the bottom of the 1st, Moises Ballesteros started a strong night for himself with an RBI sac-fly to score the game's first run.
Over the next two innings, both Christian Franklin and Luis Verdugo crushed separate two-run home runs, both deep over the left field wall. For Verdugo, he continued an on-base streak that has now stretched to 15 consecutive games. Verdugo also crushed six home runs with South Bend this season in 55 games. Last year, he hit five in 107 contests.
Santana took plenty of run support and spun together four strong innings, while giving up two runs in a no-decision effort. Out of the bullpen, Johzan Oquendo fired two shutout frames, including a 1-2-3 6th inning. Sheldon Reed also pitched two scoreless innings in another fine outing for himself.
At the plate, eight of nine Cubs starters had a base hit. Franklin was on base five times along with a walk and a hit-by-pitch, and missed the cycle by only a triple. Verdugo was also shy of the cycle by the same. Ed Howard also had a strong night with two RBI, two base hits, and one walk.
Newcomer Parker Chavers added a base hit with two runs scored, and also played a solid game in right field. Kevin Alcántara went 3/4 with two runs and an RBI.
As the game carried, Quad Cities made one last rally towards the end, plating four runs in the 9th inning. But the Cubs locked things down and finished off the win for a victorious start to the week.
With the win, South Bend does remain out of playoff contention for the year, but they are also looking for a season series win over Quad Cities. The Cubs swept the River Bandits in the opening series of the year 3-0.
Right-hander Connor Noland is set to make his final start of the season on Wednesday night as South Bend hosts Quad Cities at 7:05 PM at Four Winds Field.