Cubs Snap Win Streak in Lansing
Two Big Innings from the Lugnuts evens the series up at 2-2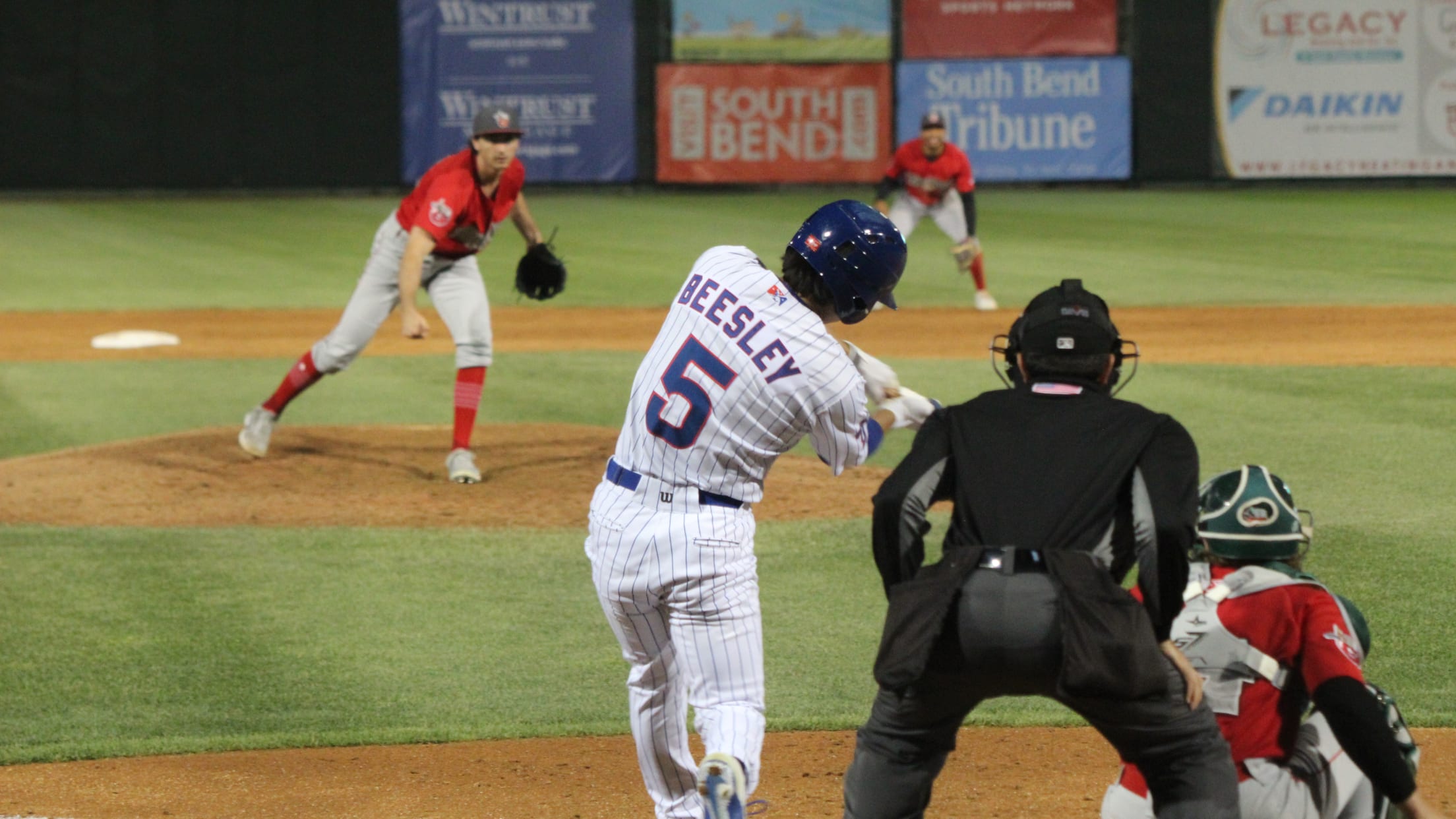 Box Score WP: Brandon Withers (1-0, 2.45 ERA) LP: Alex Katz (0-1, 9.00 ERA) A fast start for South Bend wasn't enough as they suffered their worst loss of the season at the hands of the Lansing Lugnuts. The Cubs began the game with base runners in each of the
WP: Brandon Withers (1-0, 2.45 ERA)
LP: Alex Katz (0-1, 9.00 ERA)
A fast start for South Bend wasn't enough as they suffered their worst loss of the season at the hands of the Lansing Lugnuts. The Cubs began the game with base runners in each of the first three innings, stranding runners in scoring position in the first and second. In the third inning, they did all of their damage.
Beginning with a leadoff single by Josue Huma, the first five Cubs reached base in the top of the third, with three straight walks, one with the bases loaded to Yonathan Perlaza, before a bloop single made the score 2-0. Bryce Windham would follow with a double play for the first outs of the frame, but Nelson Velazquez scored on the play to widen the lead to three runs. Unfortunately, that was all the runs South Bend would score.
Lansing would strike back in the bottom half, after Ryan Gridley drove in the first Lansing run with an RBI double and would later score on a sacrifice fly to make it 3-2.
The score would hold there for two more innings, but Lansing struck again in the bottom of the fifth. Alex Katz balked in a run to tie it up. The next pitch was sent just deep enough into right field for a sacrifice fly from Jake Suddleson. Max Schuemann made it home ahead of the throw and Lansing took their first lead of the game 4-3.
Katz continued to struggle from the mound, failing to record an out after coming back to pitch the bottom of the sixth. He was charged with two more earned runs, responsible for the runners on base when Max Schuemann knocked a 2-RBI single off Tanner Jesson-Dalton.
Tanner could not stop the bleeding.
Two batters later, Jake Suddleson plated two more with a double to extend the Lansing lead to 8-3. William Simoneit continued the damage with a 3-run shot to right-centerfield. The Lugnuts' third sac fly of the game, this time off the bat of Jared McDonald, extended the lead to 12-3.
A four-run eight for the Lugnuts put outfielder Bradlee Beesley on the mound. Exactly one week after his professional debut, Beesley threw six pitches and got Ryan Gridley to fly out in the first relief outing of his career.
Josue Huma (2-5, R) led the way for South Bend, getting his first multi-hit game since August of 2019 in Eugene. Yonathan Perlaza (2-3, BB, RBI) was solid as well, drawing his second bases-loaded walk of the season. Bradford Deppermann was solid in his debut start, allowing two runs on two hits in four innings of work, He didn't walk a batter and struck out three Lugnut hitters.
Next Game: Max Bain (2-1, 5.89 ERA) vs Colin Peluse (1-1, 5.51 ERA)
South Bend returns home for a six-game series starting on June 8 at 7:05 p.m. ET vs the Wisconsin Timber Rattlers. Bring your furry friends to the ballpark for Tail Wagging Tuesday, or preorder a Triple Day Tuesday ticket package, which includes a game ticket, jumbo hot dog, and 16 oz. fountain soda for just $12! Tickets can be purchased online at SouthBendCubs.com