South Bend Cubs Homestand Preview: May 23-28
Cubs welcome former division rival Dayton for key six-game set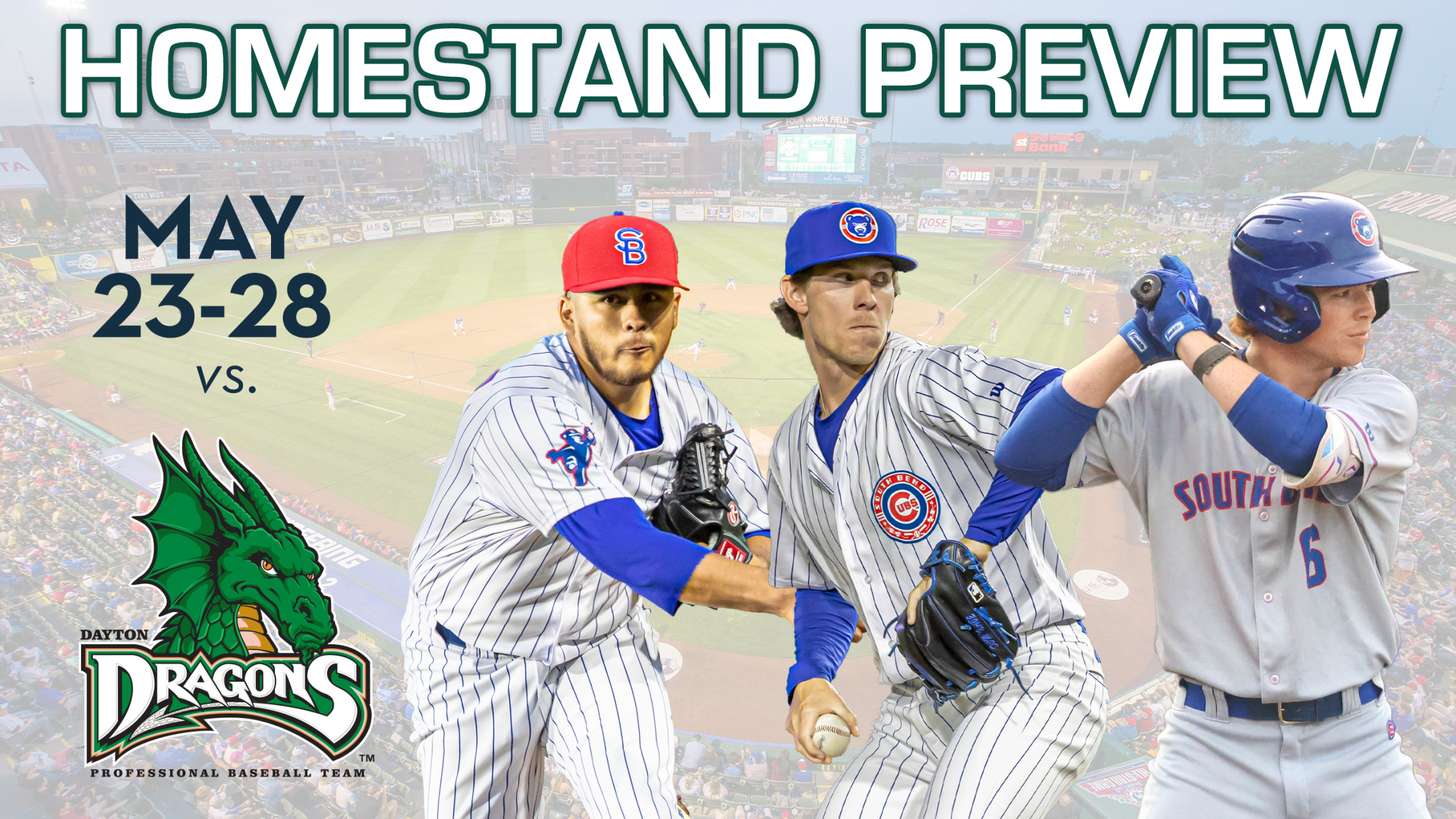 Fresh off a series win against their West Division Rival, the Beloit Sky Carp, the South Bend Cubs wrapped up their 12-game road trip both in Appleton and Beloit with a record of 7-6. As the battle for first place in the West commenced, South Bend now turns their attention
Fresh off a series win against their West Division Rival, the Beloit Sky Carp, the South Bend Cubs wrapped up their 12-game road trip both in Appleton and Beloit with a record of 7-6. As the battle for first place in the West commenced, South Bend now turns their attention to an old rival from the East, the Dayton Dragons.
The Cubs remain just a half-game out of first place behind the Sky Carp. It is a heated race for that first-half playoff spot though, as the Cedar Rapids Kernels are tied with the Cubs for second place, with the Peoria Chiefs only two games behind in third. Beloit will hit the road and play the Quad Cities River Bandits this week. Cedar Rapids hosts the Wisconsin Timber Rattlers, who remain in the caboose of the West. And Peoria is at home against the Great Lakes Loons.
Simply put, South Bend just needs to continue taking care of business. The four wins in Beloit were massive, but they welcome a very hungry Dayton team to South Bend this week who are also trying to get back into contention for the East Division. The Dragons are eight games back of first place there, held by Great Lakes. So this feels like their final opportunity in the first half to truly get back on track.
There is plenty to look forward to in this series, but the highlight surely is Military Appreciation Weekend where the Cubs will welcome and honor all active military members and veterans with two complimentary tickets. It is always a busy weekend at Four Winds Field this time of year, and fans will get to see a team that continues to grow with some of the highest level talent in the Chicago Cubs minor league system.
Cade Horton will be on the mound Wednesday morning at 11:05 AM for his first home start, while James Triantos also makes his Four Winds Field debut.
Of course, in both of South Bend's championships in the last three years, the Cubs got into the playoffs via a second half playoff spot. In 2019 from the wild card, 2022 as second-half division champions. They haven't made the playoffs as a first-half team since 2016.
This is the opportunity for the Cubs. Let's see if they can take it. Both games on Wednesday morning and Saturday afternoon will be aired live on Marquee Sports Network.
Players to watch on Dayton…
Chase Petty, RHP: As alluded to with Cade Horton's Four Winds Field debut coming on Wednesday, it will be a match-up of two first-round picks on the mound for Education Day on Marquee Sports Network. Chase Petty, the Cincinnati Reds first-rounder in 2021, will take the hill for his third start of 2023. Originally from Camden, New Jersey, Petty was selected 26th overall by the Reds, and he's still only 20-years-old. The 6'1'' right-hander ended last season with Dayton and posted a 4.40 ERA in seven starts, but for a very young pitcher at the time, his walk to strikeout numbers were very impressive. He walked only seven and struck out 33 in just over 30 innings. This year, he has started two games, going four innings in each at Peoria and versus Fort Wayne. In each start, he gave up only one run with a combined nine strikeouts. MLB.com writes, "Petty's athleticism -- some say he looks like a shortstop on the mound -- works to his advantage and he pitches with a ton of energy." It's going to be a high profile pitching match-up between Horton and Petty on Wednesday morning. Mark your calendars!
Blake Dunn, OF: Over the last number of years, it has been the Chicago Cubs that have continuously hit on 15th round picks in the MLB Draft. Jared Young, BJ Murray, and Haydn McGeary all come to mind. But the Cincinnati Reds may have one right here in Blake Dunn. Statistically, Dunn is the best hitter on the Dayton roster at .288 in 36 games, six homers, and 21 RBI. He has also walked 19 times to 35 strikeouts, so he gives Dayton solid AB's just about everyday. Selected out of Western Michigan and a native of Holland, Michigan, Dunn now takes his talent to the state of Ohio after performing well last year with Low-A Daytona and batting .290 in 33 games. Dunn started the year insanely hot in April batting nearly .400, but has cooled off in May hitting around the Mendoza Line. Either way, his average is still terrific even with the latest struggles, and South Bend pitchers will need to be ready to battle in his at-bats.
Jose Acuna, RHP: The Dragons will send only right-handed starting pitchers to the mound this week, just as South Bend is doing the same. But part of the Reds farm system is all of the talent they have acquired in trades in recent years. It's no secret Cincinnati is rebuilding, but their Top-30 Prospects List is loaded with new talent that has recently come into the organization. One of the pitchers is Jose Acuna. Acquired from the New York Mets in July of last year in the Tyler Naquin deal, Acuna is only 20-years-old like Petty, and has also shoved so far in the Midwest League. Acuna is a native of Venezuela and won't turn 21 until October. With Dayton, he has pitched in seven total games, including five starts. Batters are only hitting .165, he has only walked seven guys in 32.1 innings, and he's got 35 strikeouts. 20-year-old's aren't supposed to do that at High-A. But Acuna has. In all of his appearances, he has given up two runs or less. He's set to start on Saturday against Brandon Birdsell in an excellent pitching match-up.
Players to watch on South Bend…
Manuel Espinoza, RHP: What a return it has been for Manny Espinoza to the South Bend Cubs. Since getting back on the roster before the first away series on the trip in Appleton, Espinoza has pitched in three games, with two starts and has not given up a run in nine combined innings. His start this past week though at Beloit was probably the best we have ever seen him. Espinoza went four no-hit scoreless innings with no walks and nine strikeouts. Remember, last year with South Bend, Espinoza posted a 1.69 ERA in the month of May. Shortly after that, he got hurt and was shutdown for the year. His performance early in the year may have gotten a bit lost in the success of other pitchers like Daniel Palencia, Luis Devers, Porter Hodge, and others. But early in the first half of 2022, Espinoza was arguably South Bend's best pitcher. And he seems to have that same mojo back here in 2023. That is especially noticeable when he has just one walk to 13 strikeouts since coming back to the Midwest League. As the classic line goes, he's pitching like a guy who doesn't look like he'll be at High-A much longer.
James Triantos, INF: It has been an amazing first impression in a South Bend uniform for James Triantos. The only issue is, he hasn't done it yet in front of South Bend fans at Four Winds Field! Triantos made his South Bend Cubs debut up in Appleton, and has seemingly gotten more comfortable by the day. It will be the long awaited home debut for Triantos on Tuesday, as off-season knee surgery delayed his arrival into South Bend pinstripes. Triantos is only 20-years-old, and this addition to the roster somewhat feelings like Pete Crow-Armstrong getting to South Bend last year. A jolt that the lineup has rode the wave with, and his debut came on the road. PCA made his Midwest League debut last year at Dayton. Triantos' came in Wisconsin. Now, he gets a chance to play at Four Winds Field. Triantos had two separate multi-hit games in his first series as a Cub, then against Beloit he caught fire. With a four hit day and five total bases on Wednesday, followed by back-to-back games with home runs on the weekend. One was crushed and pulled to left, the other smacked the other way over the right field wall. MLB.com writes, "Triantos' bat-to-ball skills from the right side of the plate have prompted comparisons to Alex Bregman and David Wright, and he continued to show good feel for the barrel and made good swing decisions in tough hitting conditions at Myrtle Beach last year. He has a compact stroke with a direct bat path and should hit for average, though there are questions about his power upside."
Sheldon Reed, RHP: What else can you say about Sheldon Reed? He is truly Mr. Dependable. Especially over his last five outings, Reed has been magnificent. That was especially the case two Sunday's ago in Appleton. As the game went to extra innings, Reed fired two frames to get the Cubs in position to win that series finale and settle for a series split. In the 11th, Wisconsin put the tying run at third and the winning run at second. Reed struck out Je'Von Ward on a beautiful high fastball to end that game. He is truly South Bend's closer and anytime he enters a game late, an opposing team is going to have problems. In the month of May alone, Reed has a 1.00 ERA in five games, to go along with two wins, nine innings pitched, one run allowed, three walks, and 13 K's. He is feeling it right now and for as long as he rides this hot stretch, the Cubs are going to win a lot of close games due to the bullpen locking things down late.
Schedule…
Tuesday, May 23 - 6:05 PM ET: RHP Richard Gallardo vs. RHP Hunter Parks
Wednesday, May 24 - 11:05 AM ET: RHP Cade Horton vs. RHP Chase Petty
Thursday, May 25 - 7:05 PM ET: RHP Manuel Espinoza vs RHP Javi Rivera
Friday, May 26 - 7:05 PM ET: RHP Connor Noland vs. RHP Julian Aguilar
Saturday, May 27 - 4:05 PM ET: RHP Brandon Birdsell vs. RHP Jose Acuna
Sunday, May 28 - 2:05 PM ET: RHP Richard Gallardo vs RHP Thomas Farr
Catch the entire six-game series in South Bend on Sports Radio 960 AM WSBT, online at wsbtradio.com, or on MiLB.com with Brendan King and Max Thoma on the call.