South Bend Cubs to play University of Notre Dame in Exhibition Game on April 3
Cubs will battle the Fighting Irish in 7-inning game with ticket proceeds going to charity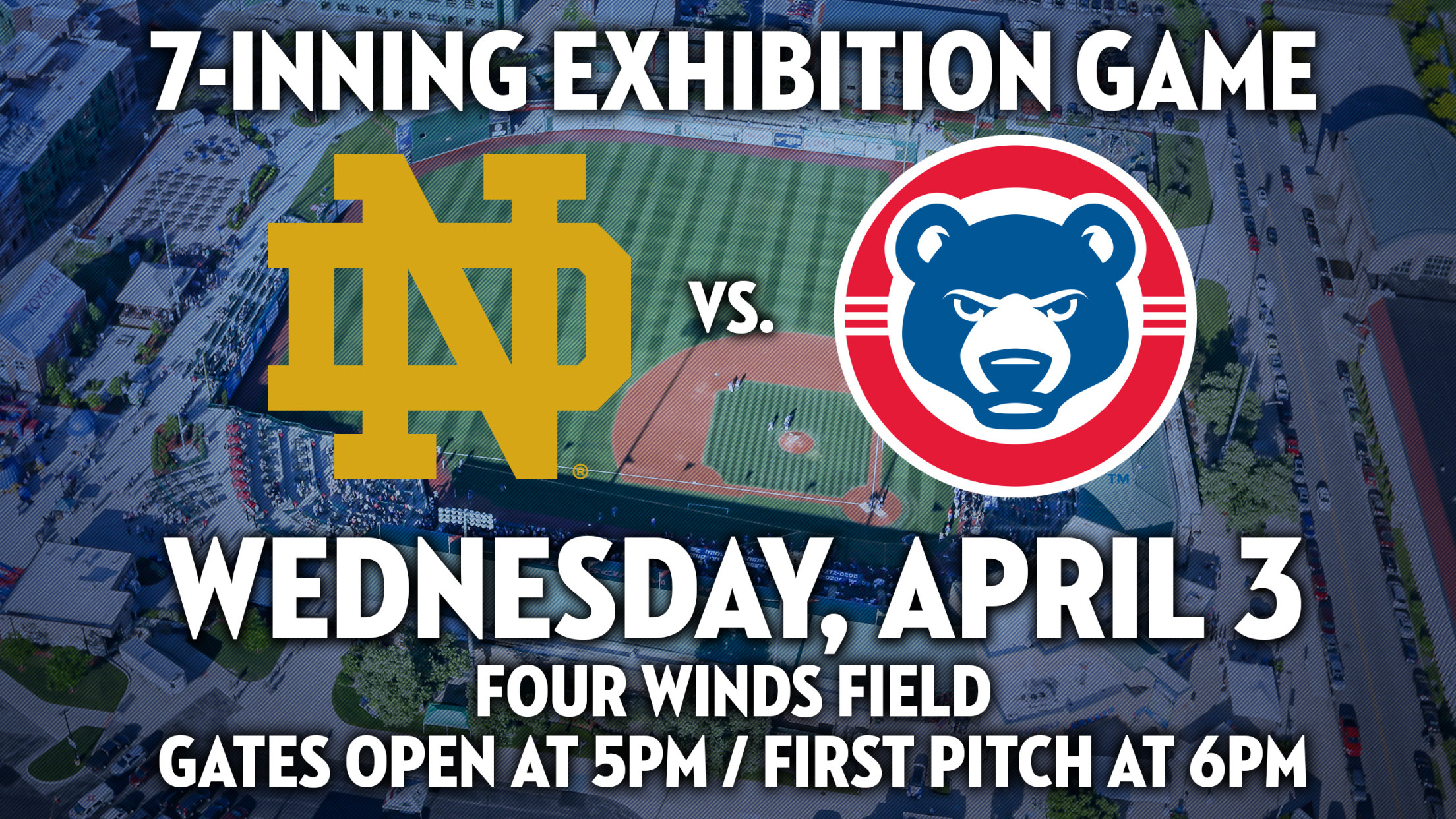 SOUTH BEND, IN - Before Buddy Bailey and the 2019 South Bend Cubs officially take the field for the 2019 Midwest League season, the club will take on the University of Notre Dame baseball team in a 7-inning exhibition game at Four Winds Field on Wednesday, April 3. Admission is
SOUTH BEND, IN - Before Buddy Bailey and the 2019 South Bend Cubs officially take the field for the 2019 Midwest League season, the club will take on the University of Notre Dame baseball team in a 7-inning exhibition game at Four Winds Field on Wednesday, April 3. Admission is just $5 with all proceeds from ticket sales going to charity.
"The exhibition game allows our team to get an idea of what it's like to play at Four Winds Field prior to the official first pitch of 2019 being thrown," South Bend Cubs President Joe Hart said. "This game also acts as a full run-through for some of our new gameday staff to make sure everything is perfect for Opening Night."
Ticket sales from the game will be split between both teams to a charity of their choice. The Fighting Irish will donate their portion to the Samantha Hickey Foundation, which raises money for Memorial Hospital's Pediatric Cancer Center. The South Bend Cubs charity is the Center for the Homeless.
Tickets are $5 and can be purchased at the South Bend Cubs Box Office, by calling (574) 235-9988, or by clicking here. Gates will open at 5:00 p.m. and first pitch for the exhibition is scheduled for 6:00 p.m.
The South Bend Cubs will open the regular season at home on April 4 at 7:05 p.m. to face division rival West Michigan for a two-game series before heading out to Comstock Park for two games on the road.
About the South Bend Cubs
The South Bend Cubs are the Class A minor league affiliate of the 2016 World Series Champion Chicago Cubs. Over the past 31 seasons, the team has won five Midwest League titles, most recently in 2005, and has captured 12 division titles. In 2019, the South Bend Cubs will host the Midwest League All-Star Game. In June 2017, Four Winds Field, home of the South Bend Cubs, was voted Best Class A ballpark in the country by Ballpark Digest. In 2015 the team was named Ballpark Digest's Team of the Year and received the John H. Johnson President's Award, the highest award in minor league baseball. The team is owned and operated by Swing-Batter-Swing, LLC whose principal shareholder is Andrew T. Berlin of Chicago, Ill.