South Bend Cubs and Jordan Automotive to Offer Michiana Area Teachers Free Tickets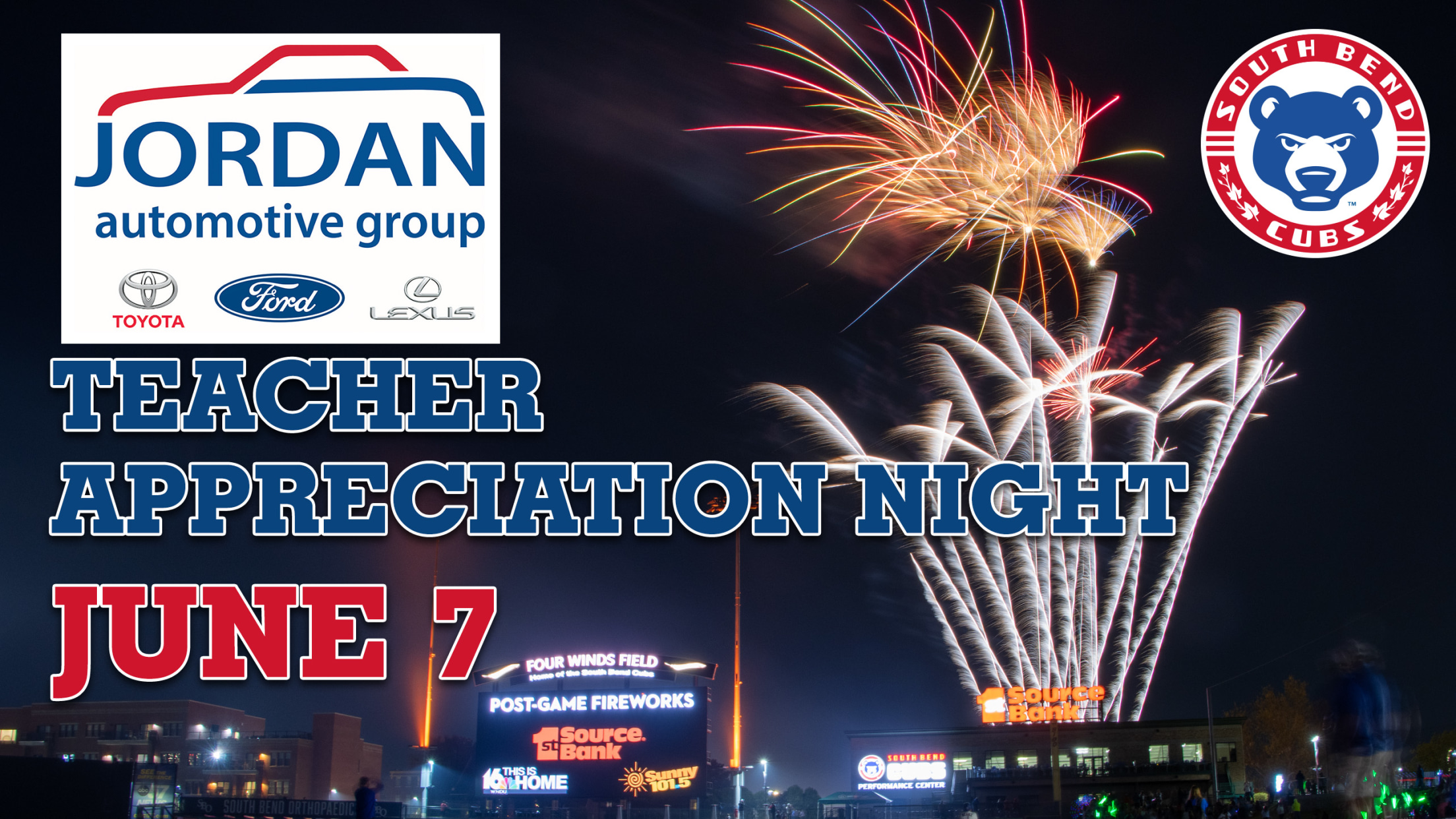 SOUTH BEND, IN – In what has become an early June tradition at Four Winds Field, the South Bend Cubs will again partner with Jordan Automotive for Teacher Appreciation Night on Wednesday, June 7. Teachers and administrators from around the Michiana area can receive two complimentary tickets for the game
SOUTH BEND, IN – In what has become an early June tradition at Four Winds Field, the South Bend Cubs will again partner with Jordan Automotive for Teacher Appreciation Night on Wednesday, June 7. Teachers and administrators from around the Michiana area can receive two complimentary tickets for the game against the Lansing Lugnuts at 7:05 p.m., with post-game fireworks following the contest.
"Teacher Appreciation Night is our organization's opportunity each summer to provide a free night of fun and relaxation for our teachers and administrators who take such great care of our kids during the school year," South Bend Cubs President Joe Hart said. "We'd also like to thank Jordan Automotive for continuing to partner with us and help us show appreciation to our local school administrators."
All school administrators and teachers can pick up their two complimentary tickets by showing their school I.D. at the Four Winds Field box office. Additionally, new for this year, the first 250 tickets claimed will include a two-hour all you can eat buffet on the United Federal Credit Union Rooftop.
The box office is open during the week from 10 a.m. to 5 p.m. and on weekend game days (Saturday 12 p.m. until the 7th inning and Sunday 10 a.m. until the 7th inning). During the game, all teachers and administrators will be honored with a special mid-game announcement.
About the South Bend Cubs
The South Bend Cubs are the High-A affiliate of the 2016 World Series Champion Chicago Cubs. Over the past 34 seasons, the team has won five Midwest League titles, most recently in 2022, and has captured nine division titles. In 2022, Four Winds Field, home of the South Bend Cubs, was voted Best High-A ballpark in the country by Ballpark Digest, having also won the award as a Low-A ballpark in 2017. In 2019, the South Bend Cubs hosted the final Midwest League All-Star Game. In 2015 the team was named Ballpark Digest's Team of the Year and received the John H. Johnson President's Award, the highest award in minor league baseball. The team is owned and operated by Swing-Batter-Swing, LLC whose principal shareholder is Andrew T. Berlin of Chicago, Ill.