Anderson and Walker combine for third no-hitter in M-Braves history on Friday night
Ian Anderson matched club-record with 14 strikeouts in the no-no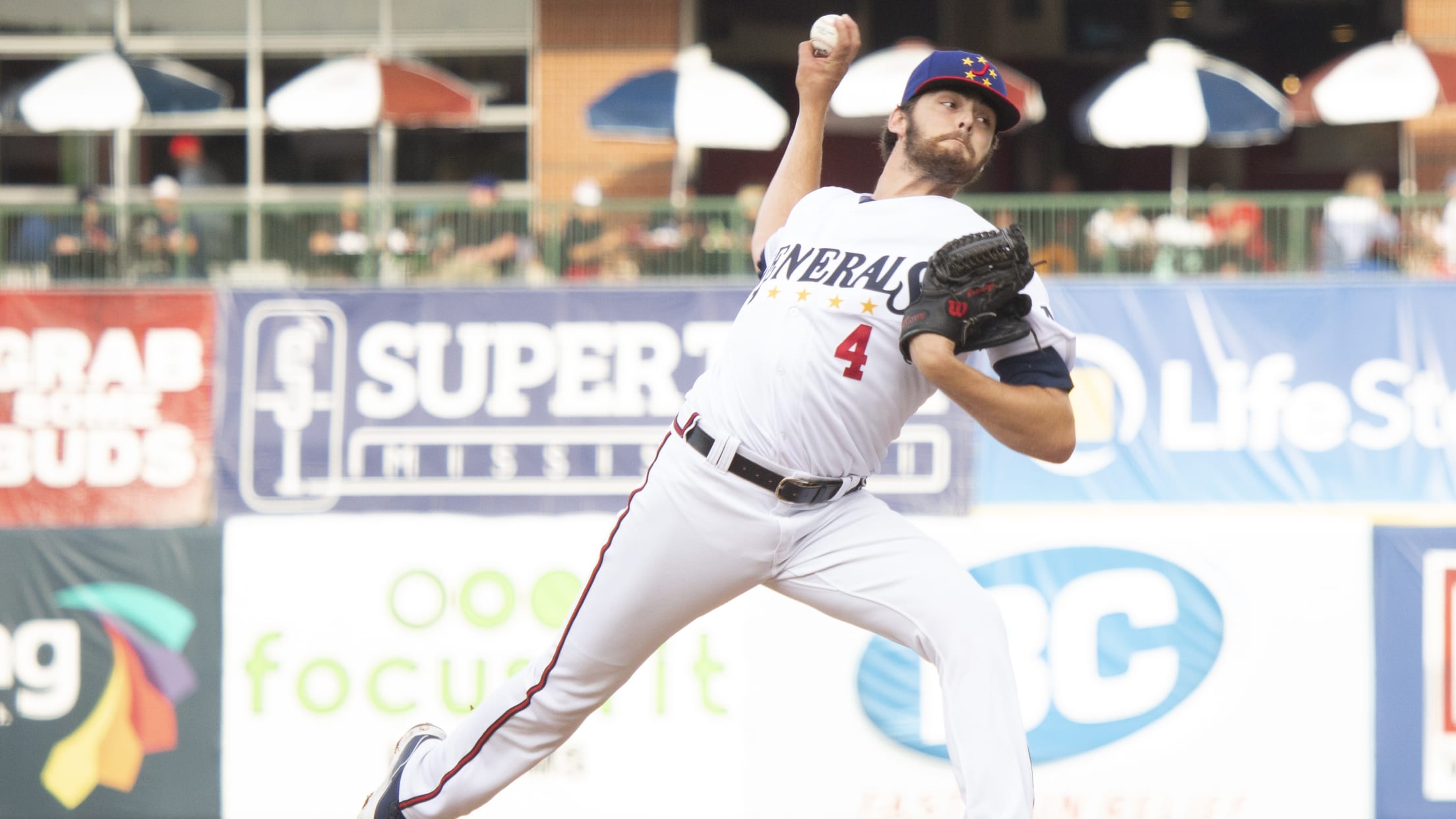 PEARL, MS - Ian Anderson  (W, 6-5) and Jeremy Walker  (S, 5) combined for the third no-hitter in Mississippi Braves (6-3, 39-39) history on Friday night in a 2-0 win over the Jackson Generals (3-6, 42-37) at Trustmark Park. Anderson also matched the late Tommy Hanson's single-game strikeout record with 14 over seven
PEARL, MS - Ian Anderson (W, 6-5) and Jeremy Walker (S, 5) combined for the third no-hitter in Mississippi Braves (6-3, 39-39) history on Friday night in a 2-0 win over the Jackson Generals (3-6, 42-37) at Trustmark Park. Anderson also matched the late Tommy Hanson's single-game strikeout record with 14 over seven no-hit innings.
The Braves turned back the clock on Friday night and wore retro Jackson, Mississippi Generals jerseys and hats. The Double-A Texas League affiliate of the Houston Astros played at Smith-Wills Stadium from 1991-1999.

Anderson began his outing by striking out the side in the first inning, paired with one walk and then struck out the first two batters of the second inning. Over the first two frames, wo Jackson, TN hitters reached base via a walk and error. The Atlanta Braves No. 3 overall prospect and 21-year-old retired nine-straight from the second through the fifth inning until a walk with two outs was issued to Galli Cribbs Jr., his second free pass of the night. Anderson then struck out opposing pitcher Bo Takahashi for his 11th strikeout, matching his career high, over just 5.0 innings.

The Rexford, New York native, hit Ben Deluzio with a pitch to begin the sixth inning and then Daulton Varsho bounced into a fielders' choice. Drew Ellis was Anderson's 12th strikeout victim for the second out of the sixth, setting a new career best in his 70th start.

The right-hander went back out for the seventh inning, and Jamie Westbrook reached on an error to start the frame, just the fourth Jackson batter to reach base. Anderson struck out Diamondbacks top prospect Jazz Chisholm for his 13th strikeout and first out of the inning. He then struck out Jeffrey Baez for his 14th strikeout, matching Hanson's club record.

Over 7.0 innings of no-hit baseball, Anderson struck out 14 and walked two, facing four over the minimum. Earlier in the day, Anderson was named to the All-Star Futures Game roster.

Cristian Pache put the Braves on the board in the third inning with a one-out double down the left field line scoring Ray-Patrick Didder. Pache struck again for a solo home run in the fifth inning to push the lead to 2-0. Pache, also named to the All-Star Futures Game was 2-for-4 and now has a team-high 11 home runs and 47 RBI.

Walker took over in the eighth inning and dealt a 1-2-3 inning with one strikeout. In the ninth Walker needed just seven pitches to get a ground out from Ellis and Pavin Smith, then strikeout Westbrook to end the game. Walker pitched a perfect final two innings to finish off the no-hitter. The 23-year-old Walker has 53 strikeouts and just three walks over 55.2 innings pitched.

The win clinches the second-straight series to begin the second half and keeps the Braves in first place in the South Division standings.

The first no-hitter in club history was thrown by Tommy Hanson on June 25, 2008, against Birmingham. The second was a combined no-hitter on August 2, 2010, against Mobile.

The M-Braves and Generals close out the five-game homestand on Saturday night at Trustmark Park. LHP Kyle Muller (5-4, 3.09) starts for Mississippi against RHP Justin Donatella (3-1, 4.58). First pitch is scheduled for 6:05 pm with coverage beginning at 5:50 pm on 103.9 WYAB, TuneIn Radio and MiLB.tv (subscription required).

Saturday's Promotions:
Elvis Night - Well you can do anything but stay off of my blue suede shoes...and be at Trustmark Park as we tribute Mississippi-born Elvis Presley with a tribute artist. Our Post-Game Fireworks will feature Elvis music.
Post-Game Fireworks Extravaganza - A Post-Game Fireworks Extravaganza will light up the sky above Trustmark Park after the game, presented By Gray-Daniels Nissan.
Scout Campout Night - Cub Scouts, Boy Scouts, Girl Scouts, leaders, family & friends are invited to attend. Please place your order early to guarantee your spot before space runs out. All groups must register in advance for the campout.