Boldt leads the way in Biscuits' romp
Rays No. 25 prospect homers twice, triples to back Cabrera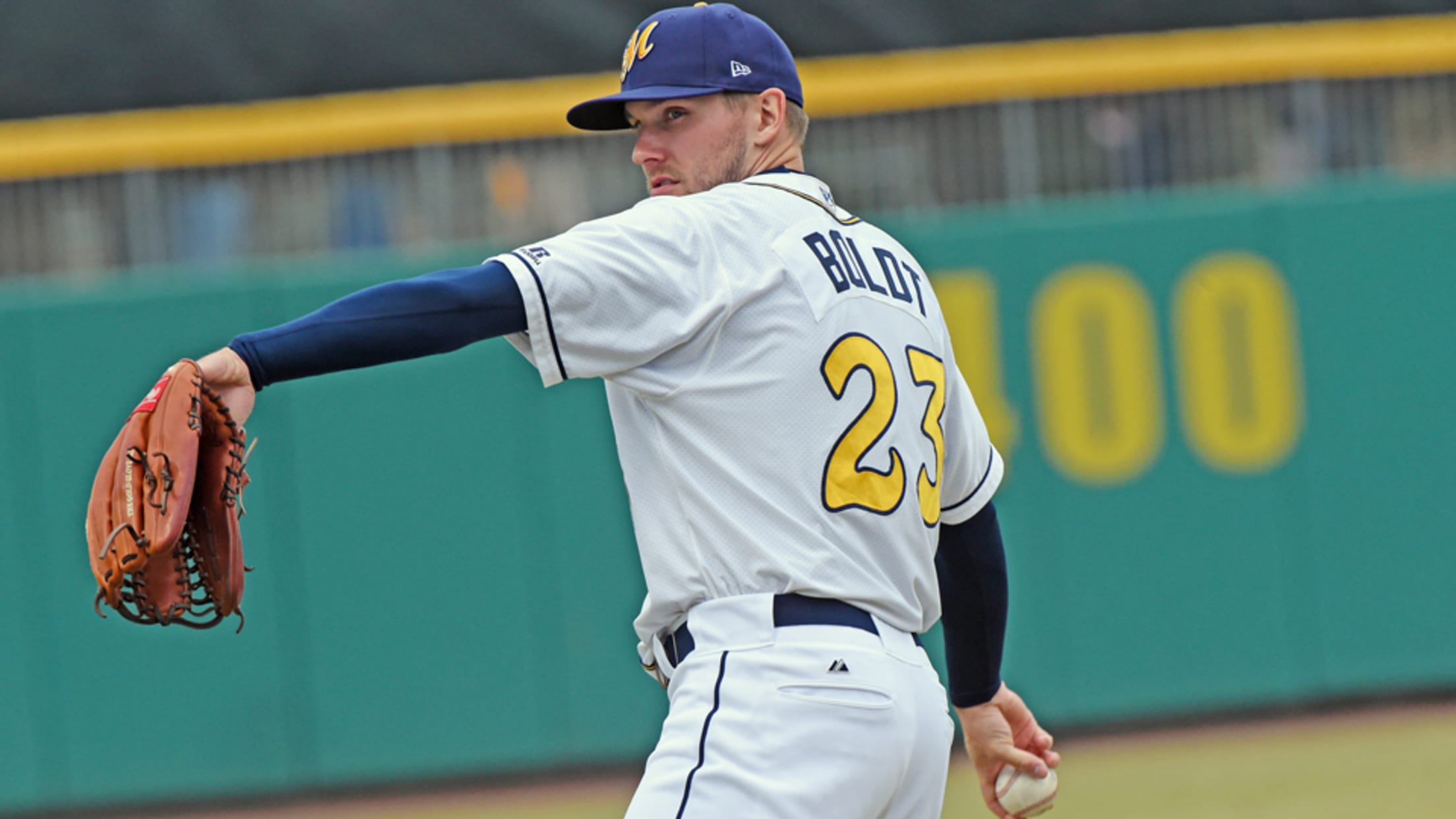 A center fielder at the University of Nebraska, Ryan Boldt has played all three outfield positions in pro ball. (Brian McLeod/MiLB.com)
A little home cooking went a long way for Double-A Montgomery on Monday.After six days on the road, the Biscuits returned to Montgomery Riverwalk Stadium and obliterated the Shuckers, 11-0. No. 25 Rays prospectRyan Boldt led the way with two home runs, a triple, four runs and a walk on
A little home cooking went a long way for Double-A Montgomery on Monday.
After six days on the road, the Biscuits returned to Montgomery Riverwalk Stadium and obliterated the Shuckers, 11-0. No. 25 Rays prospectRyan Boldt led the way with two home runs, a triple, four runs and a walk on a 3-for-4 night.
Génesis Cabrera -- ranked two spots ahead of Boldt -- earned his fourth win after allowing two hits and two walks while striking out eight over five innings.
Gameday box score
"We did a lot of good things in the last series at Jackson, and I think it carried over into tonight," Montgomery manager Brady Williams said. "Guys were seeing better pitches, working counts better, making better contact and then we came back home and put it all together."
The Biscuits outhit the Shuckers, 12-3, as every Montgomery batter finished with at least one knock. Michael Brosseau combined with Boldt to account for 10 of the 11 runs, homering in his third straight game while going 2-for-2 with two RBIs and two runs. He was also hit by a pitch twice.
"Both [Boldt and Brosseau] have been putting in a lot of work, and it's good to see the results of it," Williams said. "Boldt showed good discipline at the plate and got himself into hitter's counts and did his damage from there. Both of his home runs were to the opposite field and then his triple went to right, so it's a good sign to see him using the whole field. It was an impressive night for him.
"Brosseau has been making some really hard outs, and any time you square up the ball like that, it's a good sign that the hits are going to come. I think that's showing up now. He's also, I think, just starting to get acclimated to Double-A, and what he's showing now are signs of what he's capable of moving forward."
Michael Russell socked a two-run dinger for the Biscuits and No. 15 Rays prospect Brandon Lowe doubled in a pair to claim the Southern League lead in RBIs with 23.
Cabrera (4-2) worked a 1-2-3 opening frame before running into trouble in the next inning. After a single by No. 18 Milwaukee prospectJake Gatewood, Cabrera gave up a base hit to Dylan Moore and walked Blake Allemand to load the bases with nobody out. The 21-year-old left-hander escaped the jam by striking out Wendell Rijo, getting an infield popup from Clint Coulter and fanning Dustin Houle.
"He's got very good stuff, but he was not at his best," Williams said. "He had some trouble locating. His fastball was erratic, but he found a way to get through five. One big positive, though, was to see him pitch out of a bases-loaded, no-outs [situation] and not give up a run. That was impressive and his stuff is that good."
The native of Dominican Republic finished his outing without surrendering another hit and struck out the side in order in the fifth.
Reece Karalus tossed the final four frames, permitting a hit and a walk while fanning two to earn his first save.
Rob Terranova is a contributor to MiLB.com. Follow him on Twitter @RobTnova24.