Longball Guides Ports to Third Straight Win
Box Score SAN JOSE, Ca.- Lawrence Butler hit a grand slam and Tyler Soderstrom added a three-run shot leading the Ports to their third straight win, 10-5 over the Giants at Excite Ballpark in San Jose on Friday night. The Ports (28-42) got on the board with two unearned runs
Offense Carries Ports to Second Straight Win
Box Score SAN JOSE, Ca.- The Ports clubbed two home runs and collected 11 hits in a 10-5 win over the Giants in the third of a six game series on Thursday night, giving them back-to-back wins at Excite Ballpark in San Jose. The Ports (27-42) jumped out to a
Butler Powers Ports to Victory in San Jose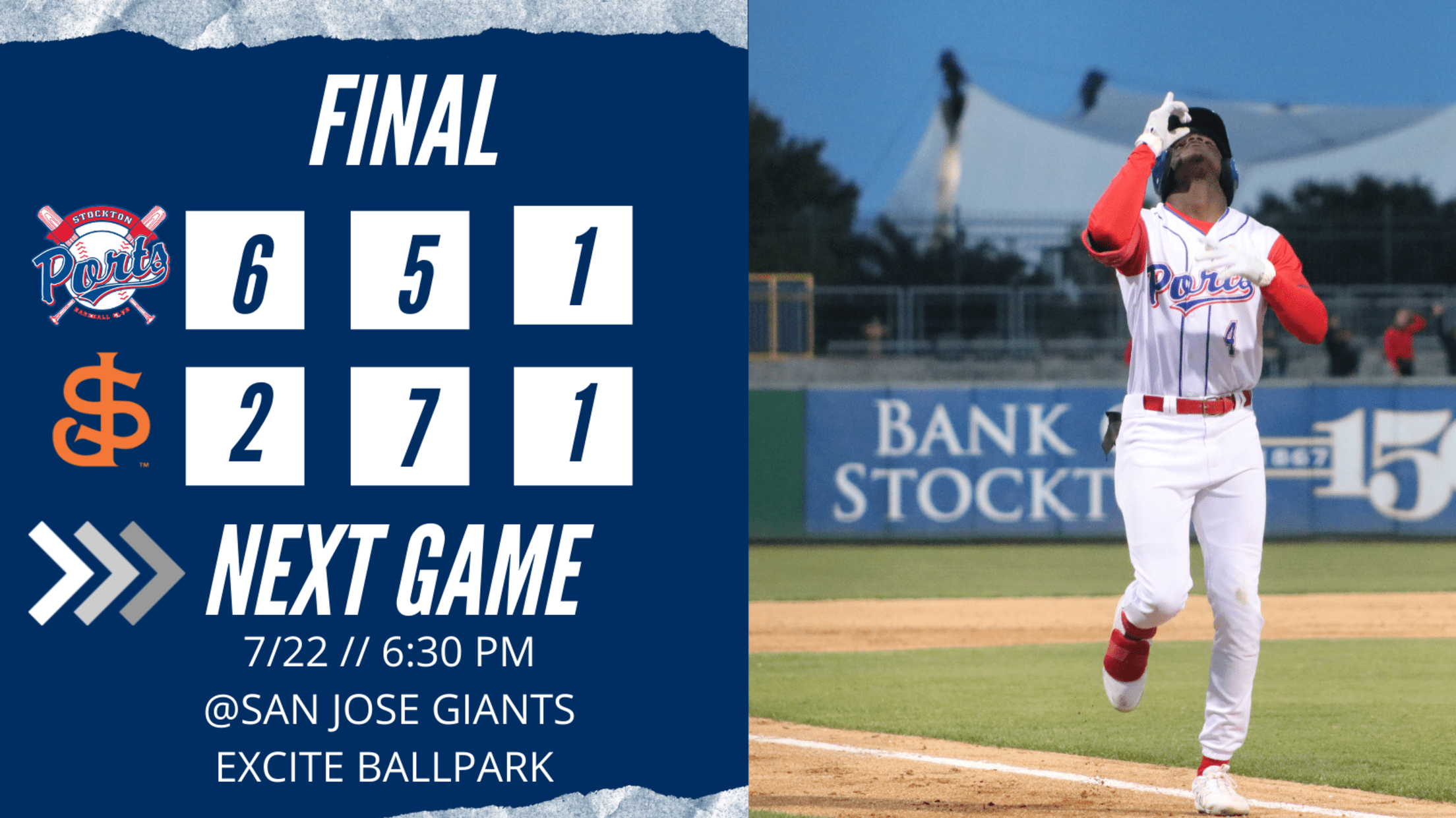 Box Score SAN JOSE, Ca.- Lawrence Butler hit two home runs and drove in all six runs as the Ports snapped a nine game losing streak with a 6-2 win over the Giants on Wednesday afternoon at Excite Ballpark in San Jose. With the win, the Ports avoided their first
Ports Fall to Giants in Series Opener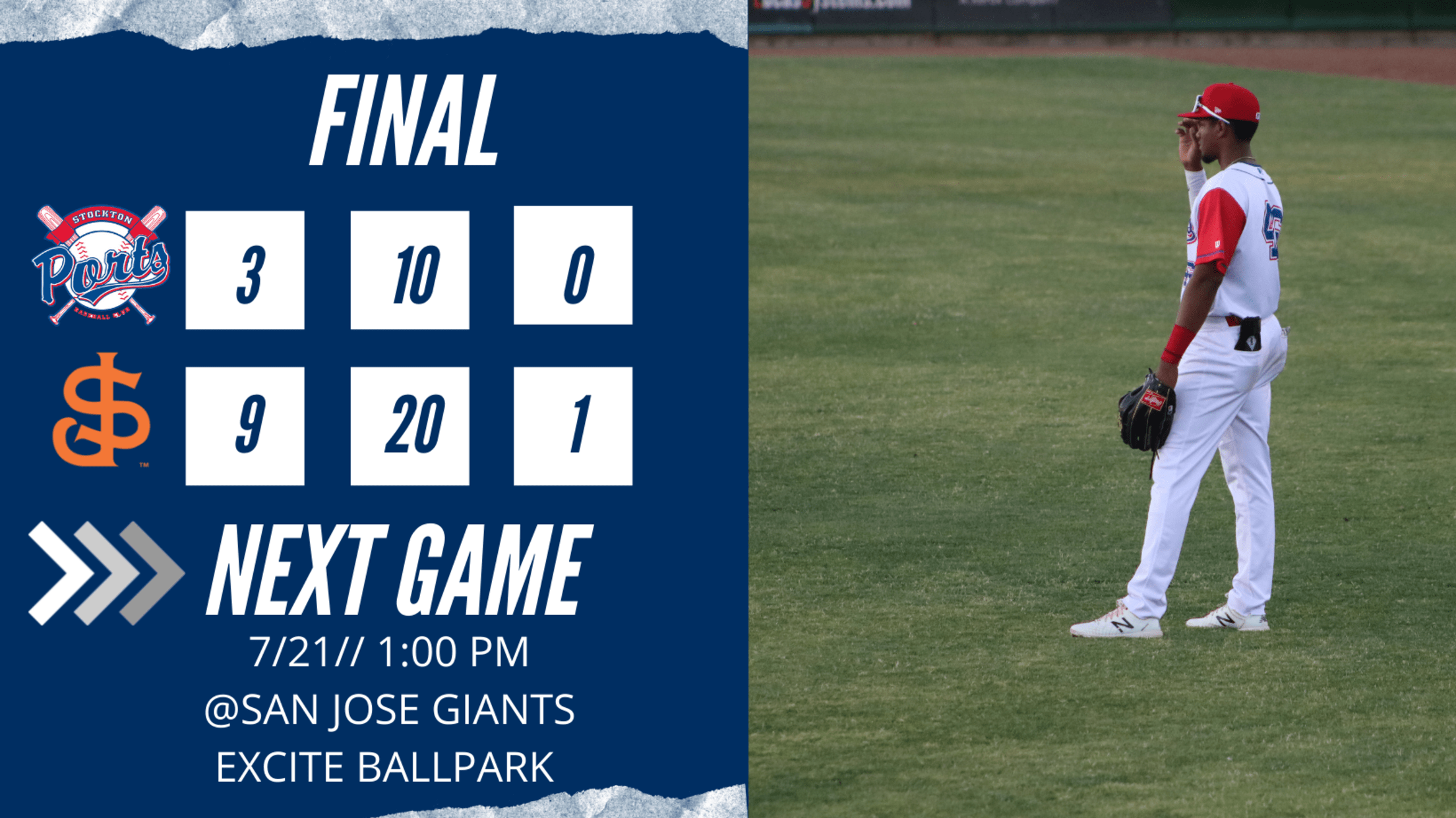 Box Score SAN JOSE, Ca.- The San Jose Giants pounded out 20 hits and scored seven runs between the fourth and sixth innings as the Ports fell in the series opener 9-3 at Excite Ballpark in San Jose. Trailing 1-0 heading into top of the second inning, the Ports (25-42)
Ports Come Up Short in Slugfest
Box Score STOCKTON, Ca.- The Ports' offense broke out of a funk to the tune of seven runs on ten hits, but couldn't keep up with the red-hot Fresno Grizzlies in a 9-7 loss in the finale of their six game series at Banner Island Ballpark on Sunday evening. The
Grizzlies Sweep Ports in Twin Bill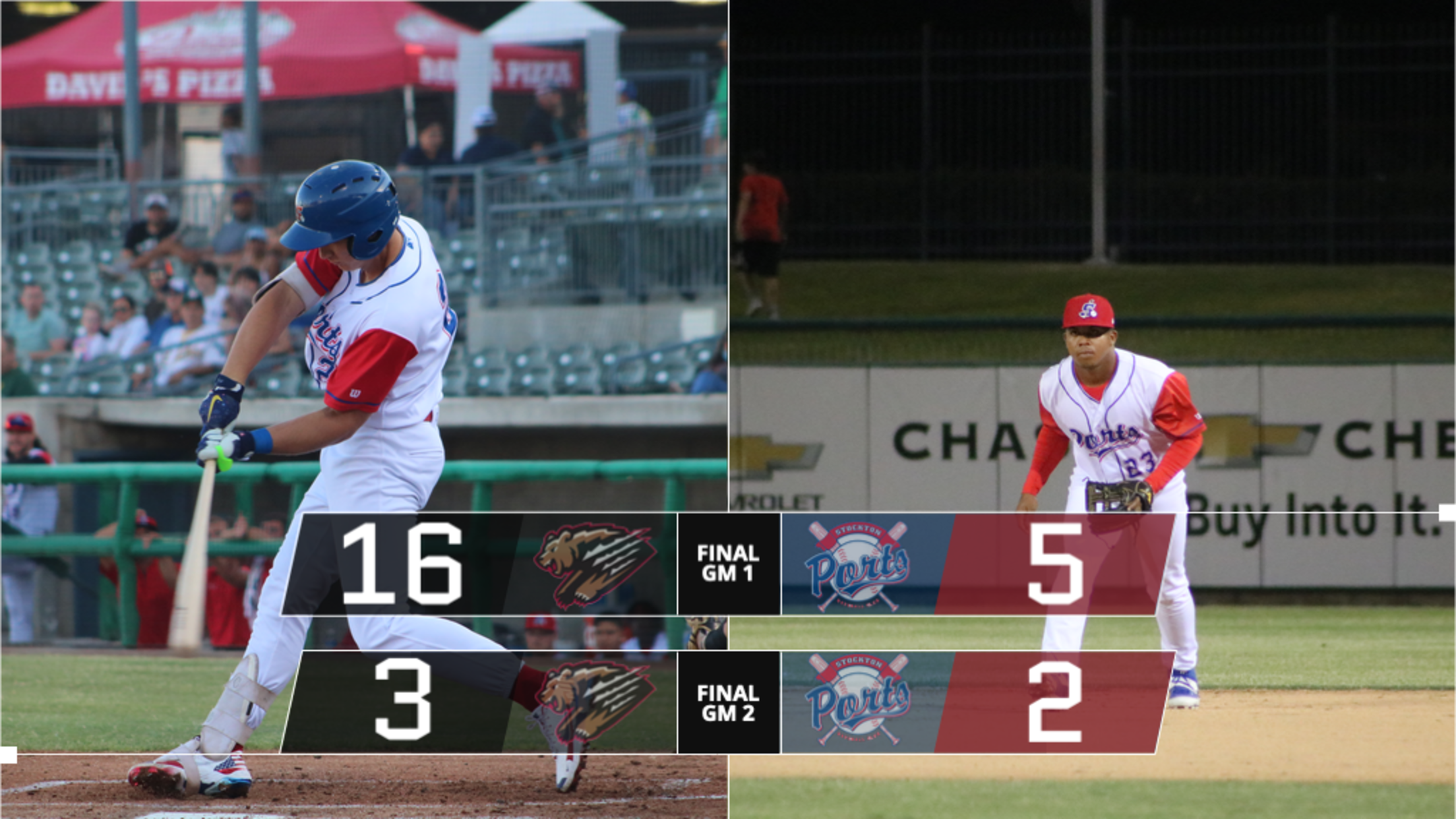 Game 1 Box Game 2 Box STOCKTON, Ca.- The Stockton Ports' losing streak reached seven games after dropping both ends of their double header to the first-place Fresno Grizzlies 16-5 and 3-2 on Saturday night at Banner Island Ballpark. The Ports' seven game losing streak is their longest of the
Doubleheader scheduled for July 17, 2021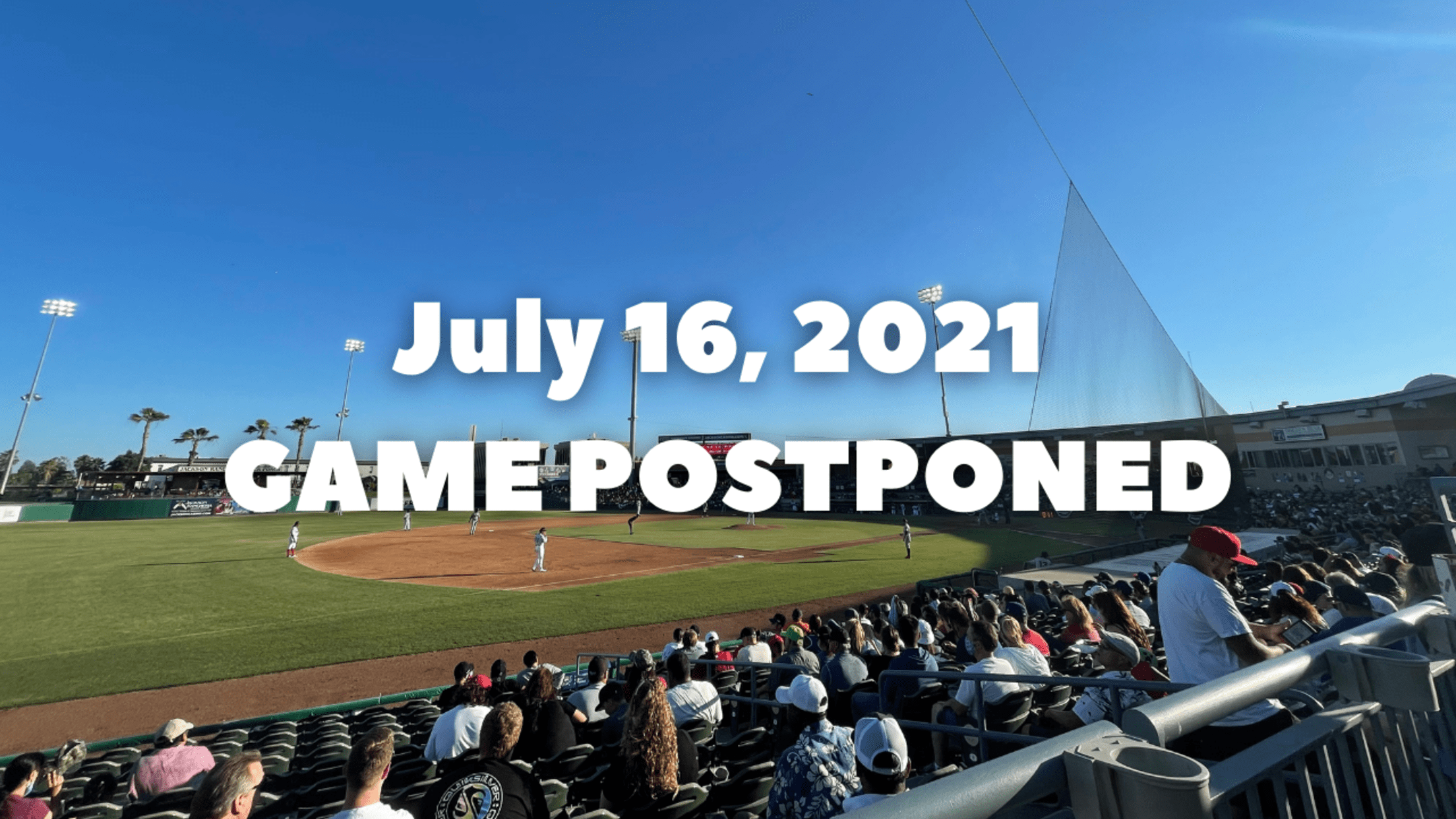 Tonight's game has been postponed to allow for additional testing and contract tracing of members of the Fresno Grizzlies organization. We are adhering to Minor League Baseball's health and safety protocols and will practice caution as we follow the guidance of experts. Further updates will be provided as available. Fans
Ports Stymied by Grizzlies in Shutout Loss
Box Score STOCKTON, Ca.- The Fresno Grizzlies scored early and often as the Ports fell 18-0 at Banner Island Ballpark on Thursday night. It was Stockton's fifth straight loss. The Grizzlies (42-21) jumped ahead 1-0 in the top of the first inning without the benefit of a hit. Ports' starter
Ports Bats Silent in Loss to Grizzlies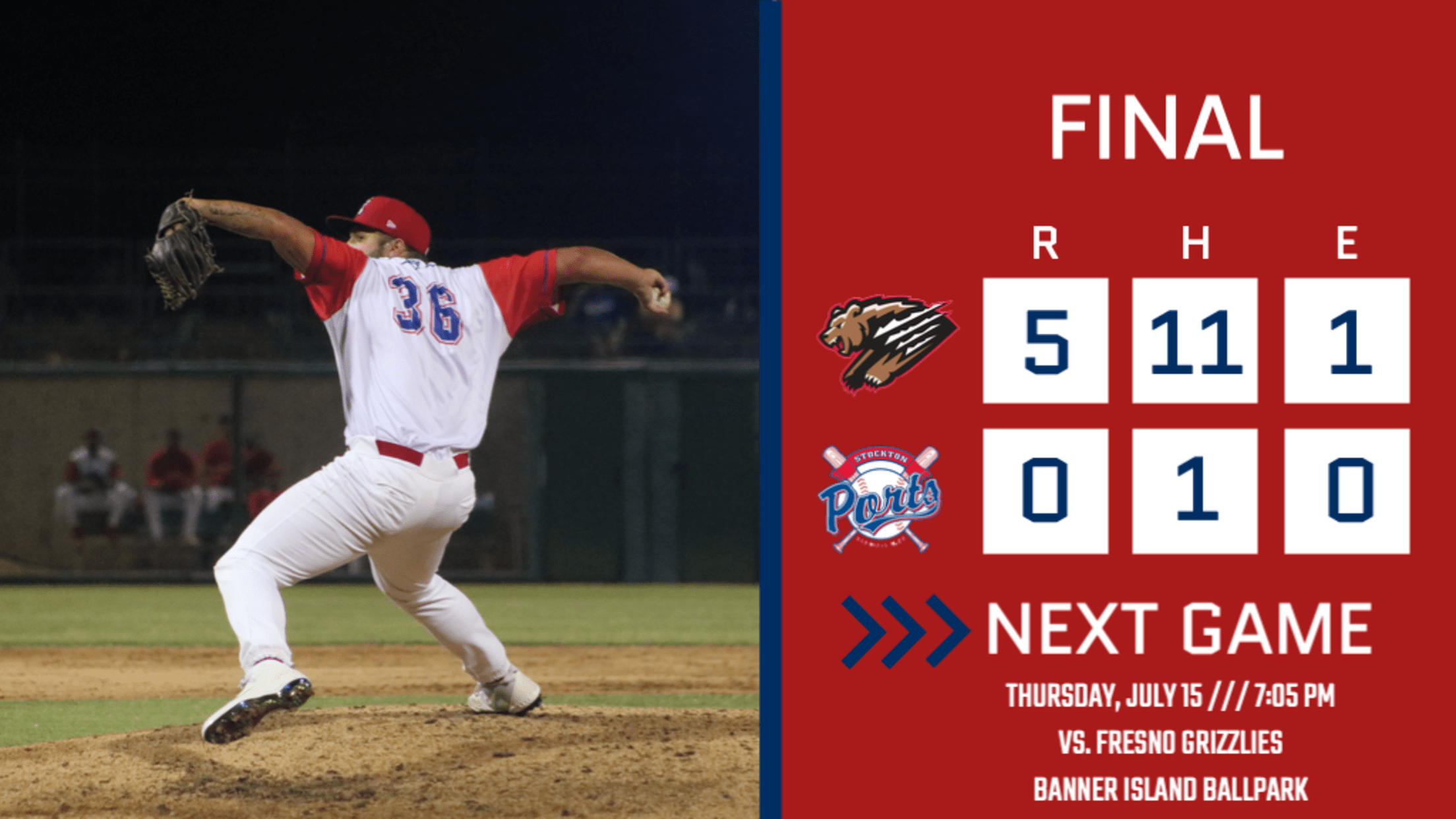 Box Score STOCKTON, Ca.- The Ports were shut down by the Grizzlies' pitching staff, collecting just one hit in a 5-0 loss to Fresno in game two of a six game series on Wednesday night at Banner Island Ballpark. The Ports (25-37) had several baserunners in the opening innings against
Grizzlies Surge Ahead Late as Ports Fall in Series Opener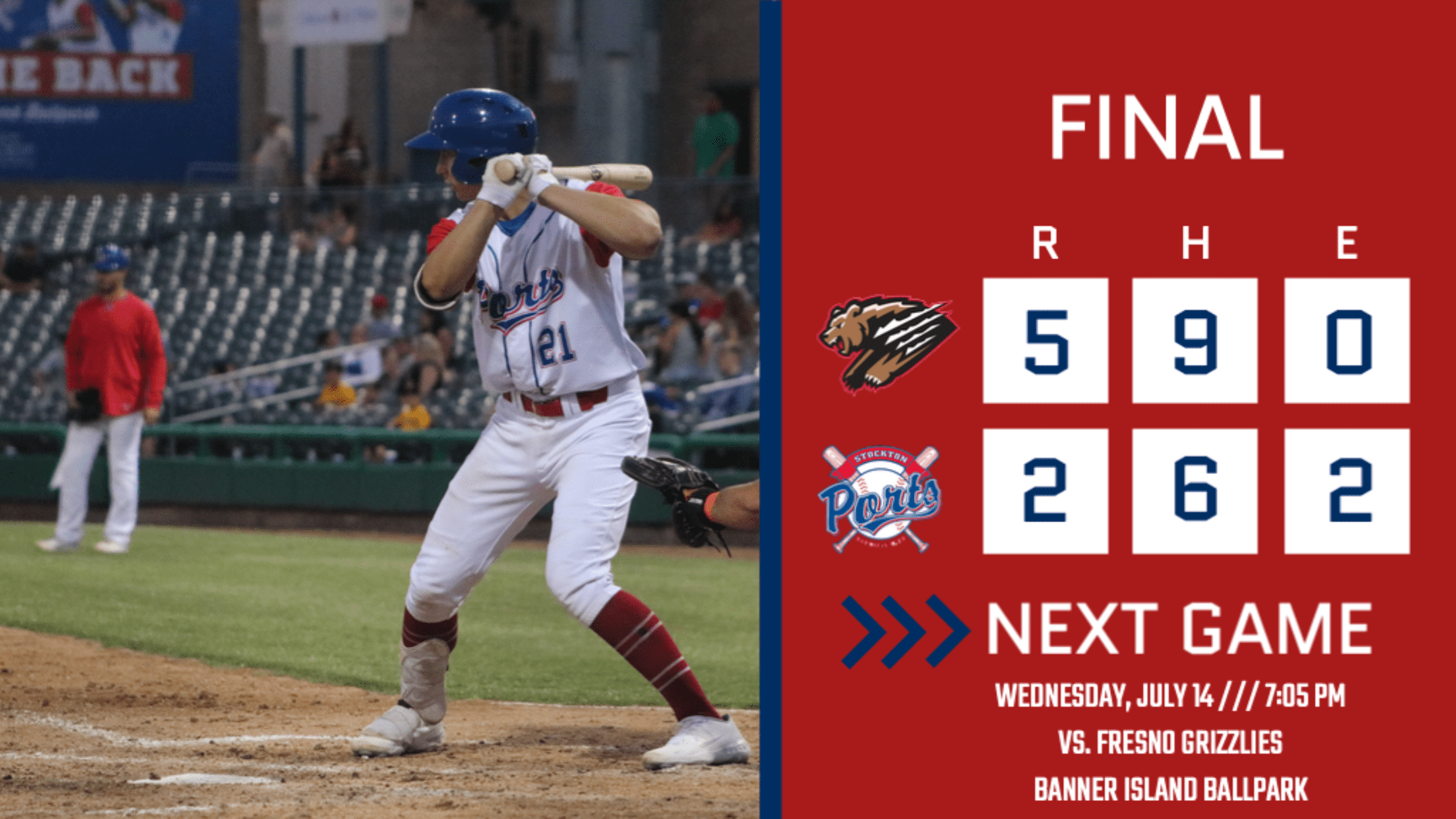 Box Score STOCKTON, Ca.- The Fresno Grizzlies' bullpen allowed just one hit after the third inning as the Ports' bats fell silent in a 5-2 Stockton loss in the opener of a six game series at Banner Island Ballpark on Tuesday night. The Ports (25-36) and Grizzlies battled to a
Ports' Welcome in Grizzlies for First Time in Franchise History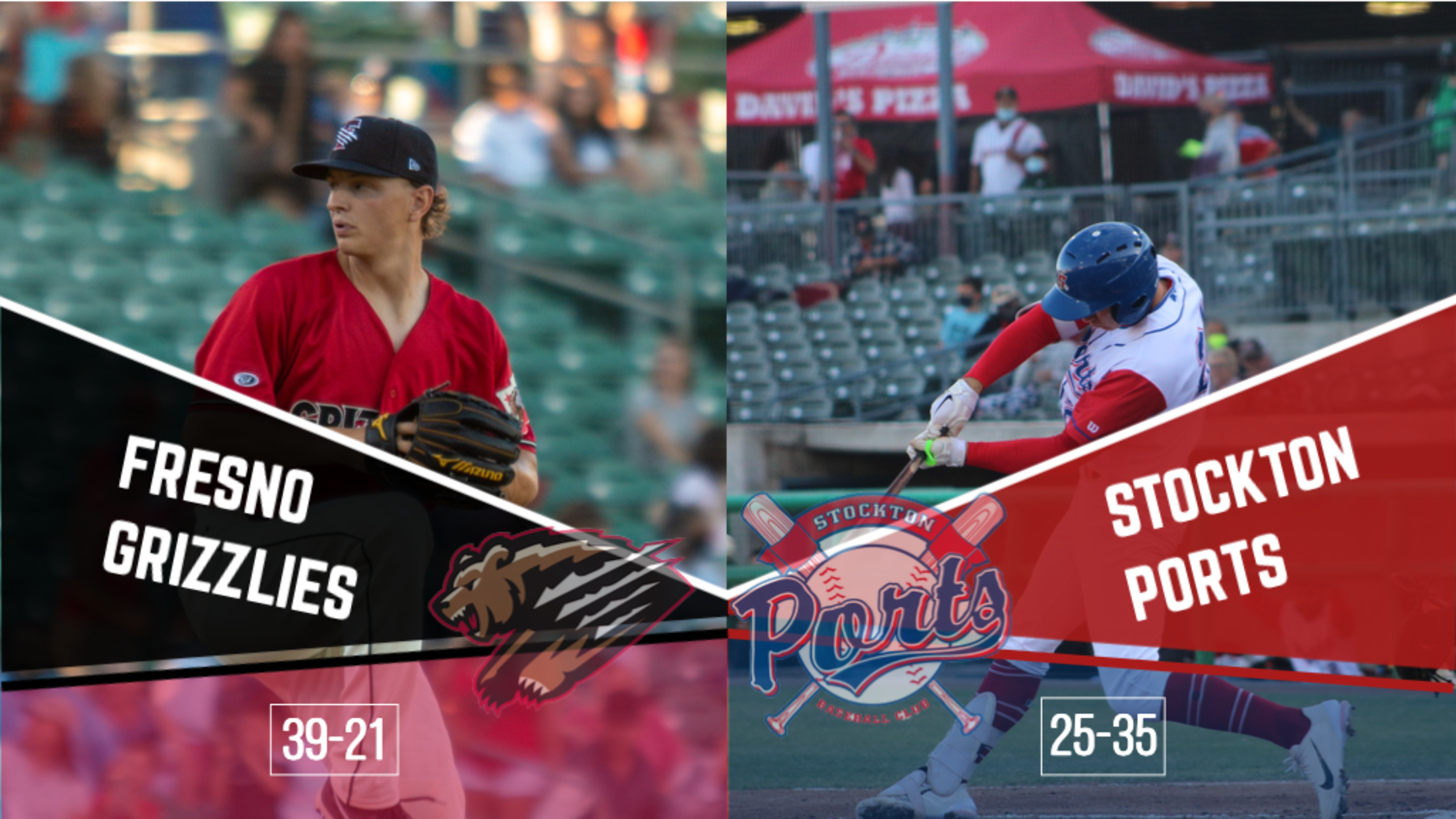 STOCKTON, Calif.- The Stockton Ports are back home at Banner Island Ballpark for a six-game series hosting the first-place Fresno Grizzlies. This is the first time in franchise history the Fresno Grizzlies have come to Banner Island and will open action on Tuesday night at 7:05 pm. A full schedule,
Ports Fall Behind Early in Loss to Nuts
Box Score MODESTO, Ca.- The Modesto Nuts pounded out 15 hits and scored seven runs in the second inning as the Ports fell 14-3 in the series finale at John Thurman Field on Sunday evening. The Nuts (36-24) jumped on top with a run in the bottom of the first.
Big Innings Sink Ports in Loss to Modesto
Box Score MODESTO, Ca. - The Nuts pounded out 13 hits and scored five times with two outs as the Ports fell 8-5 to their North Division rival on a warm Saturday night at John Thurman Field in Modesto. The Nuts (35-24) jumped ahead with three runs in the bottom
Ports Ride Big Innings to Second Straight Win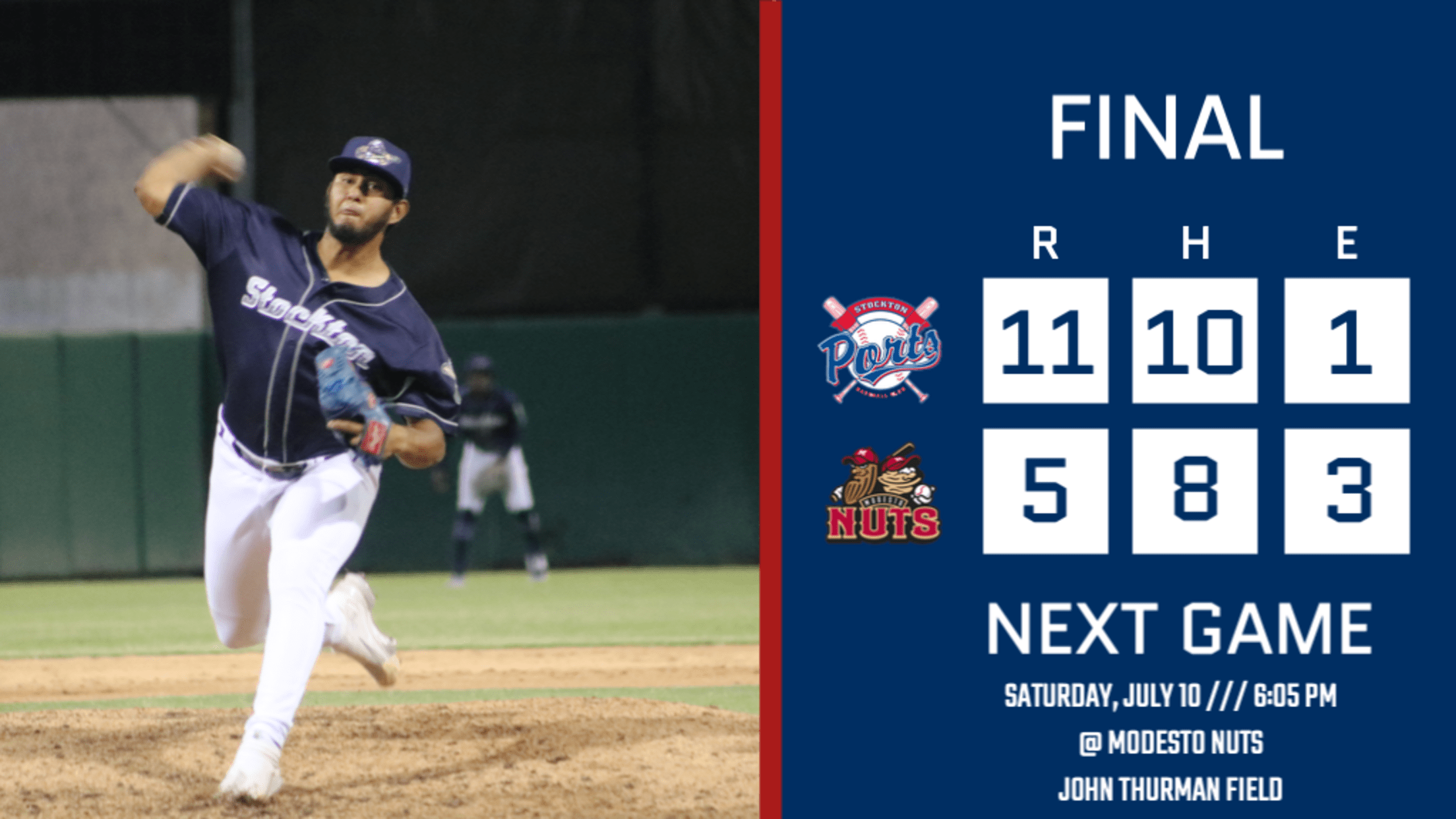 Box Score MODESTO, Ca.- The Ports scored in four different innings while picking up ten hits and walking twelve times on their way to an 11-5 win over the Modesto Nuts on Friday night at John Thurman Field, evening their six-game series at two games a piece. Stockton (25-33) jumped
Ports Halt Nuts' Streak with Shutout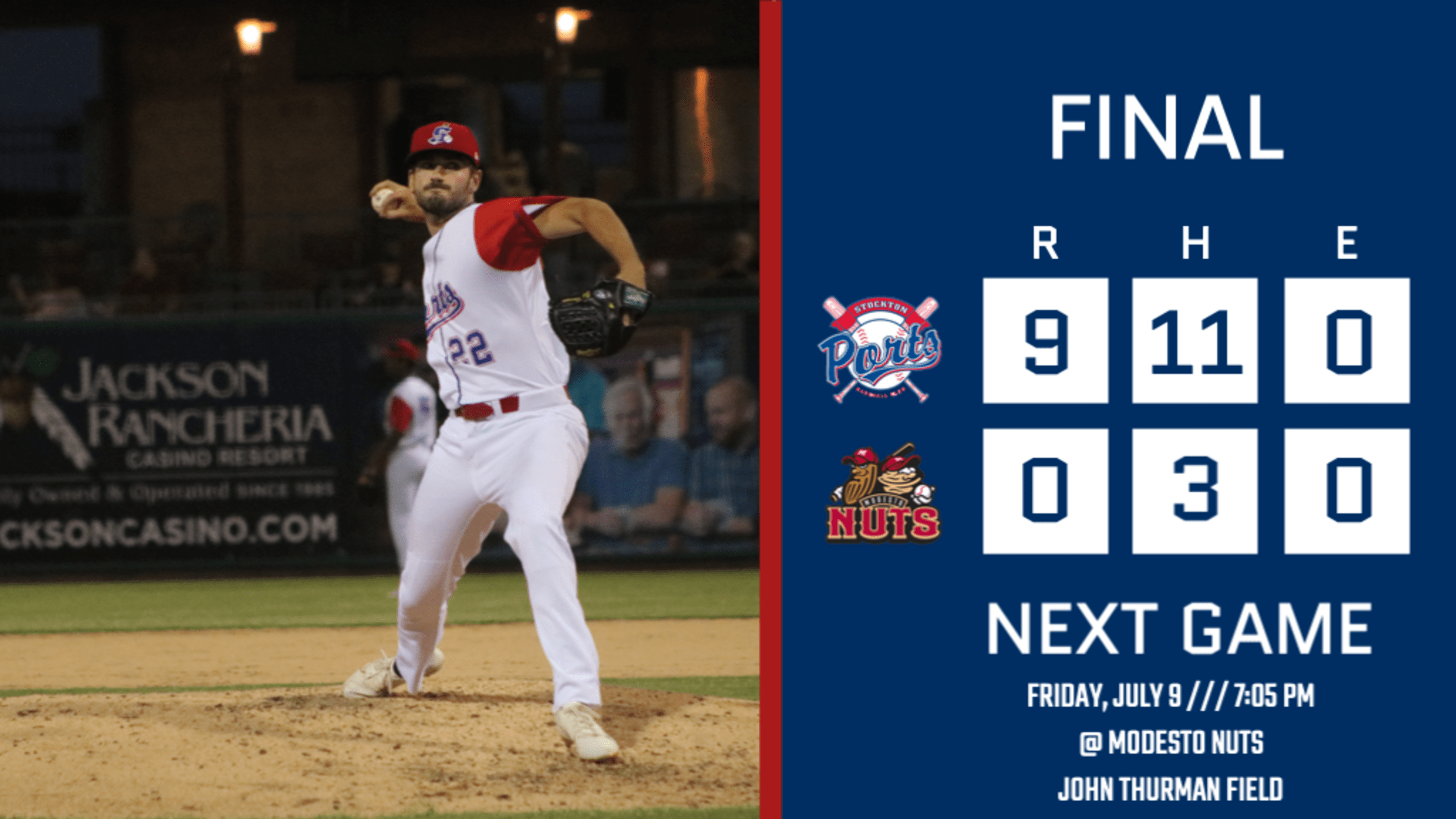 Box Score MODESTO, Ca.- Three pitchers combined to give up just three hits and Stockton offense pounded out 11 hits as the Ports picked up their first shutout of 2021 with a 9-0 victory over the Modesto Nuts on Thursday night at John Thurman Field.. After a scoreless first three
Ports Outhit Nuts But Drop Second Straight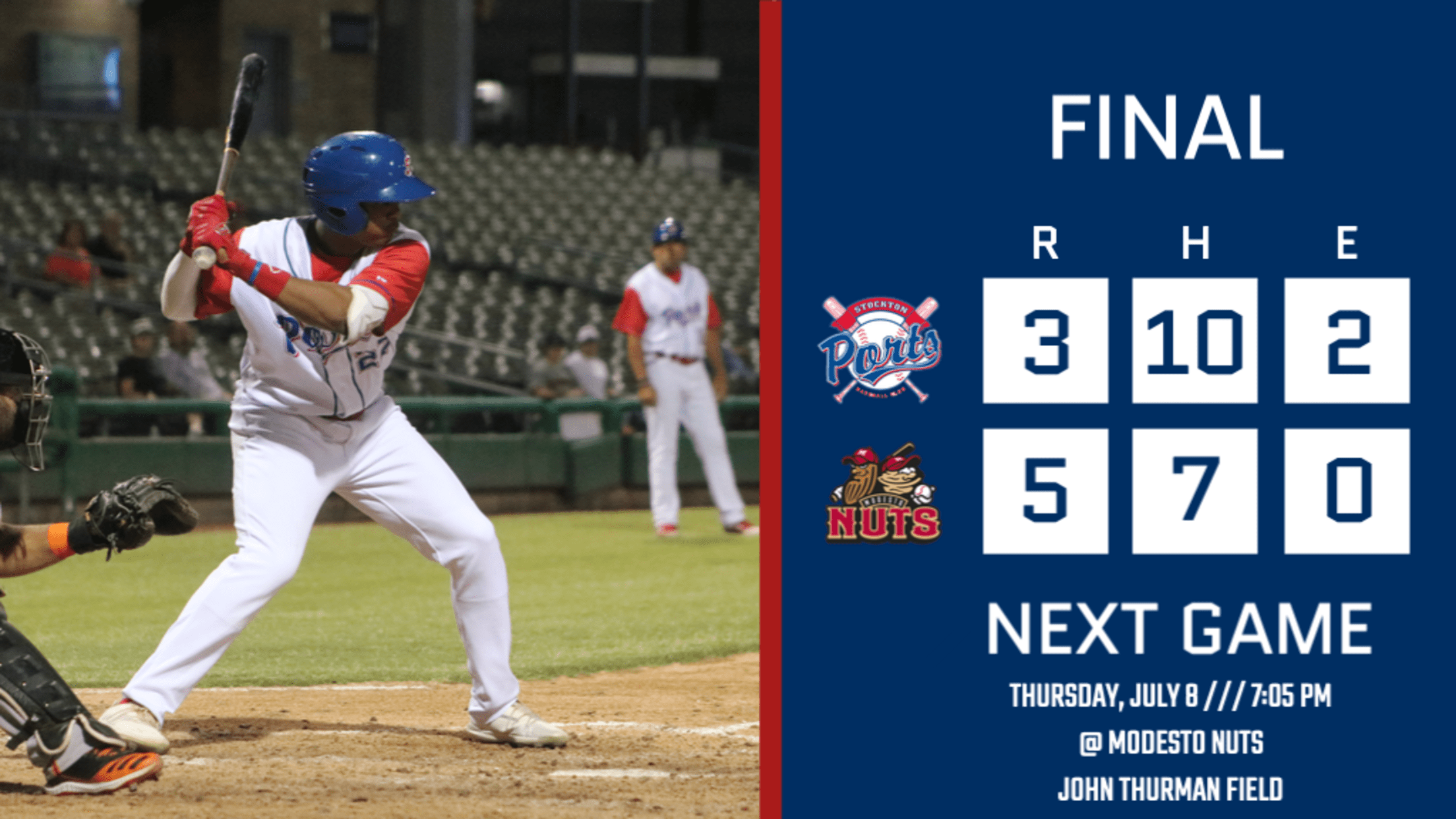 Box Score MODESTO, Ca.- The Modesto Nuts scored five unanswered runs after the Ports jumped ahead with a two-run first, and Stockton fell to their North Division rival 503 in the second of a six game series at John Thurman Field on Wednesday night. The win was the 10th in
Ports Fall in Extras in Series Opener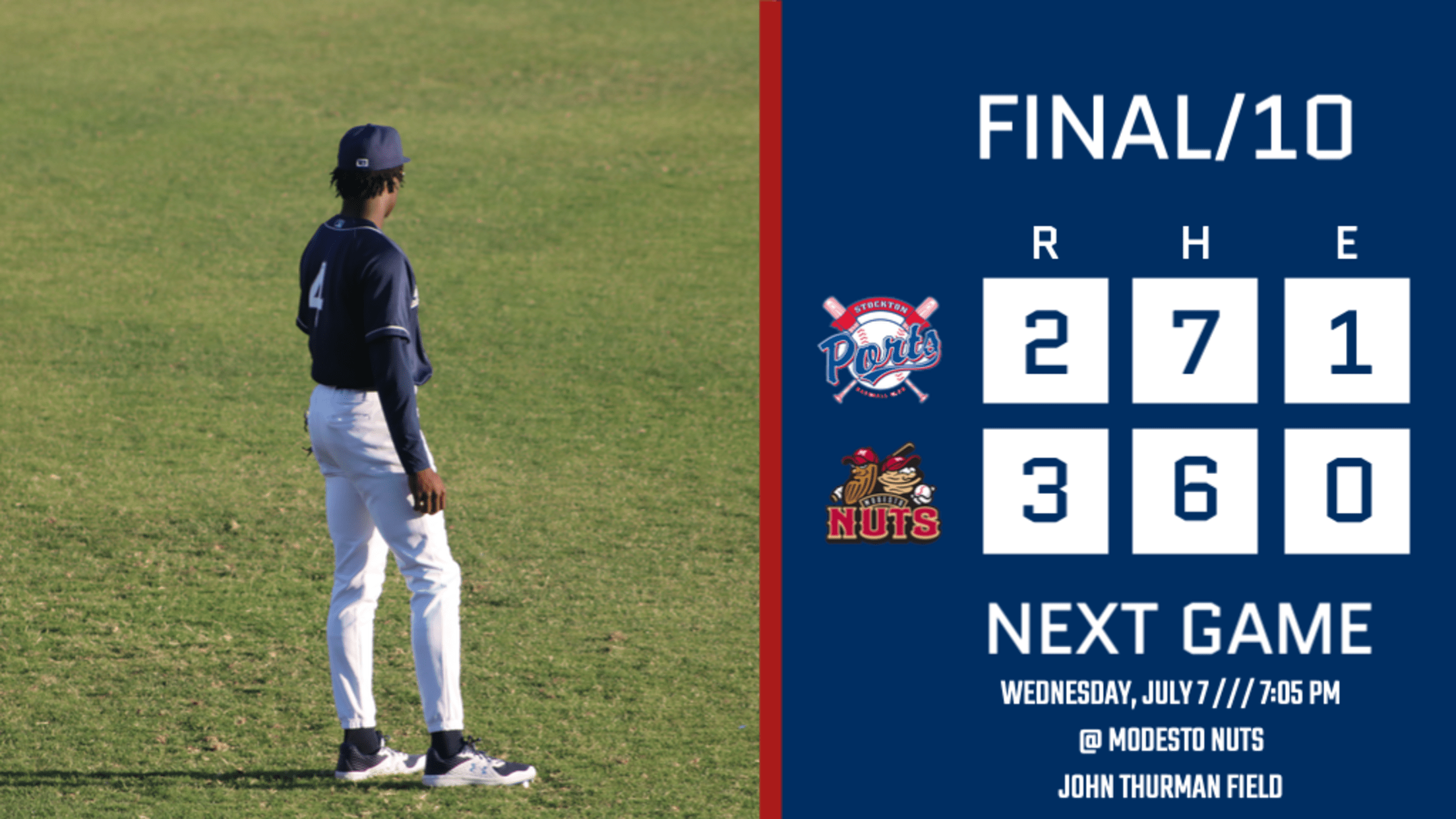 Box Score MODESTO, CA.- The Nuts scored all three of their runs with two outs, including one in the bottom of the tenth inning, as the Ports fell to their North Division rivals by the final of 3-2 on Tuesday night at John Thurman Field. The Nuts (33-22) got on
Butler Lifts Ports Over Giants in 10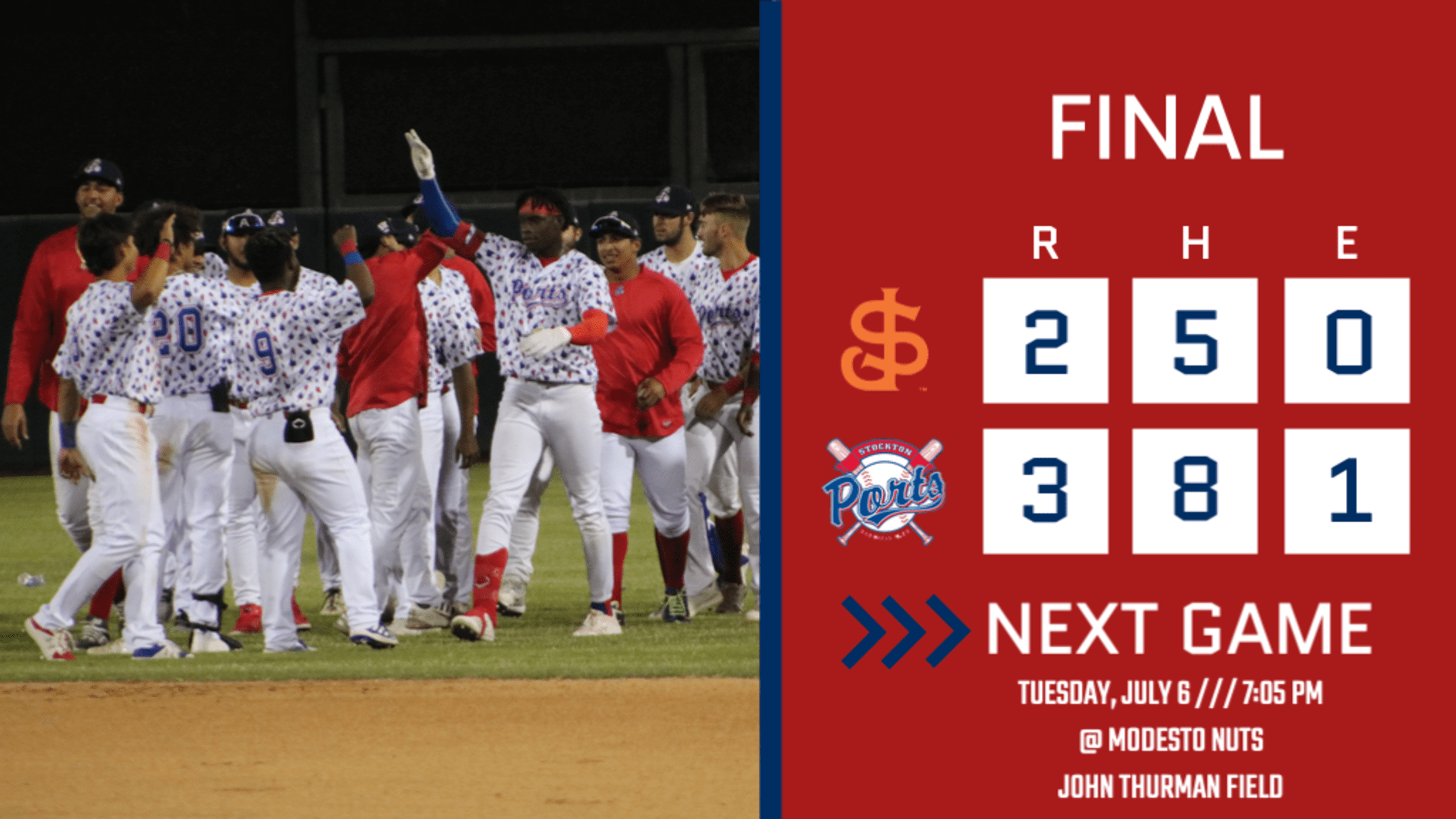 Box Score STOCKTON, Ca.- Lawrence Butler drove in Cooper Uhl with a single to left field with two outs in the bottom of the 10th inning, lifting the Ports to a 3-2 win over the San Jose Giants in front of 3,398 fans on the Fourth of July at Banner