Naturals' Featherston launches hat trick
Royals infielder drives in career-high seven runs in 14-3 romp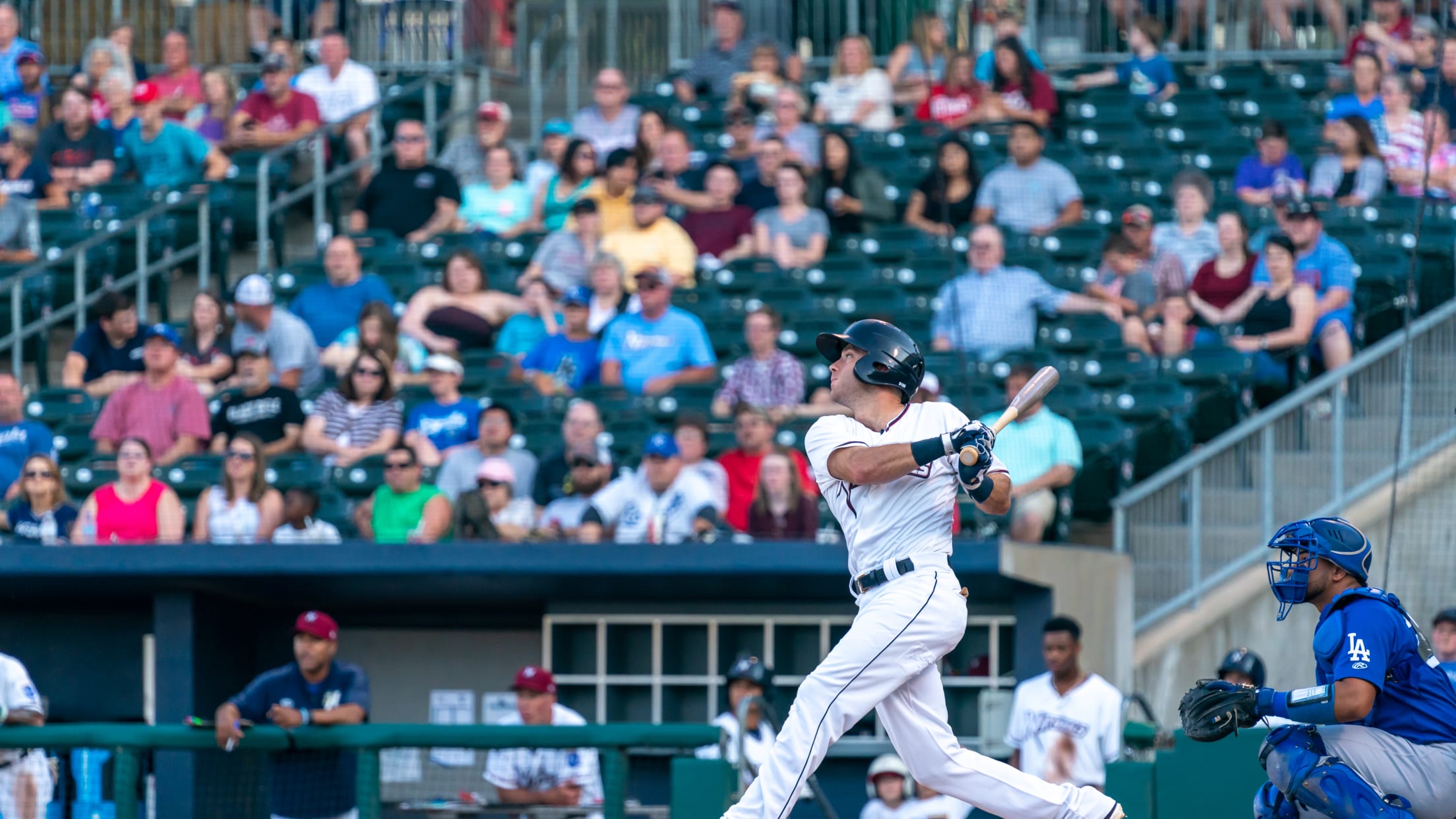 Taylor Featherston's previous career high in RBIs was five, last set on May 17, 2013 for Class A Advanced Modesto. (Tim Campbell/MiLB.com)
On a dominant night for Northwest Arkansas, Taylor Featherston owned the spotlight.The Royals infielder launched three homers and drove in a career-high seven runs, going 4-for-5 as the Naturals crushed Amarillo, 14-3, on Saturday at Hodgetown. 
On a dominant night for Northwest Arkansas, Taylor Featherston owned the spotlight.
The Royals infielder launched three homers and drove in a career-high seven runs, going 4-for-5 as the Naturals crushed Amarillo, 14-3, on Saturday at Hodgetown.
"It was unbelievable," Naturals manager Darryl Kennedy said. "He was in a groove tonight. He took some good swings."
The 29-year-old shortstop needed only the first three at-bats to record his milestone. He led off the second inning against Sod Poodles starter Jesse Scholtens and launched a 2-1 pitch over the wall down the left-field line for a solo shot. Featherston faced Scholtens again with two on and nobody out in the fourth and deposited a 1-2 offering off the batter's eye in center for a three-run dinger.
It was his fifth career multi-homer effort and his second this season, also achieved May 15 against Tulsa.
Scholtens was replaced in the fifth by Jean Cosme, but the right-hander couldn't solve Featherston, either. With one on and nobody out, he drove the reliever's 1-0 pitch for a two-run tater to dead center. It was the third three-homer game in Northwest Arkansas history and the first since Lane Adams recorded a hat trick on Aug. 13, 2013, against Corpus Christi.
Gameday box score
"I'm sitting here going, 'Oh my,'" Kennedy said, "if this guy comes up with the bases loaded, he's got a chance for the home run cycle."
Featherston came up with only one on in the sixth, and Cosme fanned him on three pitches.
Kennedy could tell that Featherston was swinging for the fences in that at-bat. "Who wouldn't?" he asked.
Featherston, a veteran of 137 Major League games, doubled in a run off Dauris Valdez in the eighth to complete the scoring.
Featherston raised his average to .259 with 13 homers and 45 RBIs in 83 games. The TCU product played for the Angels, Phillies and Rays from 2015-17. He spent last season in the Twins system and batted .197/.275/.321 with seven homers and 36 RBIs between Triple-A Rochester and Double-A Pensacola.
Kennedy has been impressed by the leadership provided by Featherston.
"He's been the ultimate pro for us," the manager noted. "He's done a very good job talking to the guys, helping them out and really being a solid figure in our lineup. He comes every day to play and he doesn't like days off. I have to talk him into days off. He's been a great person to have on our team."
Kennedy, who managed Class A Advanced Wilmington last season, appreciates having someone like Featherston on the club.
"You always hope you have one of those players that can take care of a lot of things that you don't have to take care of," Kennedy said. "He's done a great job doing it, and he performs on the field."
Royals No. 17 prospectEmmanuel Rivera went 3-for-4 with four runs scored, while 30th-ranked Gabriel Cancel smacked a three-run homer as part of a seven-run fourth for Northwest Arkansas. It was the 16th of the season for Cancel, tying him with St. Louis Cardinals' No. 2 prospectDylan Carlson of Springfield for the Texas League lead.
The 14 runs and 18 hits were season highs for the Naturals, who have knocked eight homers in their last two games after hitting just four dingers in their previous 11 contests.
"The last two nights, they've done a very good job of swinging the bat," Kennedy said. "And this ballpark here in Amarillo is a hitter-friendly park, and the guys have done a good job with it."
Shlomo Sprung is a contributor to MiLB.com. Follow him on Twitter @sprungonsports.