Olivera has grand ole time for Drillers
Dodgers infielder's first Double-A homer is a slam on 3-for-3 night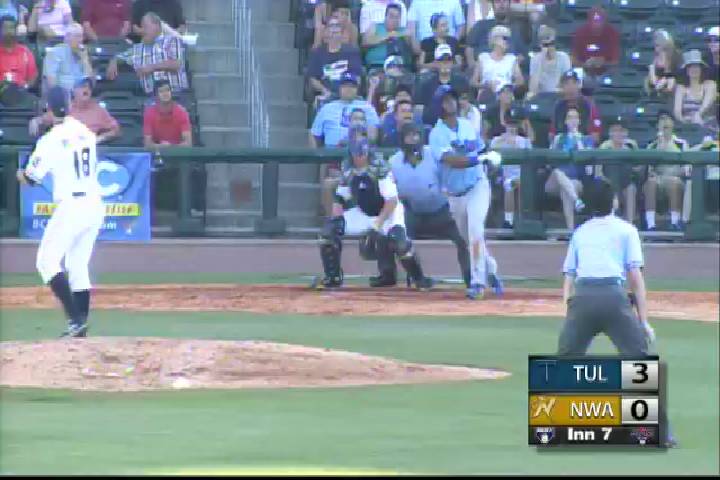 By Josh Jackson / MiLB.com | June 10, 2015 12:04 AM
For Razor Shines, there was little doubt Hector Olivera's first home run in the United States would clear the left-center field fence at Arvest Ballpark.
"The only thing that could have hit was a plane," said Shines, who manages Olivera with Double-A Tulsa.
Olivera's monster roundtripper was a grand slam he belted while going 3-for-3 with a walk in the Drillers' 7-0 win over Northwest Arkansas in the first game of a doubleheader on Tuesday.
The 30-year-old second baseman, who defected from Cuba in September and signed a $62.5 million contract with the Dodgers in May, entered the day in an 0-for-6 funk after reaching base three times in his Minor League debut.
"I'll tell you what: you could see every day he was getting closer and closer. The kid hadn't played in a while and to see him go out and attack the ball the way he's attacking the ball, you've really got to love what you see," Shines said.
He noted that Olivera, who before last week hadn't played in a competitive game since the winter of 2013-14 in Cuba's Serie Nacional, has been logging extra hours to get adjusted to Texas League pitching.
"What I saw him do was come out and hit [in the cage] early and stay late and hit more," his manager said. "The guy is not only a great ballplayer, he's a workaholic. He understands what he needs to do and he's getting close to being really on time. He hit some balls tonight really hard. You can see what the fanfare is all about."
In his first at-bat Tuesday, Olivera beat out a grounder to third baseman and sixth-ranked Royals prospect Hunter Dozier and continued to second on first baseman Balbino Fuenmayor's error.
"When he chopped the ball, he got out of the box well and ran through the bag pretty good," Shines said. "He ran through the bag as good as I've seen him run, and that tells me he's getting more into game shape."
After working a walk in the fourth and slapping a single on the first pitch he saw in the sixth, Olivera stepped to the dish with two outs and the bases loaded in the seventh. He fell behind reliever Mark Peterson, 0-2, but battled back to 2-2 before knocking the fifth pitch out of the park.
"What you wanted to see him do is have a good at-bat, and he fought and fought some tough pitches and he got a pitch he could handle and he crushed it," Shines said, adding he knew it was gone, "as soon as his bat hit the ball."
The four RBIs the swing generated were Olivera's first and the dinger was his first extra-base hit. His batting average jumped 208 points to .308 (4-for-13), and he has a .438 on-base percentage through his first four games in the States.
Olivera, still getting acclimated to the everyday demands of the season, sat out the nightcap as the Drillers completed the sweep with a 2-0 win.
"That was the plan. He'll play tomorrow and we'll go from there," Shines said. "If he feels like playing the next day, he'll play the next day, too. We're just rounding him into game shape and we'll see how he feels."
The Drillers got a pair of complete games in the sweep. Mickey Storey, a 29-year-old right-hander, struck out 10 and scattered five hits and a pair of walks in the opener.
"No doubt about it, when your pitcher goes out and throws the ball over like that and attacks hitters, it's really easy to control the game. It was outstanding, the pitching and defense," Shines said.
Jeremy Kehrt, also a 29-year-old righty, blanked the Naturals in the second game, fanning seven and allowing five hits to move to 4-4 with a 2.92 ERA.
"He was outstanding," Shines said. "We really needed it. We were scuffling a little bit, and when your starting pitching comes out like that, that gives you a good opportunity to win games."
Josh Jackson is a contributor to MiLB.com. This story was not subject to the approval of the National Association of Professional Baseball Leagues or its clubs.
View More