Prospect Q&A: Brinson climbing the ranks
Rangers outfielder seeks worthy encore to breakout 2015 campaign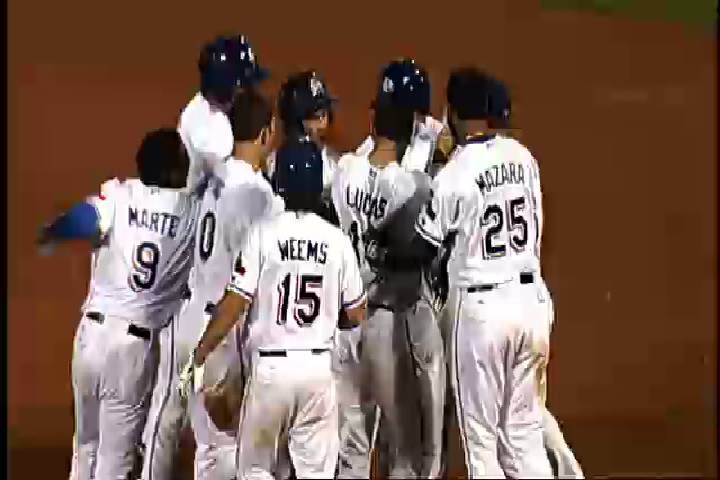 By Alex Kraft / MiLB.com | February 4, 2016 10:00 AM ET
Few prospects stirred up as much excitement as Lewis Brinson last season.
The 21-year-old outfielder, who boasts one of the Minor Leagues' best set of tools, entered the campaign ticketed for Class A Advanced High Desert amid doubts about his rawness and plate discipline. By the end of the summer, he had become a key cog in Triple-A Round Rock's Pacific Coast League postseason run, owner of a .332/.403/.601 slash line across three levels and a Rangers Organization All-Star. Last week, he landed at No. 16 in MLB.com's 2016 Top 100 Prospect rankings.
We caught up with Brinson, who will be joining the Rangers at big league camp later this month.
MiLB.com: So how have things been since the season ended? Been able to keep busy?
Brinson: It's been going great. I was spending time with family and friends, seeing everybody once again and just being busy working out, hitting and throwing and getting ready for next season. It's been a lot of fun and relaxing.
MiLB.com: You got a chance to play in the Arizona Fall League this offseason. What was that experience like?
Brinson: I got to meet a lot of really cool coaches and friends. I think that Surprise Saguaros team is going to be really close for a long time. We really bonded big-time while we were out there, so it was a lot of fun. We were, I think, the best team out there. We definitely had the best record, even though we lost some of our guys to the USA tournament in Taiwan and some guys who just had to go home early or go to Winter Ball like myself. But that was really fun to be a part of that.
MiLB.com: After the big Cole Hamels trade at the deadline, where Nick Williams, Jake Thompson and Jorge Alfaro were sent east, the Rangers gave you your first promotion to Double-A. I'm sure that was exciting, but was it a little bittersweet at the same time seeing those guys go?
Brinson: Definitely. When I got the call to go up to Frisco I was very happy and very relieved to finally get to Double-A. But seeing those guys go, it was really tough. I built relationships with those guys. Not so much Jake, that was his first year with us, but I stayed with him and Joey [Gallo] in Spring Training. He's a really good guy and I wish those guys nothing but the best. I've talked to those guys many times after the trade happened and we're still going to keep in touch and stay close. I hope to see those guys in the big leagues and, hopefully, we're playing against each other in the World Series one day.
---
"I don't like being babied in anything. You throw me into the fire and I'll find a way to fend for myself."

-- Lewis Brinson
---
MiLB.com: You got the call to Triple-A a little over a month later. Did that surprise you, coming so quickly?
Brinson: Yeah, definitely. I really didn't expect to get that. I was hoping just to kind of reunite with [Nomar] Mazara and Joey [Gallo] up there, two of my buddies in the organization, and to get a chance to help out that team. Frisco wasn't in the running for the playoffs, so we were looking at going home after those last two series. It was really surprising, really exciting to get that call to go up there and help those guys out. Obviously, we didn't get it done, but it was definitely a good experience to experience Triple-A and be around all the older vets up there and the coaching staff and be around some really good players and really good personalities.
MiLB.com: They definitely didn't ease you in either. They tossed you and Mazara right into the top of the order, huh?
Brinson: I wouldn't want it any other way. I don't like being babied in anything. You throw me into the fire and I'll find a way to fend for myself. But it was awesome. I'm glad that they did that and they had enough faith in us to stick us in the lineup right there in key spots. It was definitely a learning experience for us. It was a lot of fun, and I'm up for any other challenge they've got for me.
MiLB.com: Your Triple-A numbers were really good, but was it still a challenge making that jump in competition?
Brinson: Definitely. Like I said, those guys are big leaguers. Most of the guys I faced had big league time or have had big league time before. It was definitely an experience. Those guys make adjustments on the fly and you've just got to be quicker than them. It's kind of a chess match when you get up there. Those guys know how to get you out fast and you just got to be ready, just got to make adjustments and be a better player and just step up in key situations. It was definitely tough. Even though I did have some success up there, it was definitely tough making those adjustments. It's just something I'm going to have to look forward to going into big league camp and next year wherever I start, I've just got to continue to make adjustments and, hopefully, I face some of those guys again and I can get them this time.
MiLB.com: You've been flying up prospect rankings, going from 65th overall to No. 16 on MLB.com's Top 100 list. How much does outside recognition like that mean to you?
Brinson: I always tell people those opinions are great and all, it's great to see people recognizing my success and my hard work that's paying off, but the only people I really am concerned about is the front office, the people that make decisions on my career. That actually means something. Like I said, it's great to get recognition off the field and from the experts from MLB Network and all those guys at MLB.com and MLB Pipeline that make those lists. I really appreciate those guys showing some love and moving me up in the rankings, but really, the Rangers are the ones that I'm really concerned about with judging my game.
---
• More from Brinson on the MiLB PROSPECTive blog
---
MiLB.com: You grew up a big fan of Marlins center fielder Juan Pierre?
Brinson: Growing up, I was kind of long, lanky; I wasn't the biggest guy on the field. I definitely wasn't the most talented. I was definitely fast, and I knew Juan Pierre was fast, so I just looked up to the fastest guy on the Marlins. Obviously, the Marlins were my team back in the day. That 2003 team, I really stuck with them all year when they won the World Series. It was really exciting for me. I tried to stay up the whole time, but my childhood ways, I couldn't hang with the best of them watching Game 7 there. But Juan Pierre was always my favorite player and continues to be my favorite player -- his speed and his leadoff mentality of just getting on base and making things happen for the team. He really took heart in making things happen and scoring runs for his team, and that's what I try to do.
MiLB.com: What was it like living in a house with Jake Thompson and Joey Gallo during Spring Training last year?
Brinson: It was awesome. Like I said, Jake just joined us last year and, obviously, he's with the Phillies now, but me and Joey were drafted together, we sort of came up through the system together and he's definitely my boy. I can't wait to be in Arlington playing alongside him there. It's going to be a great experience. But living with those guys last Spring Training was great. We really got a chance to bond. I don't know if anybody caught that picture that we took of our first family dinner and when we were watching a movie and decided to take all those pictures. It was a good time, though. We just love goofing off and just having a good time with each other.
First family dinner @JoeyGallo24 @LewisBrinson pic.twitter.com/91b5cwokjh

- Jake Thompson (@jthomp15) February 23, 2015
MiLB.com: Which of you was the best cook?
Brinson: That was definitely Jake Thompson. He loved making steaks and pasta and broccoli and chicken on the grill. We had a grill outside the house, so he's definitely the best cook. Being from Texas, I mean, I think that's obligated.
MiLB.com: What's the biggest area of your game you want to grow in this year?
Brinson: I'd say all-around. You never stop getting better. My defense, my offense, my arm throwing guys out, pitch recognition and being patient at the plate, and continuing to build off what I had last year. I was really comfortable at the plate last year and I really took pride in studying pitchers and being prepared every day. So I'd say all-around game and just getting better at being Lewis Brinson on the field.
MiLB.com: The Rangers invited you to Major League Spring Training. Are you excited to see how you stack up with those guys?
Brinson: Oh, man, I can't tell you how excited I am. I'm so excited to get that invite and to get to camp and be around all these big league guys, like Adrian Beltre, Prince Fielder, Shin Soo Choo, Elvis [Andrus], all those guys. I could really see the relationship they had last year, even in Spring Training being around them a little bit. Not being in camp but just going to games and filling in for guys. Seeing how goofy they are and how much fun they have on the field together and in the dugout and how much they gel, I can't wait to be a part of that. How they welcomed Joey when he was up there last year, I just hope for the same this year for me and Mazara.
Alex Kraft is a contributor to MiLB.com. Follow and chat with him on Twitter @Alex_Kraft21. This story was not subject to the approval of the National Association of Professional Baseball Leagues or its clubs.
View More