Royals shut down top prospect Zimmer
Right-hander won't throw again for six to eight weeks due to lat issue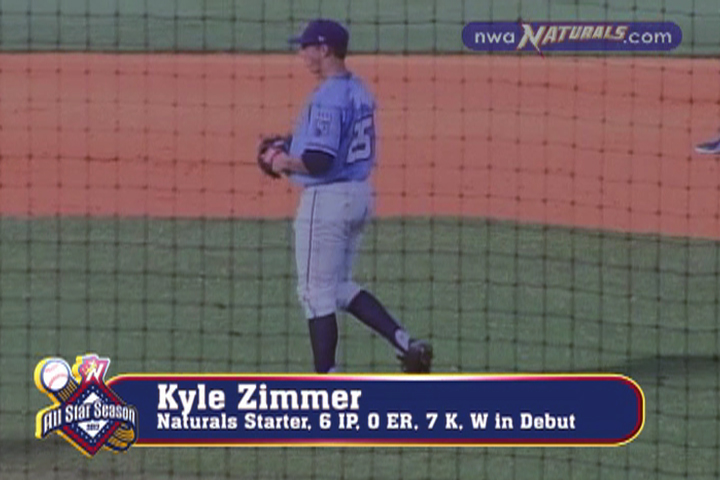 By Sam Dykstra / MiLB.com | May 27, 2014 5:42 PM
Kyle Zimmer hasn't even pitched yet this season, but once again, it appears he'll suffer a big loss.
The Royals' top prospect will not be allowed to throw for the next six to eight weeks due to a strained right latissimus muscle (a broad muscle in the middle of the back below the shoulder), the organization announced Tuesday.
Zimmer has undergone a rash of injuries since Kansas City selected him fifth overall in the 2012 Draft out of the University of San Francisco. He underwent surgery in 2012 to remove bone chips in his right elbow that were discovered in a pre-Draft physical. The 6-foot-3 right-hander was still able to make his full-season debut last year, however, and went 4-8 with a 4.82 ERA, 113 strikeouts and 31 walks in 89 2/3 innings with Class A Advanced Wilmington. He was even better following a promotion to Double-A Northwest Arkansas, where he posted a 1.93 ERA to go with 27 punchouts and five free passes in 18 2/3 frames, before being shut down in August with biceps tendinitis.
The same issue pushed him back from starting the year with the Naturals this season, and when he finally faced hitters in extended spring training last week, he developed tightness in his back that was later revealed to be a lat strain. The Royals are being extra careful with the new malady that could lead to more shoulder issues if not treated correctly.
"Fortunately, it's not elbow, it's not shoulder," Royals assistant general manager J.J. Picollo told The Kansas City Star. "These are the things I'm telling him. He's obviously down right now, because he knows it's another six to eight weeks of no activity."
Despite his injury history, there was still hope that Zimmer -- MLB.com's No. 21 overall prospect, who earned glowing reviews for his fastball, curveball and slider -- could make his Major League debut with the Royals at some point in 2014. But with it looking like he won't be allowed to throw until perhaps at least the All-Star break, that appears more and more like a pipe dream, although the team still holds out hope.
"You do the math, and you're running out of time," Picollo told the newspaper. "You're running out of days. But I don't want to rule it out, because we haven't had those types of discussions just yet."
Sam Dykstra is a contributor to MiLB.com. This story was not subject to the approval of the National Association of Professional Baseball Leagues or its clubs.
View More