Travs' Unsworth tosses seven three-hit frames
M's prospect yields three hits, drops ERA to 1.95 in last five starts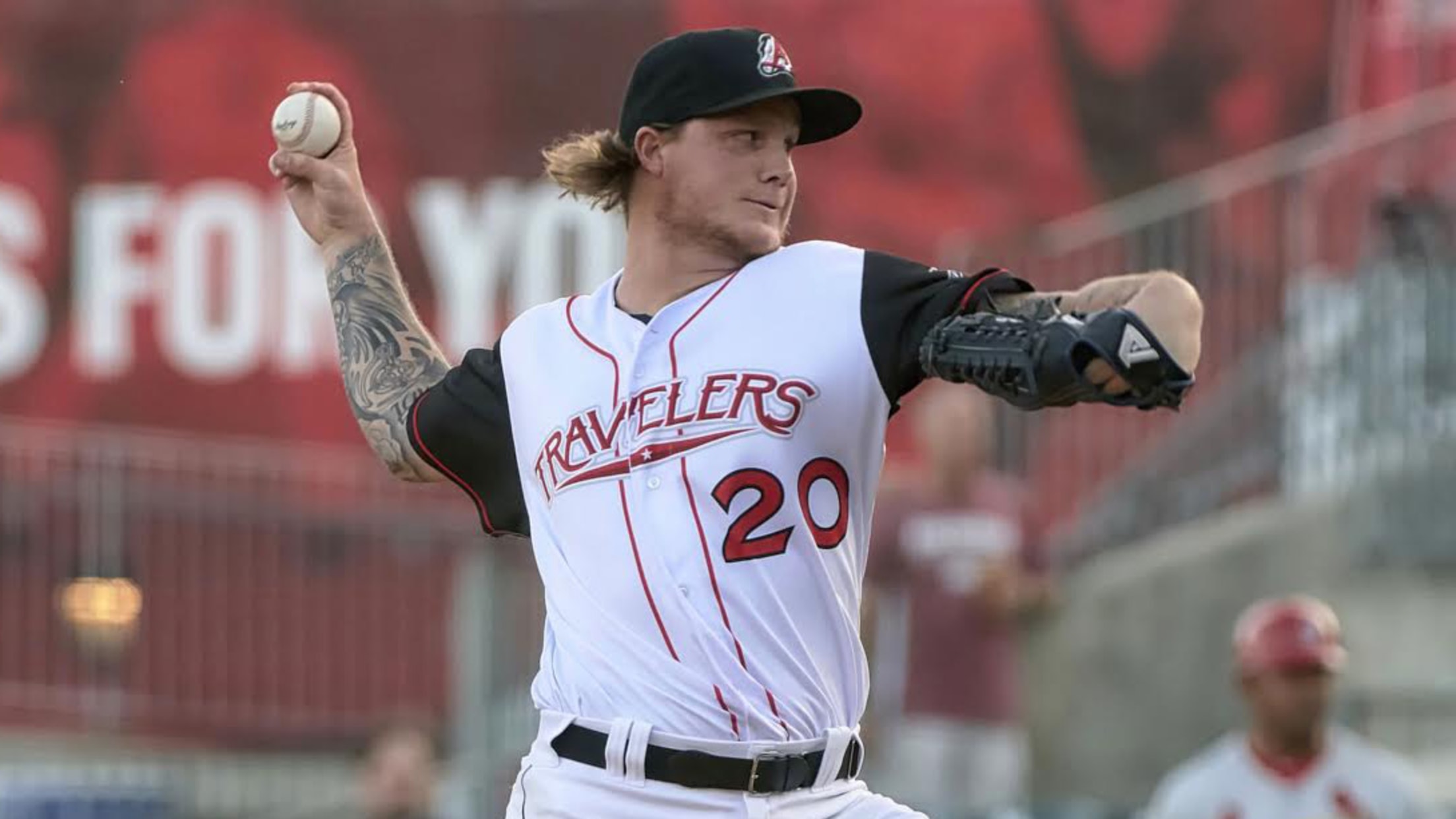 Dylan Unsworth has pitched into the sixth inning in 11 consecutive starts for Arkansas. (Mark Wagner/Arkansas Travelers)
After a near two-hour rain delay on Saturday night, Double-A Arkansas starter Dylan Unsworth was suspicious that the hitters in the San Antonio lineup would be restless in the box."We had a rain delay, so it was kind of just staying loose and just staying ready," the South Africa native
After a near two-hour rain delay on Saturday night, Double-A Arkansas starter Dylan Unsworth was suspicious that the hitters in the San Antonio lineup would be restless in the box.
"We had a rain delay, so it was kind of just staying loose and just staying ready," the South Africa native said. "I knew they were going to be aggressive because I pound the zone, I work fast and so I know a team is going to be very aggressive "
But he also knew he could possibly use his opponents' aggressiveness to his advantage.
The Mariners prospect gave up three hits and two walks while striking out four over seven innings as the Travelers cruised to a 6-0 blanking of the Missions at Dickey-Stephens Park.
Gameday box score
"I use their aggressiveness. If I fall behind in the count, it's fine because I can still make quality pitches," the 24-year-old said. "They're going to swing, put the ball in play and be aggressive against me, so that works in my favor. Everything basically was working. ... My changeup, once that's on, that's a pretty good pitch for me, so I just keep it running."
Unsworth (6-6) lowered his ERA to 3.80 with 69 strikeouts while holding opponents to a .255 average in 14 Texas League starts. He's compiled a 1.95 ERA with 23 strikeouts and five walks in his past five starts, spanning 32 1/3 innings, and has pitched into the sixth in 11 consecutive outings since May 6.
"It doesn't matter if it's Albert Pujols or someone down here, I know if I execute my pitches and get ahead of guys, do my work and just be myself ... " Unsworth said. "There's nothing really too much that changes, so you just kind of keep it running, do what I do and just keep moving forward."
Prior to Saturday's tilt, the Travelers pitching staff, which had been tagged for nine first-inning runs in the first two games of the three-game series, got together to discuss their issues. Unsworth said the success he had keeping runners off the bases in the early innings set the tone for the rest of his start.
"It's not really worrying about the seventh inning or the eighth inning," he said. "[It's] getting those outs in the first inning, settling down and giving the team the chance to get back in the dugout and put good at-bats together."
<o:p>
Unsworth worked around a single by Nick Schulz in the first and a double by Alberth Martinez in the second. He ran into trouble in the fourth, issuing his first walk to Franmil Reyes and surrendering a two-out hit to Martinez before getting Webster Rivas to bounce into a forceout.
Luis Urías, MLB.com's No. 95 overall prospect, reached on a throwing error by Arkansas shortstop Joey Wong ahead of Noah Perio's two-out walk in the fifth. Unsworth got Schulz to chase the first pitch and bounce back to the mound to get out of the inning and begin a streak of seven consecutive outs. He wrapped up his outing on 91 pitches, 59 for strikes.
Chuck Taylor strung together three singles in four at-bats and Ryan Casteel homered and drove in four runs for the Travelers. Casteel's longball was the only one of Arkansas' 11 hits that went for extra bases.
Gerard Gilberto is a contributor to MiLB.com. Follow and interact with him on Twitter, @GerardGilberto4.