Travs' Bannister hurls four-hit shutout
Mariners right-hander throws first career complete game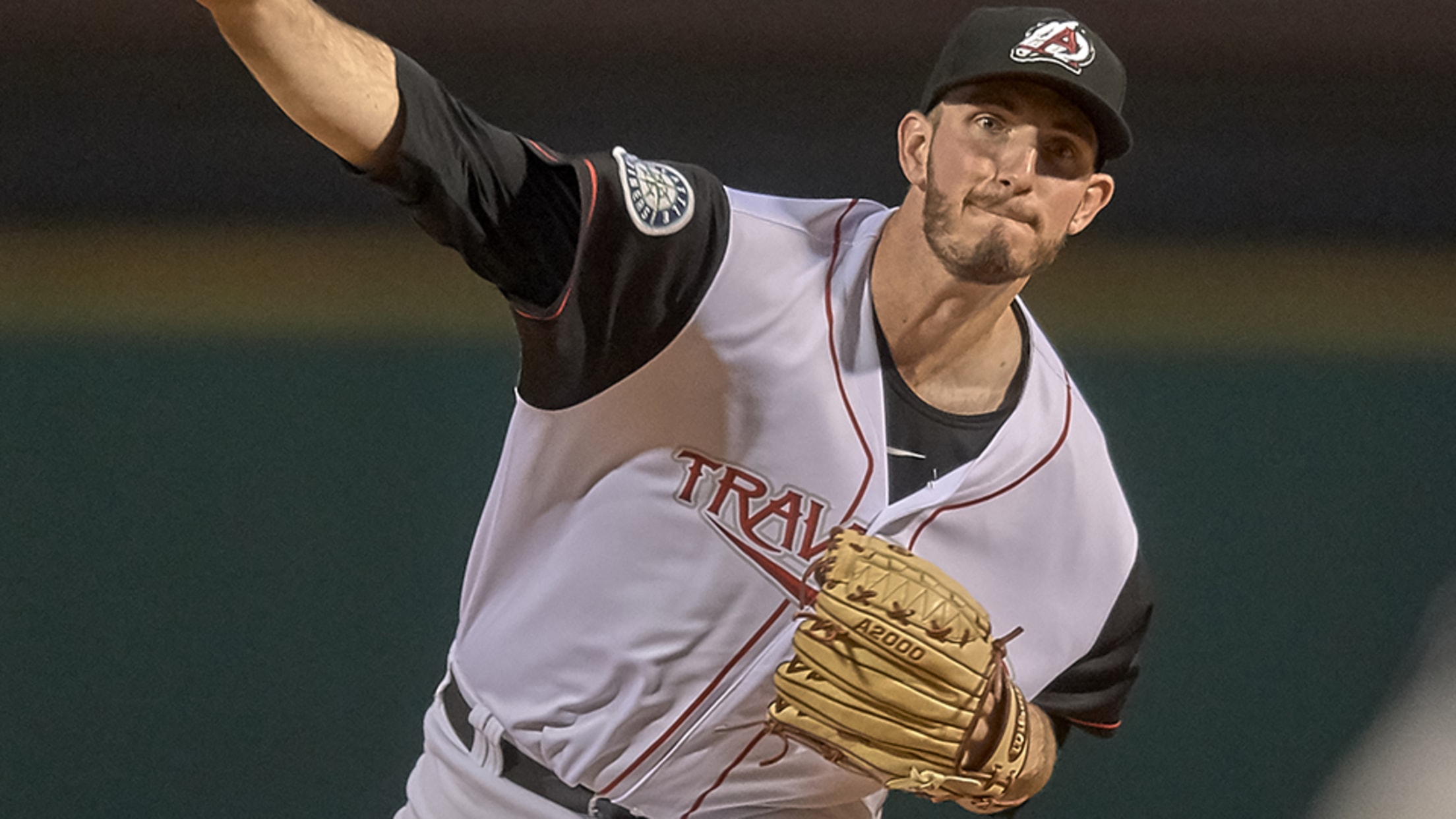 Unscored upon in two of three starts, Nathan Bannister lowered his ERA to 4.54. (Mark Wagner/Northwest Arkansas Naturals)
When Nathan Bannister assesses his performance, he doesn't gravitate to the number of strikeouts like most pitchers.The first column he seeks out is total groundouts. Because if that number is high, there's a good chance he did pretty well.The Mariners right-hander pitched to his strength Sunday, inducing 14 groundouts as
When Nathan Bannister assesses his performance, he doesn't gravitate to the number of strikeouts like most pitchers.
The first column he seeks out is total groundouts. Because if that number is high, there's a good chance he did pretty well.
The Mariners right-hander pitched to his strength Sunday, inducing 14 groundouts as he twirled his first career complete-game shutout in Double-A Arkansas' 1-0 win over Springfield at Dickey-Stephens Park. He scattered four hits and issued one walk while striking out three, lowering his ERA to 4.54.
"He really executed his fastball down to both sides of the plate and was able to use his secondary stuff effectively because of that," Travelers pitching coach Ethan Katz said. "For me, it started with his fastball command down in the zone, something he's been working really hard at and it worked really well."
Although the 24-year-old entered the game 10th in the Texas League in groundball-to-flyball ratio (1.36) and 12th in ground-ball percentage (45.7 percent), according to FanGraphs, if Bannister had his druthers, those figures would be much higher. His last outing, in which the Arizona product allowed four runs on 10 hits and relinquished his fifth long ball of the season, forced him to make some adjustments.
Gameday box score
"After looking at my last outing, we were looking at some things I could get better at," Bannister said. "One of them is working down in the zone and mixing speeds. I think I had good control of my breaking ball today for strikes and really worked in and out with the fastball down. The emphasis was down.
"I'm usually a ground-ball pitcher, so I like getting ground-ball outs.Early in the season, I [was] giving up too many line drives and fly balls in the gaps. I'm really just trying to get back down in the zone."
That's always how Bannister wanted to pitch, even when he was a young kid growing up in Phoenix, Arizona.
"The way the game is going today, so many people want strikeouts," Bannister said. "But my stuff doesn't necessarily play like that. I grew up in Arizona and watched [former Diamondback] Brandon Webb a lot when I was learning to play baseball. I always loved how he was able to throw that sinker down in the zone and got a lot of ground-ball outs."
The 6-foot-3 righty eclipsed the longest outing of his career after throwing eight scoreless innings July 5 for Class A Advanced Modesto. A four-year letterman, Bannister hurled four complete games for the Wildcats -- one as a junior and three as a senior.
The 2016 28th-round pick was assigned to the California League to begin his professional career and went 8-7 with a 4.33 ERA in 23 starts. He earned wins in two postseason starts, compiling a 1.42 ERA en route to the Nuts' crown.
He even made three spot starts for Triple-A Tacoma in his first professional season, allowing three hits over 6 2/3 innings for a win just over a year ago in his Pacific Coast League debut against New Orleans.
"It really just gave me confidence that my stuff, when I make my good pitches, still gets the good hitters out," Bannister said.
The 24-year-old worked around hits in four of his first five innings Sunday, but retired the Cardinals in order in the next three frames. After issuing a leadoff walk to Ramón Urías in the ninth, he threw out Lane Thomas on a sacrifice that moved Urias to second, struck out Texas League home run leader Victor Roache and retired Cardinals No. 8 prospectRandy Arozarena on a grounder to third to preserve the shutout.
Although the sacrifice bunt advanced Urias into scoring position, Bannister said it settled him down for the final two hitters.
"It gave me a free out in a sense," he said. "It kind of relieved me knowing there is one out and a guy on second. They had some good hitters coming up to the plate, but I knew with an open base that I could execute my pitches the way I wanted to and I was in control."
There was no trepidation to send Bannister out for the ninth or even pull him after the leadoff walk, according to Katz.
"That was all his," he said. "He had an unbelievable outing. That was his game to go win."
Josh Horton is a contributor to MiLB.com. Follow him on Twitter @joshhortonMiLB