August 26, 2019: Yankees Shut Out ValleyCats at Home, 8-0
The 'Cats were out-hit, 10-5, as Staten Island pulled ahead in the series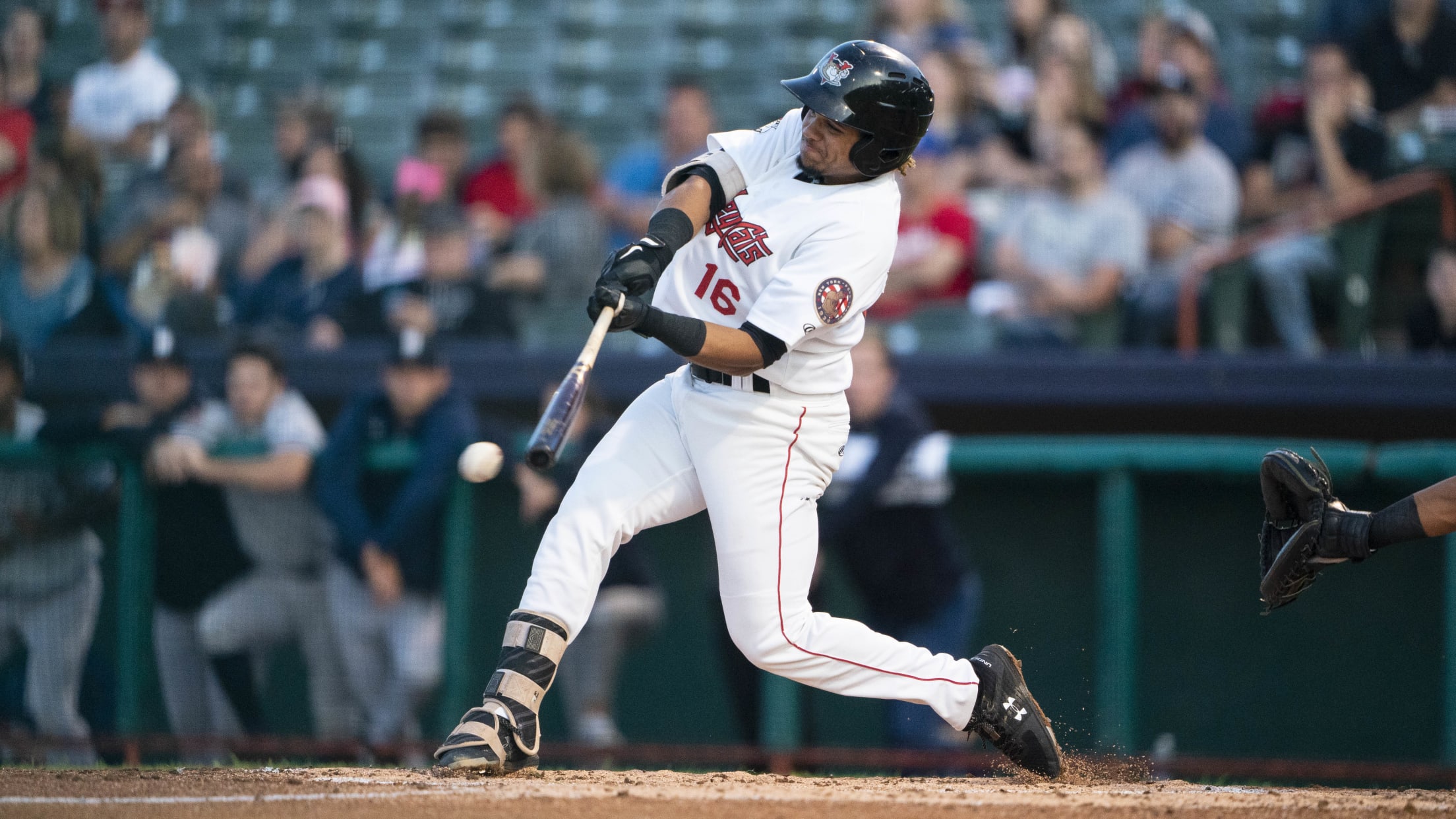 August 26, 2019: Tri-City ValleyCats catcher Juan Paulino (16) hits a single during the second inning of the game between the Staten Island Yankees and the Tri-City ValleyCats. (Gregory J. Fisher)
TROY, NY- The Staten Island Yankees plated runs in five different innings to hand the Tri-City ValleyCats their 10th shutout of the 2019 season Monday evening. The 'Cats stranded six on the basepaths and went one-for-six with runners in scoring position in the 8-0 loss at Joseph L. Bruno Stadium.Coming
TROY, NY- The Staten Island Yankees plated runs in five different innings to hand the Tri-City ValleyCats their 10th shutout of the 2019 season Monday evening. The 'Cats stranded six on the basepaths and went one-for-six with runners in scoring position in the 8-0 loss at Joseph L. Bruno Stadium.
Coming off a doubleheader split Sunday night to kick off the four-game series, the Yankees (38-31) used an RBI single in the bottom of the second to get on the board and never look back.
Two more RBI hits in the fourth, one in the fifth and sixth and a single and a sacrifice fly in the seventh propelled the Yankees to victory, allowing them to take a 4-3 lead in the season series with Tri-City and stay in the hunt for the McNamara Division title.
First baseman Juan Paulino recorded multi-hit game number eight on the season for the ValleyCats (27-41) in the loss, notching singles in the first and ninth innings. The 'Cats left Korey Lee stranded at third in the second inning and Bryan Arias 90 feet from home in the sixth.
2019 New York-Penn League All-Star Anderson Munoz (7-2) look the win in six innings on the mound for Staten Island, striking out five batters and walking a pair. Right-hander Season Boyle then went three innings in relief to pick up his first save of the season, striking out two batters in the process.
The first of five pitchers to take the mound for the 'Cats, right-hander Hunter Brown (1-2) was tagged with the loss in two innings, allowing one run off a pair of hits and walking two despite striking out the side in order in the first and four batters total.
Following the setback, the ValleyCats will look to salvage a split in both the current and season series with the Yankees on Tuesday, August 27. First pitch is set for 7:00 p.m. from "The Joe".