Faith and Company Sparkle, Los Puentes Secure Series Victory
Puentes Pitching Strikes out 12 Greys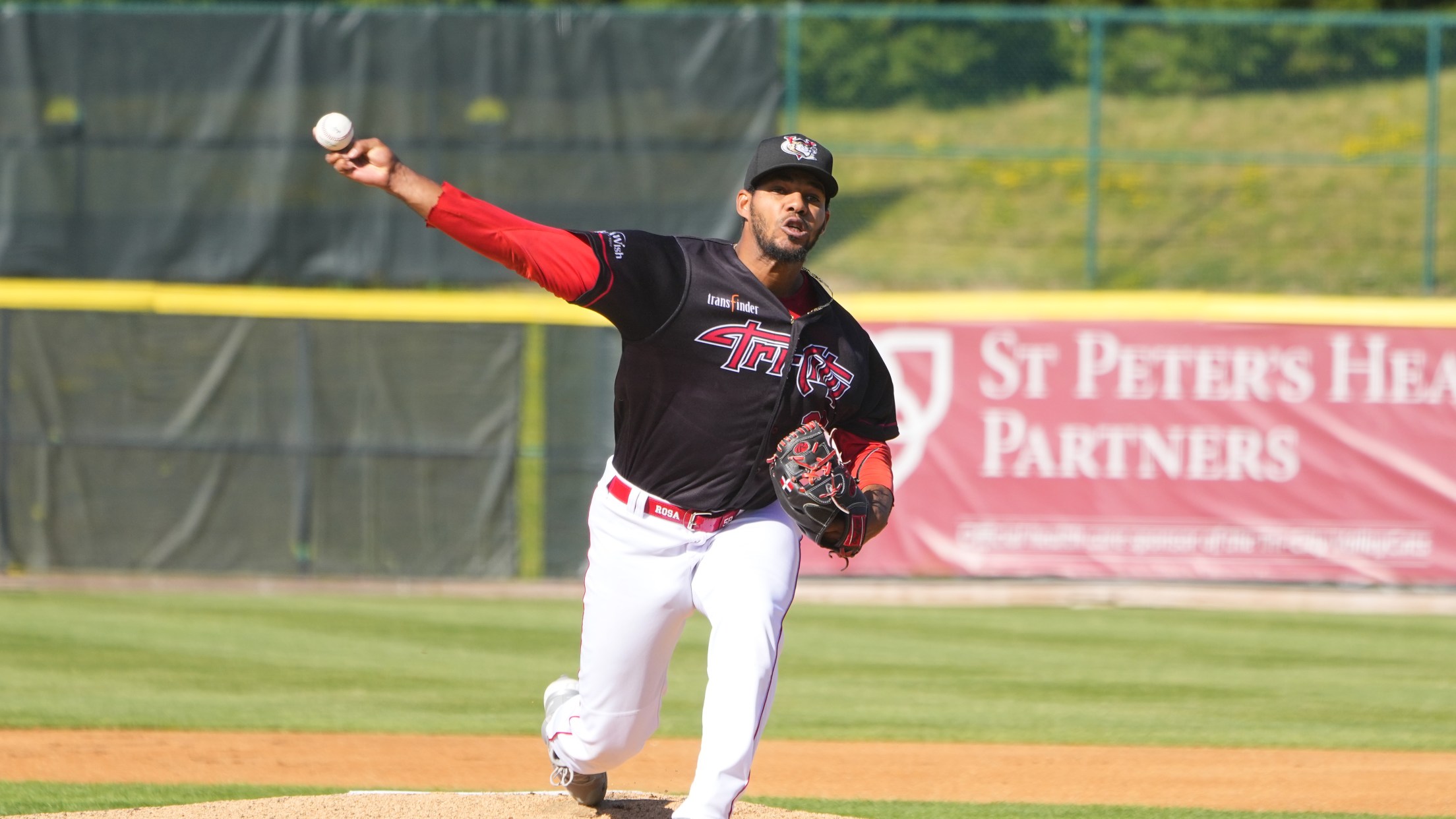 TROY, NY - The Empire State Greys and Tri-City ValleyCats faced off in the middle stanza of their weekend series Saturday night at Joseph L. Bruno Stadium. Kingwood, Texas native Austin Faith took the ball for Los Puentes de Tri-City, while rookie left hander took the ball for Gil Rondon's
TROY, NY - The Empire State Greys and Tri-City ValleyCats faced off in the middle stanza of their weekend series Saturday night at Joseph L. Bruno Stadium.
Kingwood, Texas native Austin Faith took the ball for Los Puentes de Tri-City, while rookie left hander took the ball for Gil Rondon's Greys.
Both starters would fire scoreless frames in the first and second innings, with both starters allowing a combined four runners to reach base.
In the top of the third inning, Faith would issue his first walk of the game to center fielder Jordan Garr. Jordan Holloman-Scott would be retired for the first out of the inning, a fly out to Jesus Lujano. Khalyd Cox would double deep into right field, but Garr would be called out at home on a fabulous relay by Carson McCusker, Brad Zunica and a fine tag by Austin Elder kept the Greys off the scoreboard.
Los Puentes de Tri-City would get on the board first, scoring two runs in the home half of the third inning. An RBI double from 2022 Frontier League MVP Brantley Bell would score Joey Campagna, who doubled to lead off the inning. Pavin Parks would hit a sacrifice fly off of Hernandez, plating Elder. Denis Phipps would fly out to end the inning, but Los Puentes grabbed the early lead.
Faith would retire the Greys in order in both the fourth and fifth frames, striking out one and inducing four ground outs in the process. The right hander would run into some trouble in the sixth. A lead off double by Jordan Holloman-Scott would put a runner in scoring position to kick the inning off, he would then advance to third on a wild pitch. Following the strike out of Khalyd Cox, Robbie Carling would launch a two-run home run over the right center field wall, tying the game up at two runs per side. Faith would work out of the remainder of the inning, limiting the damage to just those two runs.
Los Puentes would not let the lead last long, as the Puentes offense would score two more runs in the bottom of the sixth inning. RBI singles from Denis Phipps and Jesus Lujano would provide the rest of the offense the Tri-City bullpen would need.
Olbis Parra would work around a Paul Mondesi lead off single by retiring the next three batters he faced in the seventh inning. Pete Incaviglia would call on set-up man Adam Hofacket in the top of the eighth, striking out the top of Empire State's order to end the inning.
Trey Cochran-Gill entered from the bullpen to face the heart of the Greys order in the top of the ninth. The right hander would strike out the first batter he faced, induced a Willies Estrada ground out, and a pop out off the bat of Paul Mondesi ended the game, securing the series victory for Los Puentes de Tri-City.
FINAL | (53-41) TRI-CITY 4 (6-89) EMPIRE STATE 2
W: AUSTIN FAITH (3-3)
L: FRANKLYN HERNANDEZ (1-4)
SV: TREY COCHRAN-GILL (14)
ATTENDANCE: 2.803
The ValleyCats wrap up their 2022 season Sunday evening at The Joe! Fans for Life Night returns for our final regular season game of the 2022 season, as we celebrate 20 seasons of the best fans in professional baseball! AND it's Sunday FunDay presented by Highmark Blue Shield of Northeastern New York! Gates open early for catch on the field, and NY's 529 College Savings Program's Summer Reading with the Players program. After the game, kids run the bases, and we will have our final fireworks display of the season, courtesy of Price Chopper & Market 32. Gates open at 3:30 PM, with first pitch scheduled for 5PM. Get your tickets today by calling 518-629-CATS, visiting the team's box office, or logging on to tcvalleycats.com