Tortugas Fundraising Program
The Daytona Tortugas Ticket Fundraising Program is a program designed to help promote and benefit non-profit organizations. The Daytona Tortugas Fundraising Program has helped groups to raise hundreds of dollars, simply by selling Daytona Tortugas tickets! You will be provided with tickets at a discounted rate that and you select the value you want to sell it for. The best part of the Fundraising Program is that we can create co-branded online platform for you to sell your tickets!
Step 1: Select the Ticket Type
Step 2: Select Any Optional Add-Ons
Step 3: Determine Your Sales Price & Promote Your Event
---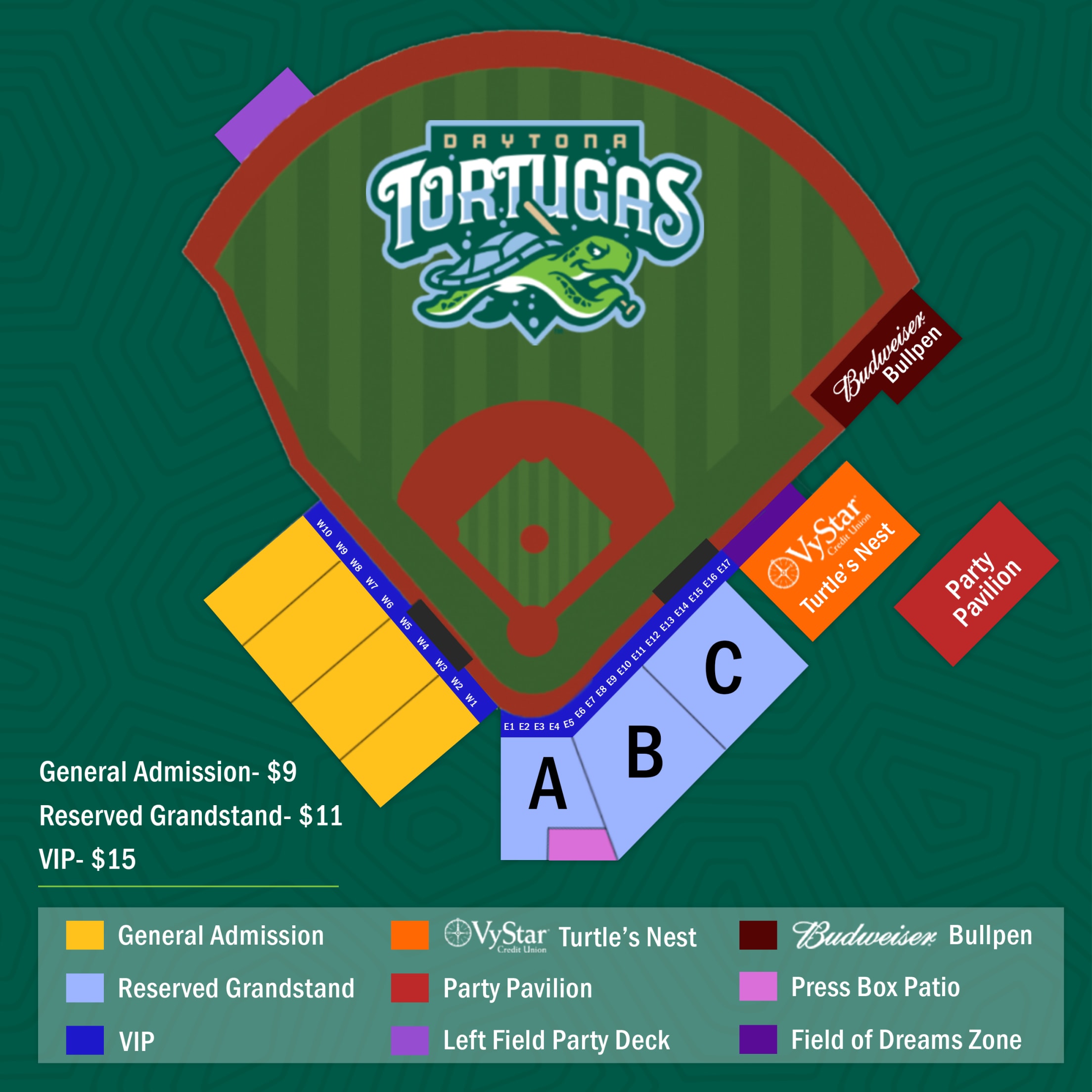 ---
Reserved Tickets
• Block of seats reserved in Sections A-C
• Discounted $4 off regular priced tickets
$10 / Ticket


General Admission Tickets
• General Admission seating in the bleachers
• Discounted $4 off regular priced tickets
$7 / Ticket
---
Standard Meal Voucher
Choice of Hot Dog or Slice of Pizza
Plus Chips & Small Drink
$5 / Voucher
Premium Meal Voucher
Choice of Chili Dog or Cheeseburger
Plus Fries & Small Drink
$8 / Voucher
Optional Add-Ons
• Tortugas Hat: $6 each
• Tuga Bucks : Starting at $1 Increments
Step 3: Promote Your Event
The flexible fundraising program allows you to customize the sales price for the tickets. We recommend adding $3 to the discounted ticket price - but the choice is yours! Once we finalize the contract, we will get you set up with your own sales page! The Tortugas are partnering with Groupmatics, and easy-to-use group management system. Group leader benefits include:
- Individual online payments: no need to collect cash or checks
- Social media tools: easily promote your event via email, Facebook, Instagram and more
- Track your sales: 24/7 visibility to see who all has purchased tickets
- Convenient digital ticketing: automated delivery, everyone chooses their own seat and can sit next to friends
- Communicate: quickly send reminders to those who haven't bought tickets or update your attendees with event info

Once the game occurs - take a seat and relax! The Tortugas will handle all ticket processing and special requests - and by utilizing Groupmatics you will automatically receive an e-check with your raised funds within 48 hours of your event!
---
Contact the Daytona Tortugas ticket office to discuss the best options available!
Daytona Tortugas
Phone: (386) 257-3172
Email: [email protected]