Bergen, Perdomo, and Adams Selected To FSL All-Star Team
Southpaws to join catcher and coaches on All-Star squad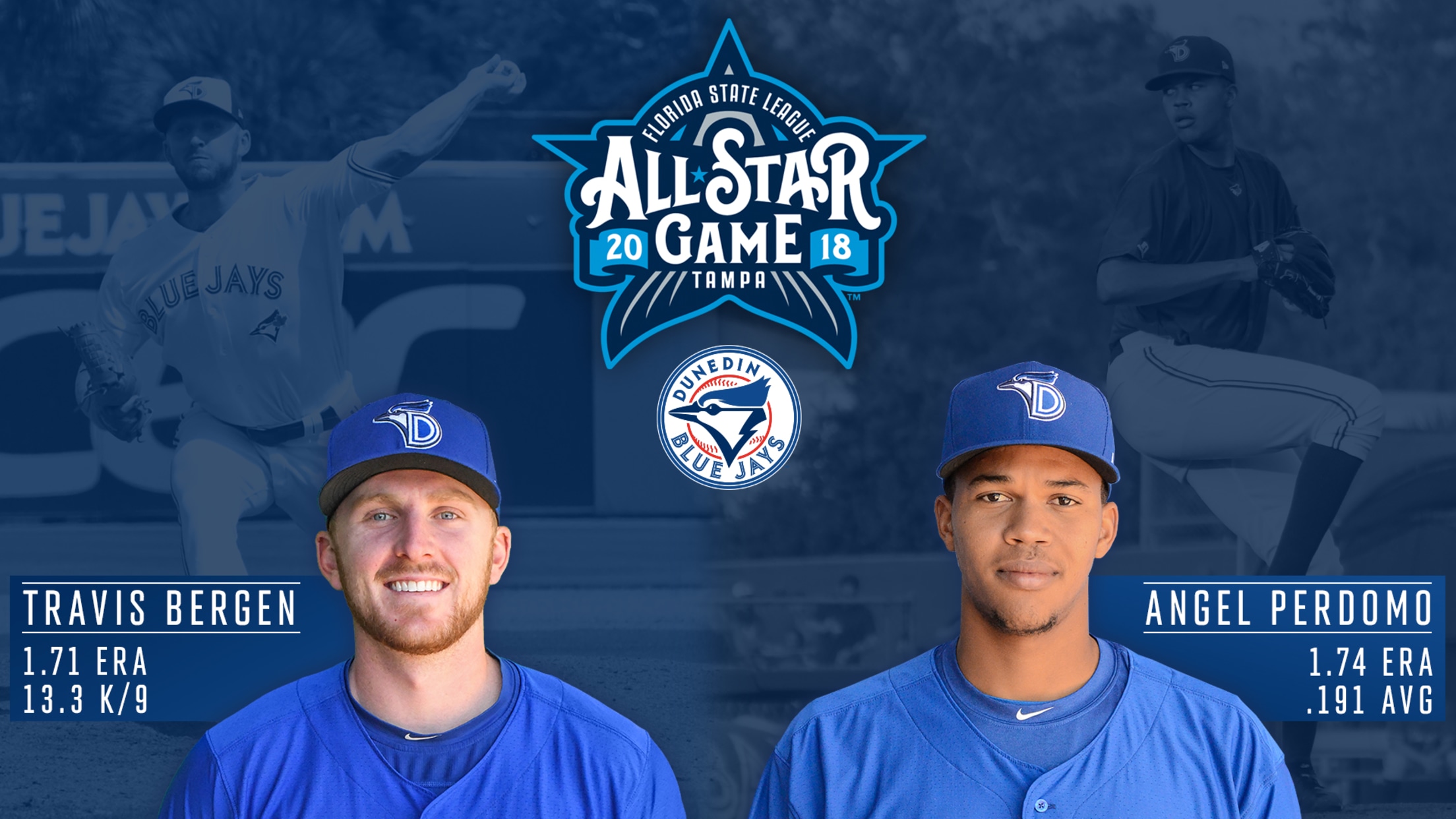 The Florida State League has announced that Dunedin Blue Jays pitchers Travis Bergen and Angel Perdomo and catcher Riley Adams will represent the Blue Jays on the North Division All-Star Team in the FSL All-Star Game on June 16th at George M. Steinbrenner Field in Tampa.A seventh round pick in
The Florida State League has announced that Dunedin Blue Jays pitchers Travis Bergen and Angel Perdomo and catcher Riley Adams will represent the Blue Jays on the North Division All-Star Team in the FSL All-Star Game on June 16th at George M. Steinbrenner Field in Tampa.
A seventh round pick in the 2015 draft, Bergen holds a 1.71 ERA this season and is currently second in the league with a 13.3 strikeouts per nine innings ratio. Bergen is also second in the league in holds with four and just completed a stellar month of May during which he threw 12.2 innings, struck out 17, and allowed zero runs.
Returning to the field in late April after a nine-month DL stint, Perdomo has been nearly unhittable on the mound for Dunedin. Over seven starts, Perdomo holds a 1.74 ERA and a .191 average against. An international free agent out of the Dominican Republic signed in 2011, Perdomo has struck out 32 batters in 31.0 innings so far in 2018. Over his last three starts, Perdomo has allowed just one earned run while striking out 14 batters.
After a slow first month of the season, Adams has reached base in twenty-five straight games, a streak that started over a month ago on May 2nd, and has slashed .264/.387/.425 over that stretch. A third round pick in the 2017 Draft, the right-handed hitting catcher skipped directly to the Florida State League after helping the short-season Vancouver Canadians win the 2017 Northwest League title. Behind the plate, he's caught 34% of attempted base stealers so far in 2018.
The three players will be joined at the All-Star Game by members of the Dunedin Blue Jays coaching staff including Manager Casey Candaele, Donnie Murphy, honorary Pitching Coach Darold Knowles, and Deiferson Barreto. As the defending North Division champions, the Blue Jays coaching staff will manage the North Division All-Stars.
Casey Candaele joined Dunedin as their manager in 2018. A veteran of 18 seasons in professional baseball, he played nine in the Major Leagues with Montreal, Houston, and Cleveland. A finalist for the Rookie of the Year in his first season, Candaele played over 2,100 games in the Majors and Minors. He served as the Seattle Mariners First Base Coach for the past two seasons before joining Dunedin.
Hitting Coach Donnie Murphy is also a nine-year Major League veteran. During his career, he played for Kansas City, Oakland, Florida, Chicago, and Texas between 2004 and 2014. After two seasons as the Lansing Lugnuts Hitting Coach, he joined Dunedin in 2018.
Florida State League Hall of Famer Darold Knowles will serve as Pitching Coach for the North Division squad in the place of Blue Jays Pitching Coach Mark Riggins. An All-Star closer during 16 Major League seasons, Knowles saved 143 games during his carerer and famously became the first player in MLB history to pitch in all seven games of the World Series when he helped lead Oakland to the 1973 title. He coached in the Florida State League with Clearwater from 1993-1999 and in Dunedin from 2006-2014.
Former Dunedin Blue Jays infielder Deiferson Barreto will serve as a coach on the All-Star squad in place of Dunedin Coach Michel Abreu. Signed as an international free agent from Venezuela in 2011, Barreto played in the Blue Jays system for six seasons and was a lifetime .272 hitter. During his final season as a player, Barreto was a part of both Dunedin's and the Vancouver Canadians championship teams in 2017.
The All-Star festivities will begin on Friday, June 15 with the FSL Home Run Derby at 6:30 PM. The gates will open for the All-Star Game on Saturday at 5:00 PM and the All-Star Game will begin at 6:30 PM. Fans interested in attending either or both days can visit the Florida State League All-Star Game Website.